What's New in WordPress 6.2 (Features and Screenshots)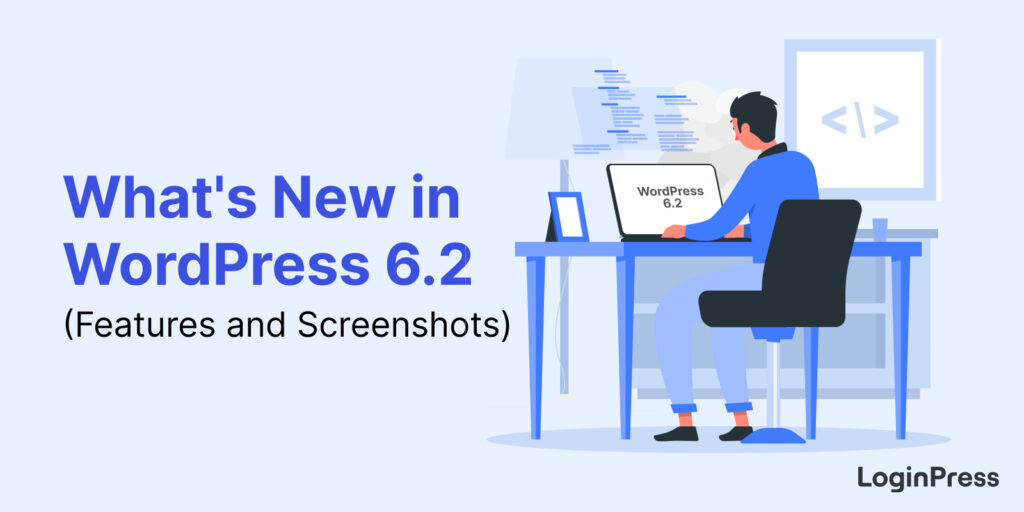 WordPress 6.2 is set to come out on March 28, 2023, but it's never too early to start getting ready. So you might want to check out the new features of WordPress 6.2, which are now available for testing.
A few interesting new features included in this release will make creating and maintaining websites simpler than before. In this version, media handling, widget updates, and the Block Editor, a new approach to customize content with blocks, are the most noteworthy changes.
The site block editors get a lot of new features in this release. The site editor has color-coded template sections to make it easier to use, but there are also major modifications.
The block editor will have a search and download function for Openverse images. Any person on his site can now directly download media distributed under a Creative Commons license. The updated navigation block style book features for creating custom styles and sticky blocks are also among the new features.
In this blog, we'll have a sneak peek at some of the highlights of this newest version.
Important: Don't forget to create a complete WordPress backup before updating.
Table of Contents
13 Features to Explore in WordPress 6.2 Beta 1
There are 13 major features updated in the new release.
You can also test after reviewing the new features. WordPress is easily customizable. It's exciting and important to try these new features with your preferred themes and plugins.
Let's explore in detail what is offered in this release.
1. An Updated Site Editor Interface
An updated Site Editor interface in WordPress 6.2 provides sneak peeks into your templates and Template Parts so that you can accurately select where you would like to start editing.
Anyone can explore, develop, and experiment with the Site Editor because it is reliable and equipped!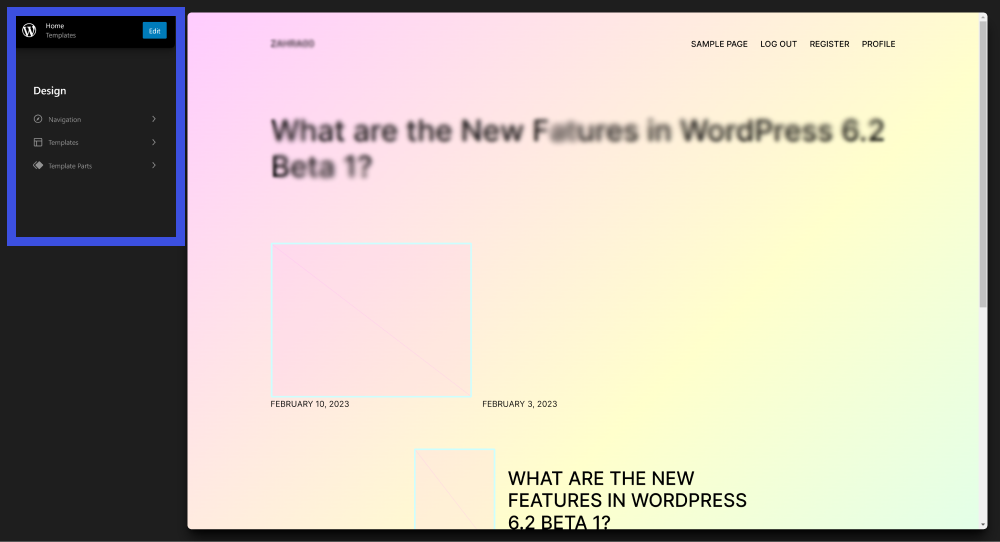 Because of the new modification, you will end up in the Template and Template Parts selector. Earlier, you would go straight to editing mode in the Home page template.
Now to get to the dashboard, you need to simply click the Site Icon or the WordPress logo in the top left corner.
2. Color-Coded Labels
Color-coded labels make it easy to find Template Parts and Reusable Blocks in the List View, the Block toolbar, and even on the Canvas.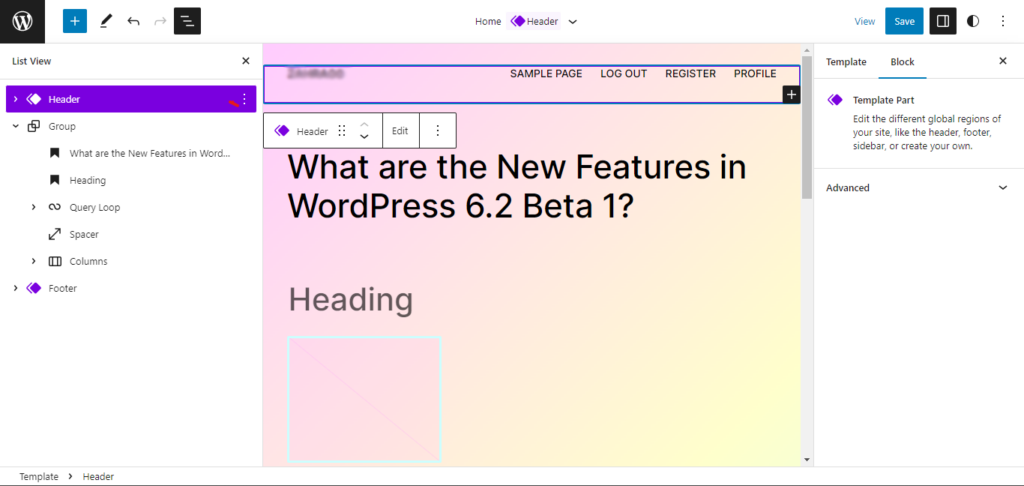 These areas have been colored to make it easier to see when you are editing a Template Part, like a Header or Footer.
3. An Updated Block Setting Icon
In WordPress 6.2, a new icon has been added to the block settings sidebar to reflect the change in block settings.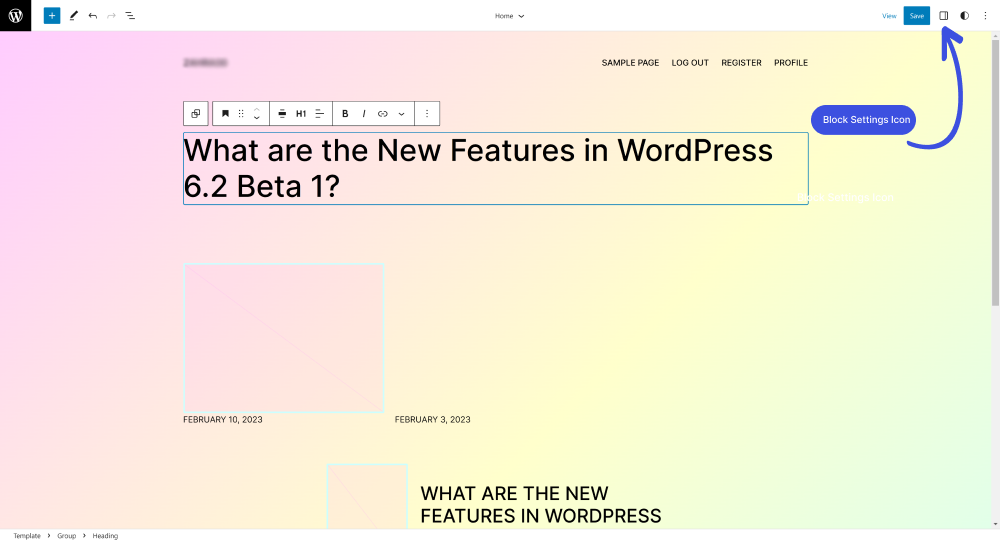 Look at the image below to see what will happen when you click on Block Settings, such as how a column panel with block settings will appear from the right.
Scaled block settings with split controls make it easy to find the Styles and Settings you need and see everything a block can do.
4. Distraction-Free Writing Mode
The new Distraction Free Mode makes it easier to focus on writing by hiding parts of the editor interface that aren't needed. When this setting is turned on, all sidebars and toolbars are hidden, putting the focus on your content. You can turn this mode on or off, depending on what you need.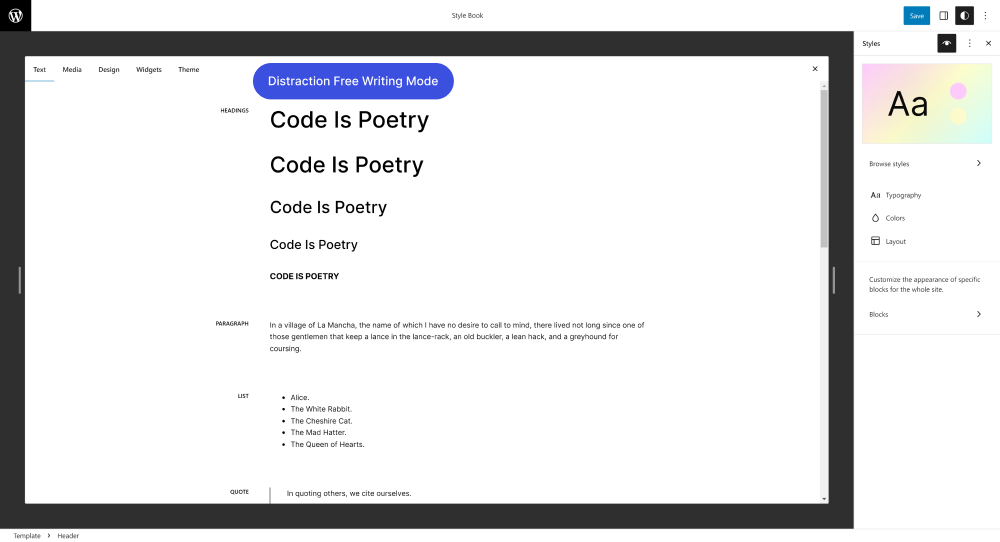 It offers a "distraction-free" setting to help you concentrate while you write.
5. Block Settings and Styles
Two new tabs, Settings and Styles, have been added to the Block Settings. This makes it easier to change block settings because you won't have to scroll as much.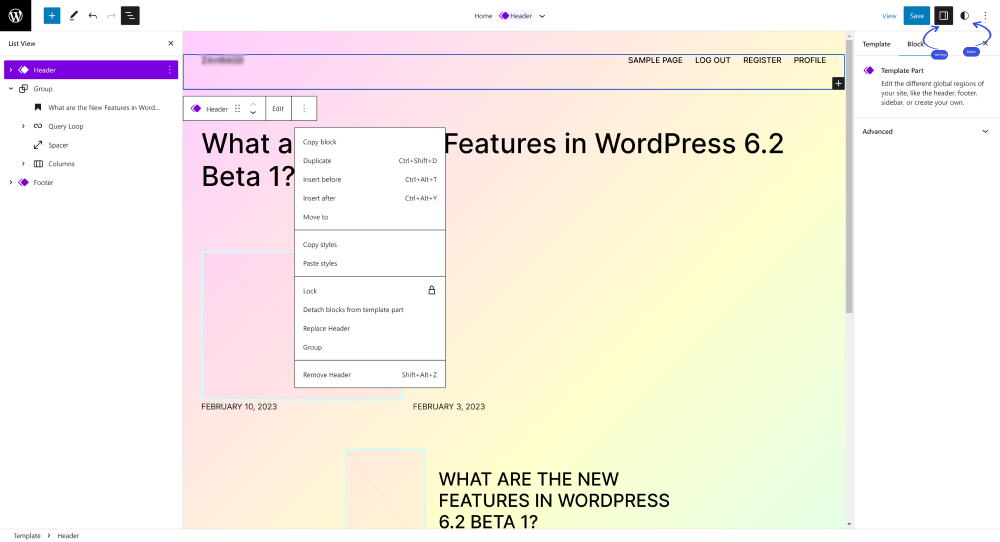 6. Apply Globally
If you change the style of blocks that come from a template, you might want to make those changes to every block that uses that template. You can now apply by clicking on Apply Globally.
With this feature, you can change all of the site's blocks only with one click. It will make changing styles across the site easier, which will speed up your work even more.
7. Copy and Paste Block Style
Previously, if you changed the settings of a block and then wanted to use that same style somewhere else, you didn't have many options.
Now, you can also use the Copy and Paste Styles options to copy styles from one block and apply them to another block.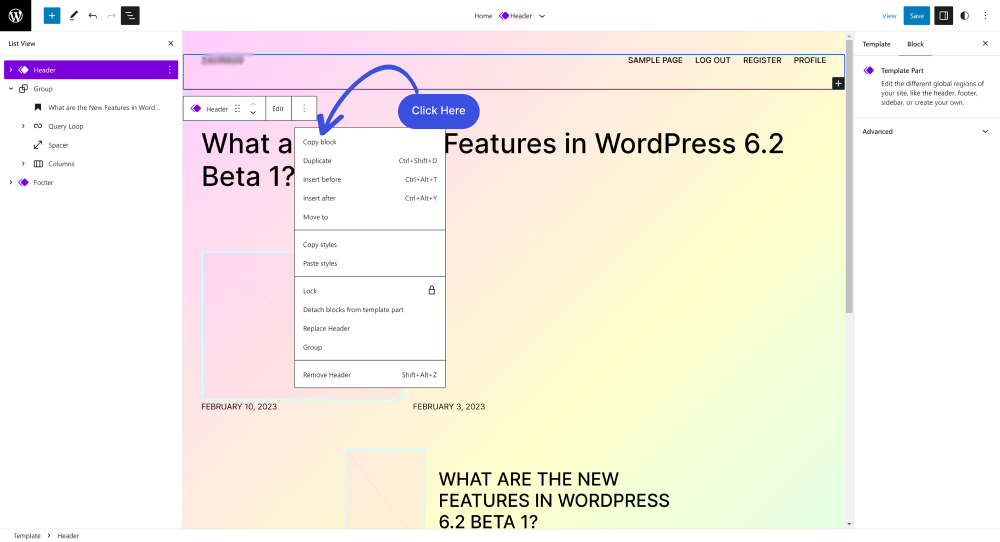 8. Style Book
The Style Book is one of the most important parts of WordPress 6.2.
The goal of the Style Book is to make it easier to make consistent designs, to help users understand the effects of changes quickly, and to let them change things more to their liking. This is a big change for people who write block themes.
These changes make the design process clearer, easier to understand, and faster to change and reuse.
Here are some examples of core blocks that come with WordPress by default. To navigate, go to Styles and click on Style Book.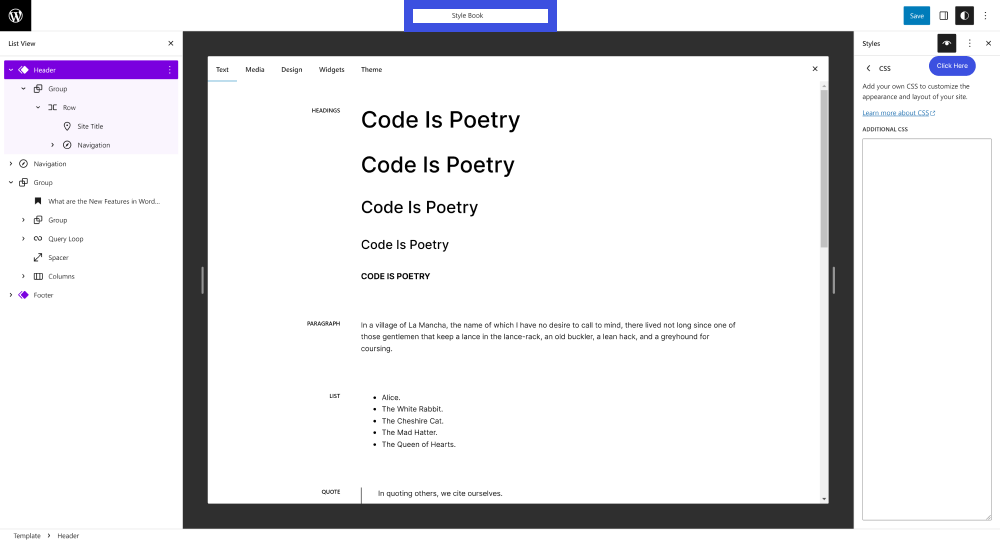 9. Sticky Positioned Block
Position block support now has a "Sticky" option that lets a block stay in the viewport and stay at the top of the page even when the rest of the page is scrolled.
This is useful when a status message or promotion must be visible no matter where the page scrolls. It provides a genuine WYSIWYG (What You See Is What You Get) experience in the block editor and front end.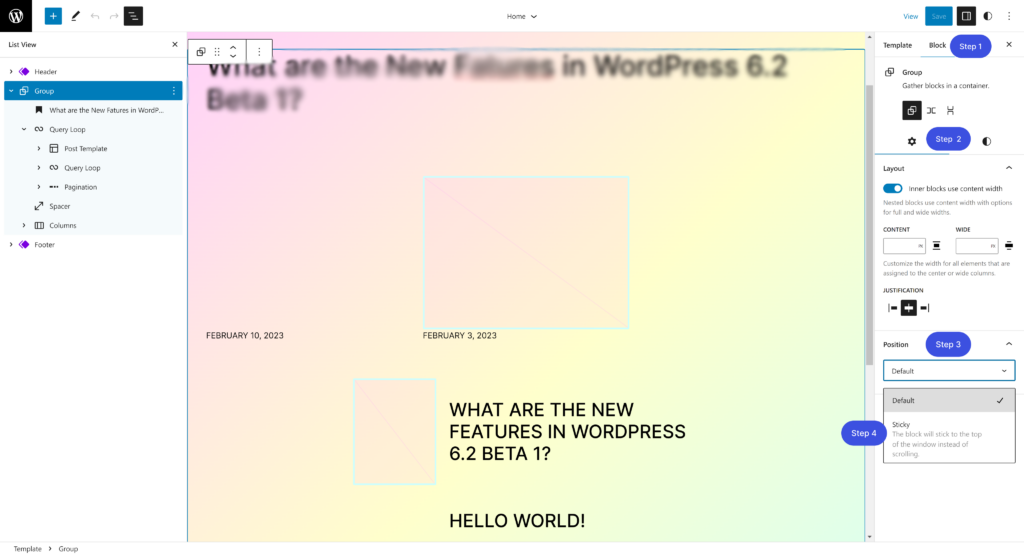 In WordPress 6.2, the team only focused on the root level. This is because it makes sticky positioning less complicated and avoids the UX problem of using sticky on a block that is not at the root level.
10. Block UX Navigation
Now the block settings sidebar has an editable view, and controlling menus is even simpler. This view works like the ListView, but it only shows the navigation that is being edited at the moment.
When you click the "Edit" button, the menu item in the editor is chosen, which lets you make changes inline. This option strikes a balance between the old way of doing things and the new way of doing things with blocks.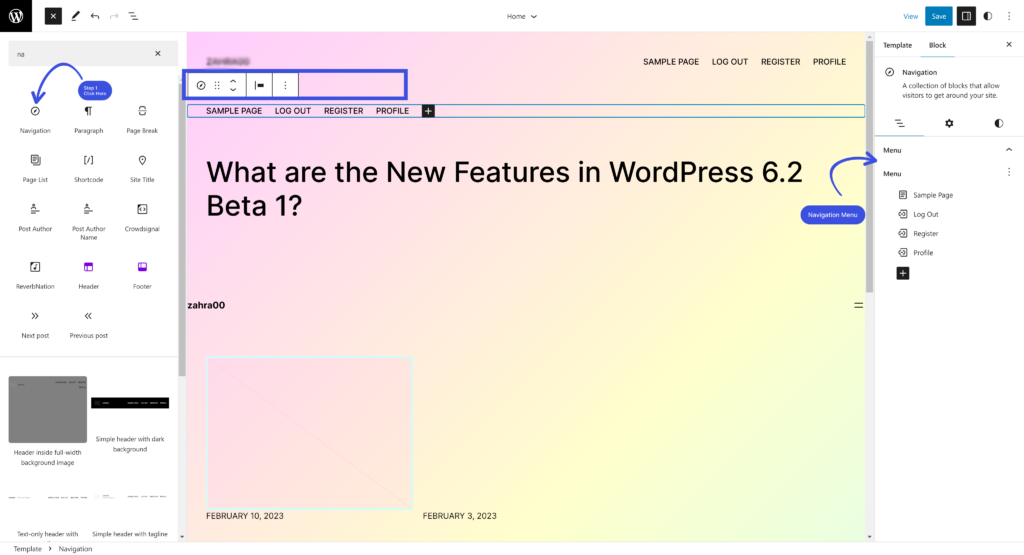 11. Custom CSS
Through Global Styles, you can now add your own custom CSS to your whole site. This new feature gives designers even more control over how their website looks and feels so that they can make fine-tuned changes to their design.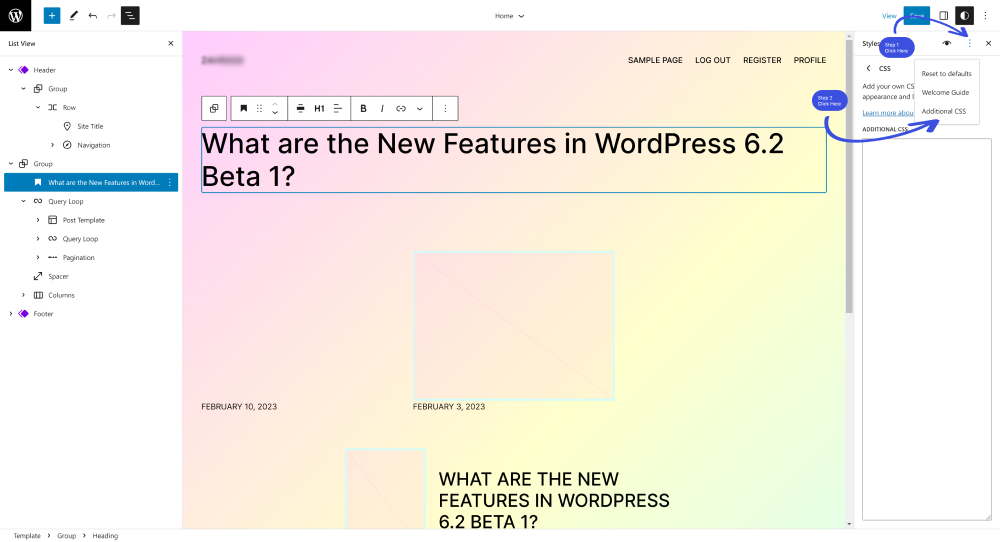 12. Block Pattern Inserter Redesign
Block Patterns are an excellent way to organize content in a Post or Page quickly. The new feature splits the view between categories and patterns, making it easier to find what you're looking for and giving patterns bigger previews.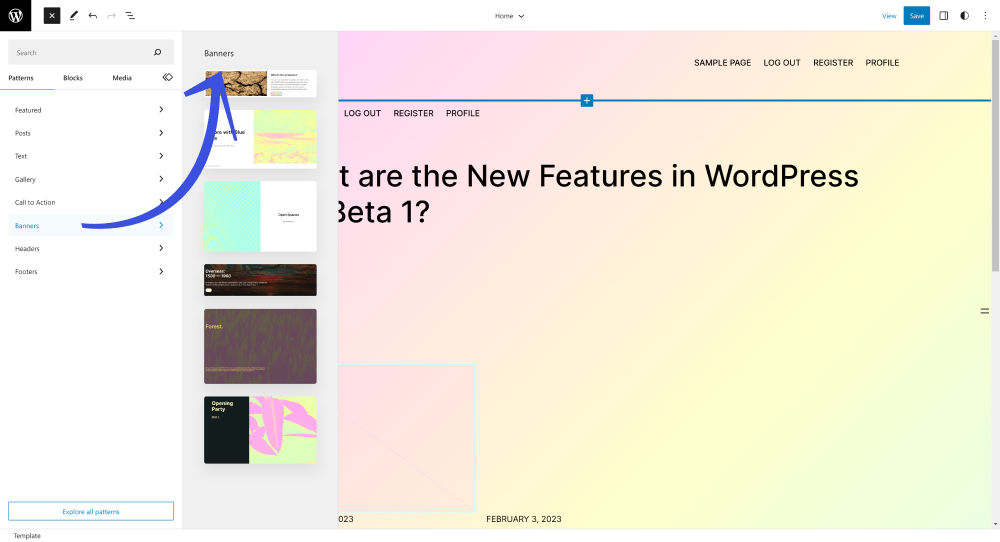 Using Block Patterns to arrange material in a Post or Page is a time-saving and effective strategy. This also makes it easier to build top-level sections with drag-and-drop, lets you move quickly between categories, and lets you save, import, and manage patterns.
13. Openverse Indicator
Openverse is a free resource for photos and audio that you can now add to your site. Using the Block Inserter's Media tab and Openverse, you can look for content that is licensed under Creative Commons and add it to your site.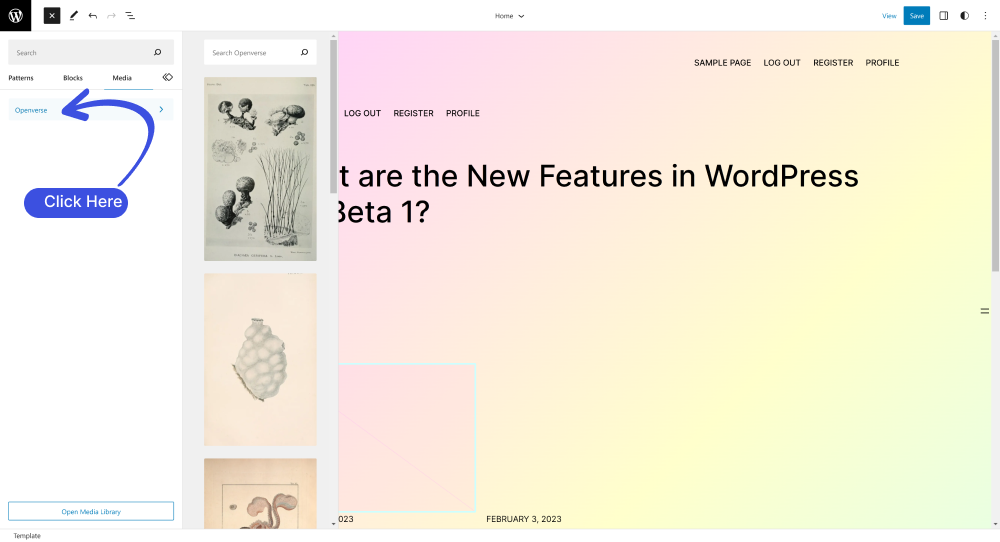 Now, you can access millions of media items from your editor. This great new feature in WordPress 6.2 makes it easier to add images from Openverse's index of more than 300 million public domain and openly licensed images.
What's New in 6.2 Beta 2?
WordPress 6.2 Beta 2 is currently under development but available for testing and download!
Beta 2 fixes 71 bugs that were found since the last release of Beta 1.
It also has the latest Gutenberg plugin release, version 15.1.
With more than 238 tickets for the WordPress 6.2 core, this release includes more than 292 improvements and 354 bug fixes for the editor. As the 6.2 release cycle progresses, you can expect even more fixes.
Last year, WordPress 5.9 fixed a performance bug causing slowness on the largest content-rich paint measure (LCP). This bug was caused by the way WordPress loads pictures by default. In certain situations, this made the page load 30% faster.
An update with 6.2 Beta 2 makes finding the LCP image in block themes easier and stops it from being lazy-loaded.
How to Test WordPress 6.2 Beta 2?
You can test Beta 2 by directly downloading the Beta 2 version.
You can also install and test it by executing the following WP-CLI command: upgrade wp core —version=6.2-beta2
You can also install the WordPress Beta Tester plugin and test WordPreDownload by selecting the "Bleeding edge" channel and the "Beta/RC Only" stream.
Finally, creating stunning websites with robust functionality and exciting content for your readers or clients is now easier than ever with the release of WordPress 6.2.
This version is well worth testing out beforehand on staging sites, so you're prepared for when it'll officially launch in March 2023.
Many changes involve usability, accessibility, efficiency, and design aspects like fonts and galleries.
Take advantage of these changes and start testing right away if you want to stay on top of all the most recent updates from WordPress. It is fun!
6.2 Beta 2 was released on 14 February 2023 for testing, and 6.2 Beta 3 is scheduled to be released on February 21, 2023.
Note: Please keep in mind that WordPress Beta 1 and 2 are still developing, and the new features may change over the next few weeks. We'll be adding more details to this post very shortly. Keep an eye out for further updates.