Frequently Asked Questions
Try to find your solution with the frequently asked questions about or services.
Where can I get support for LoginPress?
If you need help with LoginPress, you can contact us here. We'll be happy to answer any questions about the plugin.
Do you have an affiliate program?
Yes, we have an affiliate program that you can sign up for here. As an affiliate, you'll earn a commission on every sale you refer to us.
Do you offer refunds?
Yes, we offer a 14-day money-back guarantee on all of our plans. If you're unsatisfied with LoginPress, simply contact us within 14 days of your purchase, and we'll process a refund.
Can I upgrade my license after my initial purchase?
Yes, you can upgrade your LoginPress license at any time. Simply log into your account and go to the My Downloads page. From here, you can upgrade your license and download the latest version of the plugin.
Will LoginPress slow down my website?
No, LoginPress will not slow down your website. The plugin is lightweight and only loads the necessary files when someone tries to access your login page.
Is LoginPress compatible with other plugins?
Yes, LoginPress is compatible with most other WordPress plugins. However, we recommend you test the plugin on a staging site before using it on a live site. This will help ensure that there are no conflicts with other plugins or themes.
Is LoginPress translation ready?
LoginPress has complete translation and localization support via the LoginPress text-domain. All .mo and .po translation files should go into the languages folder at the plugin's base.
What's required to use LoginPress?
LoginPress requires WordPress 4.0 or higher. If you're not sure what version of WordPress you have, you can check by going to the Updates page in your WordPress admin area.
Is LoginPress WPML Compatible?
LoginPress is fully supported with multilingual. LoginPress is also compatible with WPML Plugin, which means you can easily translate your login page with WPML plugin according to the given translation options in the WPML plugin.
Do I need to have coding skills to use LoginPress?
No, you don't need to know how to code to use LoginPress. The plugin includes several built-in features that allow you to customize your login page without writing any code.
However, if you know how to code, you can use the plugin's hooks and filters to customize your login page further.
How to Install or Use LoginPress Pro?
Step-by-step instructions on How to Upgrade from existing Free version to Pro
1. You have installed and set up the Free version already.
2. Upload the Pro version.
3. Pro features will be enabled automatically.
4. You don't need to set up Free version options again.
5. Setup Pro features like Google fonts, Google reCaptcha, Choose themes, etc.
Where is My License Key?
Are you wondering where you can get your LoginPress pro license key?
Your license key for LoginPress Pro grants you access to automatic updates and plugin support. So, validating the key is mandatory when you are done installing and activating  LoginPress Pro on your WordPress site.
Note: If your license key is deactivated/expired, LoginPress Pro will work properly, but you will not receive automatic updates.
In this knowledgebase article, we'll show you where to find your LoginPress Pro license key. 
Let's get started!
Where is My LoginPress Pro License Key
As soon as you are done purchasing LoginPress PRO from LoginPress, you will receive 2 Emails at your purchased email address.
In the first email, you'll find login details for the WPBrigade account.
The second email contains your purchased file and license key. You'll need these emails to find your license key.
1. Get the License Key From the Purchased Email Inbox
The first way to get your license key is via your purchased Email address.
Once you purchase the LoginPress Pro, you'll get the license key in your email inbox.
See the screenshot below.

Under this email, you'll find your license key. Copy it (we're going to need this later).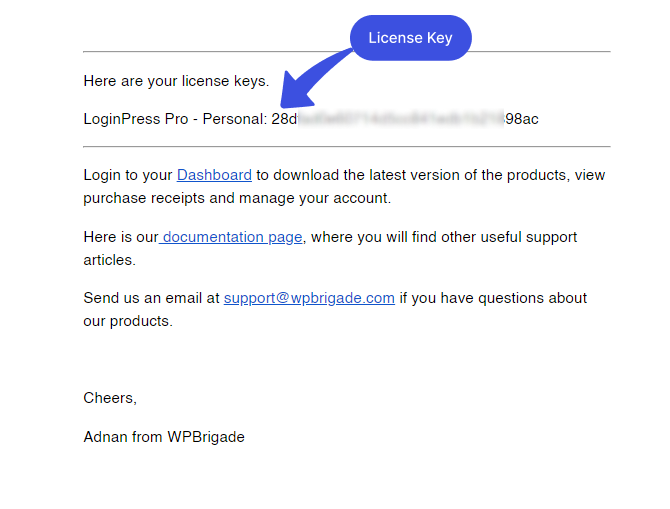 2. Get the License Key From the WPBrigade Account
The second way to get your license key is via logging into the WPBrigade account.
Once you purchase the LoginPress Pro, you'll get the login credential for the WPBrigade account in your email inbox.
Without further ado, see the screenshot below:
You'll get your login details, including Your Username, Password, and link for your WPBrigade Account, from the first email you receive after the purchase.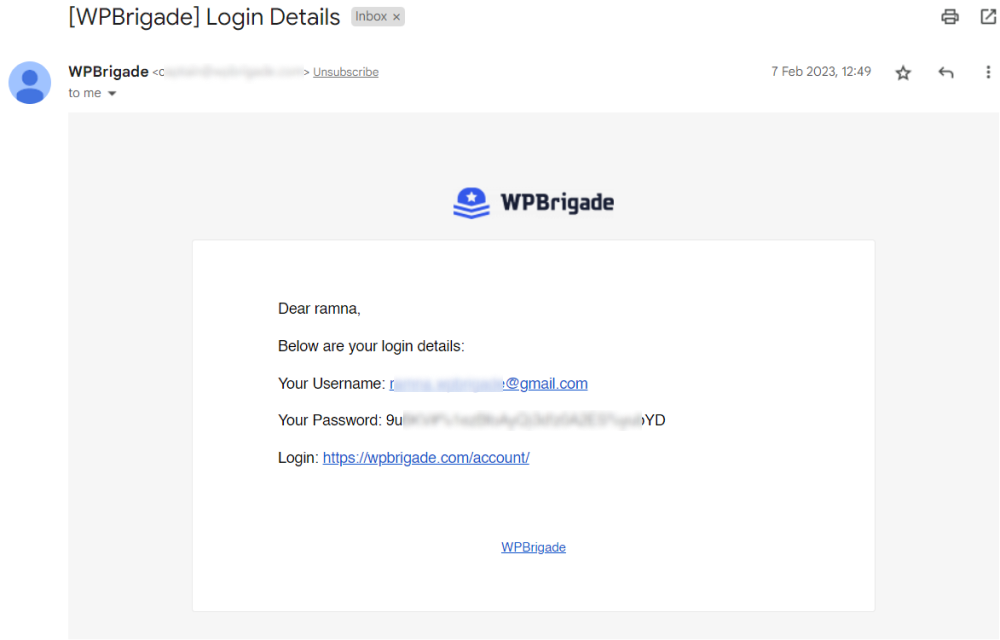 Now, go to the WPBrigade account, type in your login details, and click the Log In button.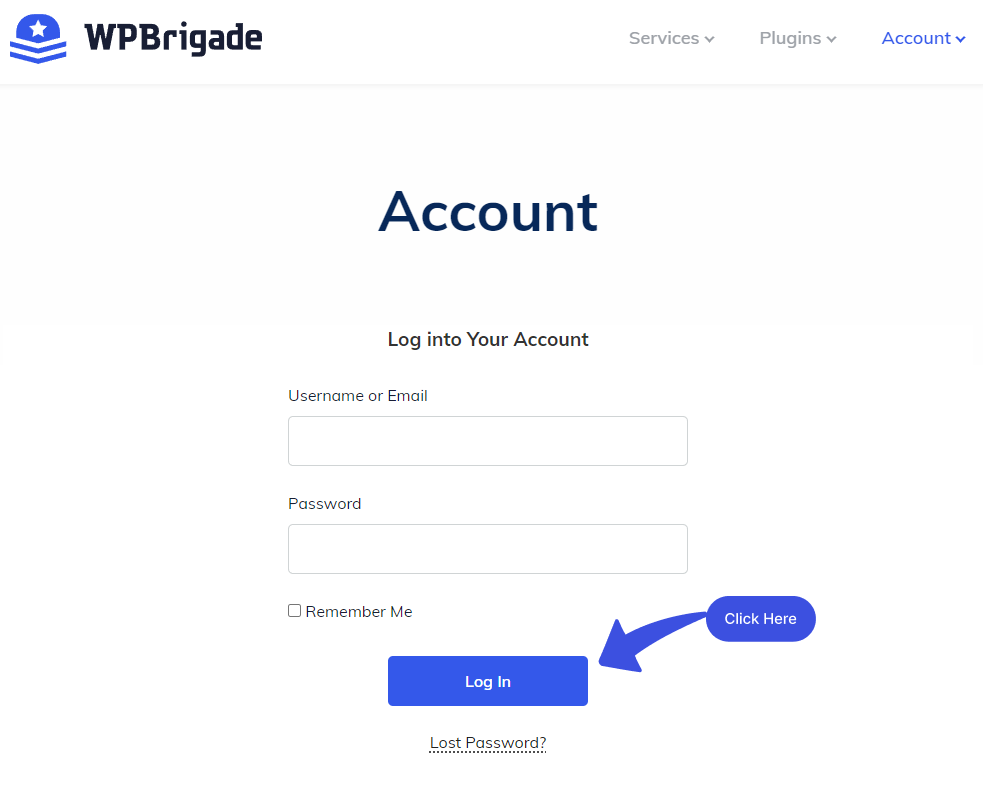 On the next screen, select the Licenses tab to get your license key. Copy it (we're going to need this later).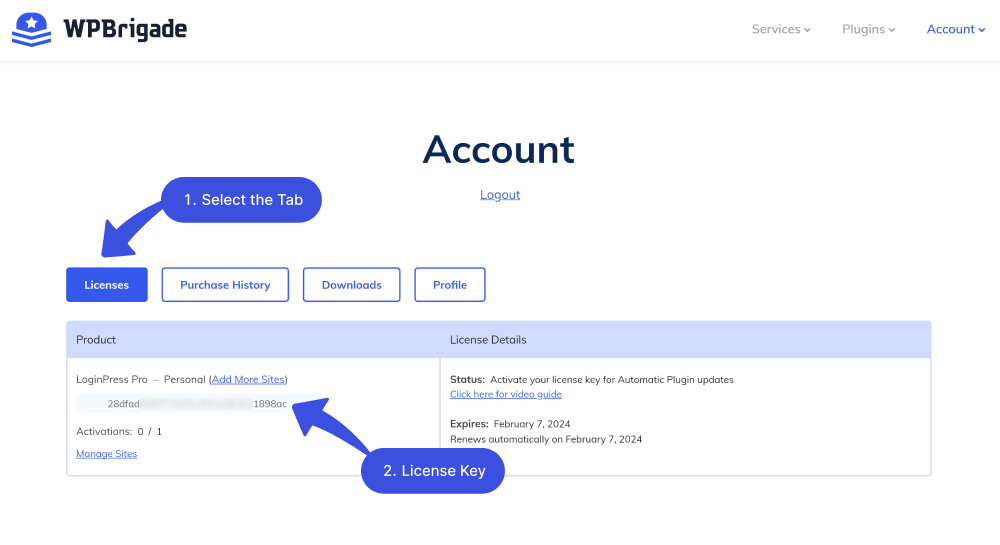 Where to Use My License Key?
Once License Key is copied, you'll need to go back to your WordPress admin dashboard, navigate to LoginPress, and click the License Manager option.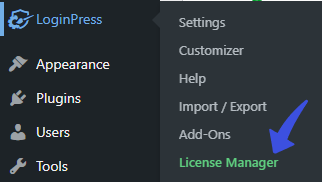 Here you'll see the License key field. Simply paste the license key inside the license field and click on Activate License button.
That's it! You've successfully activated the License Key. We hope now you know where is your license key and where you'll need it.
If you have any doubts or questions related to this matter, please don't hesitate to contact our support team.
How to upgrade to LoginPress Pro?
LoginPress Pro is a premium plugin that works if you have installed the Free version already. First, install our Free version and then install the Pro package.
LoginPress Pro version extends the Premium functionality to our Core Free version of LoginPress.
Who should use LoginPress?
Anyone who needs to create a custom login page for their WordPress site can benefit from using LoginPress. This includes developers building sites for clients, small business owners, and bloggers who want to add a personal touch to their login page.
Do I Need LoginPress Pro?
If you have a WordPress Website, and you want to add a cool-looking login page. LoginPress is your must-have plugin.
How to get started with LoginPress?
LoginPress can be installed and activated just like any other WordPress plugin. Once installed, head over to the new LoginPress menu item in your WordPress admin sidebar and look at the available settings.