Documentation
To make the plugin extra easy and functional as per the requirements, here comes the detailed documentation regarding the plugin. All about educating the things related to the plugin.
Hide Login
LoginPress- Hide Login addon helps you to change/rename the login page URL. It will enhance the security level and give a hard time to spammers who keep hitting your login page. It will help you to secure your login page from brute force attacks. One caution to use this add-on is you need to remember the custom login URL after you change it. We have an option to email your custom login URL, so you remember it.
Follow the given steps to change/rename the login page URL
1. Go to LoginPress > Add-Ons find the Hide Login Add-On and click the toggle button to on which will install the add-on.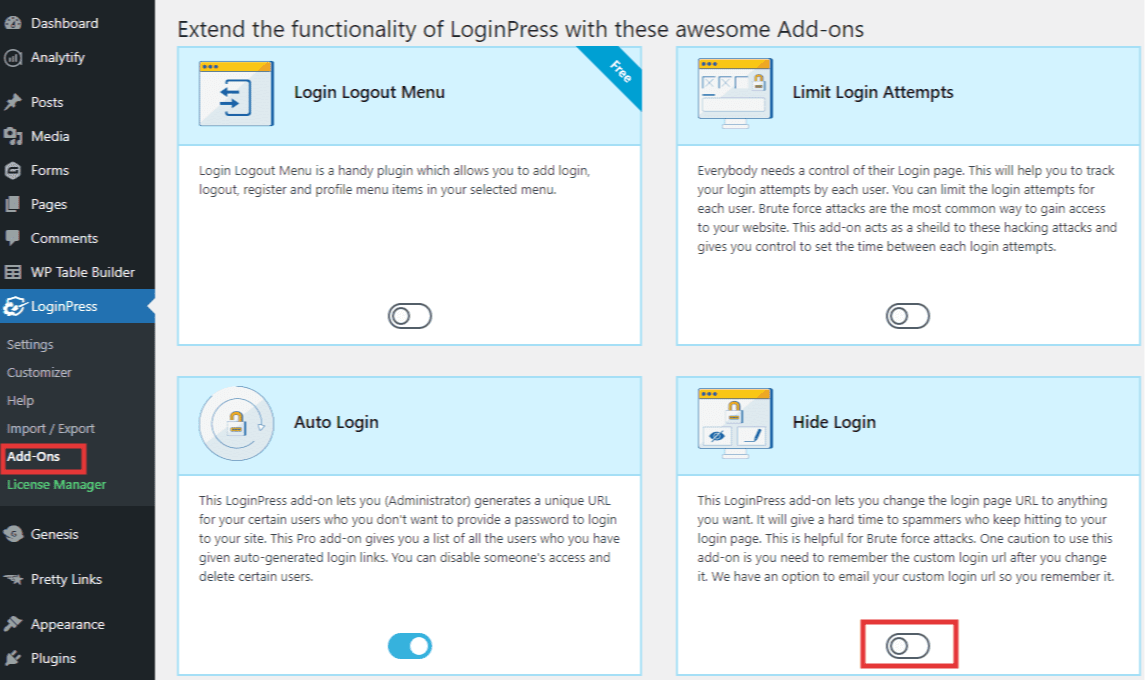 2. Now Go to LoginPress > Settings > Hide Login Tab, You will see separate settings for hiding Login.
3. Rename Login Slug: Here you need to change the login page URL by typing in the text field or press the button Generate Slug (Randomly).
4. Here you can see the option to email your custom login URL, so you remember it.
5. Enable Send Email and write down your email address. Use comma (, ) to add more than 1 recipient.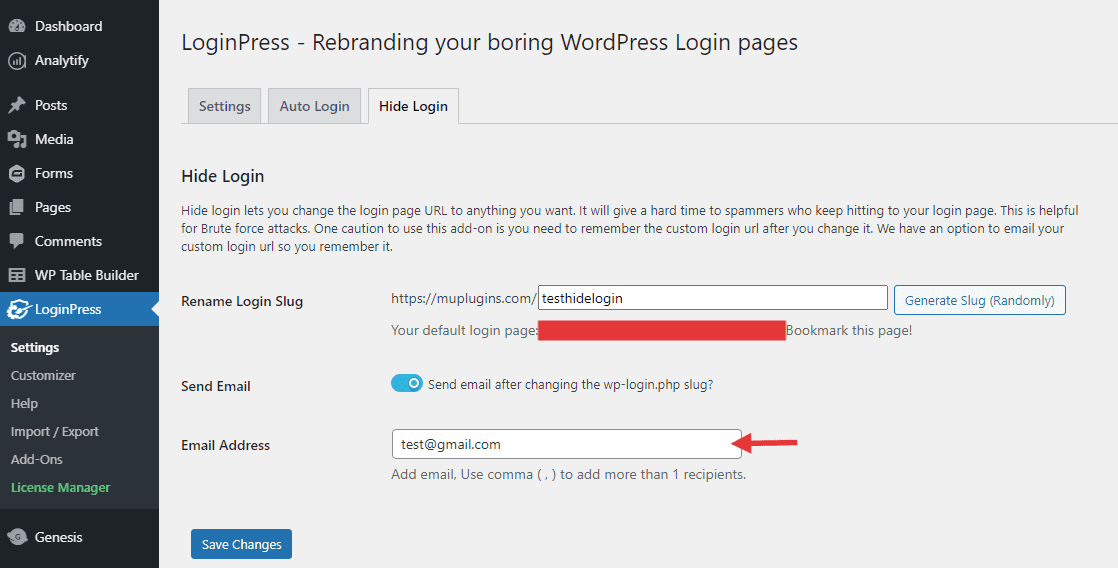 6. After making changes you need to click on save changes. It'll change your login page slug and sent emails as well.
Check our guide on the Redirect Login addon that will help you to redirect the user to their pages according to the specific roles instead of the WordPress admin dashboard.
Documentation
Frequently Asked Questions (FAQs)
These FAQs answer the most common questions about our WordPress custom login page plugin.
Is LoginPress WPML Compatible?
LoginPress is fully supported with multilingual. LoginPress is also compatible with WPML Plugin, which means you can easily translate your login page with WPML plugin according to the given translation options in the WPML plugin.
Is LoginPress translation ready?
Yes, LoginPress has full translation and localization support via the LoginPress textdomain. All .mo and .po translation files should go into the languages folder in the base of the plugin.
Is coding skills needed to use LoginPress?
No, It is very easy to setup. Just plug and play. Have fun!
How to Install or Use LoginPress Pro?
Step-by-step instructions on How to Upgrade from existing Free version to Pro
1. You have installed and set up the Free version already.
2. Upload the Pro version.
3. Pro features will be enabled automatically.
4. You don't need to set up Free version options again.
5. Setup Pro features like Google fonts, Google reCaptcha, Choose themes, etc.
Where is my license key?
License key is the Order ID which looks like in this format.
WHI150807-1234-12345
You can find it in the email Sales Receipt.