Documentation
To make the plugin extra easy and functional as per the requirements, here comes the detailed documentation regarding the plugin. All about educating the things related to the plugin.
Explore LoginPress Settings
What if you could easily customize each element on your login page? Now you can with the WordPress login page customizer plugin LoginPress.
LoginPress is a WordPress Custom login page customizer designed to help you to create a custom login page for your WordPress website according to your requirements.
In this knowledge-based article, we'll help you to understand LoginPress Settings. Let's get started!
LoginPress Settings
LoginPress offers free and premium features. In the free version, You'll find features including Session-Expires, Auto Remember Me, Custom Password Fields, Login Order, and Lost Password URL.
Once you upgrade to LoginPress premium, you can enjoy two additional features in the plugin, including Force Login and reCAPTCHA.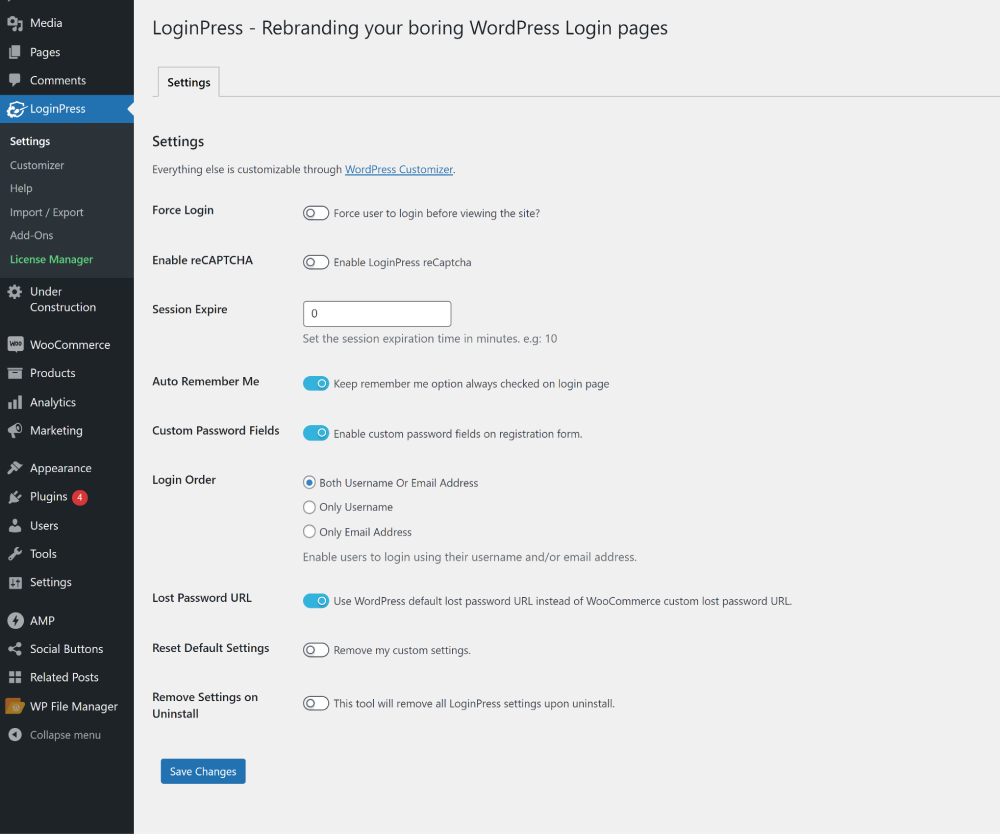 Here, we'll cover the free and premium features of LoginPress Settings, so you know how you can work best with them.
What Settings Come with LoginPress Pro Version?
1. Force Login (Premium):
LoginPress Pro Settings offer the Force Login feature. This feature enables you to restrict users from viewing your WordPress site without logging in.
Just because you Force Login for a user, does not mean that they have admin access or editor access to your website. It simply means that you are forcing them to log into your site as a member/user to view your content.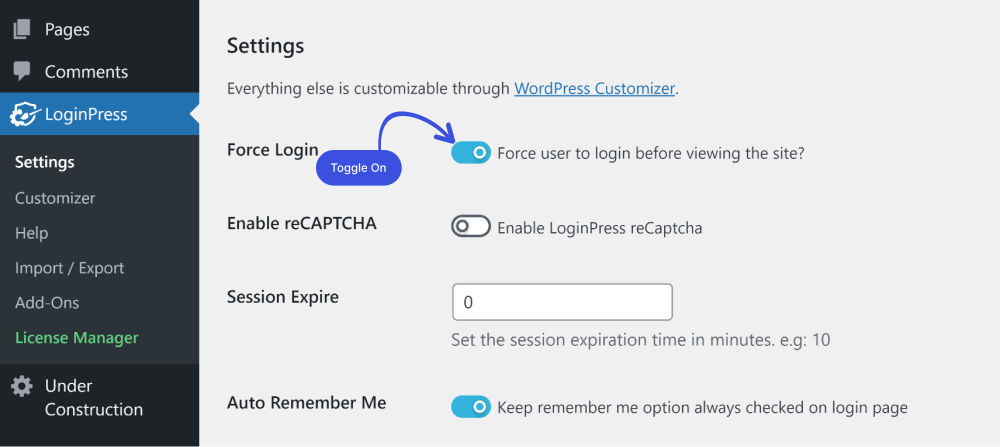 2. reCAPTCHA (Premium):
LoginPress's basic premium version offers you a feature to enable google reCAPTCHA on the Login, Registration, and Forget forms of your WordPress website.
reCAPTCHA helps you protect your website from spam or abuse. It is like a shield for your website that protects you against "bots" and other "malicious software". The reCAPTCHA is simple for humans to solve but difficult for "bots" and other malicious software.
You can find 3 different types of reCAPTCHA including:
V2 I'm not a robot (Offer two types of themes Light & Dark Theme)
V2 Invisible (user does not need to click on the reCAPTCHA checkbox, instead it invokes directly when the user clicks submit button)
V3 (offer a feature of setting reCaptcha score to analyze whether the visitor is a human or robot)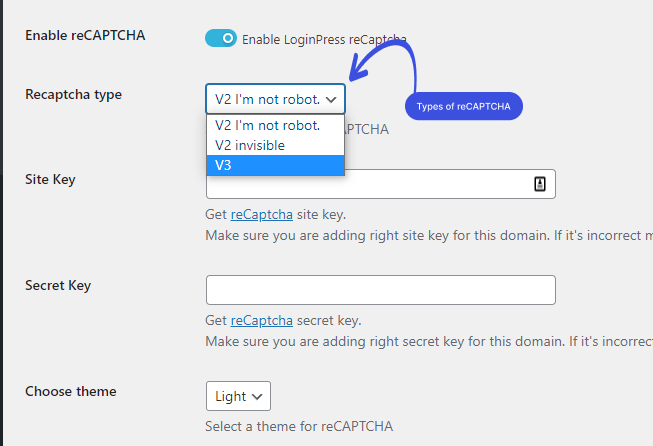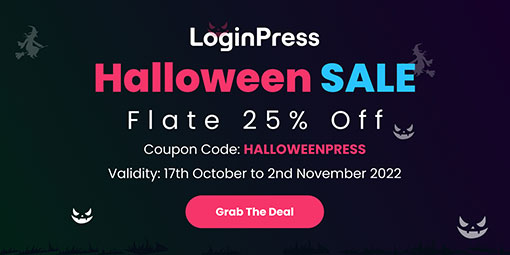 What Settings Come with LoginPress Free Version?
1. Session Expire (Free):
By default, WordPress sessions are programmed to expire after 48 hours. You can extend it to 14 days simply by checking the "Remember Me" box. You cannot customize the session expiration time as WordPress doesn't offer this functionality as a part of the core features.
The LoginPress Session Expire feature fills in the gap nicely. You do not need to use a separate plugin as this feature is part of the core LoginPress Settings that lets you easily set a customized session expiration with a single click.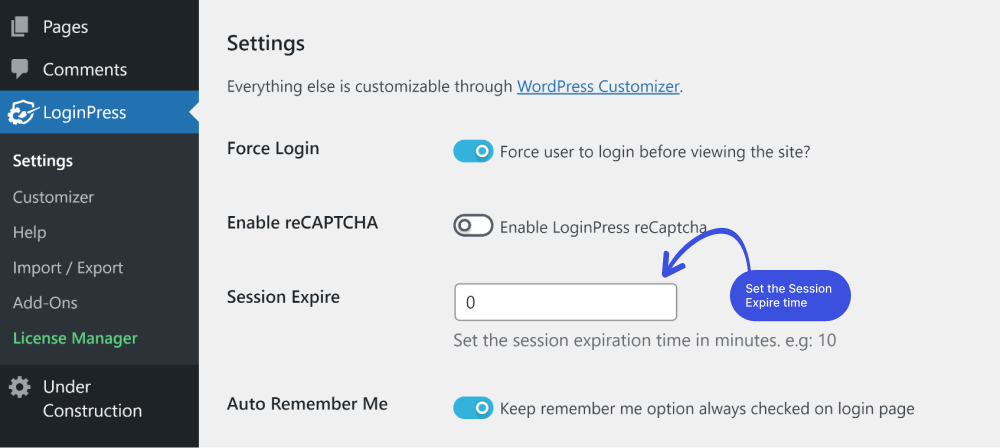 2. Auto Remember Me (Free):
LoginPress also offers an Auto Remember Me feature as part of the core LoginPress Settings. Once a user logs in, it lets him have access from the same machine to all his data even after the session expires. The user needs to log out to have no more access to the site.
To use this feature, you must toggle on Auto Remember Me to enable it on your login page.
By default, WordPress offers the Remember Me feature to let you save your username and password for login to your website. But You've to checkbox every time to enable this option. LoginPress brings ease with the Auto Remember Me feature.
Just toggle it on from the LoginPress Setting. Now, you don't need to checkbox Remember Me option all the time.
Note: You can see our guide Remove the "Remember me" checkbox (Hook) to see how can remove the Remember me check box from your Custom login page.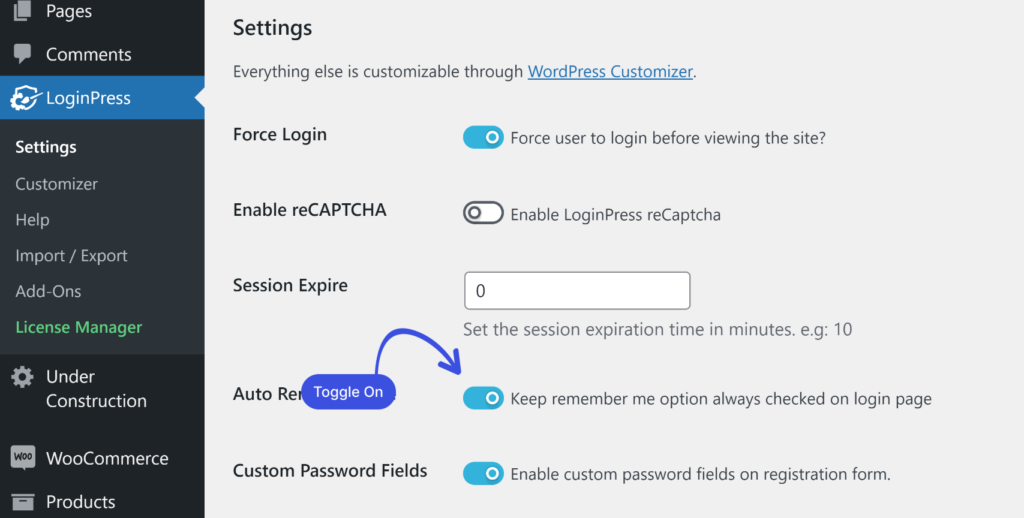 3. Custom Password Fields (Free):
LoginPress offers a Custom Password Fields feature that lets you create custom password fields on a registration form.
This feature enables the users to easily create a password when they register on your site without the confirmation of a password via email.
4. Login Order (Free):
It offers a Login Order feature for free that lets you customize the login orders on the login page exactly the way you want. You can opt between:
Both Username Or Email Address
Only Username
Only Email Address
Note: Email address is the best option, as it makes it easy to log in with the email address instead of remembering some randomized username for logging in.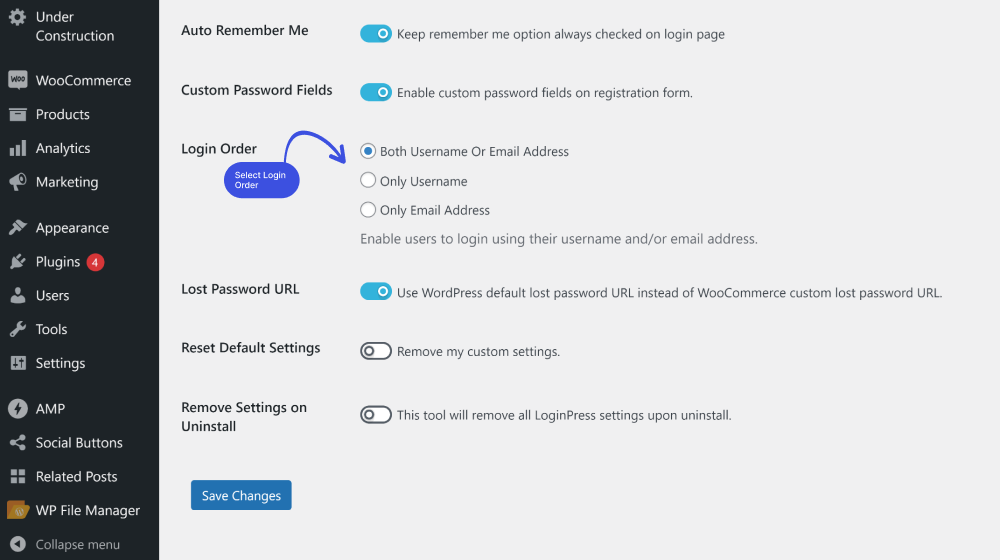 5. Lost Password URL (Free):
This option belongs to the WooCommerce plugin. If you have activated WooCommerce then you'll see that Woocommerce creates its own forget page URL instead of using the WordPress default URL e.g, https://yourdomain.com/my-account/lost-password/.
Let's suppose you are using LoginPress and WooCommerce plugins at the same time. You'll need to toggle on the Lost Password URL from the LoginPress Settings menu to redirect to the WordPress default lost password URL.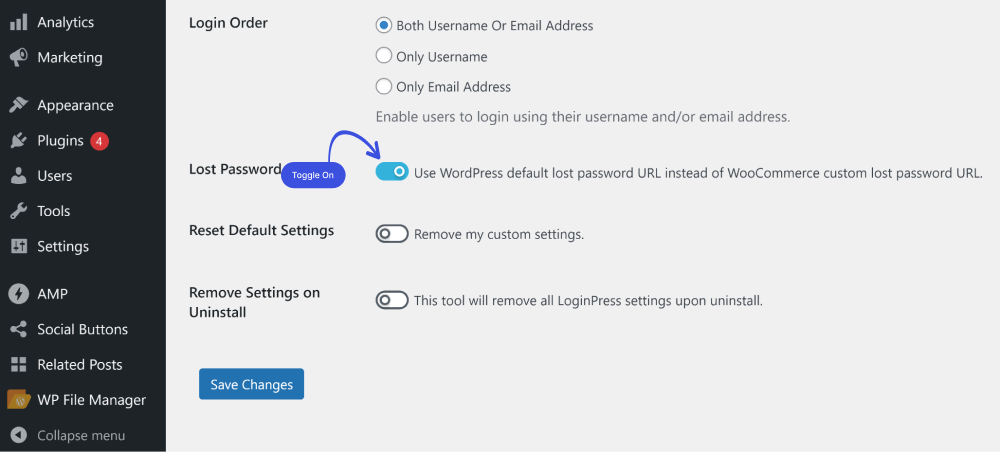 6. Reset Default Settings (Free):
You'll find the Reset Default Settings at the end that will let you reset the default settings of LoginPress by just toggling on this feature.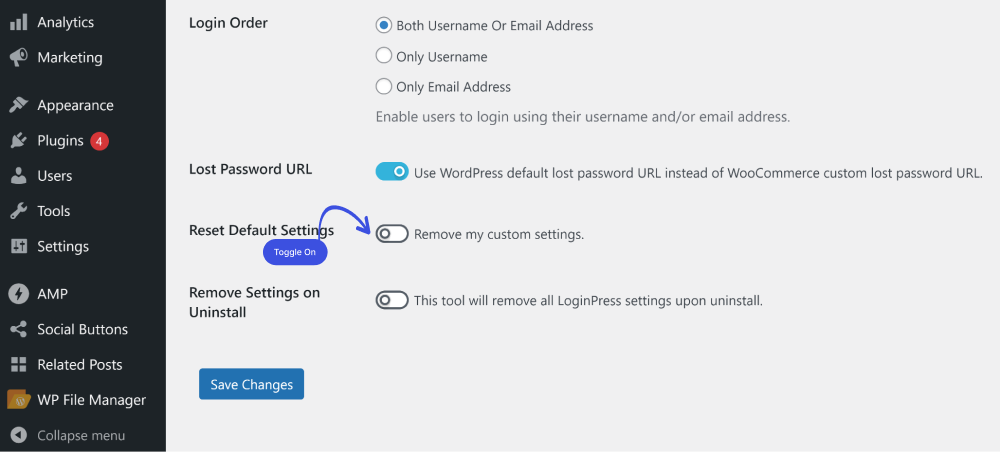 7. Remove Settings on Uninstall (Free):
This option will remove all LoginPress settings upon uninstalling the plugin.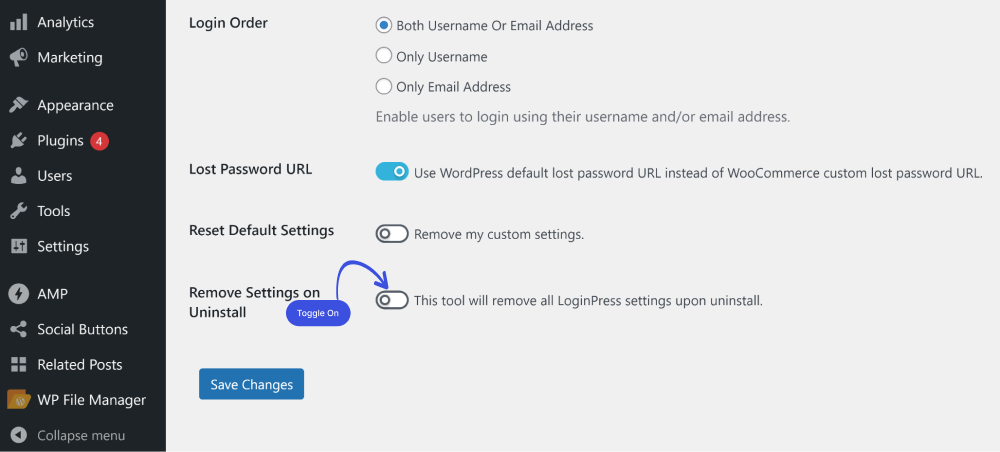 Once you make all the changes, click the Save Changes button.
That's it! We hope now you understand what features are offered by LoginPress free and premium Settings.
If you have any doubts or questions related to this matter, please don't hesitate to reach out to our support team.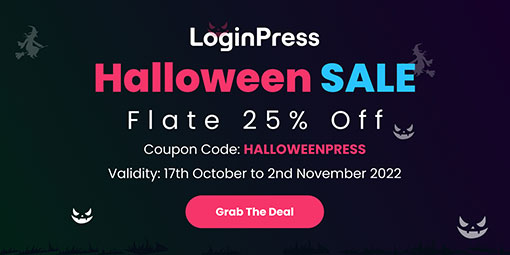 Documentation
Frequently Asked Questions (FAQs)
These FAQs answer the most common questions about our WordPress custom login page plugin.
Where can I get support for LoginPress?
If you need help with LoginPress, you can contact us here. We'll be happy to answer any questions about the plugin.
Do you have an affiliate program?
Yes, we have an affiliate program that you can sign up for here. As an affiliate, you'll earn a commission on every sale you refer to us.
Do you offer refunds?
Yes, we offer a 14-day money-back guarantee on all of our plans. If you're unsatisfied with LoginPress, simply contact us within 14 days of your purchase, and we'll process a refund.
Can I upgrade my license after my initial purchase?
Yes, you can upgrade your LoginPress license at any time. Simply log into your account and go to the My Downloads page. From here, you can upgrade your license and download the latest version of the plugin.
Will LoginPress slow down my website?
No, LoginPress will not slow down your website. The plugin is lightweight and only loads the necessary files when someone tries to access your login page.