Documentation
To make the plugin extra easy and functional as per the requirements, here comes the detailed documentation regarding the plugin. All about educating the things related to the plugin.
LoginPress Free vs Pro [Compared]
In WordPress login plugins, one name echoes loudly — LoginPress!
The best WordPress login plugin comes in both free and pro versions.
Picture this: An arena where the free version spars with the pro, showcasing their strengths in an electrifying dance of features.
Let's walk through a complete comparison of LoginPress Free and LoginPress Pro.
Keep reading the article to learn the key differences and discover what you're missing out on with the pro version!
Let's get started:
Introduction to LoginPress (Free and Pro)
1. LoginPress Free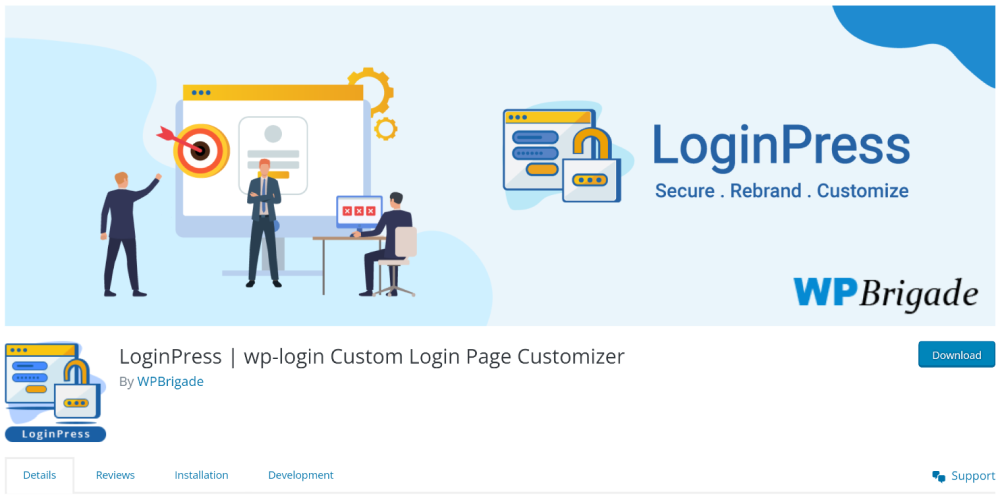 LoginPress is the best free login plugin for WordPress. It has over 200,000 active installations and a 5-star rating.
You'll find almost all the essential features required to customize each element on the login form, including the background, logo, login form, footer, and more. The point worth noting is that you don't need to write a single line of code.
Both LoginPress free and pro versions are highly user-friendly and responsive.
But wait, there's a lot more in the pro version!
2. LoginPress Pro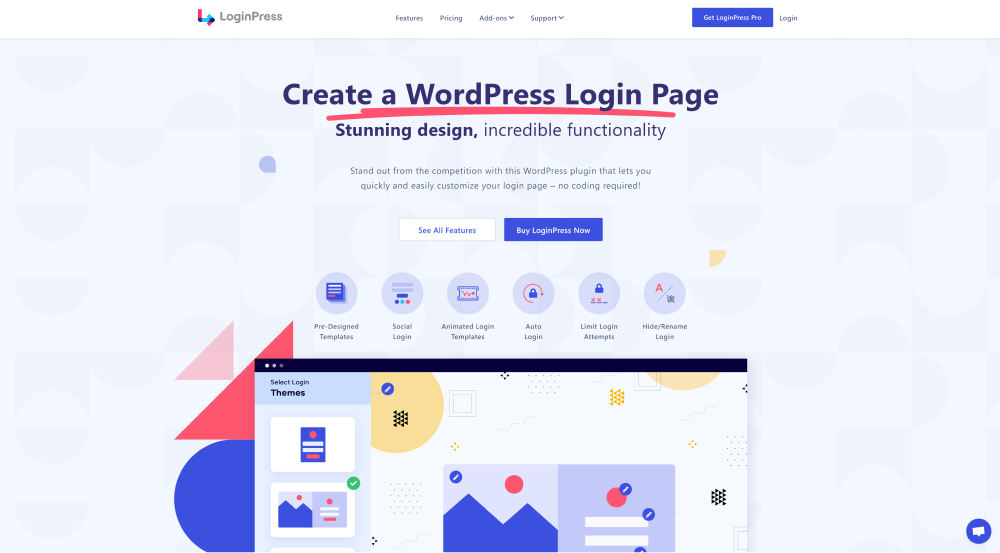 When you upgrade to the LoginPress Pro, you will gain access to previously unavailable features in the free version.
LoginPress Pro enables you to create your desired login page with minimal effort.
Do you want to know a fun fact?
Both LoginPress Free and Pro offer a Live Preview option for tracking all the customization in real time. It means you can see all the changes before making them live.
The real difference lies in the additional features LoginPress Pro offers that mainly focus on the security of your site, including reCAPTCHA, Hide Login, Limit Login Attempts, and more.
Find out more details in the next section.
LoginPress Pro has four different pricing plans. You can choose a suitable plan according to your needs.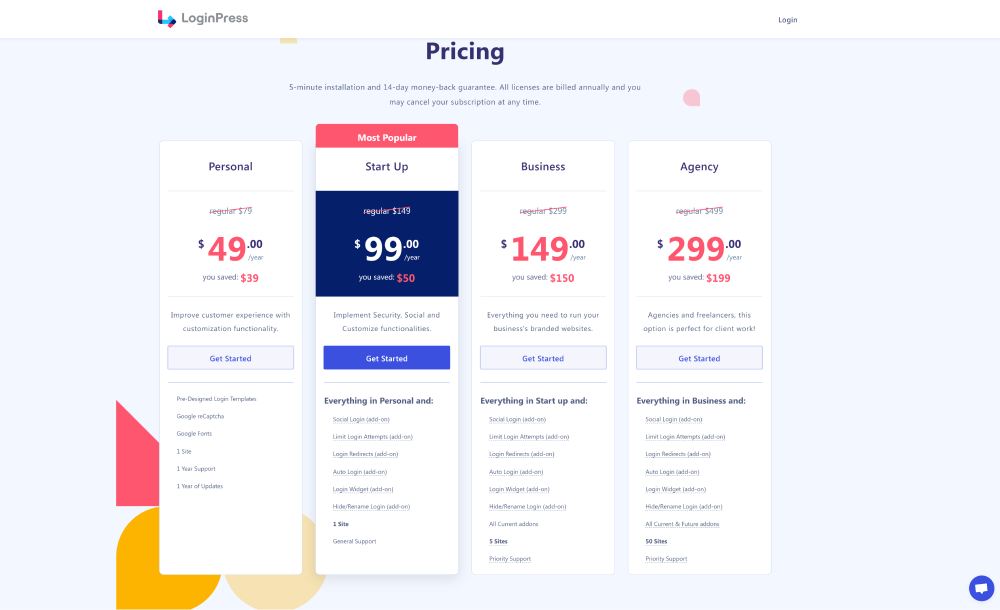 LoginPress Free vs Pro (Comparison Tables)
Here, we compare what LoginPress Free and Pro versions offer in the following:
LoginPress Free and LoginPress Pro Settings
LoginPress Free and LoginPress Pro Customizer
LoginPress Free and LoginPress Pro Add-Ons
Now, let's get into the details.
1. LoginPress Settings (Free vs Pro)
Below is a short overview of the LoginPress Free and Pro Settings section of these two versions.
| Settings | Free | Pro |
| --- | --- | --- |
| Force Login | ⨯ | ✔ |
| reCAPTCHA | ⨯ | ✔ |
| Session Expire | ✔ | ✔ |
| Auto Remember me | ✔ | ✔ |
| Custom Password Fields | ✔ | ✔ |
| Login Order | ✔ | ✔ |
| PCI Compliance | ✔ | ✔ |
LoginPresss free lets you change the WordPress default login page's overall behavior regarding session expiration time, enabling auto-remember me, adding custom password fields on the registration form, changing the log-in order, and making your login page PCI compliant.
With LoginPress Pro, you can add force login and reCAPTCHA to your site. These are important for your site, so let's understand these features:
Force Login: The Force Login feature forces users to log in to your site to see your content. This feature is best for membership sites.
reCAPTCHA: reCAPTCHA is the best security feature. It adds a test on the login form that is relatively easy for humans but difficult for the bots. In addition to login credentials, one needs to go through the test, i.e., I'm not a robot tickbox.
2. LoginPress Customizer (Free vs Pro)
See the overview for these two versions' Customizer sections.
| Customizer Feature | Free | Pro |
| --- | --- | --- |
| Theme | ✔ | ✔ |
| Logo | ✔ | ✔ |
| Background | ✔ | ✔ |
| Customize Login Form | ✔ | ✔ |
| Customize Forget Form | ✔ | ✔ |
| reCAPTCHA | ⨯ | ✔ |
| Button Beauty | ✔ | ✔ |
| Error Messages | ✔ | ✔ |
| Welcome Messages | ✔ | ✔ |
| Form Footer | ✔ | ✔ |
| Google Fonts | ⨯ | ✔ |
| Custom CSS/JS | ✔ | ✔ |
LoginPress Free offers all the essential features for customization, including Theme, Logo, Background, Button Beauty, and a lot more.
However, the LoginPress Pro provides more.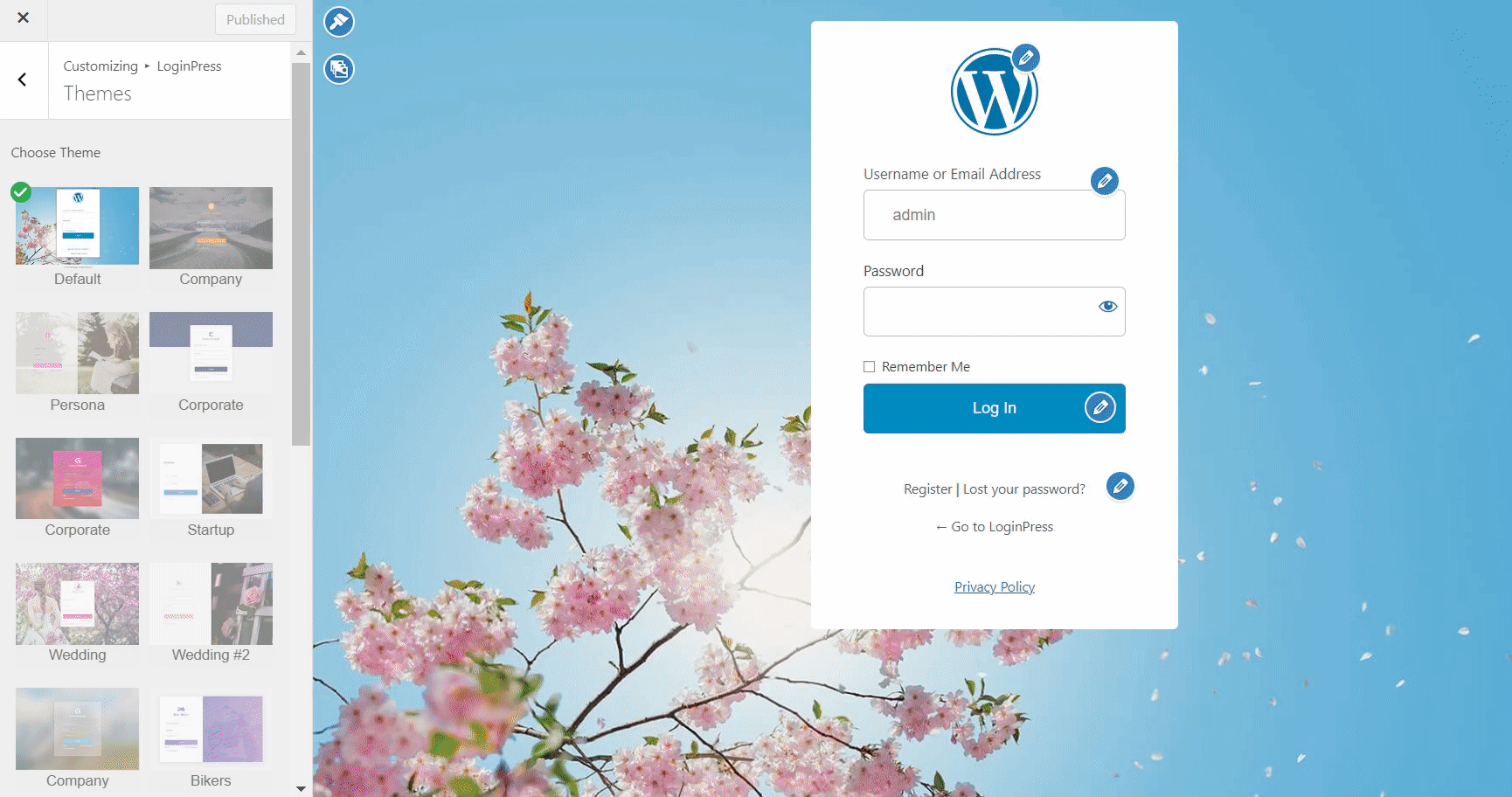 Customize reCAPTCHA: reCPTCHA you added from the LoginPress Settings section, which can be customized from the Customizer section. You can customize the Error Message and Size.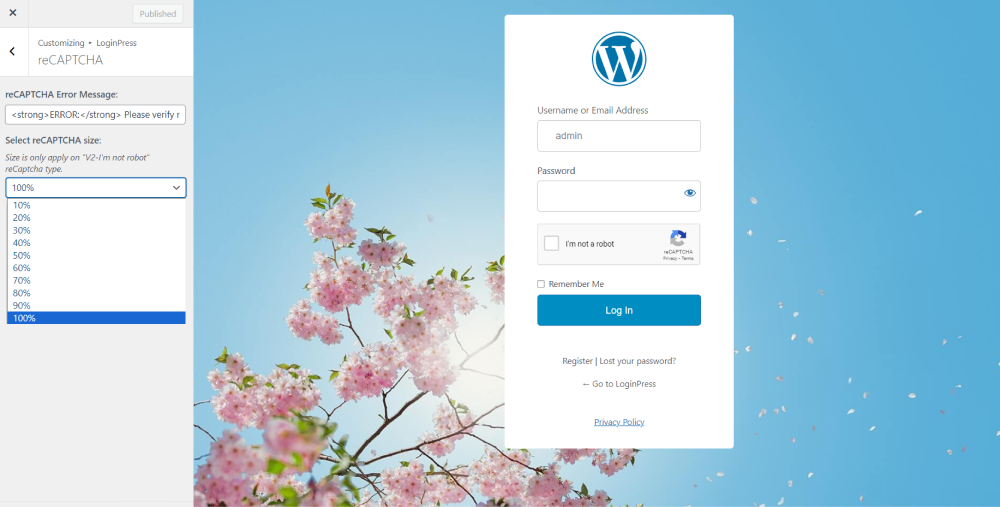 Google Fonts: LoginPress Pro unlocks access to Google fonts.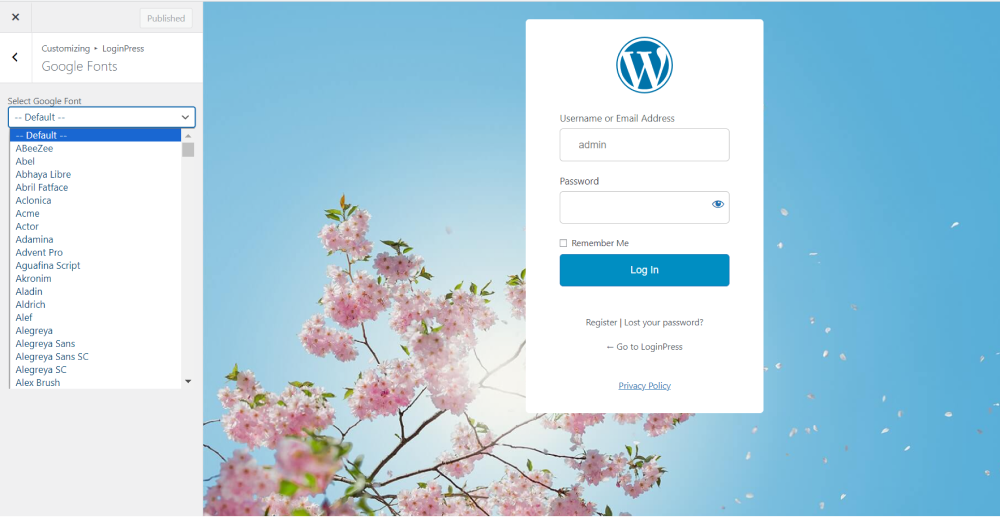 3. LoginPress Add-Ons (Free vs Pro)
Let's see what comes for the LoginPress Free and Pro Add-Ons section:
| Add-Ons | Free | Pro |
| --- | --- | --- |
| Login Logout Menu | ✔ | ✔ |
| Social Login | ⨯ | ✔ |
| Hide Login | ⨯ | ✔ |
| Limit Login Attempts | ⨯ | ✔ |
| Login Redirects | ⨯ | ✔ |
| Auto Login | ⨯ | ✔ |
| Login Widget | ⨯ | ✔ |
LoginPress free offers Login Logout Menu Add-on for free.
If you purchase LoginPress Pro, you get other essential Add-Ons:
Social Login (Pro) add-on lets you integrate social login to your WordPress site, i.e., Facebook, Google, Twitter, or LinkedIn.
Login Widget (Pro) add-on lets you create a login widget that can be added to the sidebar of your WordPress site.
Hide Login (Pro) add-on changes the default WordPress login slug, i.e., /wp-login.php, to anything you want.
Auto Login (Pro) generates a unique login URL. You can give it to any user for login to your site. It best helps when you don't want to provide login credentials, i.e., Username/Email Address or Password, to your users.
LoginPress Free vs Pro: Which is the Best Choice?
Now that you know the key difference between both versions of LoginPress, it's safe to say that LoginPress Pro is a much better option with more amazing features and add-ons.
In comparison, Pro offers you:
Force Login
reCAPTCHA
Pro Themes
Google Fonts
Customize reCAPTCHA Feature
Social Login
Hide Login
Limit Login Attempts
Login Redirects
Auto Login
Login Widget
LoginPress Pro also offers a 14-day money-back guarantee. If LoginPress isn't the best fit for you, simply reach out! We'll happily refund 100% of your money. 
Level up how you customize and secure your WordPress site with LoginPress Pro Now!
For more information, you can also read our knowledgebase articles about Explore LoginPress Settings and Explore LoginPress Customizer.
Don't hesitate to contact our support team for any doubts or questions; we're here to help.
Documentation
Frequently Asked Questions (FAQs)
These FAQs answer the most common questions about our WordPress custom login page plugin.
Where can I get support for LoginPress?
If you need help with LoginPress, you can contact us here. We'll be happy to answer any questions about the plugin.
Do you have an affiliate program?
Yes, we have an affiliate program that you can sign up for here. As an affiliate, you'll earn a commission on every sale you refer to us.
Do you offer refunds?
Yes, we offer a 14-day money-back guarantee on all of our plans. If you're unsatisfied with LoginPress, simply contact us within 14 days of your purchase, and we'll process a refund.
Can I upgrade my license after my initial purchase?
Yes, you can upgrade your LoginPress license at any time. Simply log into your account and go to the My Downloads page. From here, you can upgrade your license and download the latest version of the plugin.
Will LoginPress slow down my website?
No, LoginPress will not slow down your website. The plugin is lightweight and only loads the necessary files when someone tries to access your login page.