Documentation
To make the plugin extra easy and functional as per the requirements, here comes the detailed documentation regarding the plugin. All about educating the things related to the plugin.
LoginPress Support
Are you looking for LoginPress support and don't know where to start? Don't worry; we've got you covered!
LoginPress has a user-friendly interface, but there might be times when you need help with installation, configuration, or address any technical issues.
We understand the importance of a hassle-free user experience. Therefore, our dedicated support team is committed to providing timely help and guidance.
This knowledge base article will show you all the possible ways to ask for and get LoginPress support, including:
Let's get started!
1. Help Option within LoginPress
When encountering a LoginPress-related problem, you can access the support options directly from LoginPress's Help option in your WordPress dashboard. It will take you to the LoginPress support forum, where you can search for answers or ask for help.
To do this, go to the left sidebar of the WordPress admin dashboard, navigate to LoginPress, and click the Help option.
Next, click the plugin support forums link.
Note: The Help option is available in LoginPress Free and Pro versions.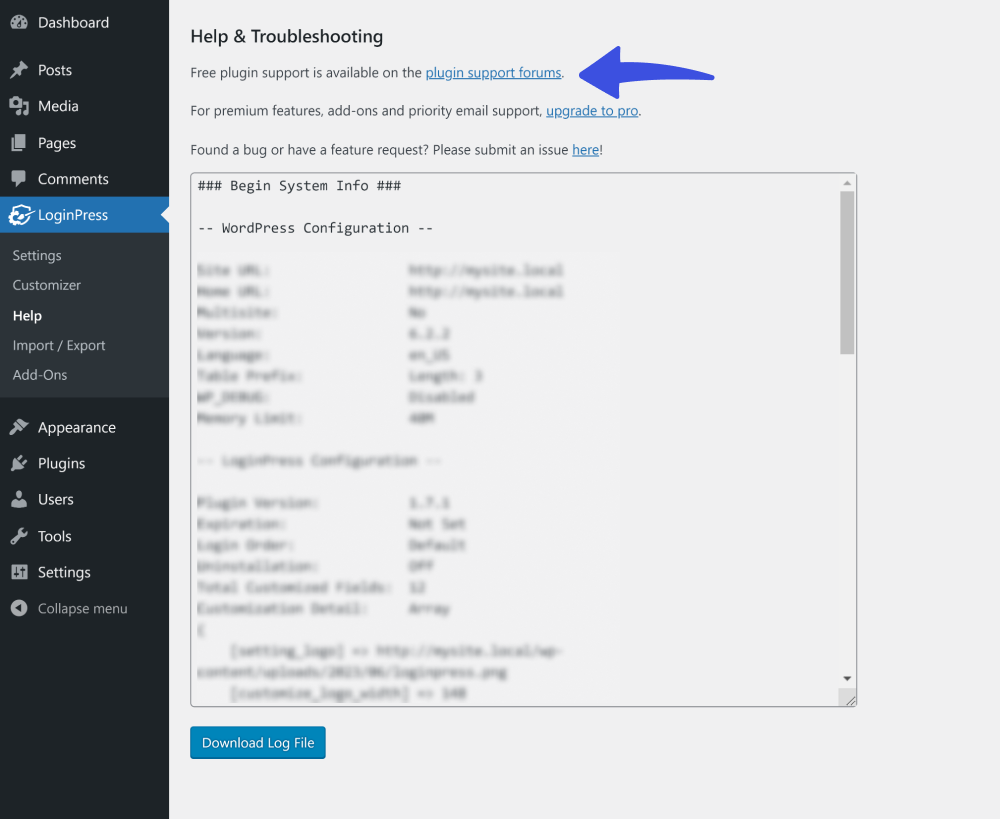 On the next screen, simply Log in to create a topic with a detailed description of your issue and wait for the response.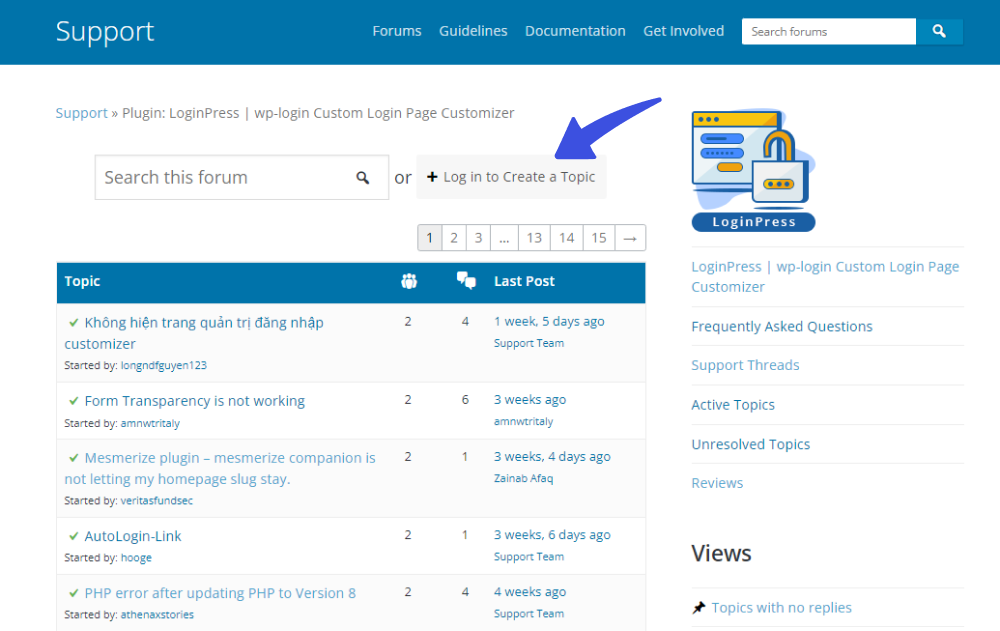 2. Official Contact Form
Another way to reach the support team is via our official contact form. For this, go to the LoginPress Contact Page.
Next, you'll be required to fill out the contact form with your first and last name, provide your email address, and describe your inquiry, website URL, and Tpoic.
When done, click the Submit button and wait for the response from our support team.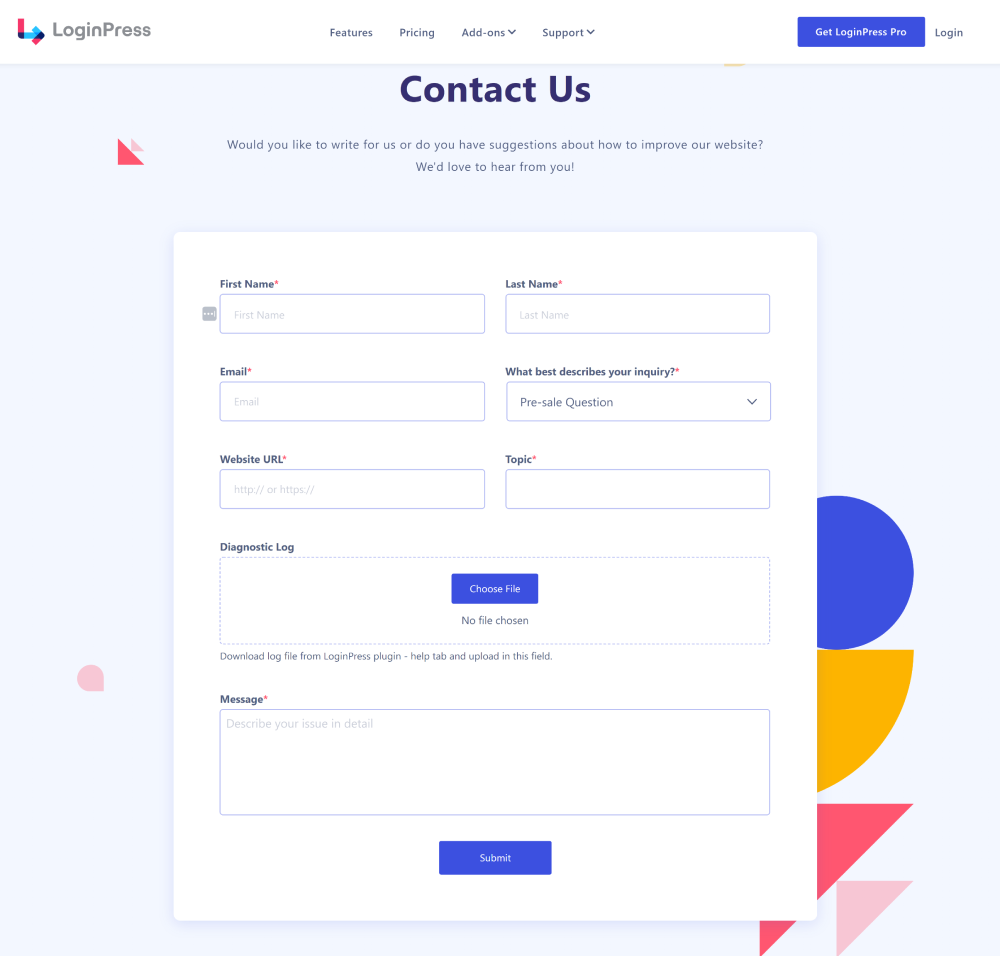 It's better to upload the Diagnostic Log along with your messages. It will be valuable for troubleshooting and analyzing the behavior of your site.
Note: You can download the Diagnostic log file from the LoginPress plugin's Help tab.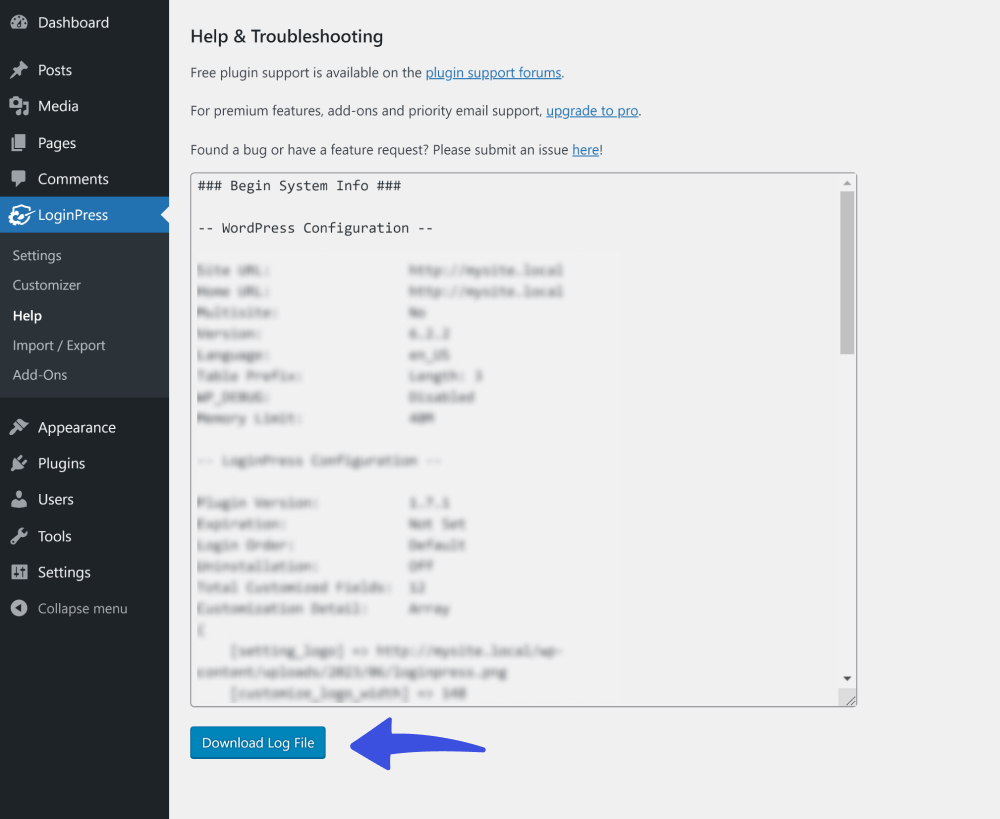 3. Support via Email Address
You can also reach the LoginPress Support Team via email at [email protected]. Here, you can get prompt assistance for general and technical issues, ensuring your concerns/inquiries are properly addressed.
When contacting our support team through email, please include all relevant information in your message, i.e., your name, website information, and a detailed problem description. It will help you get accurate responses from the LoginPress support team on time.
4. Live Chat
If you prefer real-time communication, you can engage in a Live chat with the LoginPress support team. It's an interactive and immediate method of communication, enabling you to have a direct conversation with the support team.
Note: Our Live Chat Support team is available Monday to Saturday, from 11:00 am to 7:00 pm, GMT +5 Timezone.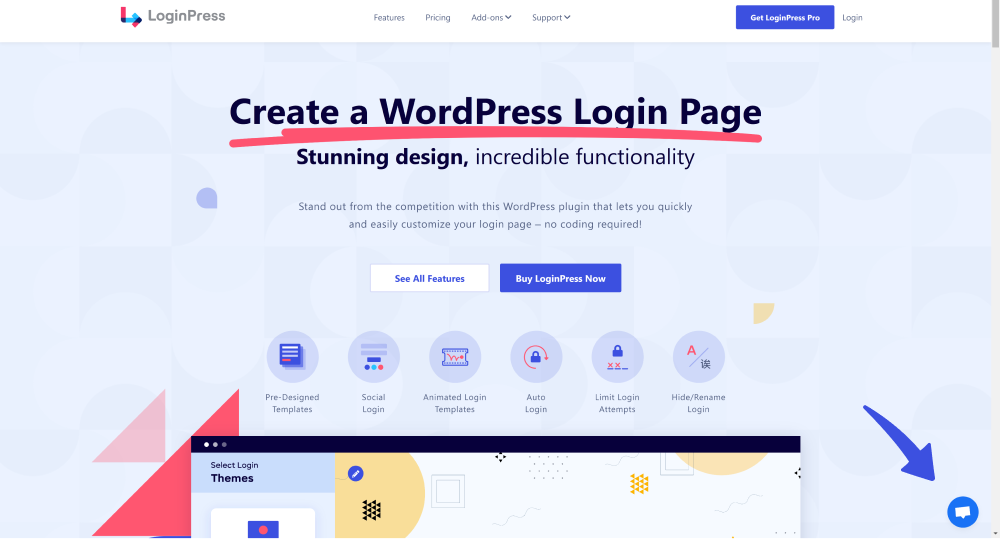 5. Ask for LoginPress Support at WordPress.org Support Forum
WordPress.org support forum is the best way to seek guidance and support from volunteers and experts in a threaded discussion format.
LoginPress also has a dedicated support forum on the WordPress.org plugin repository.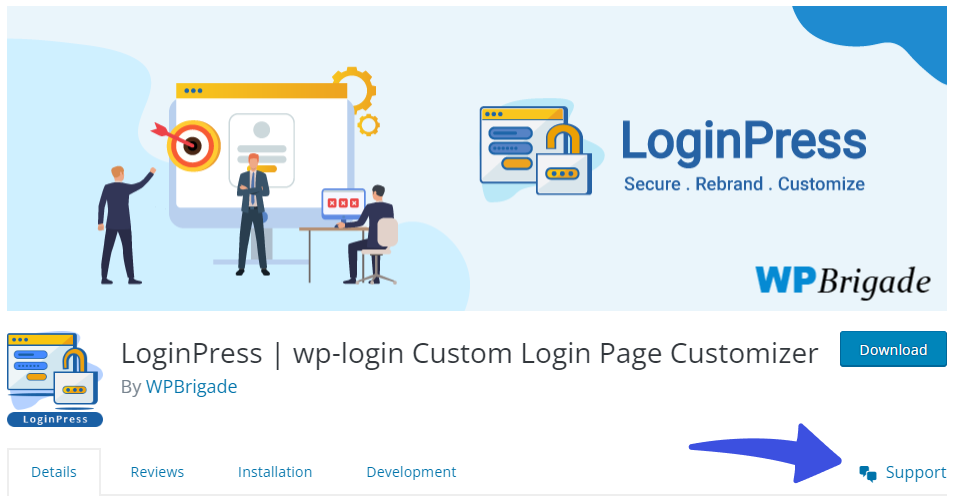 On the next screen, simply log in to create a topic with a detailed description of your issue and wait for the response.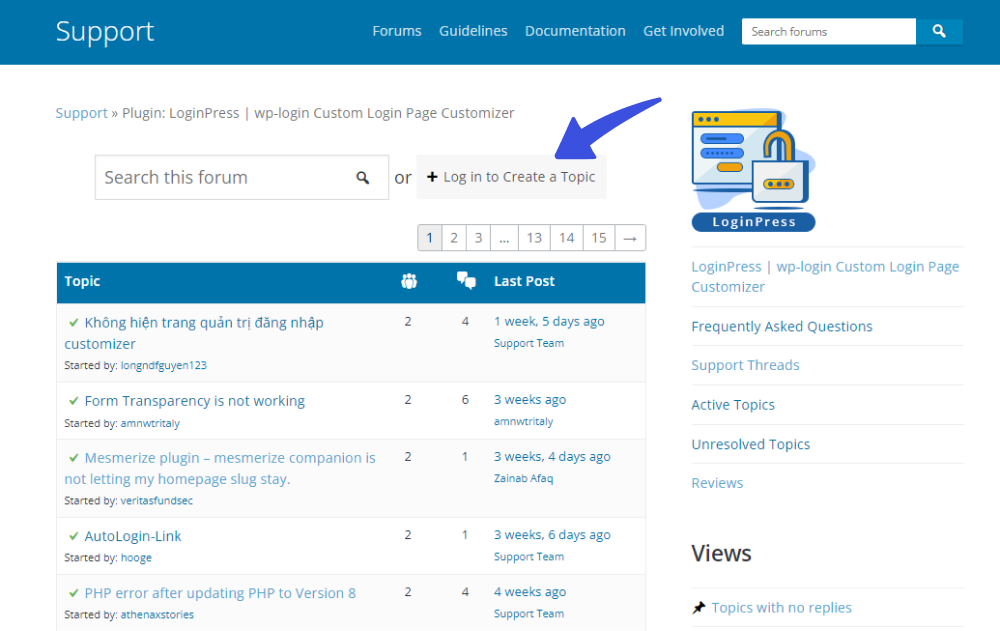 6. Check the Official LoginPress Documentation
You can also visit the LoginPress official website where you can also check the official LoginPress documentation. These documentations offer detailed guides and explanations for various all the LoginPress features.
These guides are valuable resources for beginners and advanced users, helping them understand our plugin.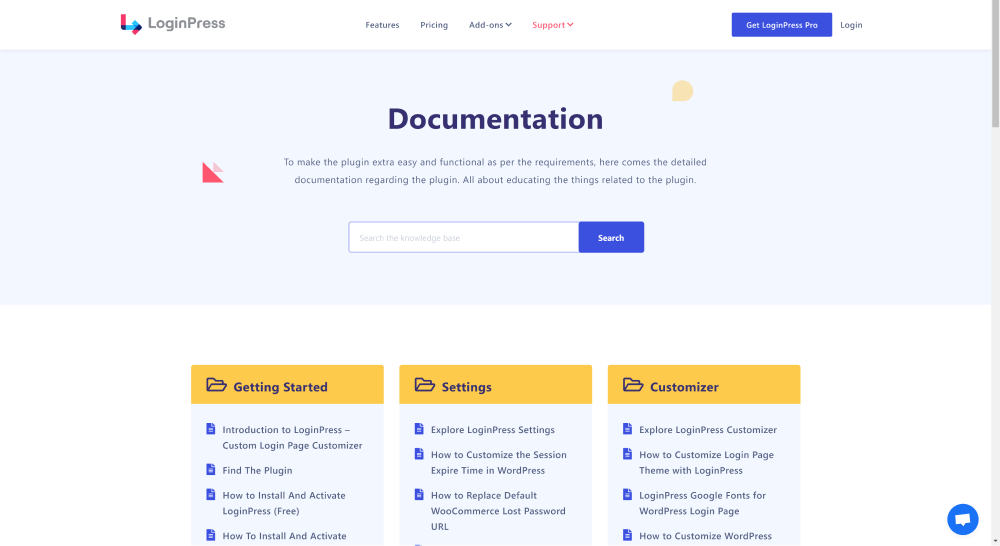 Note: Additionally, our How-to videos cover all the features and functionalities of LoginPress.
This is it! We hope you can easily reach our contact team. We appreciate your cooperation and look forward to assisting you!
Still have more questions? Feel free to ask our support team.
Documentation
Frequently Asked Questions (FAQs)
These FAQs answer the most common questions about our WordPress custom login page plugin.
Where can I get support for LoginPress?
If you need help with LoginPress, you can contact us here. We'll be happy to answer any questions about the plugin.
Do you have an affiliate program?
Yes, we have an affiliate program that you can sign up for here. As an affiliate, you'll earn a commission on every sale you refer to us.
Do you offer refunds?
Yes, we offer a 14-day money-back guarantee on all of our plans. If you're unsatisfied with LoginPress, simply contact us within 14 days of your purchase, and we'll process a refund.
Can I upgrade my license after my initial purchase?
Yes, you can upgrade your LoginPress license at any time. Simply log into your account and go to the My Downloads page. From here, you can upgrade your license and download the latest version of the plugin.
Will LoginPress slow down my website?
No, LoginPress will not slow down your website. The plugin is lightweight and only loads the necessary files when someone tries to access your login page.