Documentation
To make the plugin extra easy and functional as per the requirements, here comes the detailed documentation regarding the plugin. All about educating the things related to the plugin.
LoginPress And Two-Factor Compatibility
Do you want to know about LoginPress and Two-Factor compatibility?
We're pleased to announce that LoginPress is fully compatible with Two-Factor. So, use LoginPress with Two-Factor Authentication and make your login page secure so that no hacker can attack the login page of your WordPress. 
Note: LoginPress doesn't include Two-Factor Authentication by default. We recommend the Two-Factor plugin from "Plugin Contributors." However, you can use different Two-Factor plugins; they will also work well with LoginPress.
In this knowledgebase article, we'll show you how to use LoginPress with Two-Factor Authentication:
A Brief Introduction to LoginPress and Two-Factor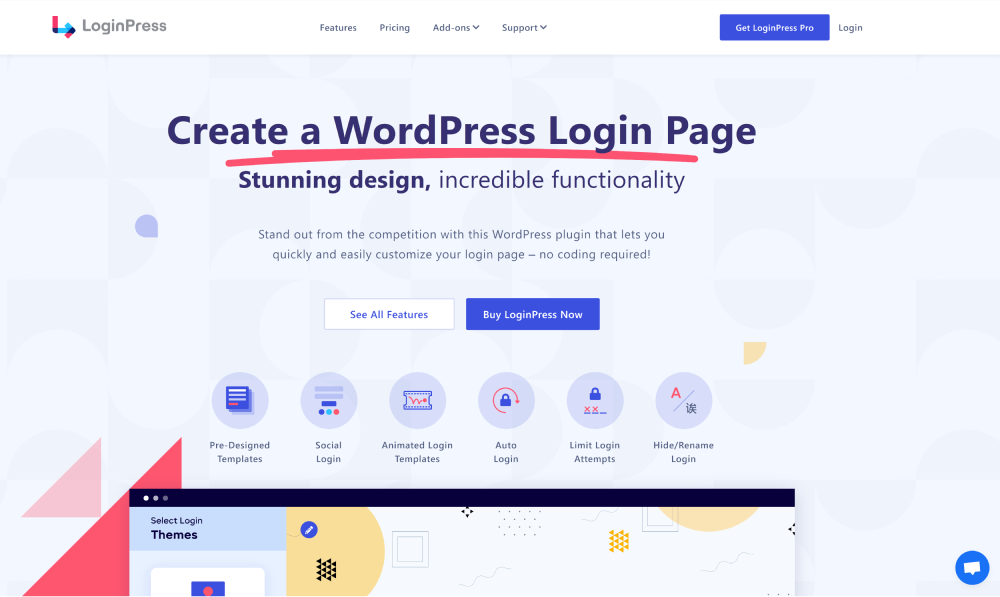 LoginPress is the best WordPress login plugin that empowers website owners and administrators to create customized login pages. The point worth noting is that you don't have to write a single line of code.
This feature-riched plugin is designed to enhance the login experience of a WordPress site. It has a user-friendly interface and powerful customization options, including, Themes, Logo, Background, and more.
In addition to its customization features, the plugin has several Add-Ons that further enhance the core functionality of the plugin, including: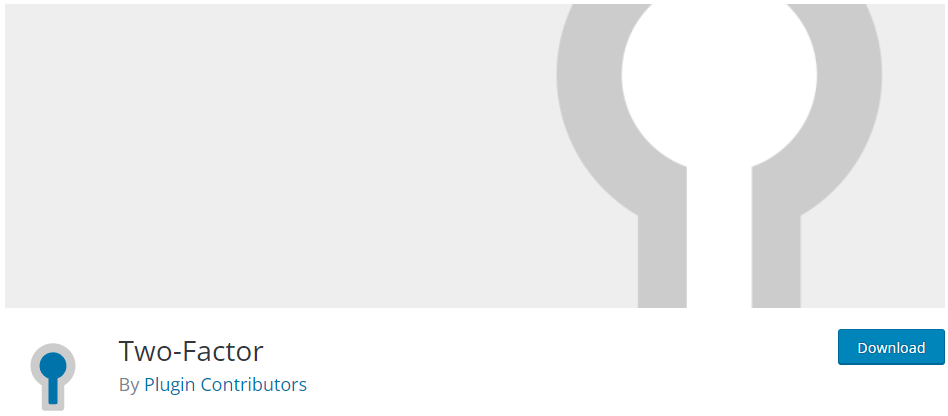 We are living in an era where cyber threats are constantly evolving. No one can deny the importance of taking security measures for a WordPress site.
Remember, passwords alone may no longer help you in protecting your valuable data and user accounts. This is where the Two-Factor plugin comes to the rescue.
The plugin elevates your WordPress site's security with an additional layer of authentication. For example, a user cannot log in to a WordPress site using login credentials alone. First, they'll need to provide the login credentials and then authenticate via Email, OTP, and more.
The plus point for Two-Factors is that OTP etc., is valid for a limited time, i.e., 30 seconds. to gain access to your site. So, even if the attacker brute forces your password, they cannot go to the next step as they cannot authenticate themselves fast enough before the code resets again. Cool right?
LoginPress and Two-Factor Compatibility
Yes, LoginPress and the Two-Factor plugin are compatible with each other. They can work together seamlessly to enhance the security of your WordPress login page.
LoginPress is primarily focused on customizing your login page's visual appearance and branding. So you can use it to personalize each element on the login page. On the other hand, the Two-Factor plugin helps you strengthen your login page security.
When using both plugins, you can customize the visual aspects of your login page with LoginPress while strengthening its security with the Two-Factor plugin's 2FA capabilities.
This combination allows you to create a branded and visually appealing login page while implementing an extra layer of authentication to protect your WordPress site from unauthorized access attempts.
Seamless Integration: Use LoginPress and Two-Factor Together
Note: Here, we assume you already use LoginPress to customize your WordPress login page. If not, see our detailed guide on How to Install And Activate LoginPress (Free).
We believe you've been enjoying the flexibility of customizing your WordPress login page with LoginPress. Now, now is the perfect moment to take your website's security to the next level by incorporating Two-Factor Authentication.
To do this, go to the left sidebar of your WordPress admin dashboard. Navigate to Plugins and click the Add New option.

Next, you'll be on the Add Plugins screen. Search WP 2FA - Two Factor authentication for WordPress in the search box.
Find the plugin from the list, click the Install Now, and then the Activate button in succession.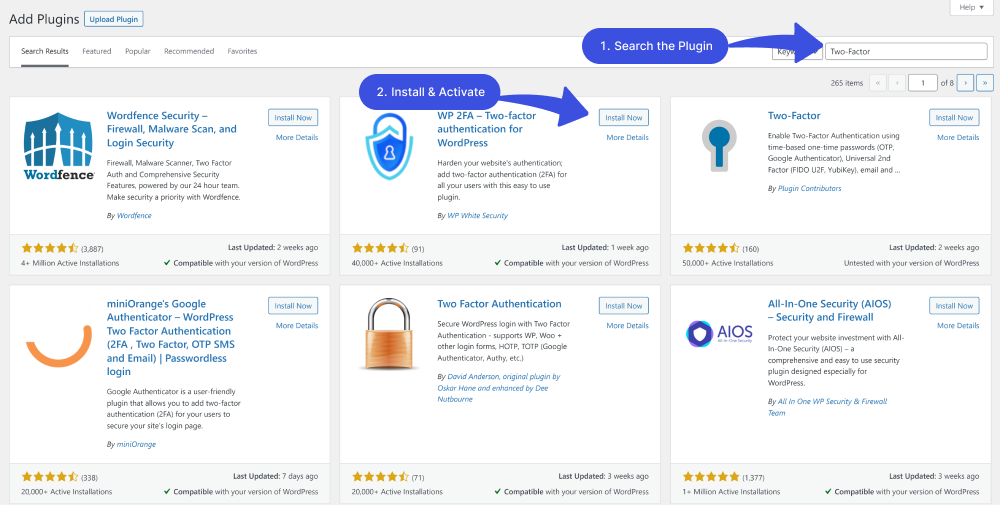 Two-Factor is added to your WordPress site.
Now, go to the left sidebar of the WordPress admin dashboard, navigate to Users, and click Profile.
Now scroll down; here, you can see the Two-Factor Options section.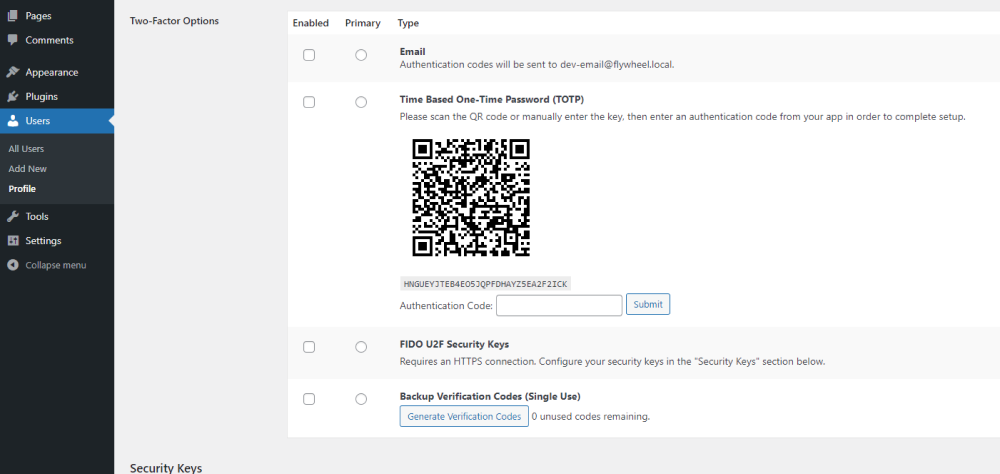 From here you can choose and configure a preferred authentication method, i.e., Email and Time Based One-Time Password (TOTP).
When done, click the Update Profile button. Two-Factors has now merged with your WordPress login page.
This is what LoginPress and Two-Factor look like on the WordPress login page.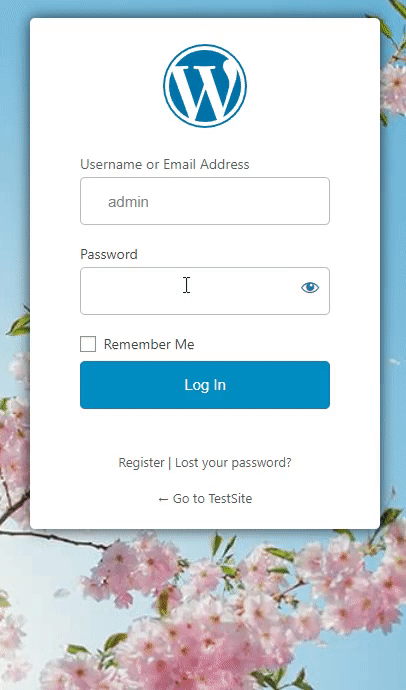 Final Thoughts
Now that you know LoginPress and Two-Factor are compatible. You can run them together on your WordPress site to enhance the overall appearance and security.
Don't miss the opportunity to elevate both the appearance and security of your WordPress site simultaneously with LoginPress and Two-Factor. If you have any doubts or questions related to this matter, please don't hesitate to contact our support team.
Documentation
Frequently Asked Questions (FAQs)
These FAQs answer the most common questions about our WordPress custom login page plugin.
Where can I get support for LoginPress?
If you need help with LoginPress, you can contact us here. We'll be happy to answer any questions about the plugin.
Do you have an affiliate program?
Yes, we have an affiliate program that you can sign up for here. As an affiliate, you'll earn a commission on every sale you refer to us.
Do you offer refunds?
Yes, we offer a 14-day money-back guarantee on all of our plans. If you're unsatisfied with LoginPress, simply contact us within 14 days of your purchase, and we'll process a refund.
Can I upgrade my license after my initial purchase?
Yes, you can upgrade your LoginPress license at any time. Simply log into your account and go to the My Downloads page. From here, you can upgrade your license and download the latest version of the plugin.
Will LoginPress slow down my website?
No, LoginPress will not slow down your website. The plugin is lightweight and only loads the necessary files when someone tries to access your login page.