Documentation
To make the plugin extra easy and functional as per the requirements, here comes the detailed documentation regarding the plugin. All about educating the things related to the plugin.
Introduction to LoginPress – Custom Login Page Customizer
Are you hosting a WordPress website for your blog or business, and you are wondering how to polish your Login page?
You are at the right spot since a refined login page URL represents your brand and morale more effectively. To make it easy and achievable, we have LoginPress for those people who are curious to sweeten up their login pages of WordPress sites, without getting fussed into coding.
What is LoginPress?
LoginPress is a WordPress plugin that is a login page customizer tool developed by WPBrigade to create a Custom Login Page for your WordPress according to your requirements.
Not limited to just rebranding your login page, LoginPress secures your customized login pages as well. It helps to modify the look and feel of your login page without writing codes or hiring developers.
How Does LoginPress Work?
LoginPress plugin is built using the WordPress Customizer API which is getting popular for live-previewing any changes to the layouts of WordPress. So, with LoginPress you can preview your customizations made to the login page instantly.
Besides, it saves the time of loading and unloading minor or major changes over and over again. With that ease, LoginPress enables you to customize each element on your Login page from error messages to log-in fields.
And if you have a membership site or a site where people create a profile, login/logout this login management plugin rebrands the login URL on the whole, using simple yet powerful features.
How to Use LoginPress?
Since there is no involvement in writing complex codes, it is very easy to use and handle LoginPress. Once it is installed and activated on your WordPress website, you will be able to track it on the left side menu of the WordPress admin dashboard.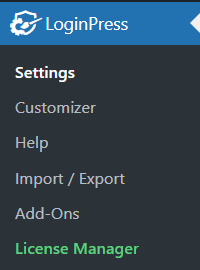 You can download LoginPress free, and check the detailed documentation to setup and activate LoginPress
What Are the Features of LoginPress?
LoginPress is very loaded when it comes to the features for the reason that it has Settings and Customizer options rich in exclusive features to be used in customizing the Login page.
In order to know about each of them, we'll be diving into the LoginPress features in two sections here i.e. Settings and Customizer.
1. Settings:
In the Settings section of LoginPress, we have exciting options and fields to use on the login page.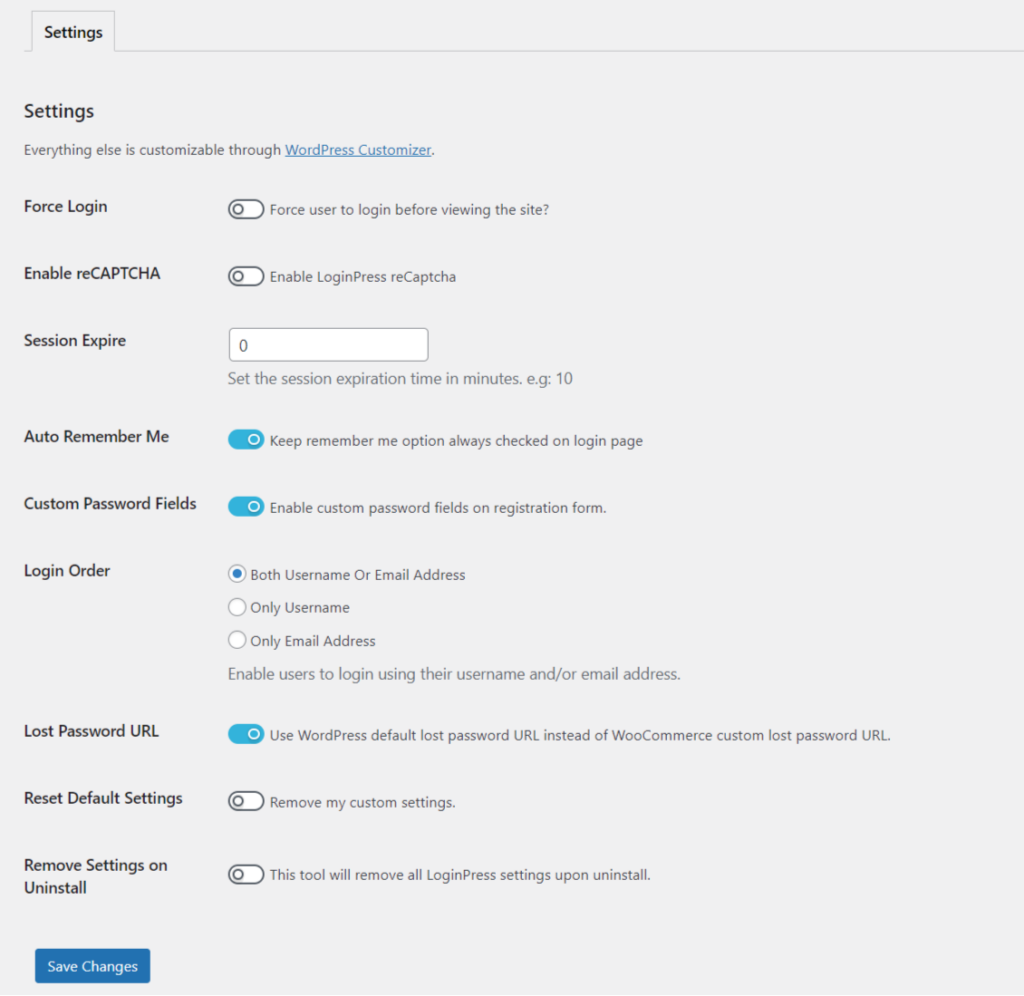 All of them are listed below with functionality briefing:
1.1 Force Login (Premium)
Force users to log in before viewing the content of your site. If you have enabled this option a user will redirect to the login page. It is designed to generate a membership feel to your WordPress site, making users log in to get inside the site.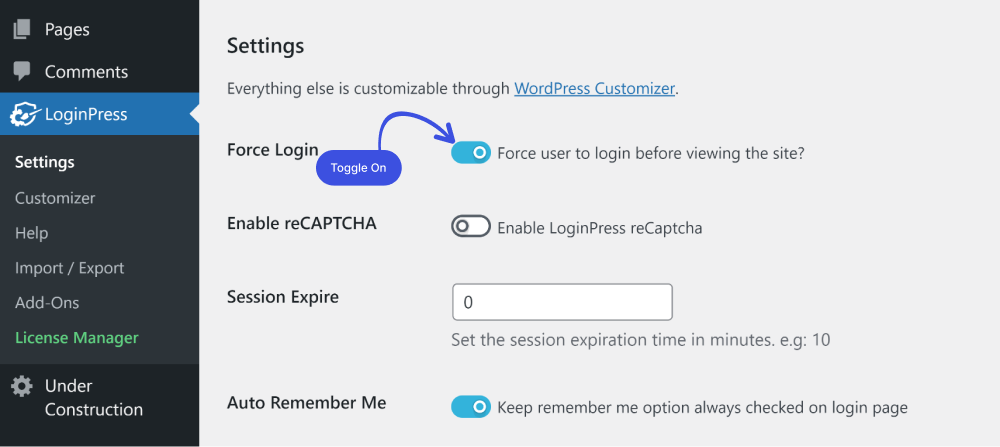 1.2 Enable reCAPTCHA (Premium)
reCAPTCHA is a free service from Google that helps protect websites from spam and abuse. In LoginPress, it'll help you to customize the reCAPTCHA on your login form in terms of Error Message and reCAPTCHA Size providing security to your WordPress site against robotic invading actions.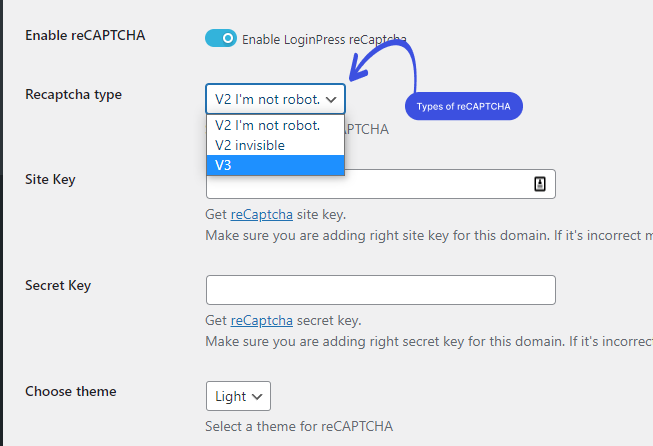 You can learn more about Enable reCAPTCHA to understand its works in LoginPress.
1.3 Session Expire
By default behavior of WordPress, your login session cookie expires within 48 hours (if you don't check the box), or 14 days if you check the "Remember Me" box by default. With LoginPress, Session Expire fields allow customizing the Expiration Time of the login session.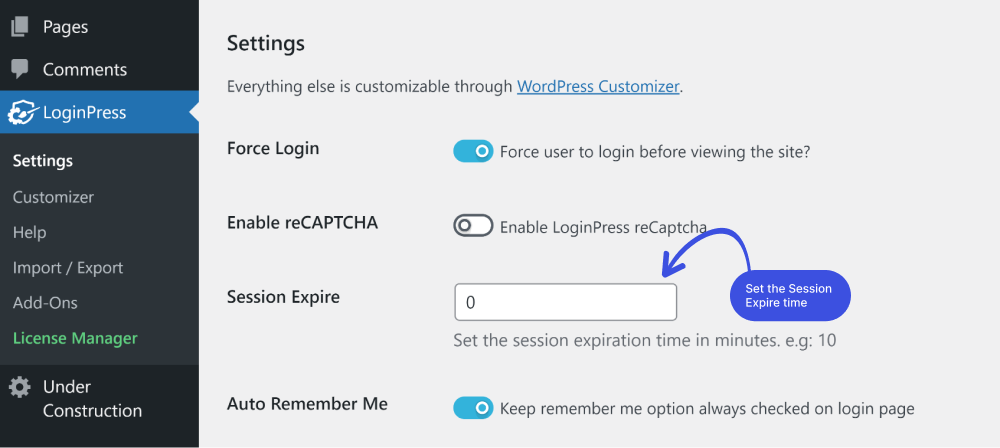 You can check out our documentation of Session Expire to grab its working in LoginPress.
1.4 Auto Remember Me
Auto Remember Me option keeps you logged in for 48 hours, or 14 days if you check it. It enables you to remember your website's login page, including the user name/email and password in your browser. With this option, you can easily log in to your website without entering the user name/email and password into your login page.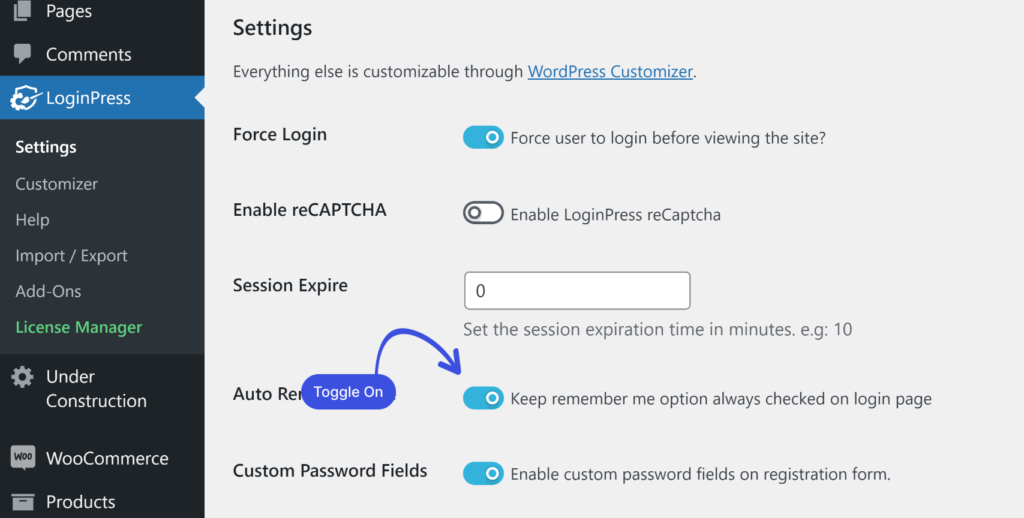 You can check its detailed article on How to keep remember me option checked with LoginPress.

1.5 Custom Password Fields
It makes you create custom password fields on the registration form. Moreover, it lets the user create a password upon registration on your WordPress website without the confirmation of a password via email.

1.6 Login Order
Giving options to users to log in using their username and email address or both at the same time, LoginPress is offering this customization whereas WordPress only offers the fields of username or email address to login into the website by default.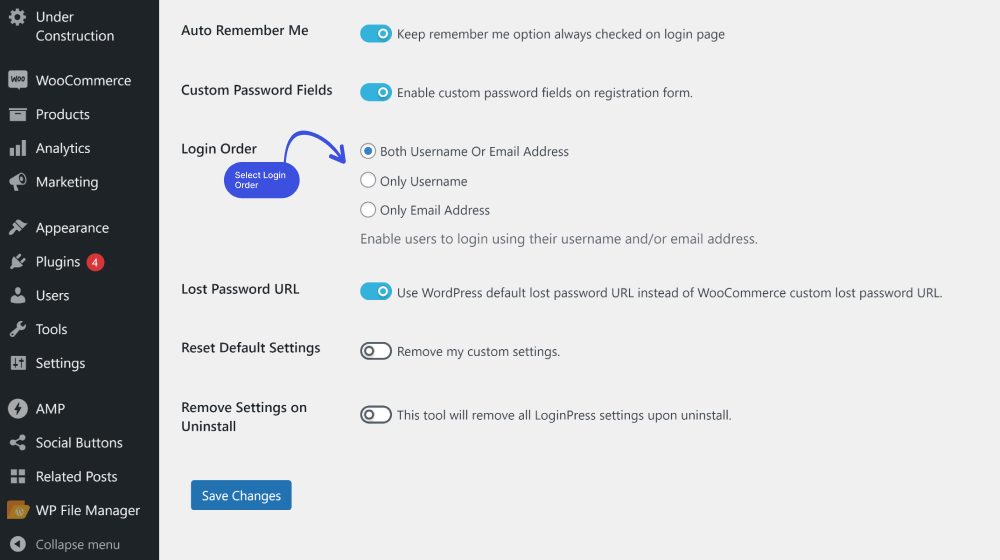 1.7 Lost Password URL
It is about enabling you to use WordPress's default lost password URL instead of WooCommerce's custom lost password URL.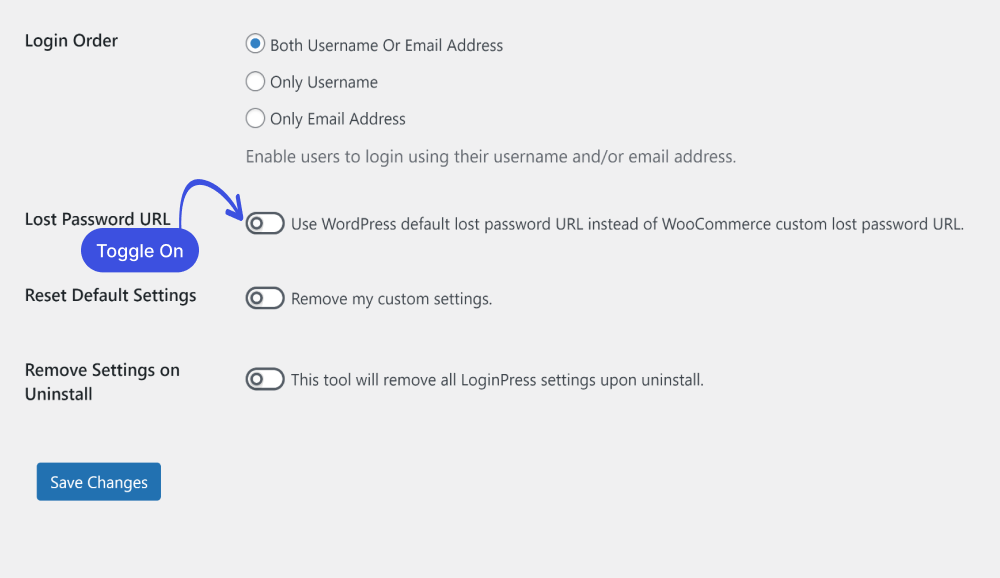 To know more about it, you can check the written documentation of the Lost Password URL
1.8 Reset Default Settings
You can reset the default settings of LoginPress.
1.9 Remove Settings on Uninstall
You can remove all LoginPress settings upon uninstalling the plugin.
2. Customizer:
LoginPress Customizer acts as a full-functioning editor which is all loaded with pre-built features and features to add to your login page. From customization of branded logos to themes, there is so much more for rebranding your WordPress site's login page covering almost all the elements in the login page.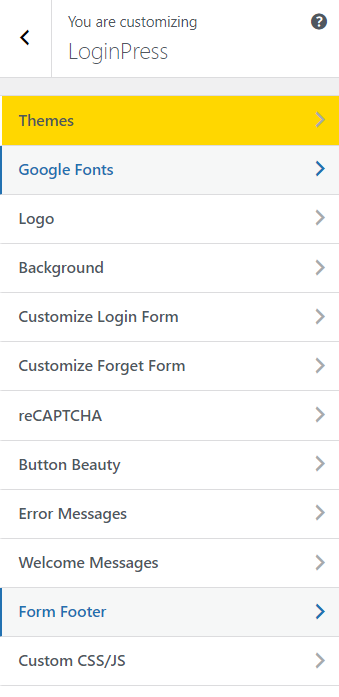 Let's take a deep dive into LoginPress features available in the Customizer section.
2.1 Themes
Themes are the built-in feature of the LoginPress plugin which are objected to customize and change the overall soul of your WordPress website's login page giving it a unique individuality.
It advances the look of your standard login page without writing a single code. The free version comes with one theme called Default, whereas the Pro version carries dozens of luxurious pre-made templates/themes.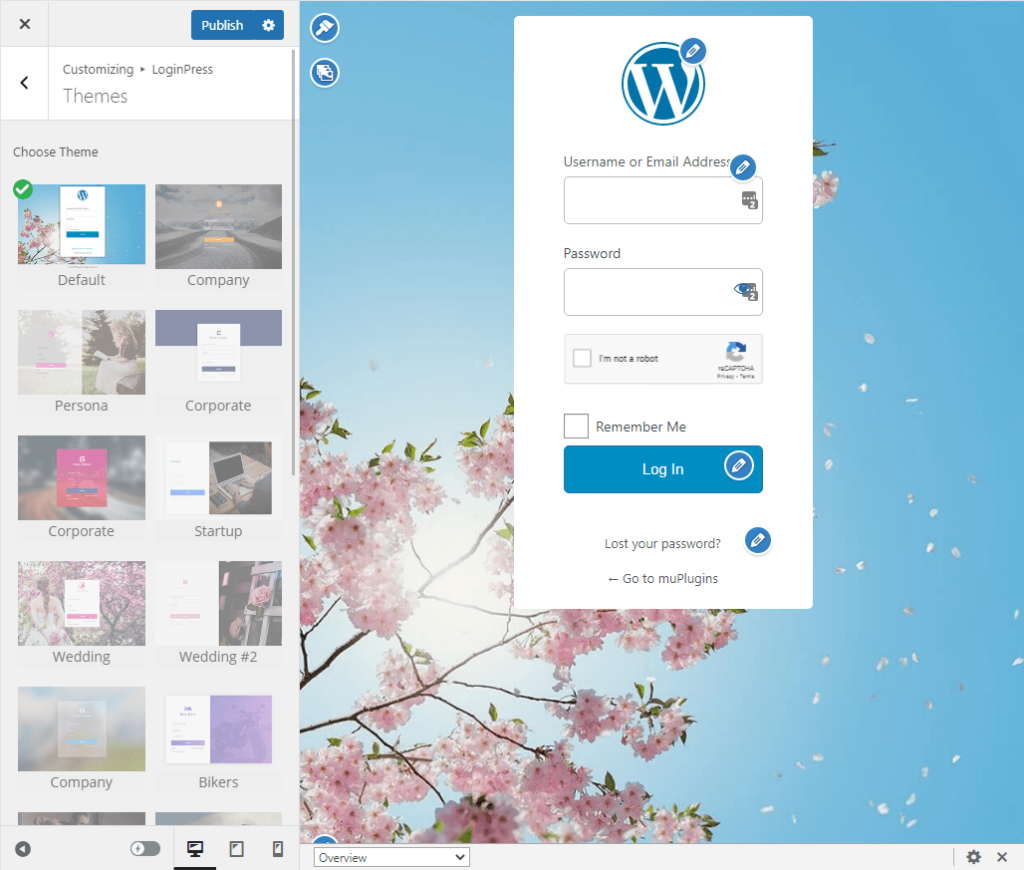 You can learn more about it in our detailed documentation on LoginPress Themes Premium
2.2 Google Fonts (Premium)
To change the basic Google Fonts on the login page, LoginPress has this premium feature following which you can access hundreds of Google Fonts to add an extra personal touch to your WordPress website's login page.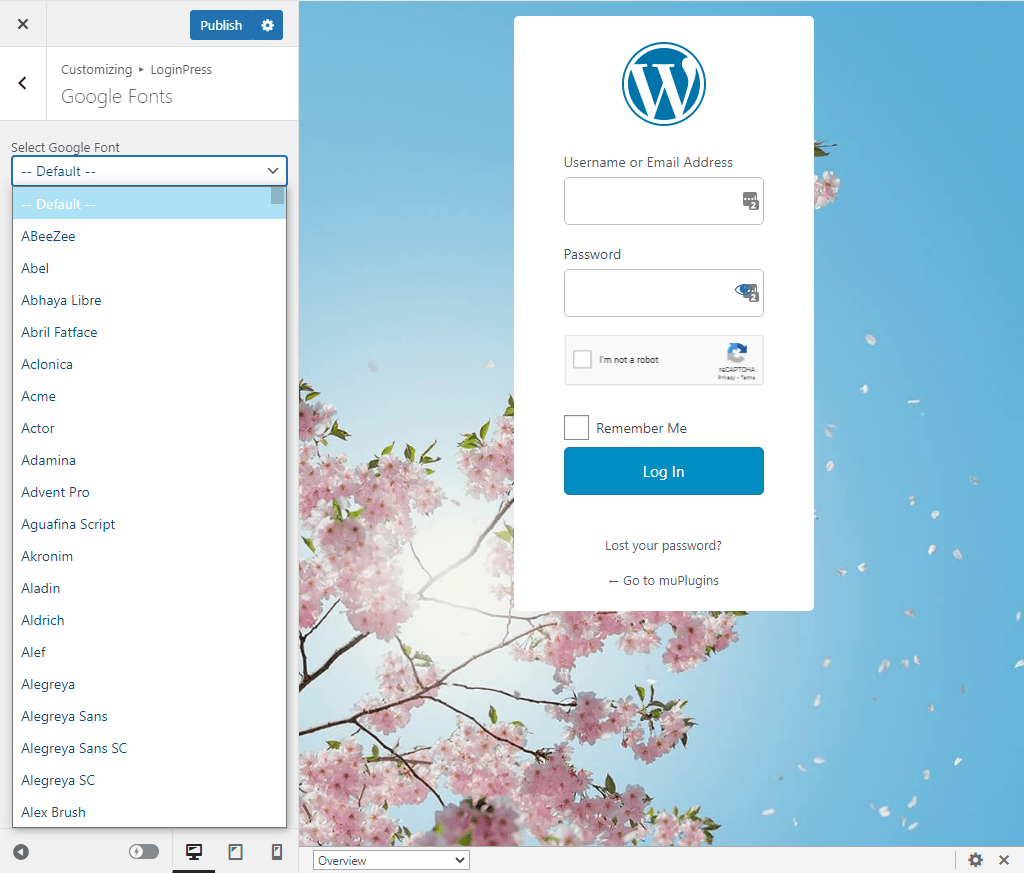 2.3 Logo
The logo offers you the customization to change your blog or business logo on your login form to stand out from the boring and by default WordPress.
It does not merely make you change/customization the logo but adjust the sizes, colors, and content of login logos as per your WordPress website's branding.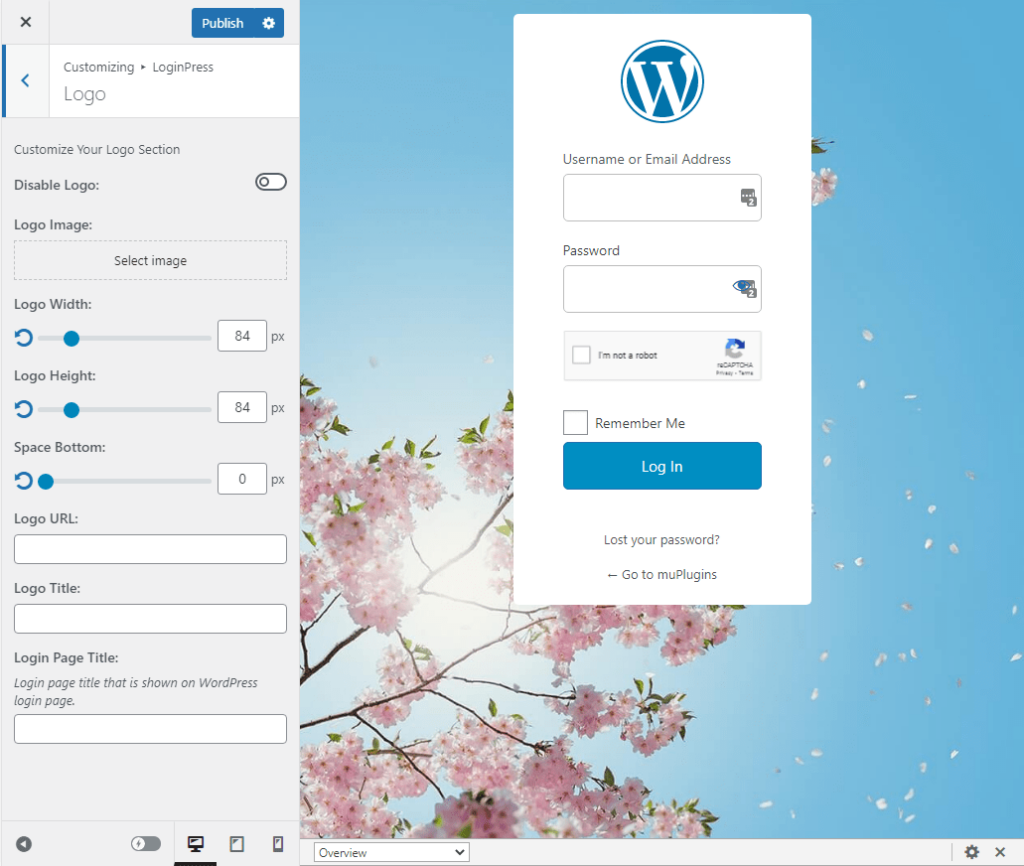 You can check our detailed documentation here to know its usage.
2.4 Background
Background enables you to change the background of your login page, in which you can upload any background image or set your favorite background color and even a video in the background of your login page according to your choice.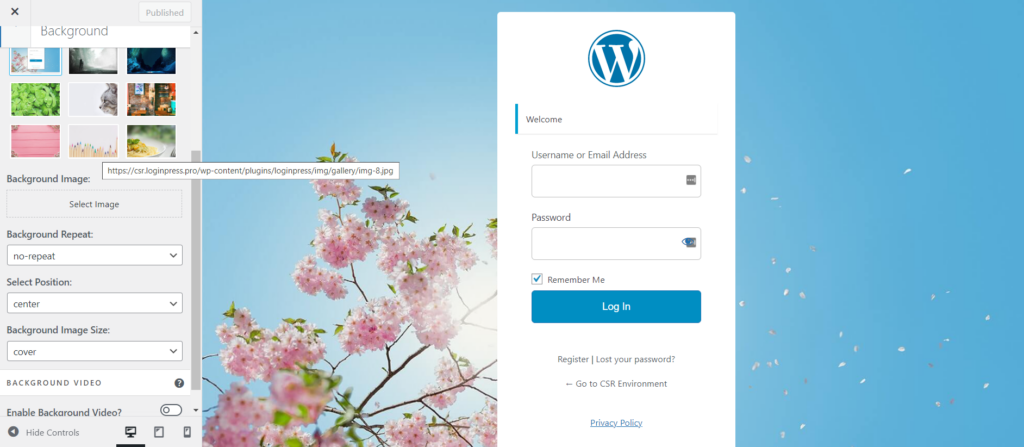 You can check the detailed documentation of the Background to know more about it.
2.5 Customize Login Form
It is concerned to customize the actual login form according to your requirements in terms of transparency, image or color, width, height, radius, shadow opacity, padding, and border.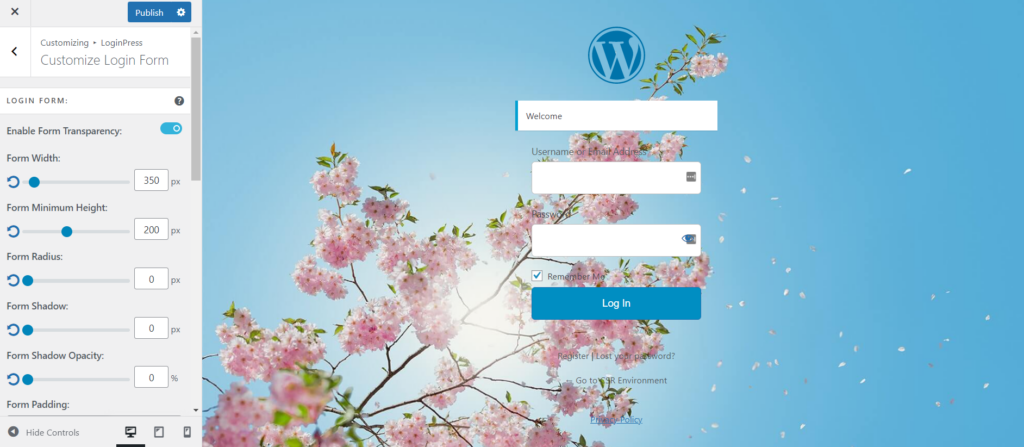 You can know more about Customize Login Form for its maximum use.
2.6 Customize Forget Form
It is to customize the forget form page in terms of background color and background image that you can easily change according to your requirements.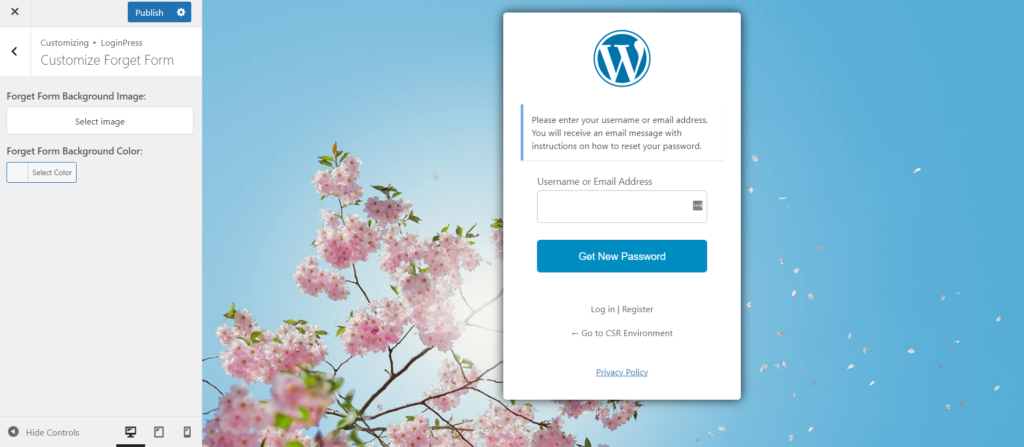 You can learn more about Customize Forget Form here.
2.7 reCAPTCHA (Premium)
In LoginPress's Customizer, reCaptcha provides you the opportunity to customize its size and error messages.
You can learn more about reCAPTCHA to know its security and styling features.
2.8 Beauty Button
Beauty Button is to customize the Log In button on your login form, register form, and password forgets form as well, in terms of button color or text.
You can learn more about Beauty Button to know its detailing.
2.9 Error Messages
Creating custom error messages in LoginPress customizer is simply a few clicks away. That is all to change every error message that the user will get depending on the outcome of login attempts, registration attempts, or forget attempts.
You can explore more in detail about Error Messages, click Error Messages article.
2.10 Welcome Messages
It helps to set a customized welcome message on your login screen for your website users.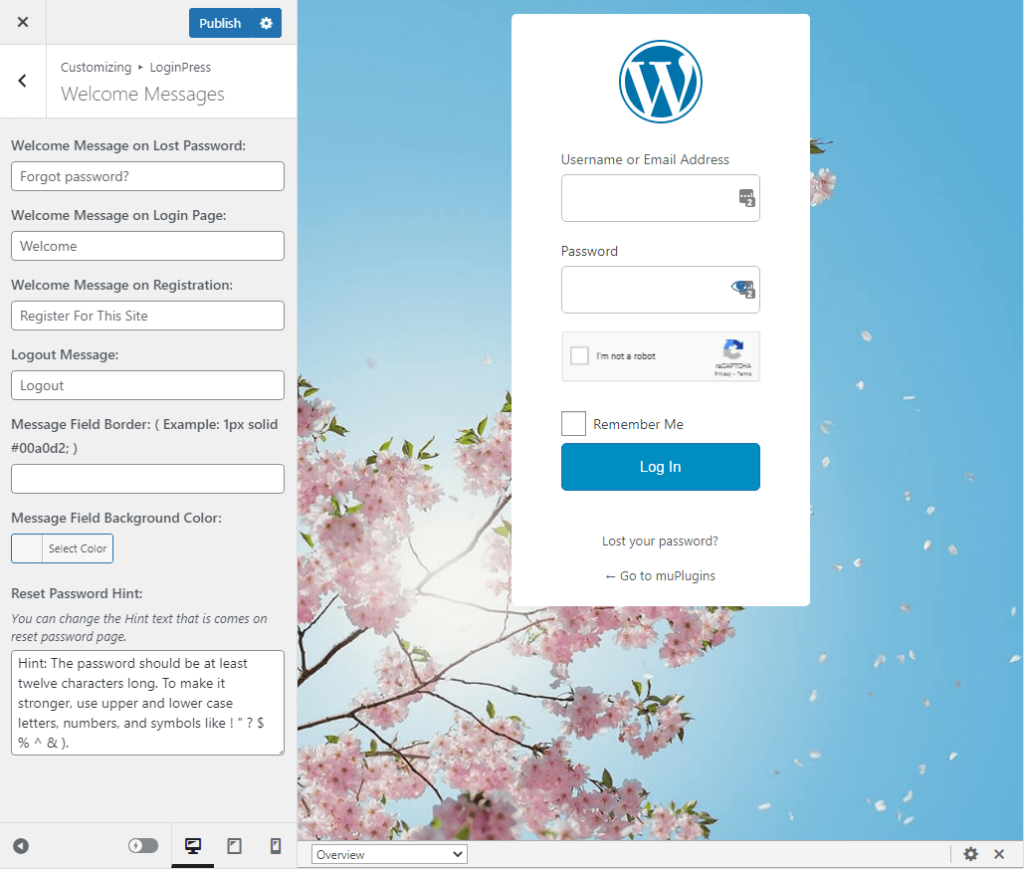 2.11 Footer Text
Footer Text in the login form is basically the copyright information of your business or brand getting showcased by your website. To customize it to give brand individuality, Footer Text in the LoginPress's Customizer is quite helpful.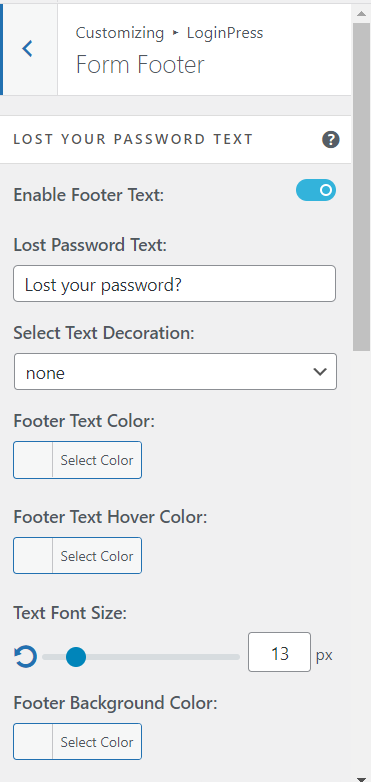 You can know more details about the Footer Text.
2.12 Custom CSS/JS
Enabling you to play more with the customization options, LoginPress offers the Custom CSS and JS feature following which you can use the LoginPress classes and can style them according to your choice.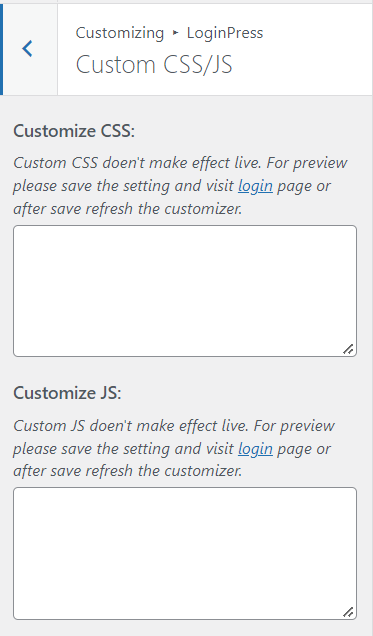 You can know more about the work of Custom CSS/JS.
What are LoginPress Add-Ons?
LoginPress comes with a slick collection of rich add-ons in the free and pro version both, designed for maximum usability and security not just bounding its functionality to the styling of the login page.
Let's dive into each of them.
Login Logout Menu is a handy plugin, integrated as an addon of LoginPress which allows you to add login, logout, register, and profile menu items in your selected menu.
Social Login provides the facility for your users to log in and Register via Facebook, Google, and Twitter. This add-on will eliminate Spam and Bot registrations. Additionally, the availability of third-party integration helps your users with hassle-free registrations/logins on your site.
Auto Login allows you (The administrator) to generate a unique URL for certain users for whom you don't want to provide a password to log in to your site. Additionally, it gives you a list of all the users whom you have given auto-generated login links. Moreover, you can disable someone's access and delete certain users.
Login Widget allows you to add a blog sidebar, and with a bit of HTML/CSS knowledge, you can style it according to your WordPress website's soul. It uses an Ajax way to log in via the sidebar.
Preventing brute force attacks to secure the security of login pages has become very easy now. By limiting the number of login attempts for each user and even setting the time between each login attempt.
Hide Login allows you to change the login page URL to anything you want. It will give a hard time to spammers who keep hitting your login page. It acts like a shield against Brute force attacks. One caution to using this add-on is you need to remember the custom login URL after you change it. We have an option to email your custom login URL so you remember it.
Login Redirects enables redirecting the users based on their roles. It is very helpful if you have an editor and want to redirect him to his editor stats page. Restrict your subscribers, guests, or even customers to certain pages instead of wp-admin. This add-on has a cool UX/UI to manage all the login redirects you have created on your site.
So to have a professional and rebranded login page instead of the default WordPress login page, you can rely on LoginPress. It brings style, and functionality enhancement to customize the WordPress login page, and multiple powerful add-ons to level up the Security of your WordPress websites in a few clicks. Without writing a single code.
If you have any doubts or questions related to this matter, please don't hesitate to reach out to our support team.
Documentation
Frequently Asked Questions (FAQs)
These FAQs answer the most common questions about our WordPress custom login page plugin.
Where can I get support for LoginPress?
If you need help with LoginPress, you can contact us here. We'll be happy to answer any questions about the plugin.
Do you have an affiliate program?
Yes, we have an affiliate program that you can sign up for here. As an affiliate, you'll earn a commission on every sale you refer to us.
Do you offer refunds?
Yes, we offer a 14-day money-back guarantee on all of our plans. If you're unsatisfied with LoginPress, simply contact us within 14 days of your purchase, and we'll process a refund.
Can I upgrade my license after my initial purchase?
Yes, you can upgrade your LoginPress license at any time. Simply log into your account and go to the My Downloads page. From here, you can upgrade your license and download the latest version of the plugin.
Will LoginPress slow down my website?
No, LoginPress will not slow down your website. The plugin is lightweight and only loads the necessary files when someone tries to access your login page.