Documentation
To make the plugin extra easy and functional as per the requirements, here comes the detailed documentation regarding the plugin. All about educating the things related to the plugin.
How To Install And Activate LoginPress PRO Version?
We assume that you have already installed the LoginPress free version. It's time to upgrade to the LoginPress Pro version to have access to even more features and powerful add-ons.
Whether you're a beginner or an experienced WordPress user, this guide will provide all the information you need to get started with LoginPress Pro.
Let's get started!
Step 1: Purchase LoginPress Pro
The first thing you'll need to do is to buy the LoginPress Pro. For this purpose, visit LogniPress's official site and go to the Pricing Page.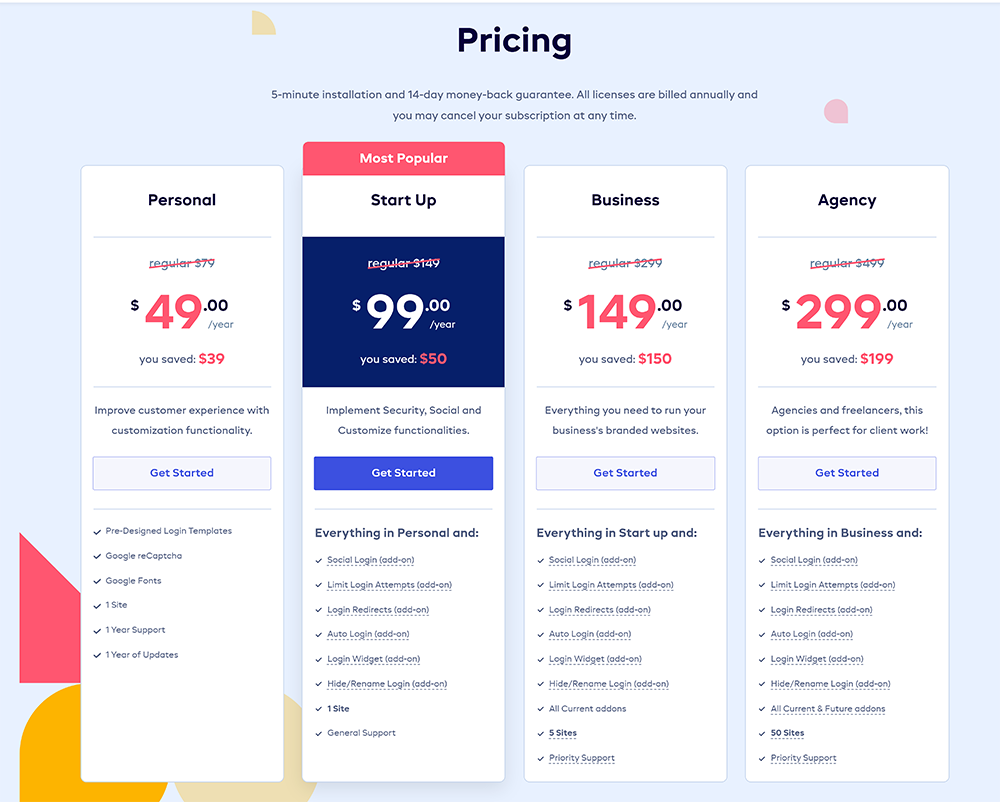 On the pricing page, you'll find four different packages. See which one suits you the best. On deciding the package, click the Get Started button. This will take you to the checkout screen, where you'll have to click the Complete Your Purchase button.
Note: We've selected the LoginPress Pro Agence package here.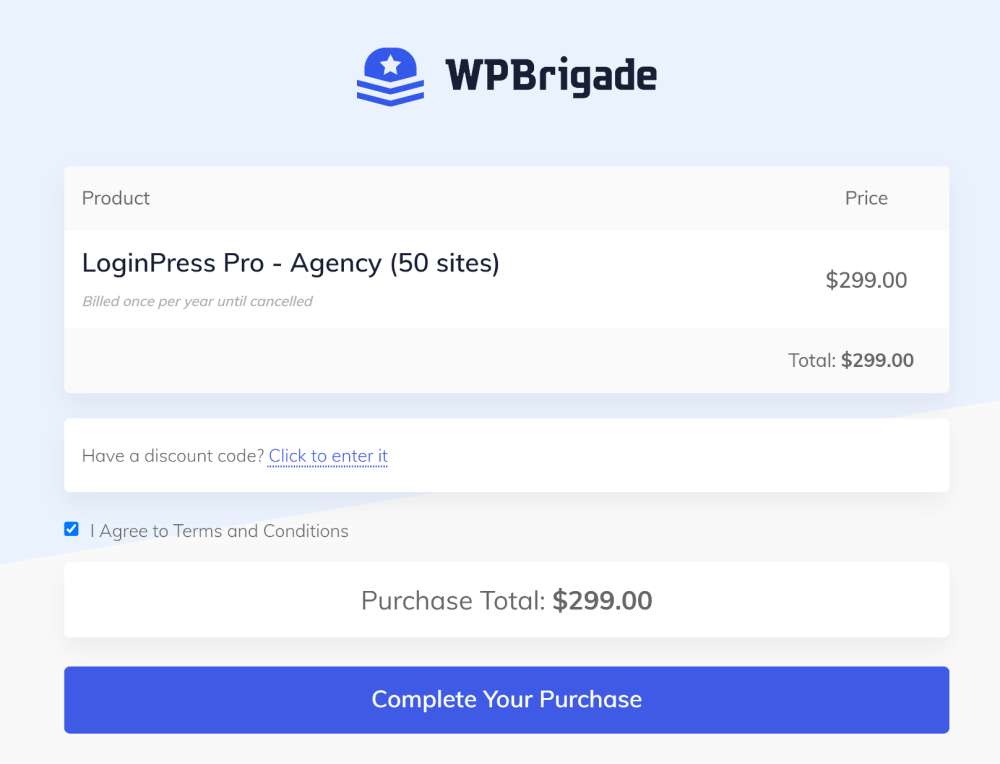 A popup will open up, where you'll need to provide your details, including:
Email Address
Payment Method
First Name and Last Name
Card Number
Zip Code
Phone Number
When you fill in the details, proceed with the Pay $299.00 button.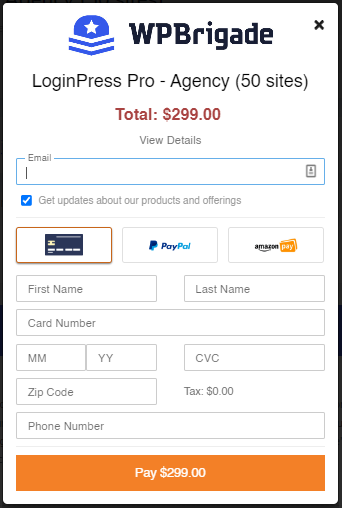 Once you have placed the order, you'll receive two confirmation emails simultaneously at the purchased email address.
In the confirmation emails, you will receive your login information for your premium WPBrigade Account.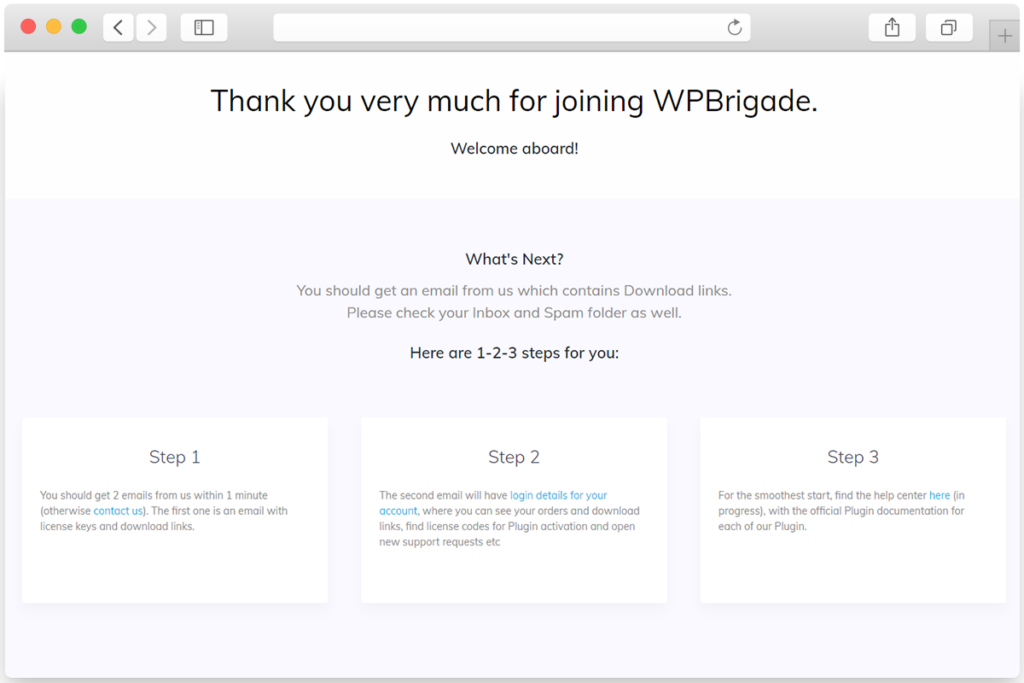 Step 2: Download Zip File
Next, you'll need to go to WPBrigade Account and log in with your username and password that you just received in the purchased email address.
Once inside your WPBrigade Account, navigate to the Downloads tab and download the LoginPress Pro zip. File.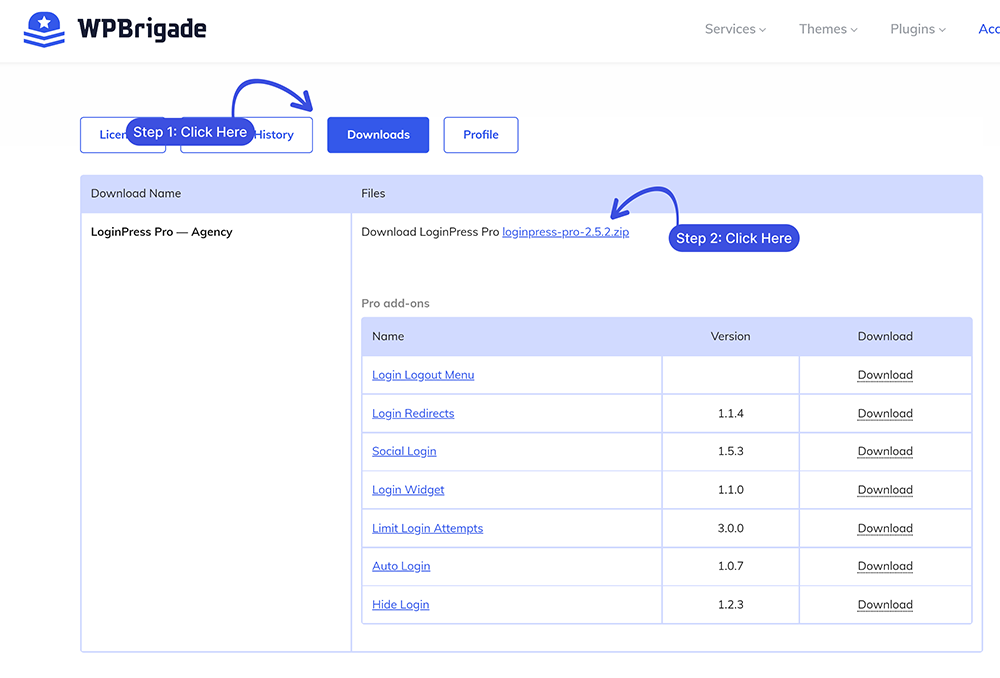 Step 3: Add Zip File to WordPress Plugins
When you've downloaded the LoginPress Pro zip file from the WPBrigade account, it's time to add it to your WordPress.
To do this, go to the left sidebar of the WordPress admin dashboard, navigate to Plugins, and click the Add New option.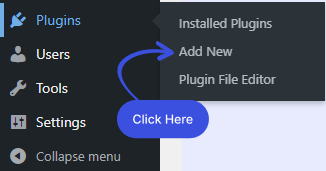 On the Add Plugins page, click the Upload Plugin button. > Choose File. A popup screen will appear where you'll require to select the downloaded version of Loginpress-pro.zip. When done, click the Install Now button.

Step 4: Activate LoginPress (Pro)
Now that you've installed LoginPress, now you need to activate it.
Simply go to the left sidebar of the WordPress admin dashboard and navigate to Plugins.
Select Installed Plugins, find out LoginPress Pro, and click Activate.

Step 5: License Key Activation
Once you've installed and activated LoginPress Pro, it's time to activate the license key.
Note: In order to activate the license key, you can check out our guide on how to activate the LoginPress Pro license Key.
That's it! You've now upgraded from LoginPress (Free) to LoginPress (Pro).
If you have any doubts or questions related to this matter, please don't hesitate to reach out to our support team.
Documentation
Frequently Asked Questions (FAQs)
These FAQs answer the most common questions about our WordPress custom login page plugin.
Where can I get support for LoginPress?
If you need help with LoginPress, you can contact us here. We'll be happy to answer any questions about the plugin.
Do you have an affiliate program?
Yes, we have an affiliate program that you can sign up for here. As an affiliate, you'll earn a commission on every sale you refer to us.
Do you offer refunds?
Yes, we offer a 14-day money-back guarantee on all of our plans. If you're unsatisfied with LoginPress, simply contact us within 14 days of your purchase, and we'll process a refund.
Can I upgrade my license after my initial purchase?
Yes, you can upgrade your LoginPress license at any time. Simply log into your account and go to the My Downloads page. From here, you can upgrade your license and download the latest version of the plugin.
Will LoginPress slow down my website?
No, LoginPress will not slow down your website. The plugin is lightweight and only loads the necessary files when someone tries to access your login page.