Documentation
To make the plugin extra easy and functional as per the requirements, here comes the detailed documentation regarding the plugin. All about educating the things related to the plugin.
A Comprehensive Guide to LoginPress Customizer (Free and Pro Versions)
LoginPress is the best WordPress custom login page customizer plugin to help you personalize your default WordPress login page without writing codes or hiring an expert. Cool, right?
With its core functionalities within the Settings, Customizer, and Add-Ons options, LoginPress empowers you to take full control of your login page customization journey.
Whether you're using the Free or Premium version of LoginPress, the Customizer is at your disposal.
Now, let's embark on an exciting journey as we unveil the full range of features within the LoginPress Customizer section:
Get ready to transform your login page into a masterpiece!
Customize WordPress Login Page with LoginPress Customizer
Note: We assume you've already Downloaded and Installed LoginPress. If not, check out our guide on How to Install And Activate LoginPress (Free).
First, go to the left sidebar of the WordPress admin dashboard. Navigate to LoginPress and click the Customizer option.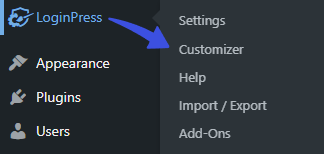 Now you are on the LoginPress Customizer screen.
Here you can see all Customization options with a live preview, where you can keep track of all customizations side by side in real time. 
See the image below: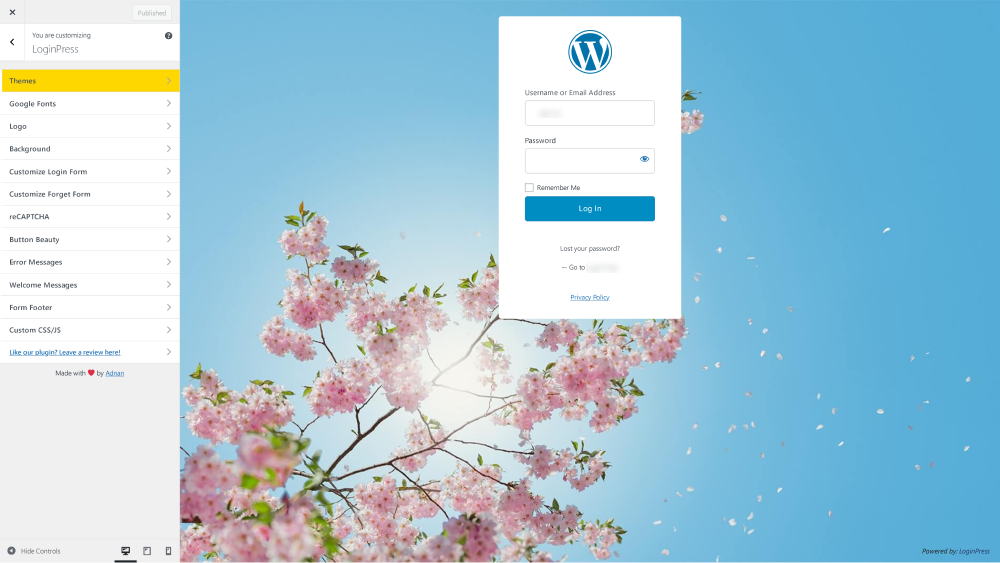 Let's dive deep into LoginPress features available in the Customizer section.
1. Themes
By default, WordPress has a plain layout for its login page. However, with the installation of LoginPress, you'll immediately notice a transformation. The WordPress Default Login Page will automatically adopt the LoginPress Default Theme. This results in a refreshing and customized appearance for the login page.
LoginPress (Free) has a single default theme. This theme features a custom background and enhances the appearance of the login fields, providing a visually appealing and user-friendly login page.
However, LoginPress Pro provides additional beautiful themes for those seeking more visually appealing options. These premium themes offer further opportunities to enhance the look and feel of your WordPress login page.
Note: You can contact us for a custom design anytime.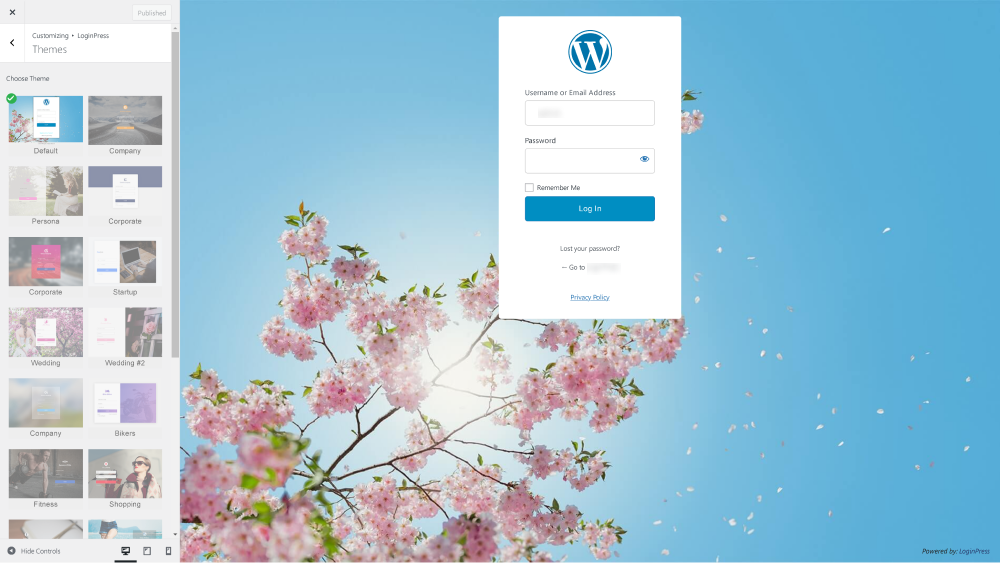 You can learn more about it in our detailed documentation on LoginPress Themes Premium.
2. Google Fonts (Premium)
Typography plays a vital role in the website's user experience. No matter how well you've written your content, all your efforts are well-spent if it's illegible on the visitors' screens.
Fortunately, with LoginPress Pro, you can unlock the incredible Google Fonts feature, which grants you access to a vast collection of fonts from Google.
You can easily choose from hundreds of Google Fonts that elevate the readability of your login page.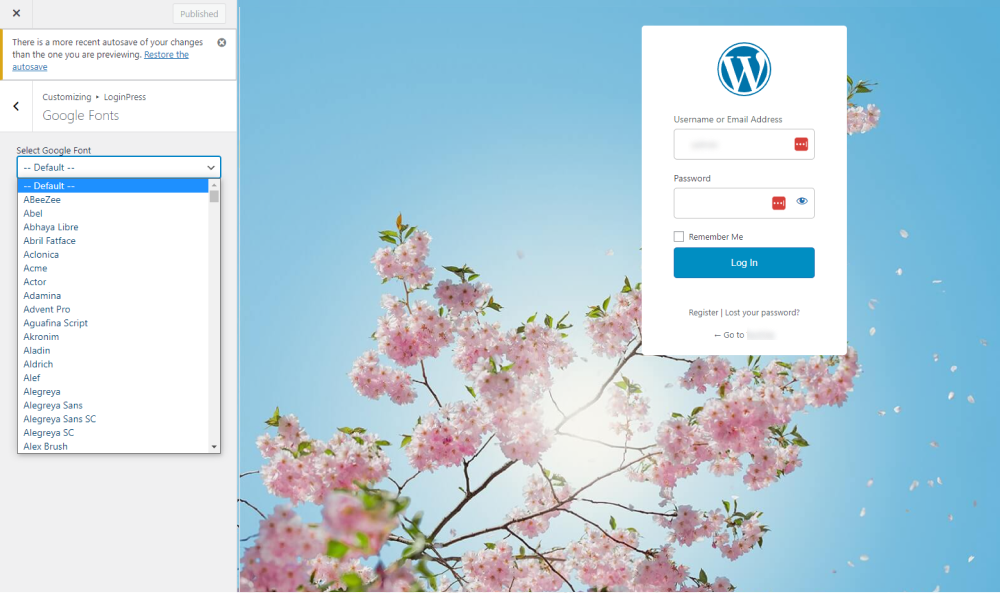 Note: You can learn more about it in our detailed documentation on LoginPress Google Fonts for WordPress Login Page.
3. Logo
LoginPress empowers you to effortlessly replace the default WordPress logo with your own customized branded logo on the Login, Registration, and Forget forms.
Once you've added your custom logo, you gain the flexibility to adjust its Width, Height, and Space Bottom, ensuring a perfect fit with your login page design.
In addition, the plugin allows you to set the Logo URL, Logo Page Title, and Logo Title, providing a seamless branding experience for your users. With these powerful customization options, LoginPress perfectly aligns your WordPress login page with your brand identity.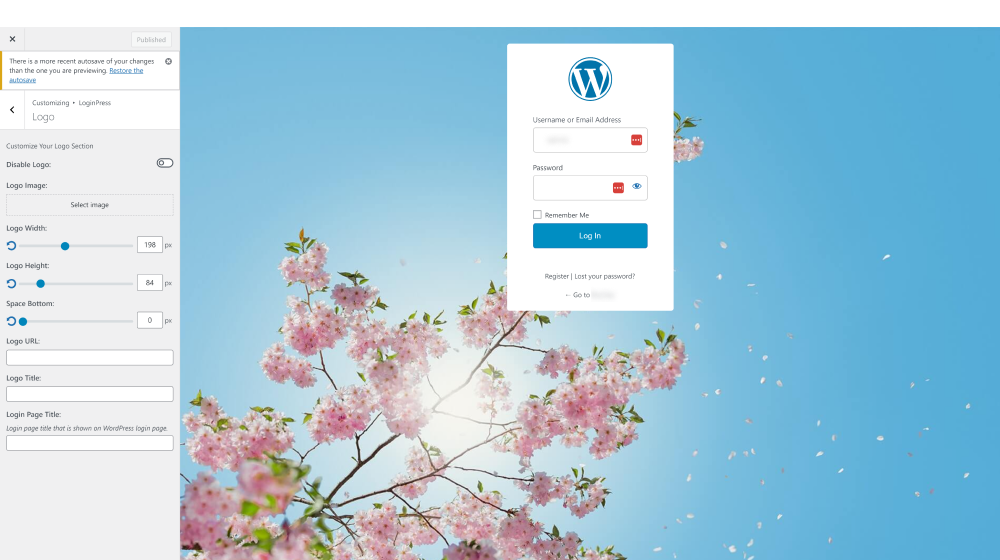 You can check our detailed documentation here to know its usage.
4. Background
In addition to the Logo feature, LoginPress offers another wonderful Background feature that lets you replace the default gray WordPress background with a custom background for your login page.
With this feature, you can bid farewell to the standard gray WordPress background and welcome a custom background that aligns perfectly with your brand or website's aesthetic.
The possibilities are endless, as you can replace the background with a solid background color, a captivating background image, or an engaging background video.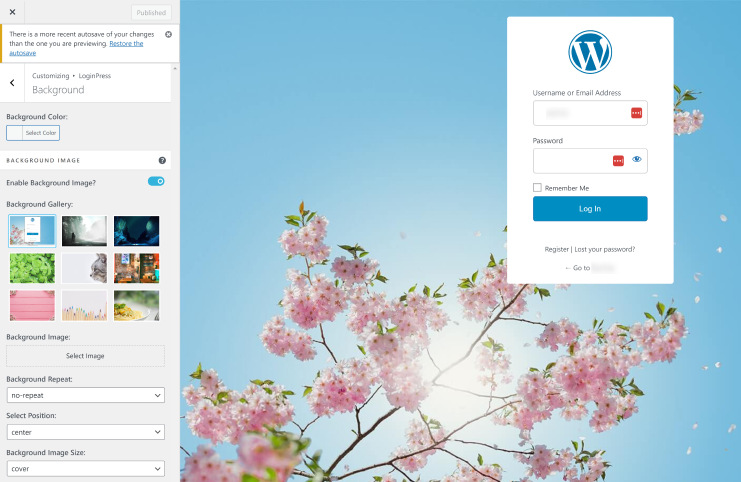 You can check the detailed documentation of the Background to know more about it.
5. Customize Login Form
LoginPress enables you to customize the login form precisely how you want it.
You can make it transparent, add a background, customize the login form height and width, change the radius, and more.
This is not it! You can customize the input field background color, text color, text field margin, and text field width.
LoginPress customizer lets you customize the input field labels, color, and size.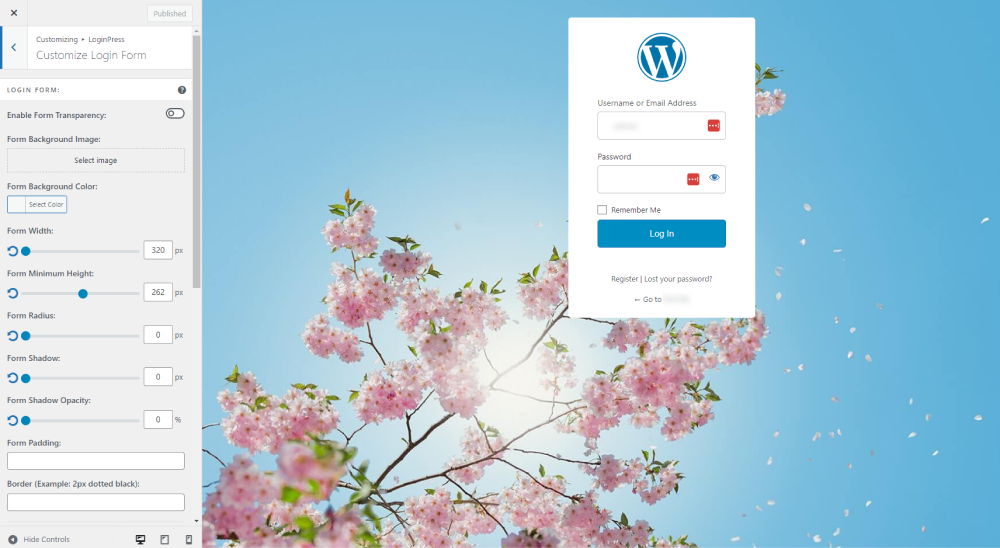 You can learn more about Customize Login Form for its maximum use.
6. Customize Forget Form
Once you customize the Login Form within LoginPress Customizer, the Forget Form will automatically revert to those changes.
LoginPress Customize Forget Form feature lets you tweak the appearance of the Forget Form in terms of background color and image.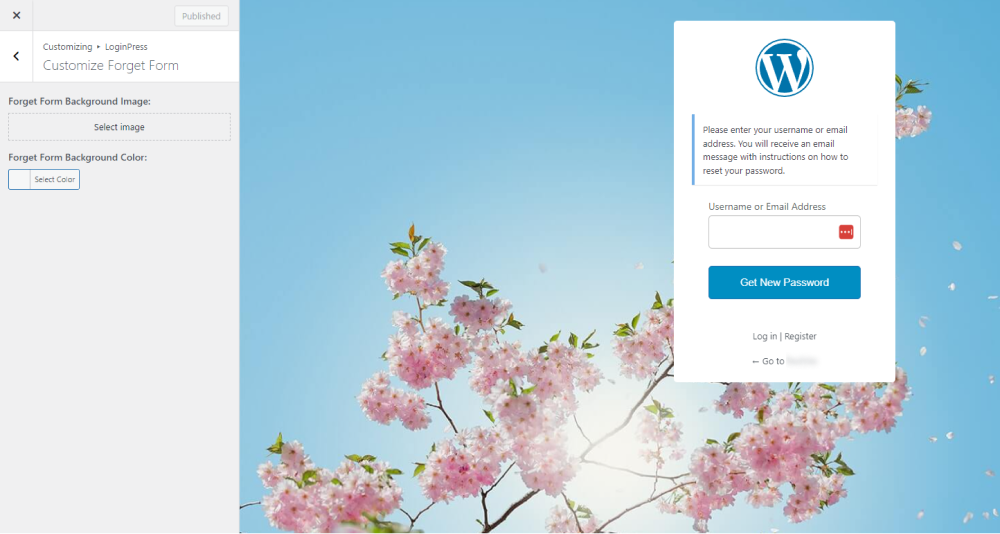 You can learn more about Customize Forget Form here.
7. reCAPTCHA (Premium)
If you've enabled reCaptcha on your WordPress site from the LoginPress Settings, it's time to change the look and feel of reCAPTCHA on the Login, Registration, and Lost your password forms.
The feature enables you to customize the reCAPTCHA Error Message and reCAPTCHA size.
It helps you provide clear instructions for your users and fine-tune the reCAPTCHA size to align perfectly with your website's aesthetics.
You can learn more about reCAPTCHA to know its security and styling features.
8. Beauty Button
LoginPress enables you to gain full control over the appearance of the Log In button on the Login, Register, and Forget Forms. The feature lets you fine-tune its appearance to match your vision.
The feature helps you add button color, border color, button border color hover, and more.
The hover effect plays a vital role in user interactions. It lets the button gracefully respond to users' actions and create a delightful experience.
You can easily customize the size and radius of the Log In button. In addition, you can add a shadow for the button. This feature is even cooler because the shadow automatically adopts the same rounded or square corners you've selected for the button's radius.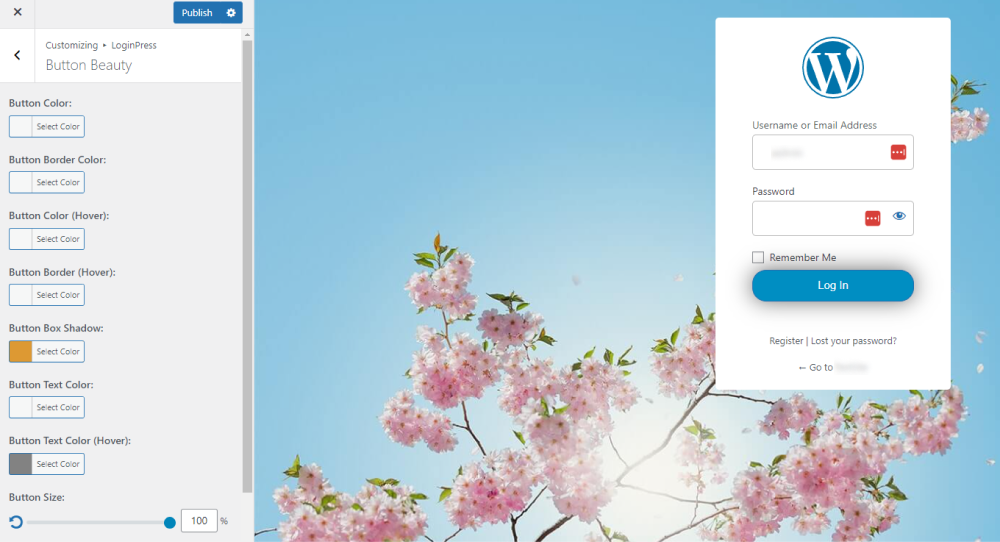 You can learn more about Beauty Button to know its detailing.
9. Error Messages
LoginPress Error Message feature lets you enhance the clarity of the Error Messages users receive in response to unsuccessful login, registration, or forget password attempts.
The feature not only reinforces the security of your website but also creates a more user-friendly experience.
Clear and concise Error Messages guide users in identifying the exact issue, making it easier to correct any mistakes and complete the login, registration, or password recovery process.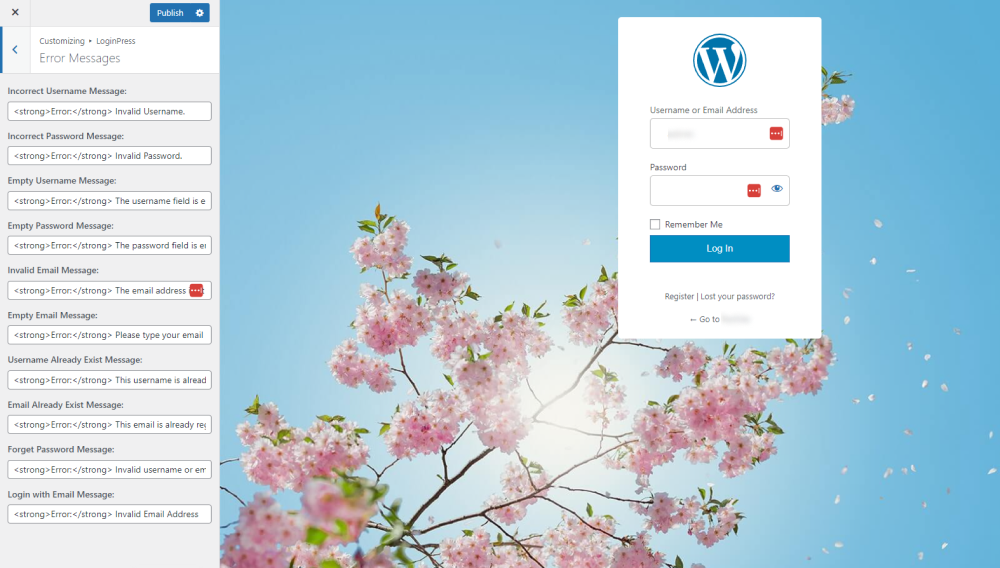 You can explore more in detail about Error Messages by clicking the Error Messages article.
10. Welcome Messages
LoginPress lets you customize the Welcome Messages to greet your visitors once they land on the Login, Forget, Registration, or Logout forms. It's a great way to boost engagement on your WordPress website.
The customized Welcome Messages create a more personalized and user-centric experience for your visitors. Let it be a friendly "Welcome back!" or a warm "Thanks for visiting," these messages can set a positive tone.
With this added level of engagement, your WordPress site becomes a welcoming and user-friendly space that users would want to return to.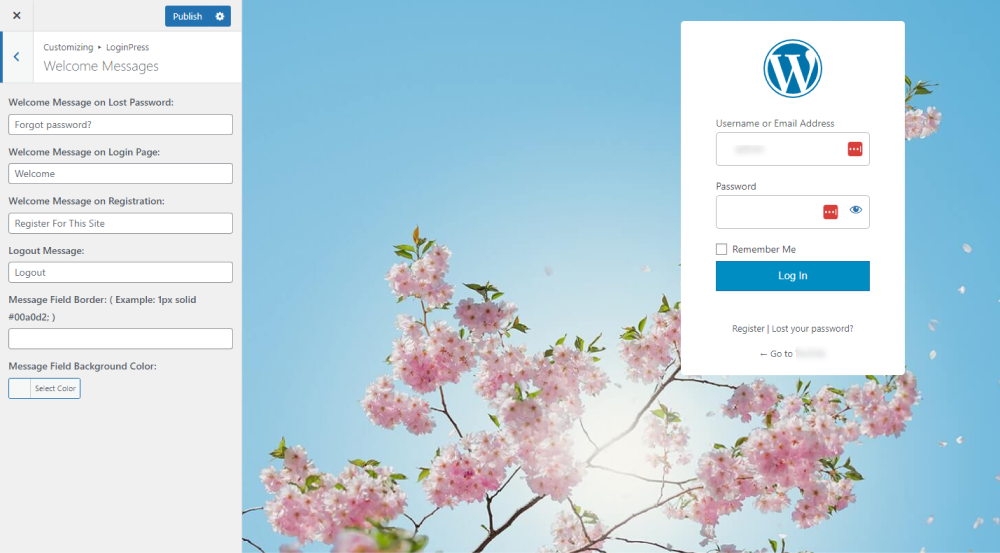 You can explore more in detail about Welcome Messages by clicking the Welcome Messages article.
11. Footer Text
The Footer Text on the login form is the copyright information of your business or brand getting showcased by your website.
The Footer Text feature in LoginPress's Customizer is immensely valuable. To add your brand with a sense of uniqueness and individuality.
You can easily customize the Lost Password Text, select text decoration, footer text, hover color, and more. In addition, you can disable the Back to Site text from the login form footer.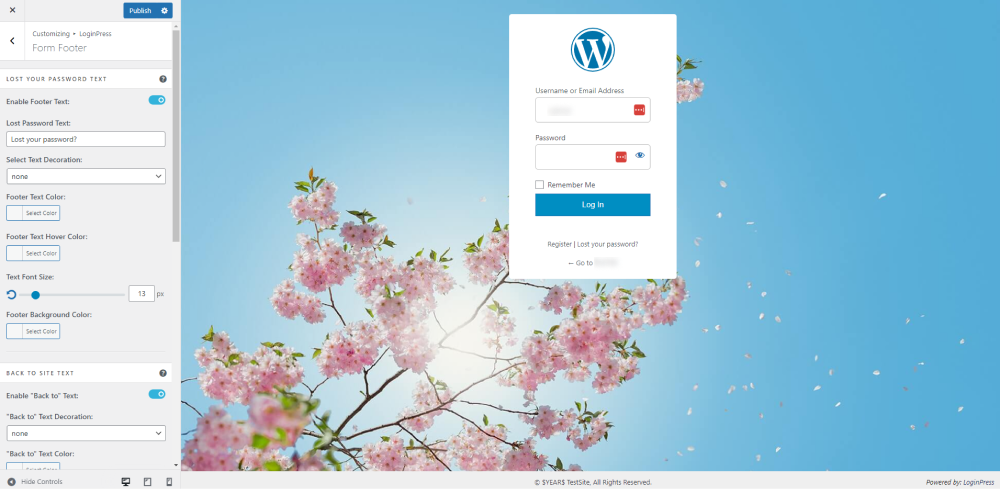 You can learn more details about the Footer Text.
12. Custom CSS/JS
Enabling you to play more with the customization options, LoginPress offers the Custom CSS and JS feature, following which you can use the LoginPress classes and style them according to your choice.
LoginPress Custom CSS and JS features help you add the desired functionality to the WordPress login page without hurting your site's theme. So that limitations do not bind you and your creativity can flourish. Cool right?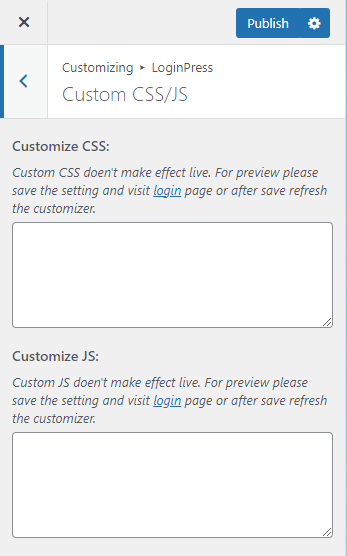 You can learn more about the work of Custom CSS/JS.
That's all! Try the LoginPress Customizer to customize the WordPress login page.
Take your login page customization to the next level with LoginPress Customizer. Enhance your WordPress site's login experience with our user-friendly customization options.
Unlock advanced features with the LoginPress Pro version to craft a truly unique and captivating login experience.
Upgrade today and discover the full potential of your website's login journey. What are you waiting for?
If you have any doubts or questions related to this matter, please don't hesitate to contact our support team.
Documentation
Frequently Asked Questions (FAQs)
These FAQs answer the most common questions about our WordPress custom login page plugin.
Where can I get support for LoginPress?
If you need help with LoginPress, you can contact us here. We'll be happy to answer any questions about the plugin.
Do you have an affiliate program?
Yes, we have an affiliate program that you can sign up for here. As an affiliate, you'll earn a commission on every sale you refer to us.
Do you offer refunds?
Yes, we offer a 14-day money-back guarantee on all of our plans. If you're unsatisfied with LoginPress, simply contact us within 14 days of your purchase, and we'll process a refund.
Can I upgrade my license after my initial purchase?
Yes, you can upgrade your LoginPress license at any time. Simply log into your account and go to the My Downloads page. From here, you can upgrade your license and download the latest version of the plugin.
Will LoginPress slow down my website?
No, LoginPress will not slow down your website. The plugin is lightweight and only loads the necessary files when someone tries to access your login page.