Documentation
To make the plugin extra easy and functional as per the requirements, here comes the detailed documentation regarding the plugin. All about educating the things related to the plugin.
Explore LoginPress Customizer
You can easily modify the look and feel of your login page with LoginPress Customizer without writing codes or hiring an expert. Cool, right?
The Customizer is available in both Free and Premium LoginPress.
Note: We assume you've already Downloaded and Installed LoginPress. If not, you can check out our guide on How to Install And Activate LoginPress (Free).
This knowledgebase article will show each feature available in the LoginPress Customizer section.
Let's get started!
LoginPress Customizer
LoginPress comes with a Customizer section for uplifting the default WordPress login page.
First, go to the left sidebar of the WordPress admin dashboard. Navigate to LoginPress and click the Customizer option.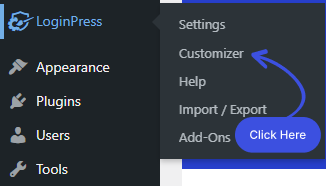 A new screen with all Customization Options will open up, including free and premium features. From here, you can make changes to Themes, Logo, or Background. 
You can continue improving the look and feel of the Button Beauty, Error Messages, Welcome Messages, and Form Footer.
Wait, we are still going! LoginPress offers excellent Custom CSS/JS that lets you override your theme's styles and add desired functionality without hurting your theme or plugin files. 
LoginPress premium offers terrific features, including Themes (premium), Google Fonts (premium), and reCAPTCHA (premium) to uplift your LoginPress's functionality. 
Let's dive deep into LoginPress features available in the Customizer section.
1. Themes
By default, WordPress has a dull and boring layout. But upon installation of LoginPress, you'll notice that your WordPress Default Login Page reverts to the LoginPress Default Theme automatically without writing a single line of code. It gives the login page theme a fresh look and custom feel.
LoginPress (free) has only the default theme. Other beautiful themes are available in premium packages.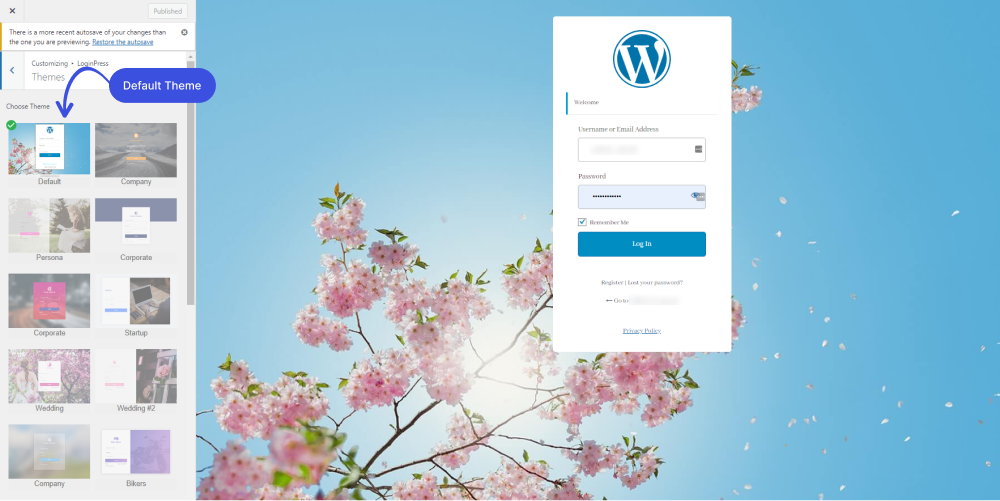 You can learn more about it in our detailed documentation on LoginPress Themes Premium.
Note: You can contact us for a custom design anytime.
2. Google Fonts (Premium)
Typography plays a vital role in the website's user experience. No matter how well you've written your content, all your efforts are well-spent if it's illegible on the visitors' screens.
Luckily, LoginPress offers Google Font (premium) features to help you access hundreds of Google Fonts to add an extra personal touch to your WordPress website's login page.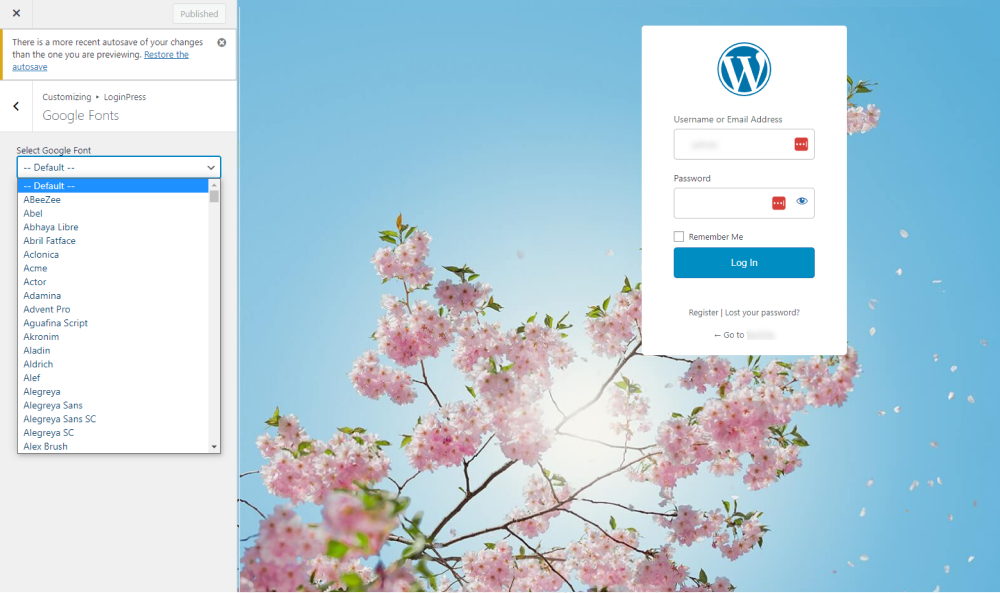 3. Logo
LoginPress is a fantastic WordPress login plugin that enables you easily swap out the default WordPress logo with your customized branded Logo on the Login, Registration, and Lost your password forms.
When your custom logo is added, you can adjust its Width, Height, and Space Bottom. You can also add the Logo URL, Logo Page Title, and Logo Title.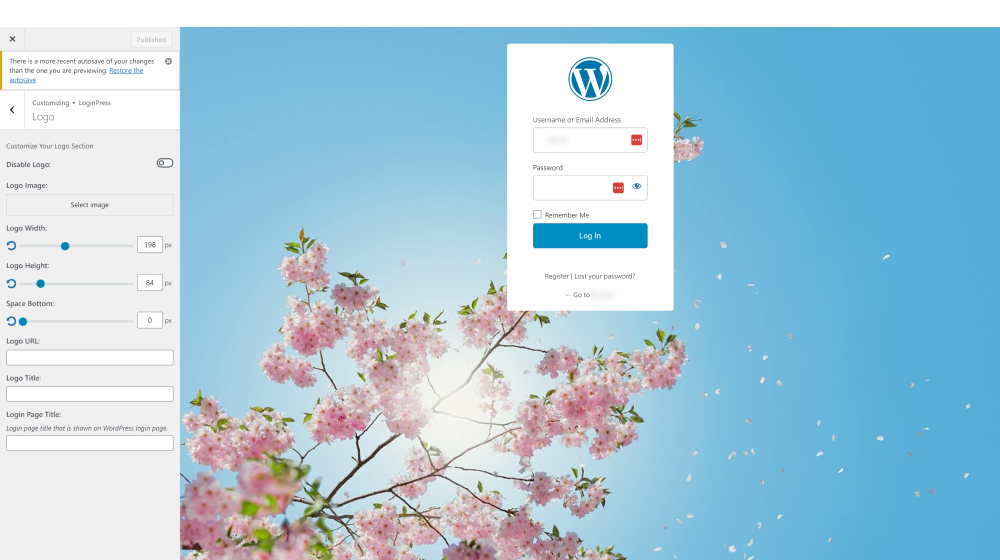 You can check our detailed documentation here to know its usage.
4. Background
The LoginPress Background feature lets you replace the default grey WordPress background with a custom background for your login page.
LoginPress Background features override the default WordPress background with color, image, or video.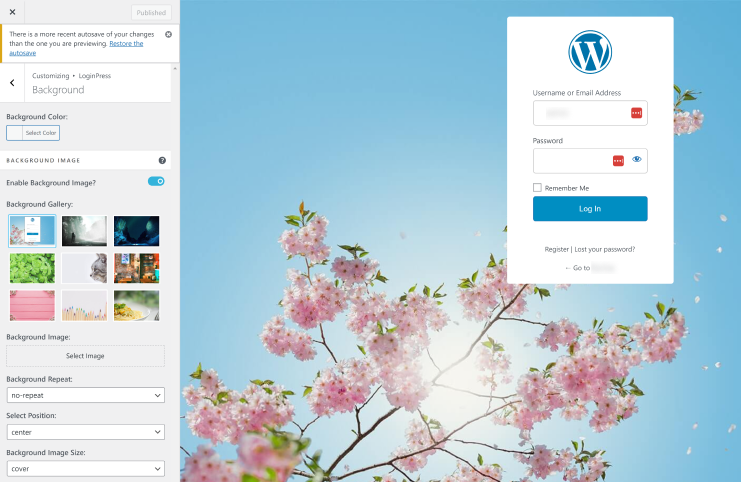 You can check the detailed documentation of the Background to know more about it.
5. Customize Login Form
LoginPress enables you to customize the login form precisely how you want it.
You can make it transparent, add a background, customize the login form height and width, change the radius, and more.
This is not it! You can customize the input field background color, text color, text field margin, and text field width.
LoginPress Customizer lets you customize the input field labels, color, and size.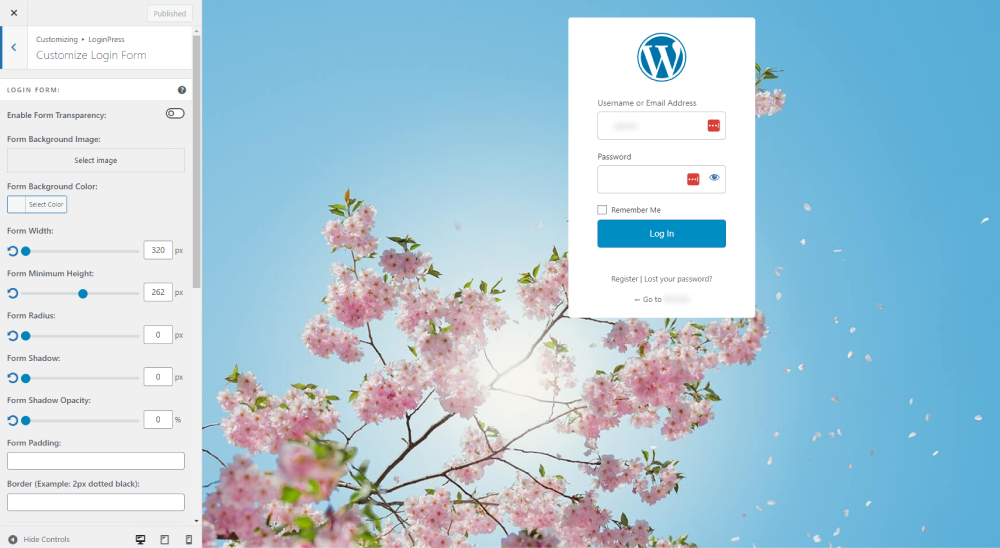 You can learn more about Customize Login Form for its maximum use.
6. Customize Forget Form
Once you customize the Login Form within LoginPress Customizer, the Forget Form will automatically revert to those changes.
LoginPress Customize Forget Form feature lets you tweak the appearance of the Forget Form in terms of background color and image.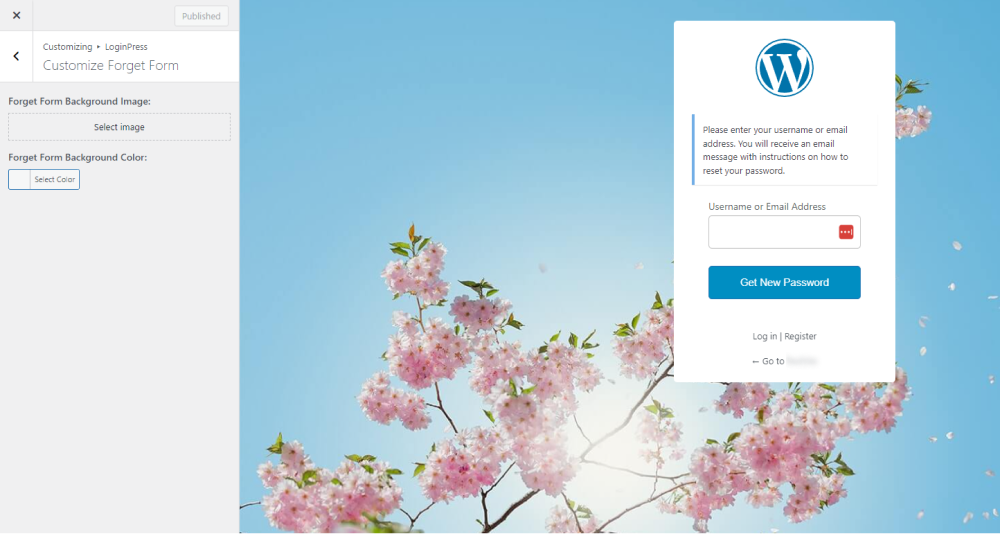 You can learn more about Customize Forget Form here.
7. reCAPTCHA (Premium)
If you've enabled reCaptcha on your WordPress site from the LoginPress Settings, it's time to change the look and feel of reCAPTCHA on the Login, Registration, and Lost your password forms using LoginPress Customizer. 
reCAPTCHA premium enables you to customize the reCAPTCHA Error Message and reCAPTCHA size.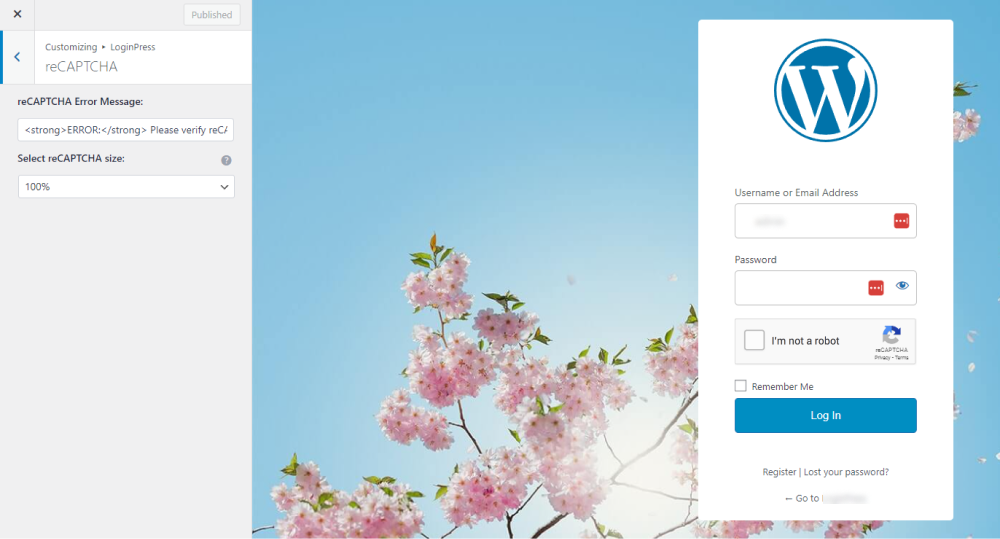 You can learn more about reCAPTCHA to know its security and styling features.
8. Beauty Button
LoginPress has a Button Beauty feature that lets you customize Log In Button precisely how you want it to appear on the Login, Register, and Forget Form in terms of color, text, hover color, shadowing, and more.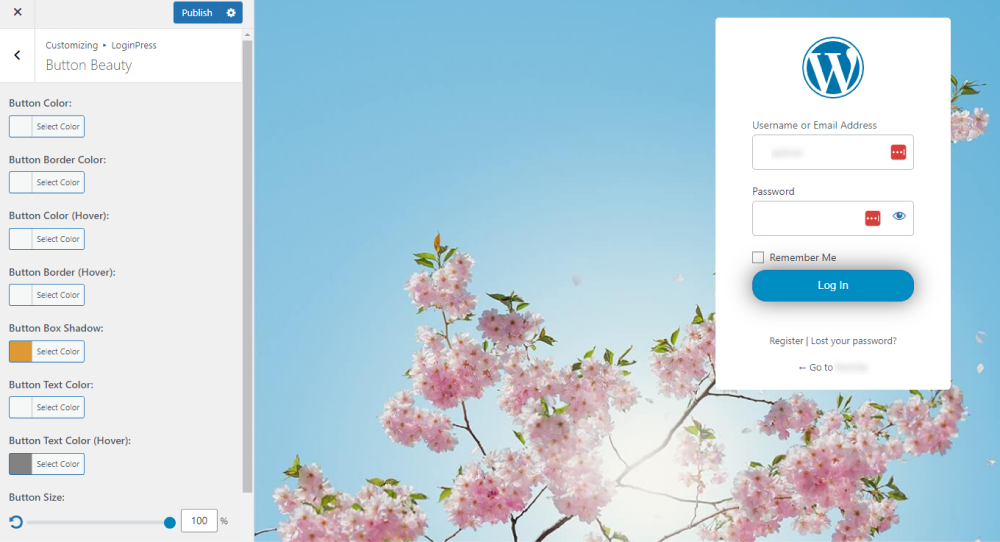 You can learn more about Beauty Button to know its detailing.
9. Error Messages
You can enhance the security of your website by changing the default WordPress login Error Messages with LoginPress.
LoginPress lets you customize the Error Messages that the user will get depending on the outcome of their unsuccessful login, registration, or forget attempts. Let it be the wrong Email Address, Username, or Password.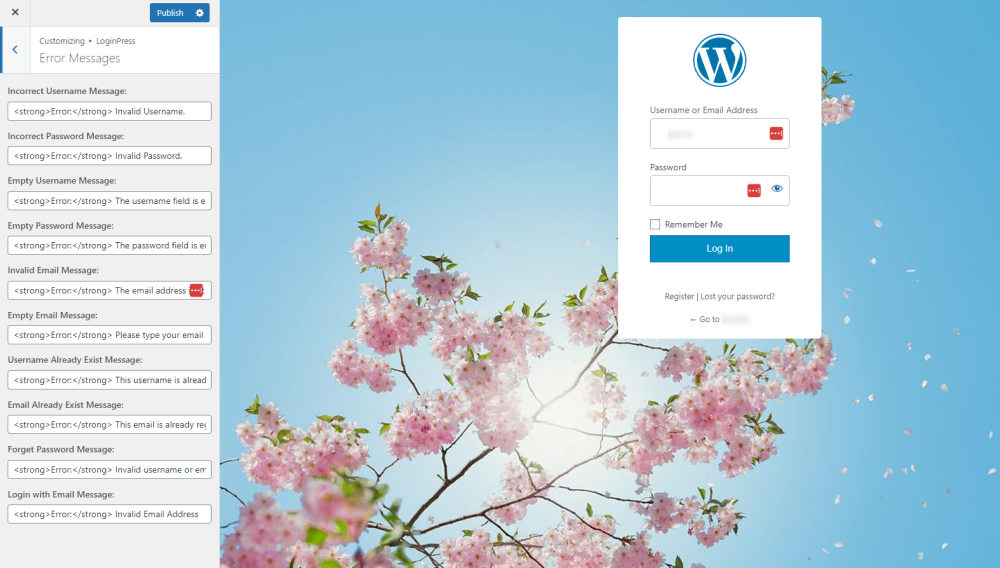 You can explore more in detail about Error Messages click the Error Messages article.
10. Welcome Messages
LoginPress lets you customize the Welcome Messages to greet your visitors once they land on the Login, Forget, Registration, or Logout forms. It's a great way to boost engagement on your WordPress website.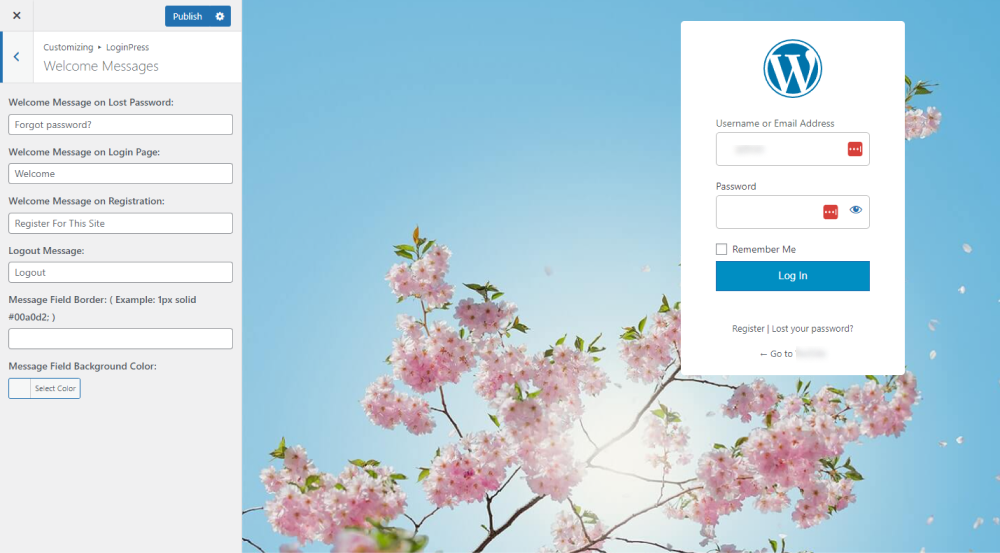 You can explore more in detail about Welcome Messages click the Welcome Messages article.
11. Footer Text
The Footer Text on the login form is the copyright information of your business or brand getting showcased by your website.
To customize it to give brand individuality, the Footer Text feature in the LoginPress's Customizer is quite helpful.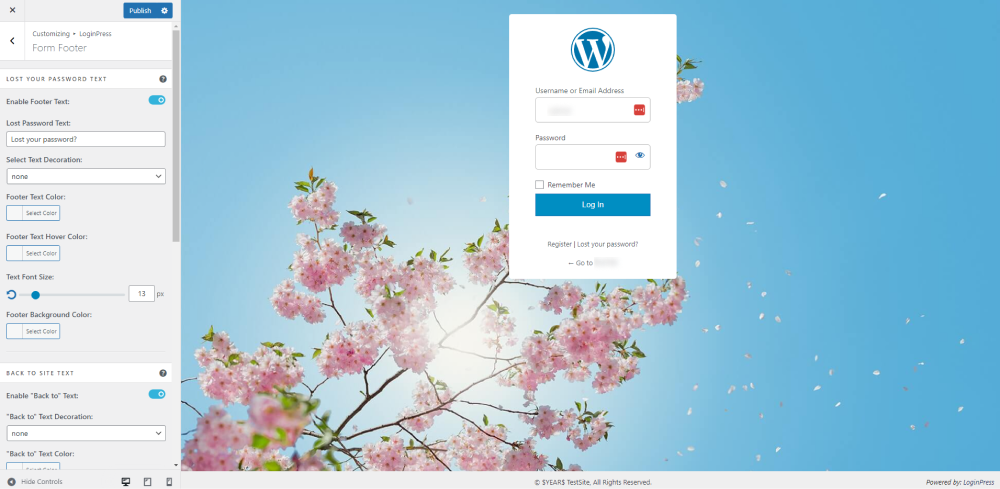 You can learn more details about the Footer Text.
12. Custom CSS/JS
Enabling you to play more with the customization options, LoginPress offers the Custom CSS and JS feature, following which you can use the LoginPress classes and style them according to your choice.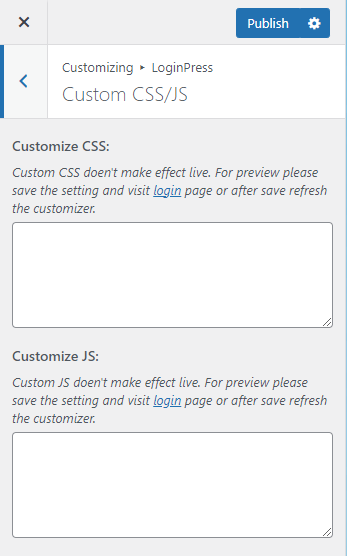 You can learn more about the work of Custom CSS/JS.
Note: Remember to click the Publish button at the top of each customizer option window to LIVE all the changes.

That's all! Try out the LoginPress Customizer to make tremendous changes to your login form.
If you have any doubts or questions related to this matter, please don't hesitate to contact our support team.
Documentation
Frequently Asked Questions (FAQs)
These FAQs answer the most common questions about our WordPress custom login page plugin.
Where can I get support for LoginPress?
If you need help with LoginPress, you can contact us here. We'll be happy to answer any questions about the plugin.
Do you have an affiliate program?
Yes, we have an affiliate program that you can sign up for here. As an affiliate, you'll earn a commission on every sale you refer to us.
Do you offer refunds?
Yes, we offer a 14-day money-back guarantee on all of our plans. If you're unsatisfied with LoginPress, simply contact us within 14 days of your purchase, and we'll process a refund.
Can I upgrade my license after my initial purchase?
Yes, you can upgrade your LoginPress license at any time. Simply log into your account and go to the My Downloads page. From here, you can upgrade your license and download the latest version of the plugin.
Will LoginPress slow down my website?
No, LoginPress will not slow down your website. The plugin is lightweight and only loads the necessary files when someone tries to access your login page.