Documentation
To make the plugin extra easy and functional as per the requirements, here comes the detailed documentation regarding the plugin. All about educating the things related to the plugin.
Everything You Need to Know About LoginPress Add-Ons
LoginPress plugin comes with excellent Add-Ons that will help you to add different features to your custom login page and enhance the login page security level to secure your login page from hacking attacks.
These Add-Ons will take your WordPress site's login page to the next level.
The following brief description of these Add-Ons will help you select the best combination for customizing your login page.
In this knowledge-based article, we'll help you understand LoginPress Add-Ons.
LoginPress Add-Ons
If you're looking for a simple login and logout menu on your WordPress site, then there is an easy solution!
LoginPress offers a Login Logout Menu add-on for free that lets you easily add login, logout, register, and profile menu items to the selected menu of your WordPress site.
You don't need to look for a premium plugin to set up this functionality. Simply install and activate LoginPress and enjoy this feature for free.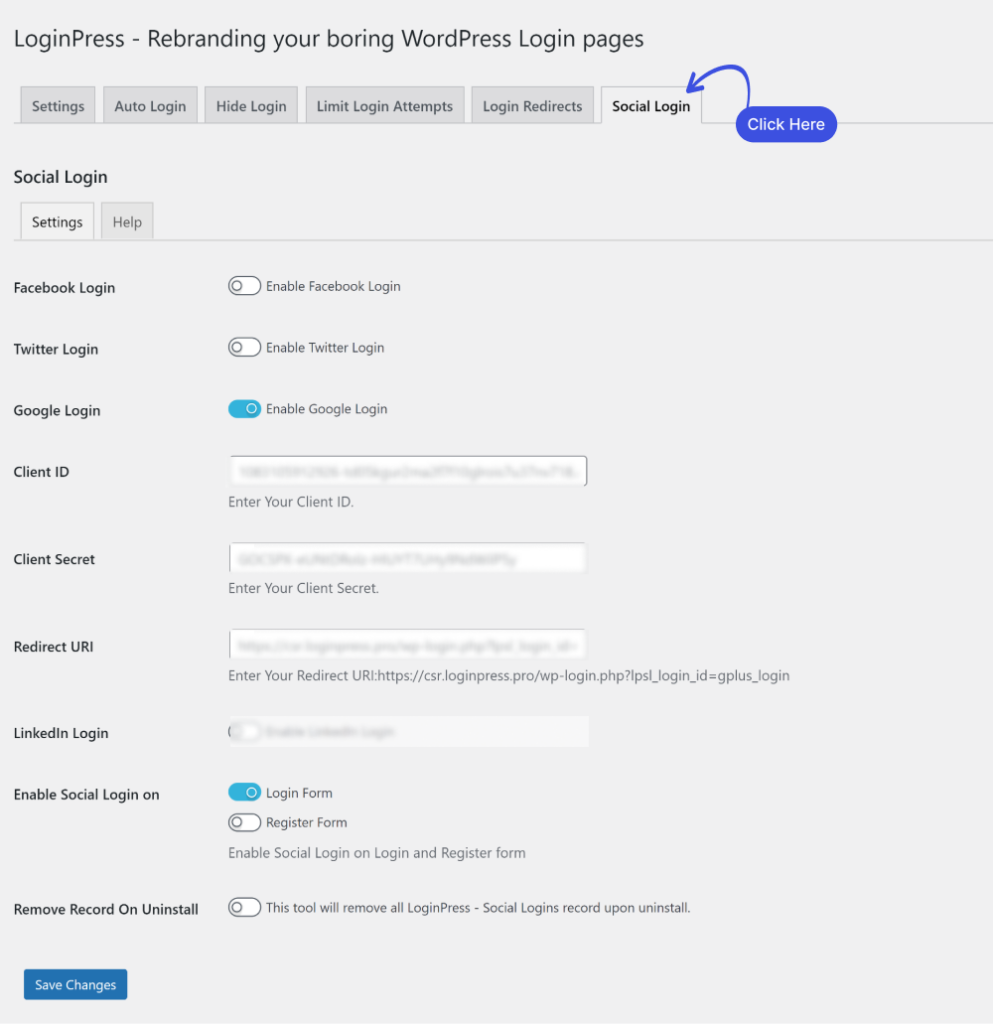 Since the websites are growing in number every day, giving rise to the number of accounts on each website. Most users avoid sign-ups to your website because they aren't willing to give credentials to register or log in to your website.
LoginPress understands what the modern era needs. To fill in the gap, it offers the Social Login add-on to help you increase user sign-ups to your WordPress site. Users can easily register and log in to your site using any social media accounts, including Facebook, Twitter, or LinkedIn.
Yes, this is convenient as users can quickly create an account through social media instead of filling up the registration form. So it makes registration and login faster. This method lowers the chance of spam and bot registrations.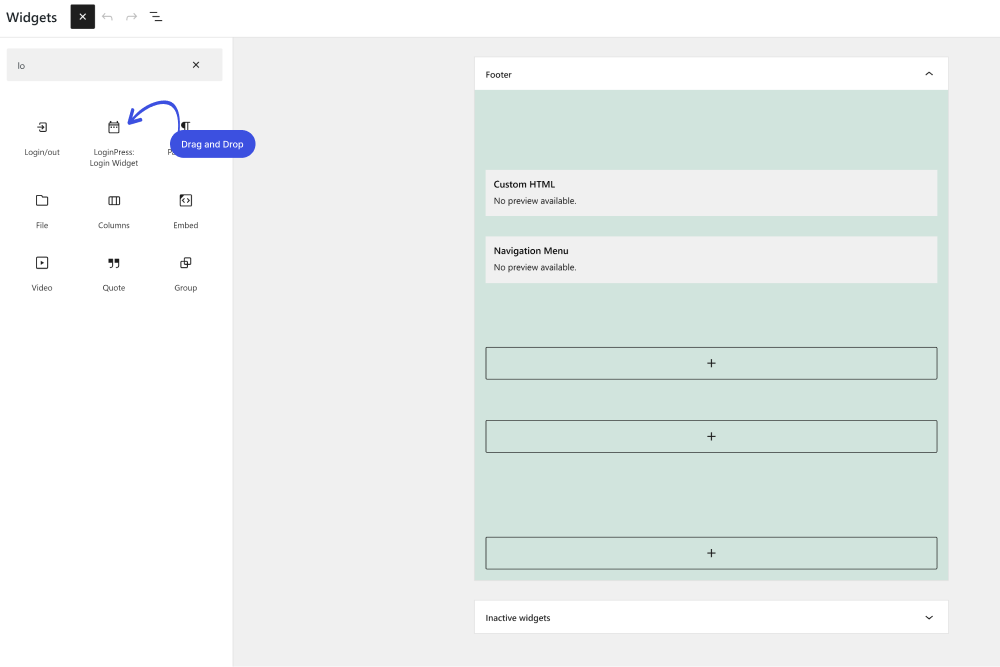 LoginPress Login Widget add-on lets you add the widget to the sidebar with a user name and password fields and additional log in options that you configure. You can easily customize the default widget templates or create a new template for the login.
Login Widget allows you to add a blog sidebar, and with some HTML/CSS knowledge, you can style it according to your WordPress website's theme.

Login Redirects helps to redirect users based on their roles and specific username. You can even restrict your subscribers, guests, or customers from accessing pages like wp-admin and others.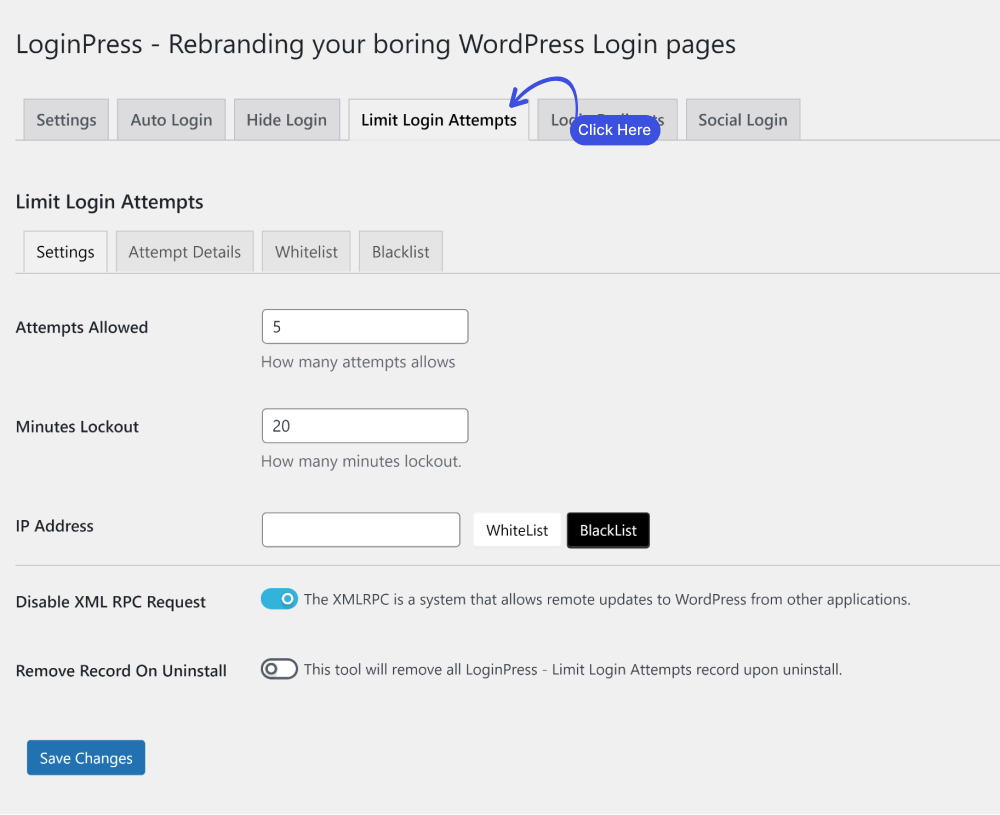 The LoginPress Limit Login Attempts add-on makes it easy and automated to limit login attempts to assist you in securing your website against brute force attacks.
Since WordPress doesn't limit login attempts, it is an easy target for hackers who opt for brute force attacks against your WordPress websites.
That's where the LoginPress Limit Login Attempts add-on comes to the rescue. It is designed to create a shield against cyber activities to gain access to your website. It allows you to set the number of attempts a user has before they are denied access to your website.
As a result, brute force attacks fail because the scripts no longer have unlimited login attempts.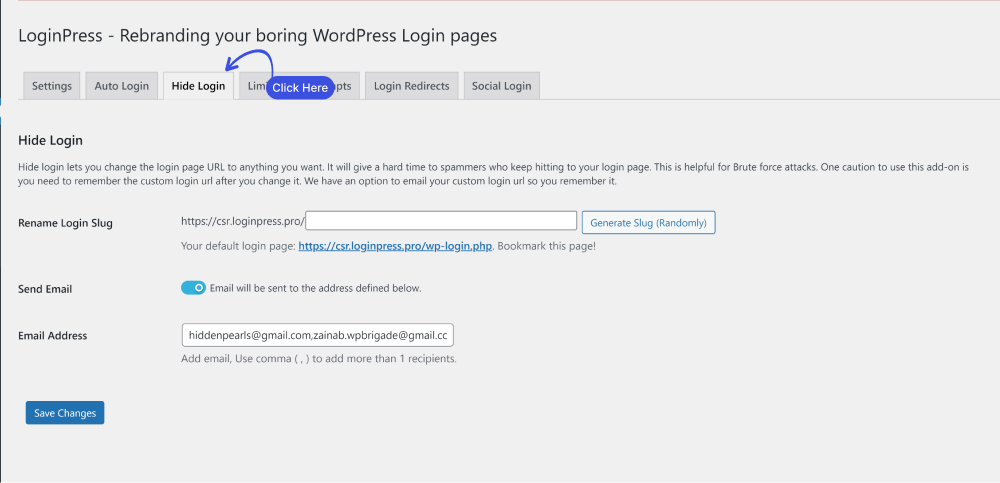 Hide Login add-on lets you change the URL of the login page to anything you want. It's an amazing feature that helps you enhance the security of your WordPress site. It acts like a shield against Brute force attacks. It gives a hard time to spammers who keep hitting your login page.
Note: Remember using this add-on you need to remember the custom login URL after you change it in case you might not forget the login URL.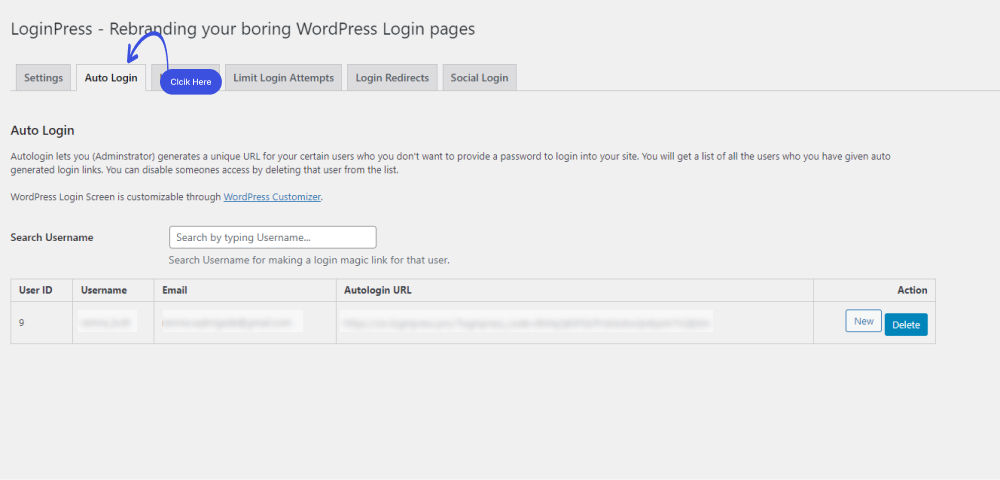 Let's suppose you are working with a guest blogger and you want to give them temporary access to write a post on your website. You do not want to give them access to login credentials. What would you do?
Here LoginPress simplifies the process for you to give access to your admin or website without giving credentials to your guest.
Auto-Login add-on generates a unique URL for such users for who you don't want to provide a password to log in to your site. All you need to do is to search for a username, the add-on will automatically generate an auto-login URL for that user. Simply, copy this link and give it to that user. Now the user can log in to your WordPress site without the username and password.
Note: You can disable someone's access by deleting that user from the list.
That's it! all done. Easy right? Now you know what Add-Ons are offered by the LoginPress premium version.
If you have any doubts or questions related to this matter, please don't hesitate to contact our support team.
Documentation
Frequently Asked Questions (FAQs)
These FAQs answer the most common questions about our WordPress custom login page plugin.
Where can I get support for LoginPress?
If you need help with LoginPress, you can contact us here. We'll be happy to answer any questions about the plugin.
Do you have an affiliate program?
Yes, we have an affiliate program that you can sign up for here. As an affiliate, you'll earn a commission on every sale you refer to us.
Do you offer refunds?
Yes, we offer a 14-day money-back guarantee on all of our plans. If you're unsatisfied with LoginPress, simply contact us within 14 days of your purchase, and we'll process a refund.
Can I upgrade my license after my initial purchase?
Yes, you can upgrade your LoginPress license at any time. Simply log into your account and go to the My Downloads page. From here, you can upgrade your license and download the latest version of the plugin.
Will LoginPress slow down my website?
No, LoginPress will not slow down your website. The plugin is lightweight and only loads the necessary files when someone tries to access your login page.