Documentation
To make the plugin extra easy and functional as per the requirements, here comes the detailed documentation regarding the plugin. All about educating the things related to the plugin.
How to Customize WordPress Login Page Background with LoginPress
By default, there is no Background on the login page of a WordPress website. However, from a functionality and aesthetics perspective, the default WordPress Login Page without the background is not a fan's favorite.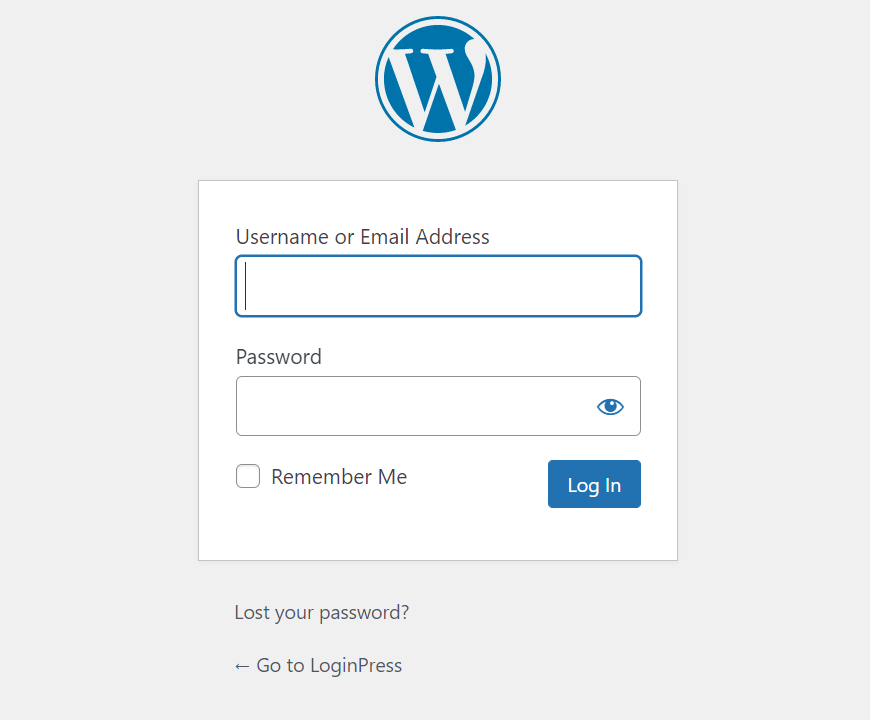 The Background is the built-in feature of the LoginPress plugin. It is objected to customize the overall soul of your WordPress website's Login Page. Let it be Background Color, Image, or Video. It provides a unique individuality to your Login Page.
This knowledgebase article will show how you can easily customize the Background on the WordPress Login Page with LoginPress.
Note: We assume that you've already downloaded and installed LoginPress.
Let's get started!
LoginPress Background Feature
Step 1: Navigate to LoginPress Background Feature
Go to the left side of the WordPress admin dashboard. Navigate to LoginPress and click on the Customizer option.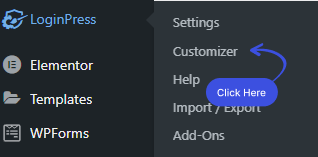 A new screen with all of the Customization Options will open up. Simply click the Background option.
After clicking on the Background option, a new window will open where you'll get all the customization options for customizing the Background. Along with the Live Preview, to instantly track the changes made to the login page Background.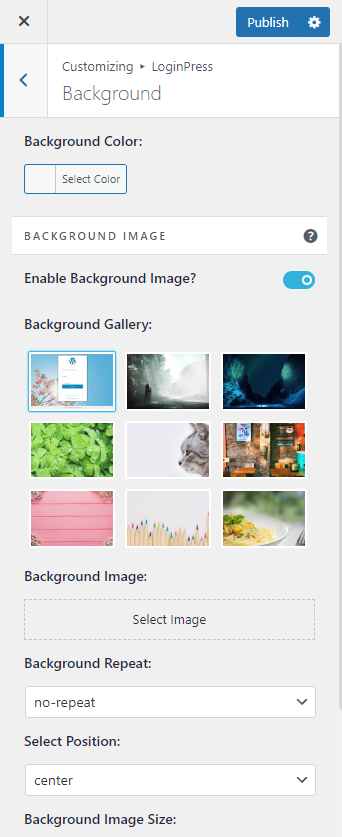 Step 2: Customize the Background
Once you are in the "Background" section, you'll find different options to customize your Login Page Background in terms of Color, Image, and Video.
Note: You can either go with Background Images or Background Videos.
Let's dive deep into the Background feature.
Section 1. Background Color:
In LoginPress, you can change the WordPress default soft grey background to any color you choose. (Low Priority)
Note: You'll need to disable Background Image first to use the Background Color.
To change the color, go to the Background Color section and click the Select Color button.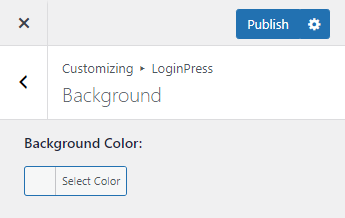 The color edit box will open up right away. From here, you can easily select any color of your choice.
Once selected, it'll take the cover of your Login Page background.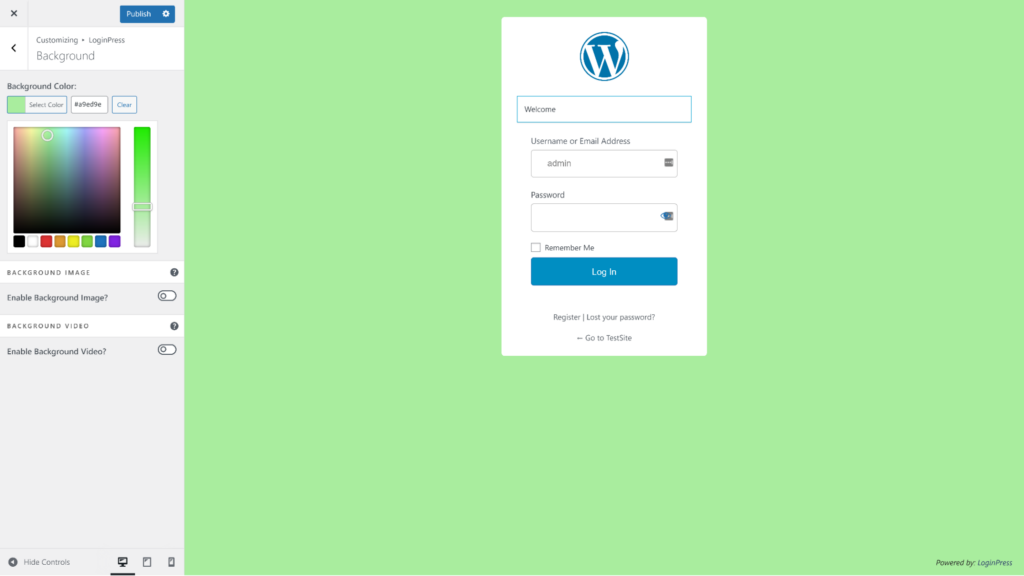 Section 2. Background Image
1. Enable Background Image:
When you are on the Background customizing section for the first time after installing and activating LoginPress, you'll notice that "Enable Background Image" is already Toggled On.
Here you'll find two options: choose an image from the Background Gallery or Select the Image of your choice.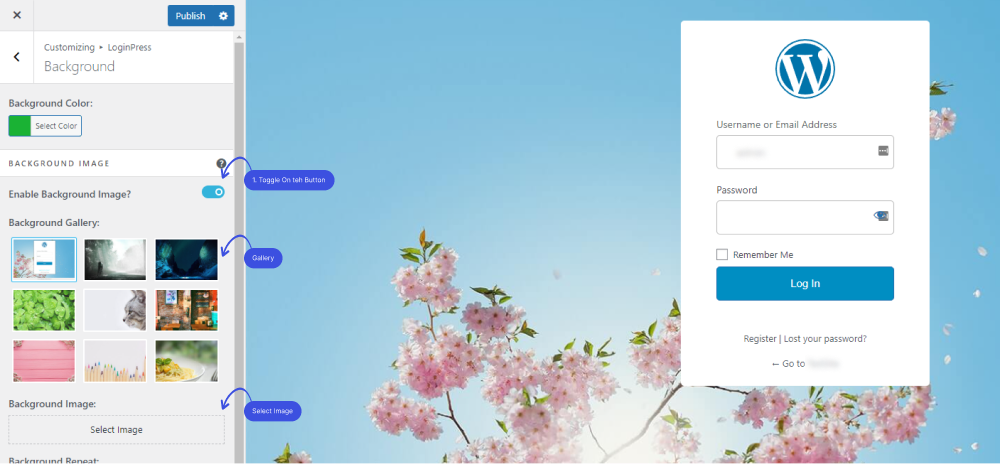 2. Background Gallery:
You can choose the background of your Login Page from the default Gallery Image. If you select the background image from the gallery, it'll override the selected theme image. (High Priority)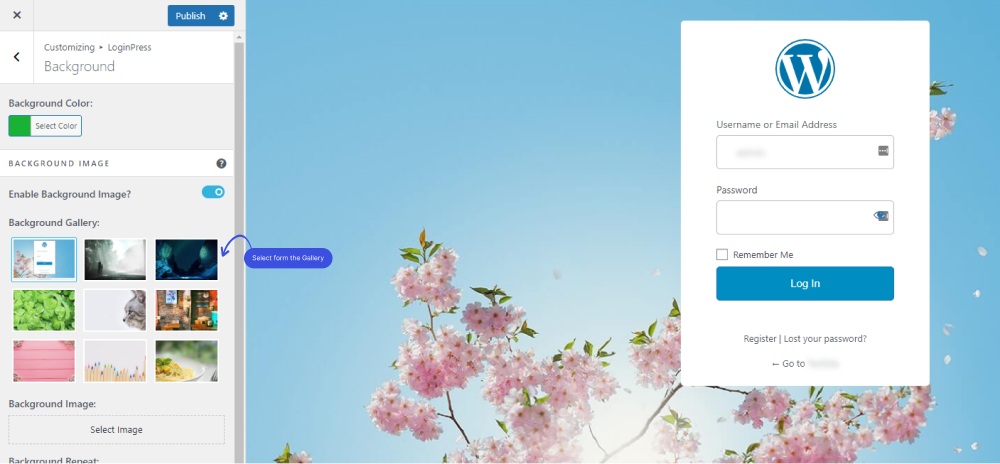 3. Background Image:
You can choose your own background image on your Login Page. If you prefer your own background image, the gallery will be hidden from the section, and this image will override the selected theme image. (Higher Priority)
4. Background Repeat:
Once you have selected the background image, you can make other changes like customizing the Background Repeat.
This option is helpful if your background image size isn't big enough. For example, if you use a pattern, you can repeat your background image, as shown in the GIF below.
Note: This feature is used for small-sized background images only.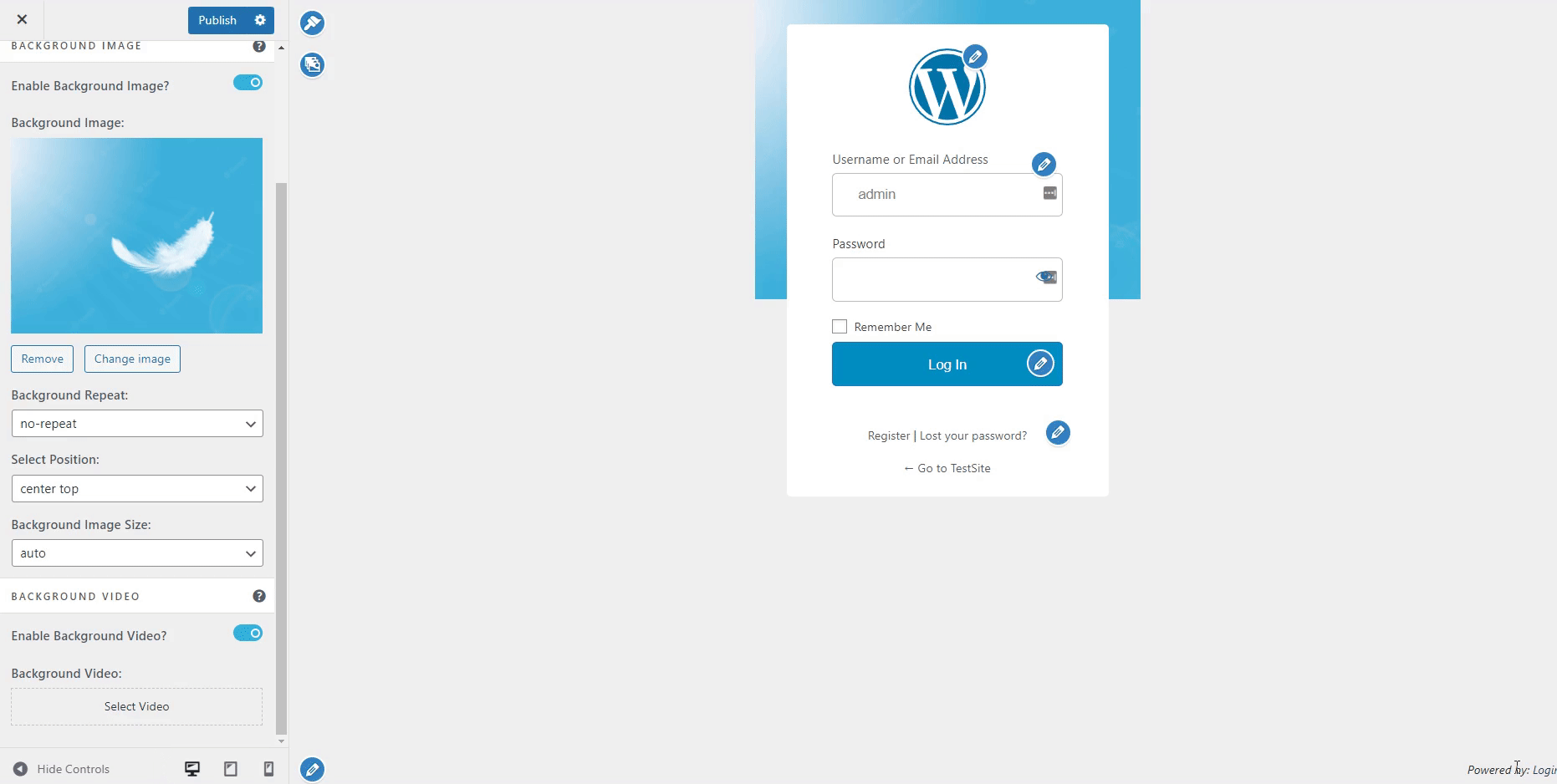 5. Select Position:
Not only repeat, but you can also customize the position of your selected background image.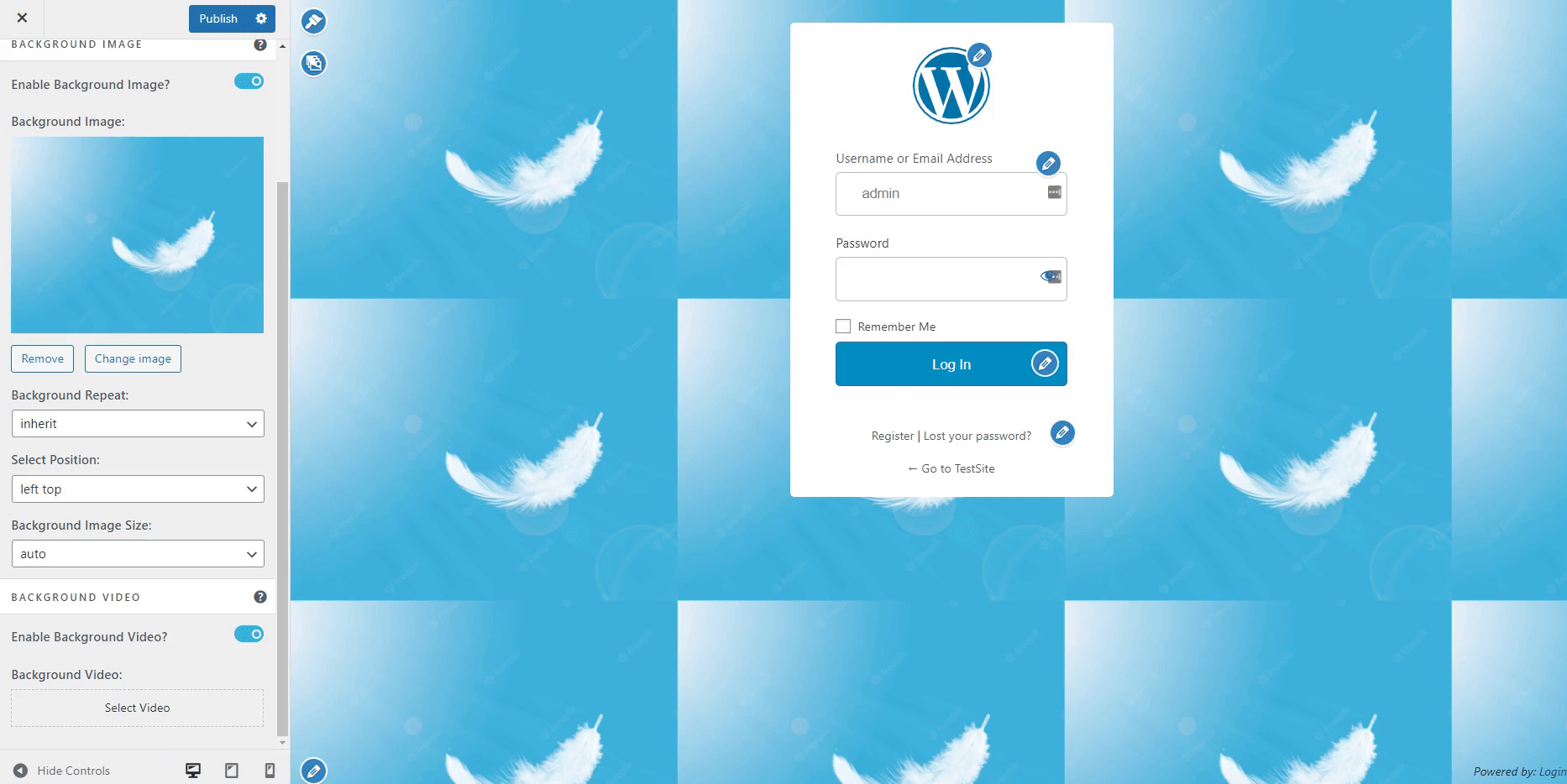 6. Background Image Size:
The LoginPress Background Image feature is not done yet! You can further customize the Background Image Size. Cool, right?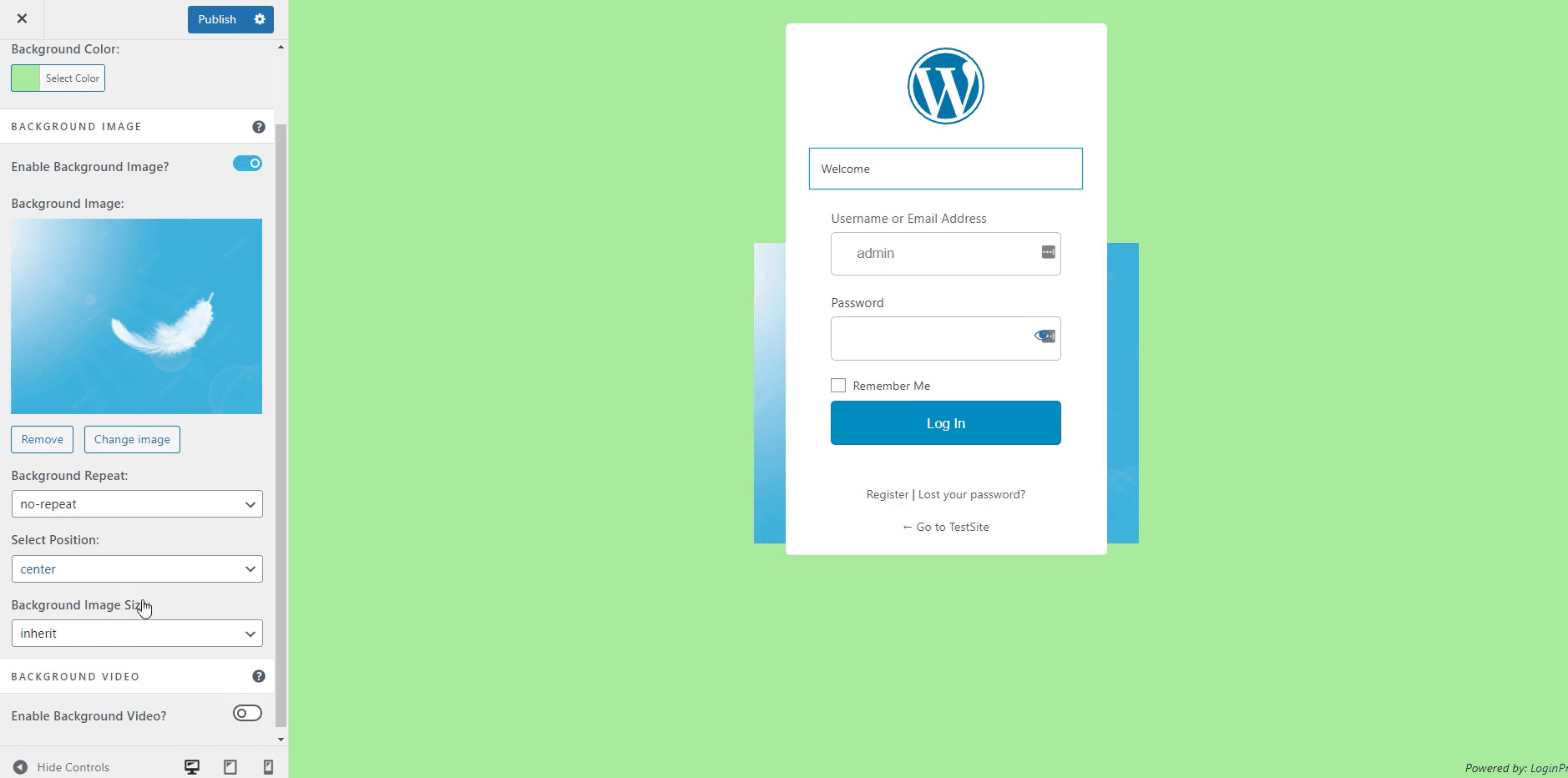 Section 3. Background Video
1. Background Video
Are you done with Background Color or Image and looking for something that lets you engage first-time visitors on your website? Why not give it a try to the Background Video?
LoginPress's Background Video feature lets you inject life into your page content.
All you need to do is Toggle On the "Enable Background Video" option in the LoginPress customizer Background feature.

Once done, a new option, Background Video, will display. From here, you can not only select a video but can customize that video in terms of Size and Position.
Let's dive into Background Video!
1. Background Video
Click on the Select Video option to upload the video as your Login Page Background.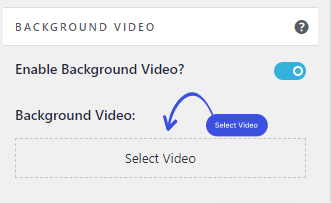 LoginPress Background Video feature offers the following option to set the background video for your login page according to your requirements.
2. Video Size:
It lets you customize the background video size according to the video.
3. Object Position:
You can easily customize the video position according to the video.
4. Muted Video:
Enable/Disable the Mute option of the video through Toggle Button.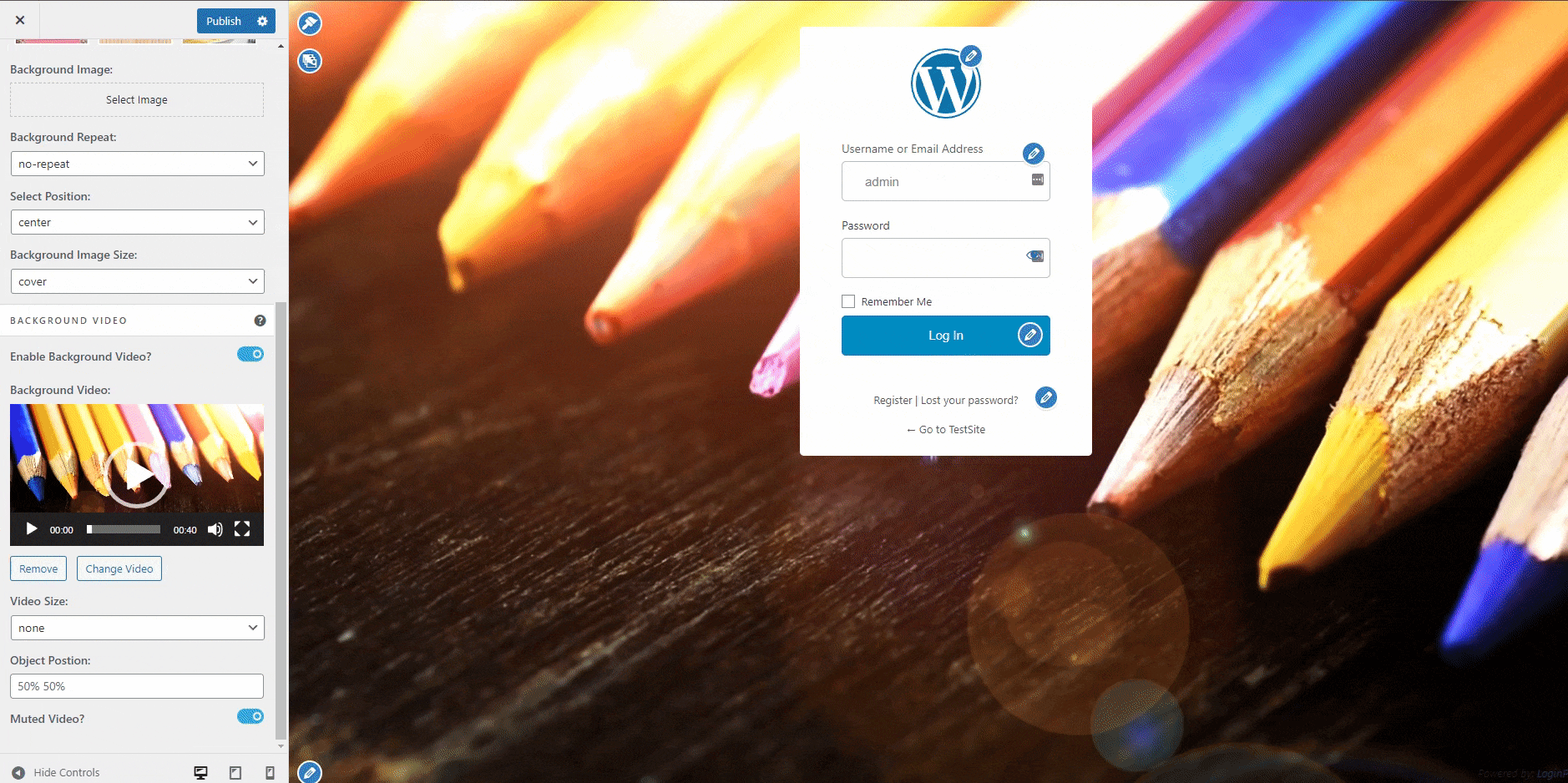 Note: Once you are done, don't forget to click the Publish button to make all the changes LIVE.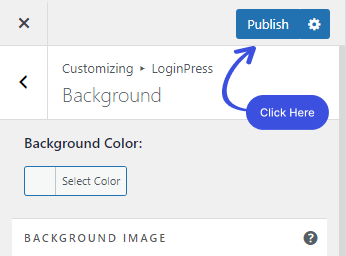 All done! Easy, right? Now you can quickly get started with LoginPress Background.
Now it's your turn! Try out the LoginPress custom Background, and let us know how much it helped you!
Also check out how to customize the WordPress login Page as well. If you have any doubts or questions related to this matter, please don't hesitate to contact our support team.
Documentation
Frequently Asked Questions (FAQs)
These FAQs answer the most common questions about our WordPress custom login page plugin.
Where can I get support for LoginPress?
If you need help with LoginPress, you can contact us here. We'll be happy to answer any questions about the plugin.
Do you have an affiliate program?
Yes, we have an affiliate program that you can sign up for here. As an affiliate, you'll earn a commission on every sale you refer to us.
Do you offer refunds?
Yes, we offer a 14-day money-back guarantee on all of our plans. If you're unsatisfied with LoginPress, simply contact us within 14 days of your purchase, and we'll process a refund.
Can I upgrade my license after my initial purchase?
Yes, you can upgrade your LoginPress license at any time. Simply log into your account and go to the My Downloads page. From here, you can upgrade your license and download the latest version of the plugin.
Will LoginPress slow down my website?
No, LoginPress will not slow down your website. The plugin is lightweight and only loads the necessary files when someone tries to access your login page.