Documentation
To make the plugin extra easy and functional as per the requirements, here comes the detailed documentation regarding the plugin. All about educating the things related to the plugin.
Compatibility Between LoginPress and Multisites
LoginPress is one of the best WordPress login page customizer plugins that lets you create a custom login page for your WordPress site according to your requirements.
We are pleased to announce that LoginPress and Multisites are fully compatible. It lets you manage the Login Pages of WordPress Multisite websites from a single dashboard.
This knowledgebase article will show you how LoginPress works with WordPress Multisite network.
LoginPress and Multisites
Multisites come with child sites. Each child site also gets its WordPress dashboard, which looks and functions like the standard WordPress dashboard for single-site installs.
The most significant difference is that individual site admins cannot install new themes or plugins (and they might not even be able to view the Plugins area, depending on how you've configured things).
Let's see if you make changes to the parenting site using LoginPress, the same action applies to the child sites or not.
For example:
Toggle on the Auto Remember Me from Settings, then see if the same action is applied to the child sites or not.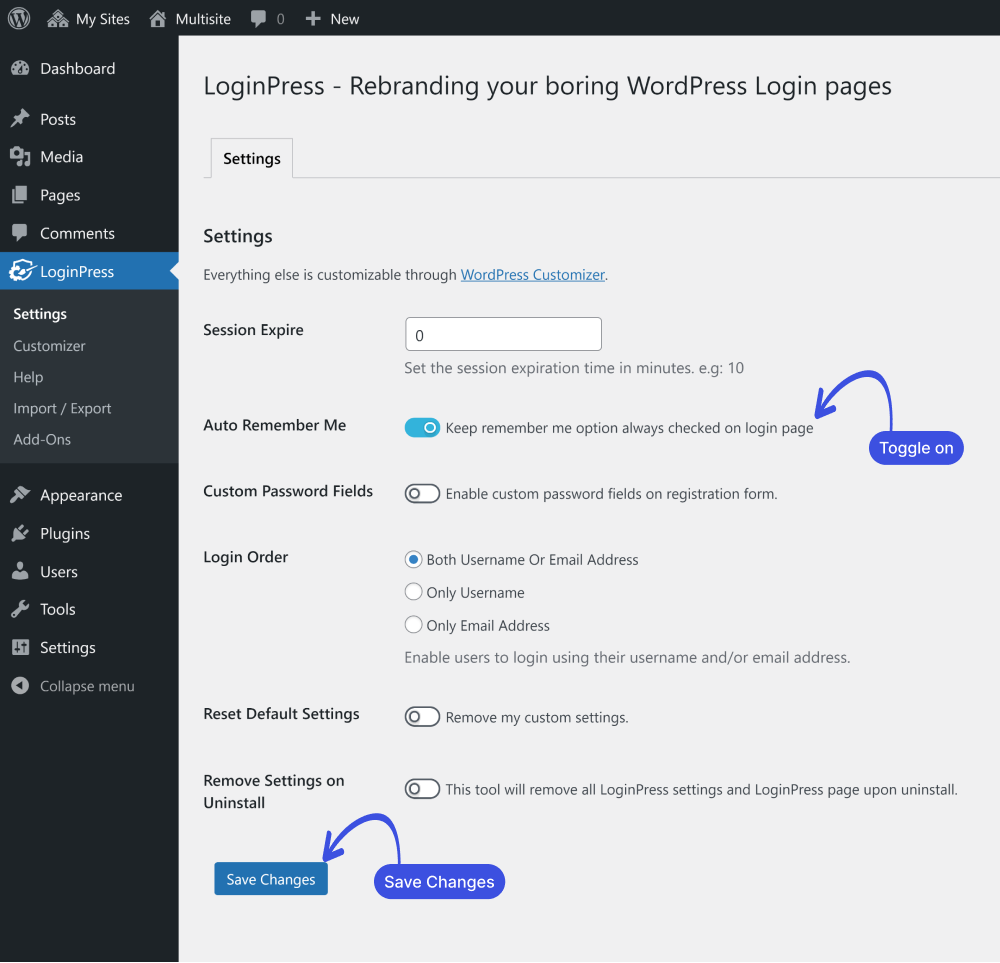 The same action is not applied to the child sites.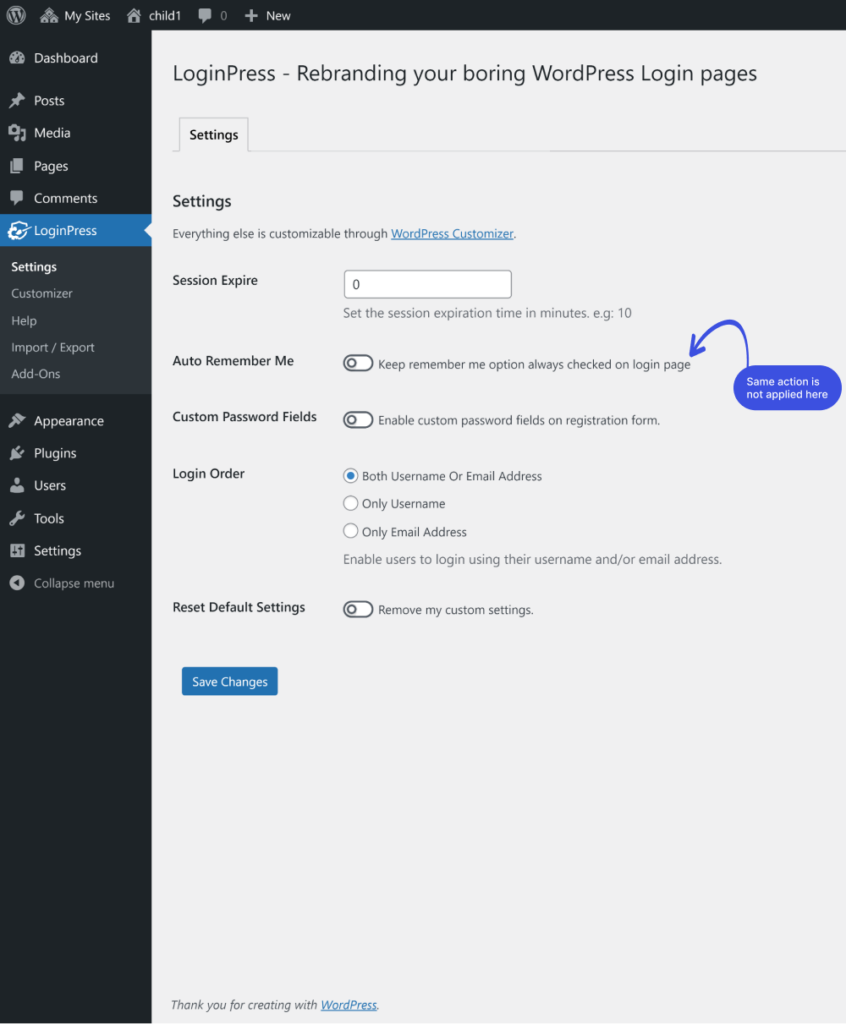 Can You Use LoginPress Pro with WordPress Multisite?
Yes, you can use LoginPress Pro alongside WordPress Multisite. However, you will need an active License Key for each network site rather than just one License Key for the entire network.
That's it! We hope you understand how to manage Multisites using the LoinPress plugin.
If you have any doubts or questions related to this matter, please don't hesitate to contact our support team.
Documentation
Frequently Asked Questions (FAQs)
These FAQs answer the most common questions about our WordPress custom login page plugin.
Where can I get support for LoginPress?
If you need help with LoginPress, you can contact us here. We'll be happy to answer any questions about the plugin.
Do you have an affiliate program?
Yes, we have an affiliate program that you can sign up for here. As an affiliate, you'll earn a commission on every sale you refer to us.
Do you offer refunds?
Yes, we offer a 14-day money-back guarantee on all of our plans. If you're unsatisfied with LoginPress, simply contact us within 14 days of your purchase, and we'll process a refund.
Can I upgrade my license after my initial purchase?
Yes, you can upgrade your LoginPress license at any time. Simply log into your account and go to the My Downloads page. From here, you can upgrade your license and download the latest version of the plugin.
Will LoginPress slow down my website?
No, LoginPress will not slow down your website. The plugin is lightweight and only loads the necessary files when someone tries to access your login page.