Documentation
To make the plugin extra easy and functional as per the requirements, here comes the detailed documentation regarding the plugin. All about educating the things related to the plugin.
How to Customize Login Page Theme with LoginPress
When you first install WordPress, it comes with a default Login Page Theme. However, from a functionality and aesthetics perspective, the default Login Page is not a fan's favorite.
This is what the Default WordPress Login Page looks like: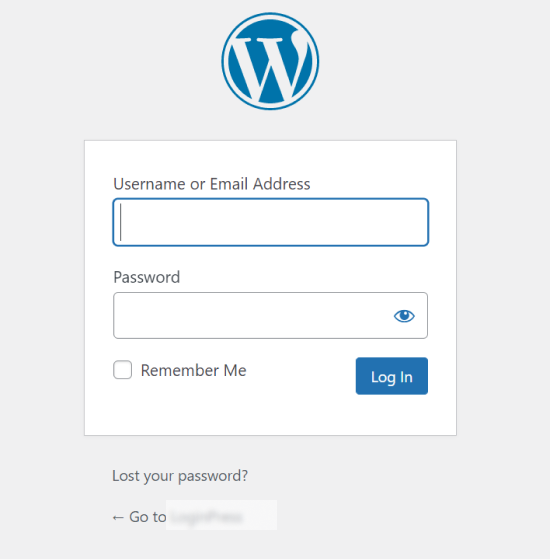 Fortunately, you can customize and change the login page of a WordPress site anytime with LoginPress.
In this knowledgebase article, we'll look at how you can easily uplift the Login Page of your WordPress site with LoginPress Themes (Premium).
Let's get started!
LoginPress Login Page Theme
Note: We assume you've already upgraded to LoginPress Pro and activated the License Key.
Themes are the built-in feature of the LoginPress Pro plugin. They are objected to customizing and changing the overall soul of your WordPress website's login page, giving it a unique individuality.
Step 1: Get Started with Themes (Premium)
Go to the left side of the admin dashboard. Navigate to LoginPress and hit Customizer.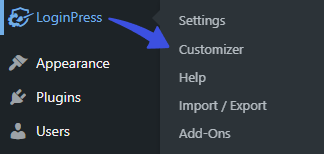 A new screen with all of the Customization Options will open up. Simply select Themes.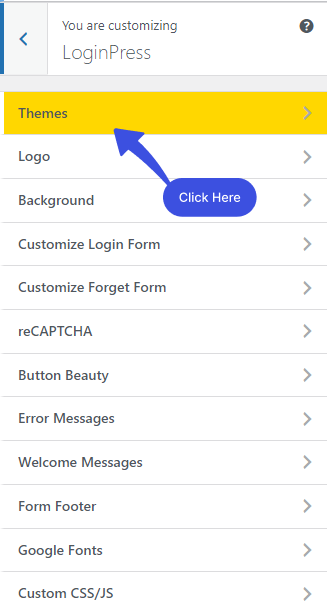 You'll find Default, Premium, and Custom Themes.
Note: If you haven't purchased the LoginPress Pro, only the Default Theme will be available.
Step 2: Select the Theme
Once you are on the Themes window, you'll find a dozen cool built-in templates that can be implemented on your login page.
Let's dive deep into the Default, Premium, and Custom Themes:
1. Default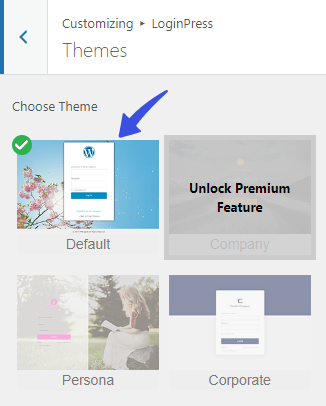 As soon as you Install and Activate the LoginPress, you'll notice that your WordPress Default Login Page reverts to the LoginPress Default Theme automatically.
The Default LoginPress Theme customizes the dull look and feel of your default WordPress login page without writing a single line of code.
It brings minor changes like changing the placement of the Log In button and alignment of the Lost your Password and "Back to" text.
Note: You'll need to buy Premium Themes to enjoy many more beautiful built-in designs.
2. Premium Themes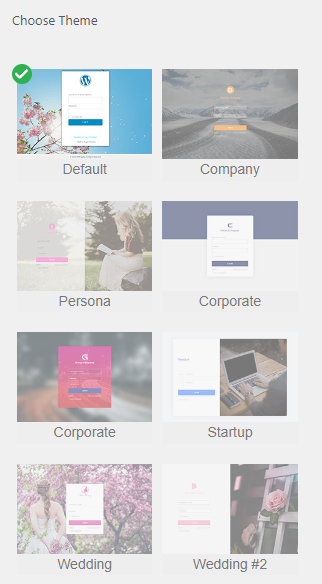 The Premium Themes are composed of a beautiful layout for your login page. You can choose between Company, Wedding, Shopping, Innovative, Animated Wapo, and much more. The live preview helps you to track your changes instantly.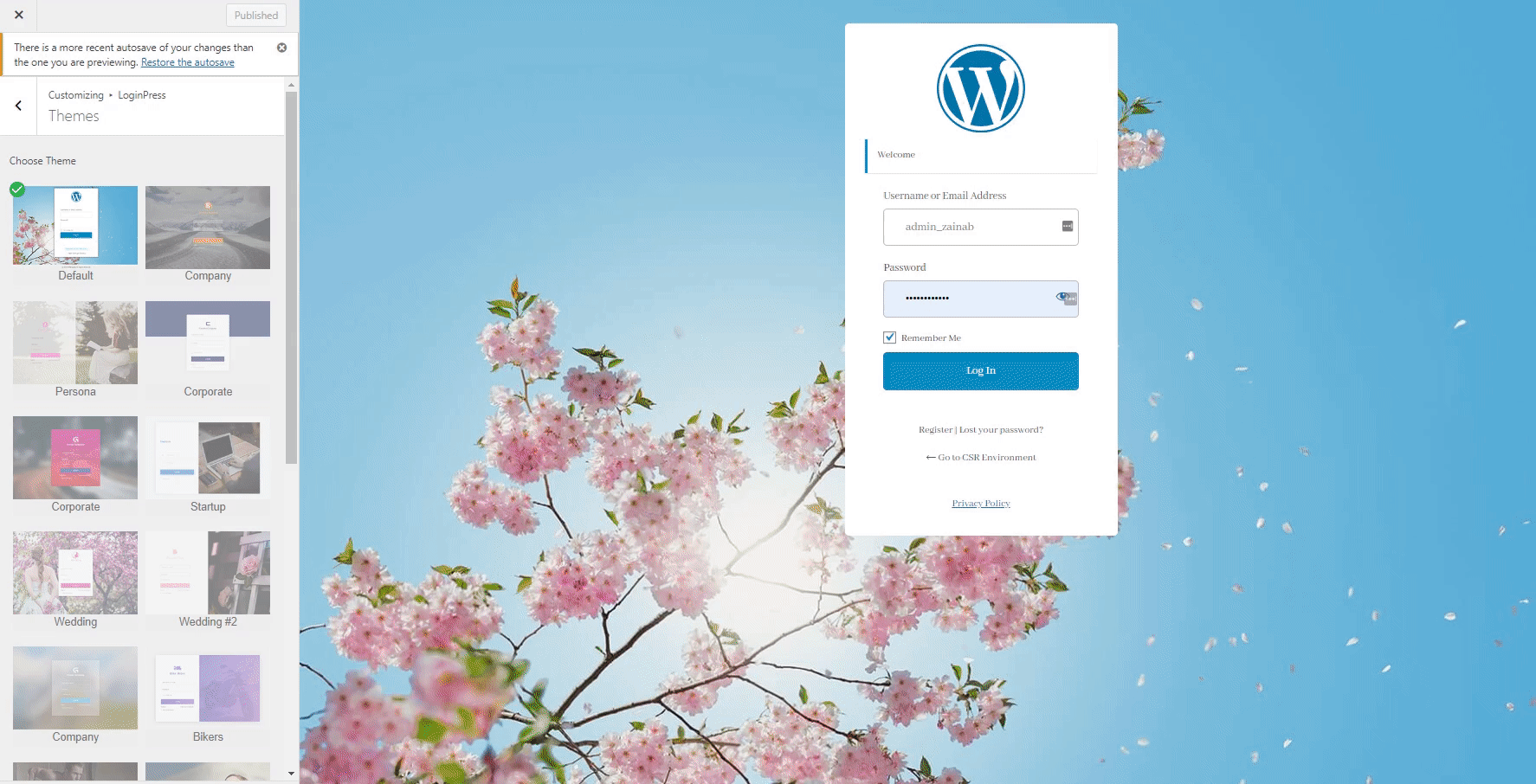 Premium Themes lets you add a transparent login form to your login page and offer different alignment of your login form according to its designs. You can also select the animated logo for your login form.
Note: Once you are done, hit the Publish button to make changes on the login page.
3. Custom Design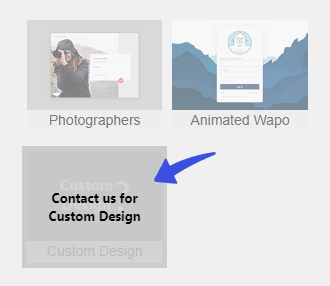 The LoginPress Themes (Custom) offers a Custom Design option for you. You can contact us with your unique login page design.
Note: It is not added to the LoginPress Pro subscription. It is custom work for which an additional amount is charged.
That's it! We've demonstrated how easily you can change the theme of your login page also check out how to customize the WordPress login page. Try now and let us know which one you loved the most!
If you have any doubts or questions related to this matter, please don't hesitate to contact our support team.
Check our video below, where you'll find how to customize the login page themes.
Documentation
Frequently Asked Questions (FAQs)
These FAQs answer the most common questions about our WordPress custom login page plugin.
Where can I get support for LoginPress?
If you need help with LoginPress, you can contact us here. We'll be happy to answer any questions about the plugin.
Do you have an affiliate program?
Yes, we have an affiliate program that you can sign up for here. As an affiliate, you'll earn a commission on every sale you refer to us.
Do you offer refunds?
Yes, we offer a 14-day money-back guarantee on all of our plans. If you're unsatisfied with LoginPress, simply contact us within 14 days of your purchase, and we'll process a refund.
Can I upgrade my license after my initial purchase?
Yes, you can upgrade your LoginPress license at any time. Simply log into your account and go to the My Downloads page. From here, you can upgrade your license and download the latest version of the plugin.
Will LoginPress slow down my website?
No, LoginPress will not slow down your website. The plugin is lightweight and only loads the necessary files when someone tries to access your login page.