Documentation
To make the plugin extra easy and functional as per the requirements, here comes the detailed documentation regarding the plugin. All about educating the things related to the plugin.
How to Make Your WordPress Login Page PCI Compliance
Are you looking for a way to make your WordPress Login Page PCI compliance with LoginPress?
If yes, you are on the right page!
WordPress is a popular content management system (CMS) that powers millions of websites worldwide. So that securing the WordPress login page is an integral part of achieving PCI compliance.
Fortunately, there are powerful plugins available, such as LoginPress, that can help you meet PCI DSS requirements and ensure the security of your WordPress Login Page.
This article will guide you to make your WordPress Login Page PCI Compliance with LoginPress.
Without much ado, let's get started!
What is PCI Compliance, and Why Is It Important?
PCI (Payment Card Industry) compliance is a set of security standards established by the PCI Security Standards Council (PCI SSC) to protect cardholder data and secure payment card transactions.
The Payment Card Industry Data Security Standard (PCI DSS) was formed in 2004 by Visa, MasterCard, Discover Financial Services, JCB International, and American Express.
This compliance scheme is important because it ensures secure credit and debit card transactions against data theft and fraud. PCI certification is considered the best way to safeguard sensitive data and information.
Do You Need PCI DSS Compliance on Login Page
By default, WordPress supports Autocomplete option for the login fields on the Login, Reset, Forget Password, and Registration Forms.
See the image below: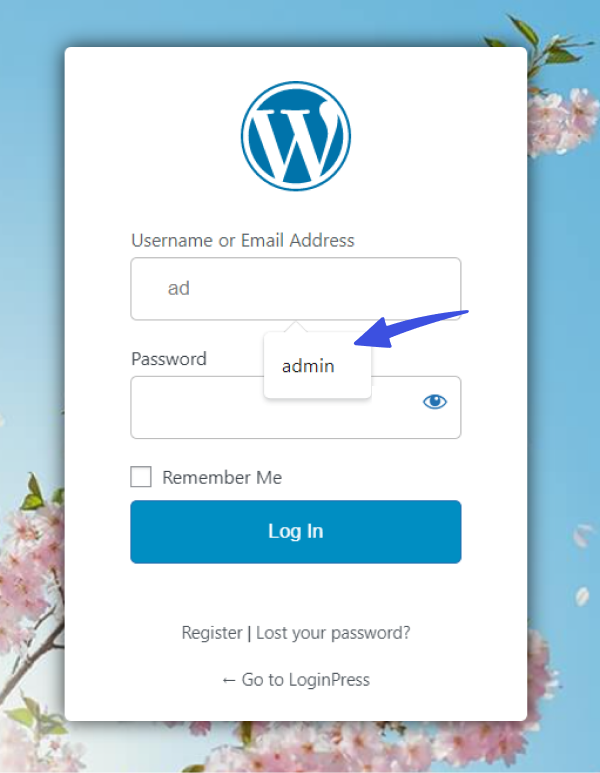 The username is sensitive data that hackers often target. When the email address and username fields are autocompleted, they can be retrieved.
It can hinder the PCI compliance process since the Autocomplete feature suggests options based on the user's input on Login Forms, keeping users' credentials stored.
To counter it, you must deactivate the autofills on your login page.
LoginPress PCI DSS Compliance
LoginPress has released the PCI Compliance feature in version 1.8.0 that Disables autocomplete on the built-in fields of all forms shown on default login pages; these forms are the default Login Page, Lost Password Page, and Registration page, including the fields of Email, Username, and Password fields.
You can access this by navigating to LoginPress > Settings > Enable PCI Compliance from the left side of the dashboard menu.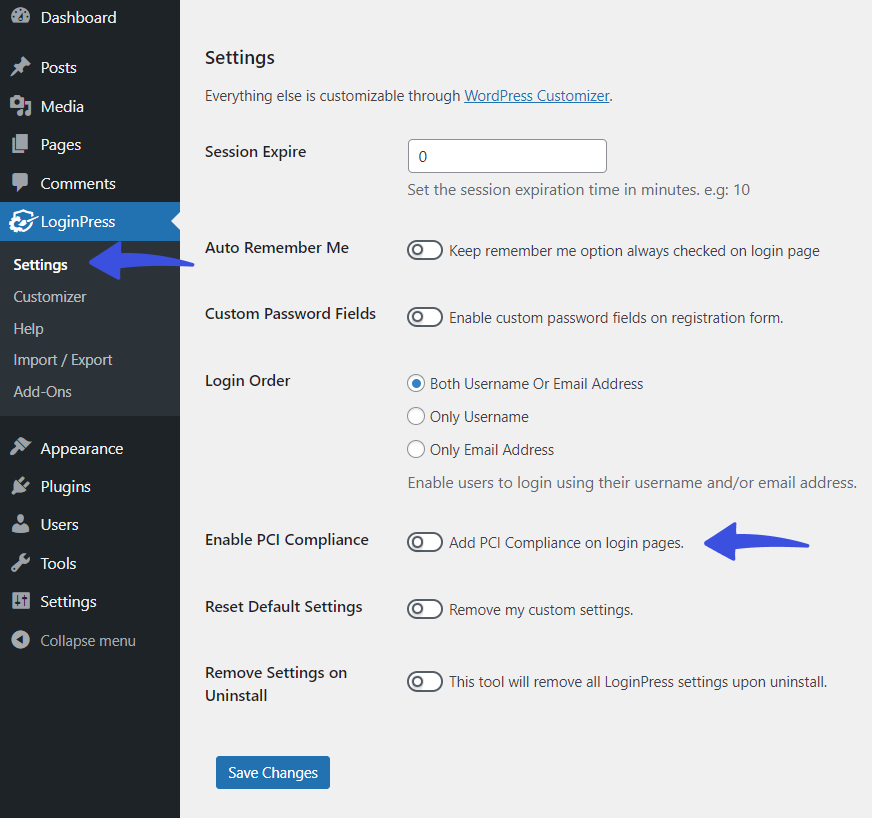 You can toggle on the button against Enable PCI Compliance and click Save Changes; it'll disable Autocomplete of built-in fields on the Login Page.
Following this, no data or credentials will be saved in the built-in fields, minimizing data retention to support PCI Compliance requirements.
That's all! You can make your WordPress Login Pages PCI Compliance with LoginPress. If you have any doubts or questions related to this matter, please don't hesitate to reach out to our support team.
Documentation
Frequently Asked Questions (FAQs)
These FAQs answer the most common questions about our WordPress custom login page plugin.
Where can I get support for LoginPress?
If you need help with LoginPress, you can contact us here. We'll be happy to answer any questions about the plugin.
Do you have an affiliate program?
Yes, we have an affiliate program that you can sign up for here. As an affiliate, you'll earn a commission on every sale you refer to us.
Do you offer refunds?
Yes, we offer a 14-day money-back guarantee on all of our plans. If you're unsatisfied with LoginPress, simply contact us within 14 days of your purchase, and we'll process a refund.
Can I upgrade my license after my initial purchase?
Yes, you can upgrade your LoginPress license at any time. Simply log into your account and go to the My Downloads page. From here, you can upgrade your license and download the latest version of the plugin.
Will LoginPress slow down my website?
No, LoginPress will not slow down your website. The plugin is lightweight and only loads the necessary files when someone tries to access your login page.