Documentation
To make the plugin extra easy and functional as per the requirements, here comes the detailed documentation regarding the plugin. All about educating the things related to the plugin.
Is LoginPress Compatible with WordPress.com?
If you are hosting your site at WordPress.com and intend to use LoginPress, to beautify its login page. You are on the right page!
LoginPress is a WordPress login plugin that customizes the default login page of a WordPress website i.e. wp-login.php. It uplifts the default WordPress login page to modify the basic and boring look.
Being rich in customization options, it does not only style your WordPress login pages but provides security features as well.
LoginPress & WordPress.com Compatibility
By default, LoginPress isn't compatible with the WordPress.com hosting because LoginPress uses the WordPress default login page i.e: /wp-login.php. On the other hand, WordPress.com has its own login page structure which that is different than the default one.
WordPress.com adds its own custom scripts to the login page of WordPress.
The custom form asks the user to either log in with a conventional login by using their credentials i.e. email/username and password or by using a WordPress.com account.
The page is not controlled or managed by LoginPress as it has a totally different structure than the default login page of WordPress.
How Can I Use LoginPress with WordPress.com?
LoginPress can work with WordPress.com. As it styles the custom form of WordPress.com, the problem occurs in the customizer of LoginPress. It makes the form inaccessible resulting in not showing real-time customizations.
Since the sites on WordPress.com enable the option of "Allow users to log in to this site using WordPress.com accounts" by default. It is used to bridge the settings made by WordPress.com for the custom login form which shows on the front end.
This setting is referred to as Secure Sign-On. You need to disable this setting which will allow LoginPress to customize the login page.
You can find these settings on My Site > Settings > Security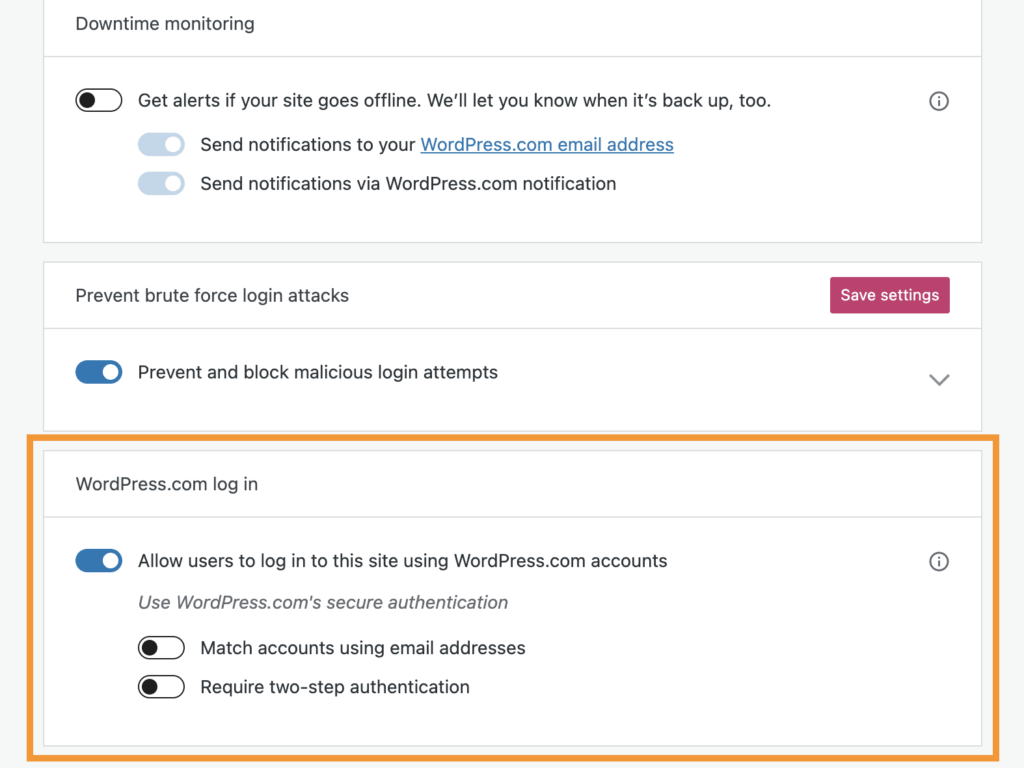 Note: Once the customization is done, you can enable the option of "Allow users to log in to this site using WordPress.com accounts". It will not affect the customization changes made by LoginPress, to your login page.
That's it! LoginPress Compatible with WordPress.com. You are good to go to keep using LoginPress at your site hosted on WordPress.com
If you have any doubts or questions related to this matter, please don't hesitate to contact our support team.
Documentation
Frequently Asked Questions (FAQs)
These FAQs answer the most common questions about our WordPress custom login page plugin.
Is LoginPress WPML Compatible?
LoginPress is fully supported with multilingual. LoginPress is also compatible with WPML Plugin, which means you can easily translate your login page with WPML plugin according to the given translation options in the WPML plugin.
Is LoginPress translation ready?
Yes, LoginPress has full translation and localization support via the LoginPress textdomain. All .mo and .po translation files should go into the languages folder in the base of the plugin.
Is coding skills needed to use LoginPress?
No, It is very easy to setup. Just plug and play. Have fun!
How to Install or Use LoginPress Pro?
Step-by-step instructions on How to Upgrade from existing Free version to Pro
1. You have installed and set up the Free version already.
2. Upload the Pro version.
3. Pro features will be enabled automatically.
4. You don't need to set up Free version options again.
5. Setup Pro features like Google fonts, Google reCaptcha, Choose themes, etc.
Where is my license key?
License key is the Order ID which looks like in this format.
WHI150807-1234-12345
You can find it in the email Sales Receipt.