Documentation
To make the plugin extra easy and functional as per the requirements, here comes the detailed documentation regarding the plugin. All about educating the things related to the plugin.
How to Customize Welcome Messages with LoginPress
Welcome Messages lets you greet your visitors once they land on the Login, Forget, Registration, or Logout forms. It's a great way to boost engagement on your WordPress website.
By default, WordPress displays boring Welcome Messages on the Forget, Registration, and Logout forms. It doesn't have a welcome message for the Login Form.
LoginPress lets you add customized Welcome Messages depending on the outcome of onboarding to the Login, Lost your password, Register, or Logout forms with LoginPress Welcome Messages feature.
These Welcome Messages can seal the bond with the users of your WordPress site. And enables you to communicate with the users and let them know they are being attended to and are important to you.
The Welcome Messages feature is available in both Free and Premium LoginPress.
Note: We assume you've already Downloaded and Installed LoginPress. If not, you can check out our guide on How to Install And Activate LoginPress (Free).
This knowledgebase article will show you how to greet users with a custom Welcome Message LoginPress.
Let's get started!
Welcome Messages Feature in LoginPress
Step 1. Navigate Customizer
First, go to the left sidebar of the admin dashboard of your WordPress website. Navigate to LoginPress and click on the Customizer option.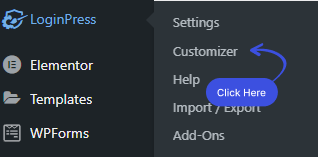 A new screen with all of the Customization Options will open up. Click the Welcome Messages option.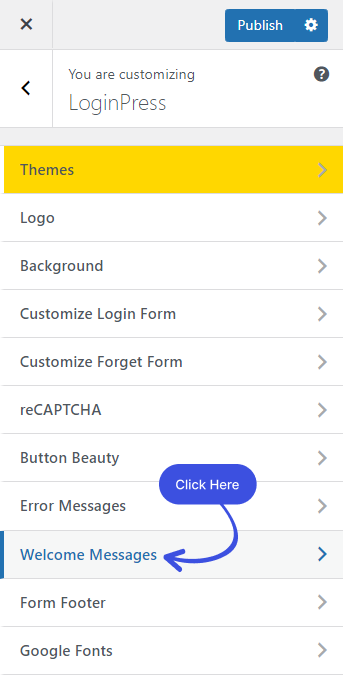 After clicking on the Welcome Messages option, a new window will open where you'll get different Welcome Messages that can be customized exactly the way you want.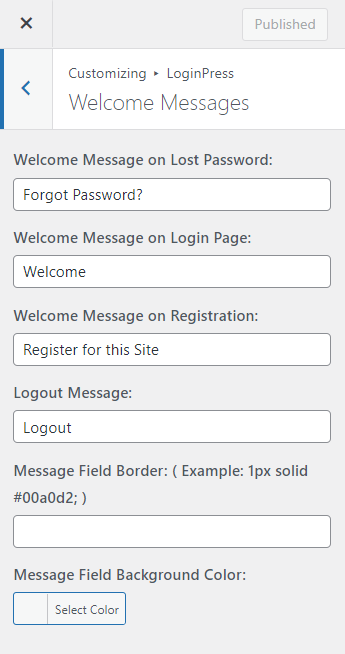 2. Customize the Welcome Messages
2.1. Welcome Message on Lost Password
The Welcome Message on Lost Password immediately pops up once the user lands on the Forget Password Form.
You can customize this Welcome Message to anything you want, i.e., Forgot Password?
Note: You'll find customization options for customizing the Welcome Messages on the right-hand side. Along with the LIVE Preview, to instantly track the changes made to the Welcome Messages.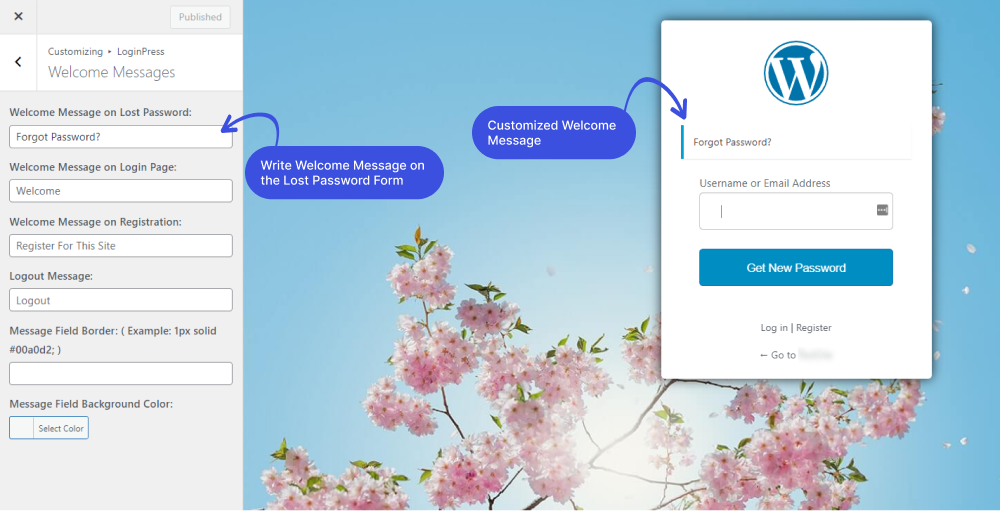 2.2. Welcome Message on Login Page
LoginPress Welcome Messages feature lets you add a Welcome Message on the Login Form, which is not part of the default WordPress behavior.
This welcome message emerges when the users onboard to the login page.
You can customize it to anything you want, i.e., Welcome.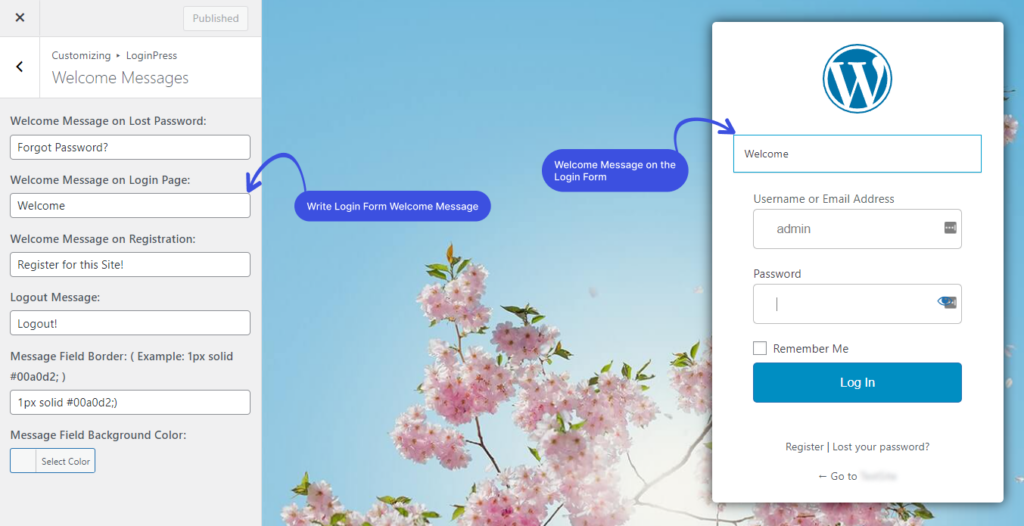 2.3. Welcome Message on Registration
The Welcome Message on Registration arises when a user visits the Registration Form.
This message can easily be customized by writing anything you want in the Welcome Message on the Registration field, i.e., Register for this Site!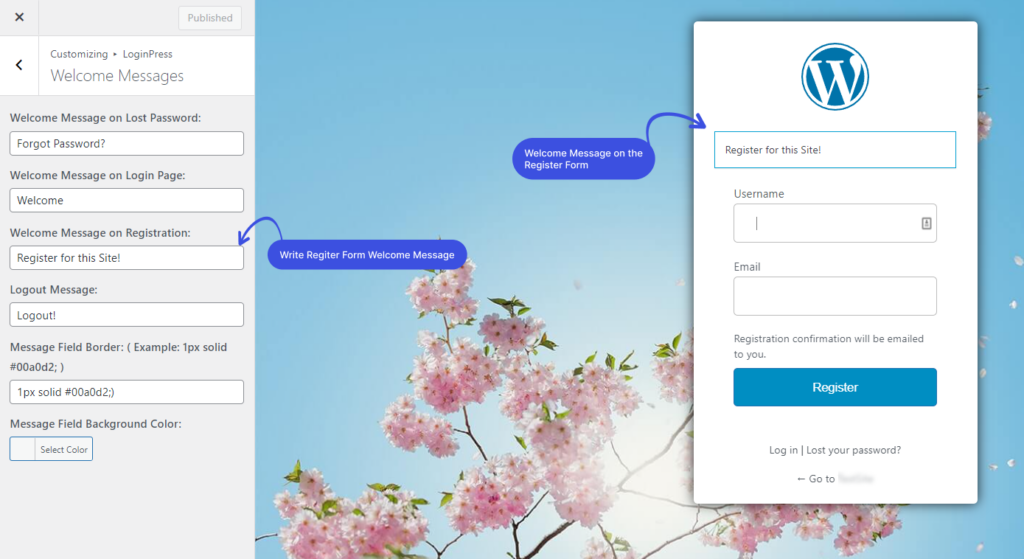 2.4. Logout Message
You can also display a welcome message when the user logs out of your WordPress site.
Let it be anything, i.e., Logout!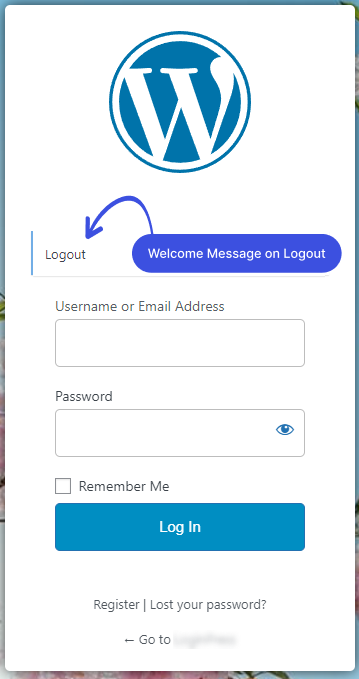 2.5. Message Field Border
LoginPress introduces some extra features for the Welcome Messages, i.e., the Message Field Border. That lets you add a border for the Welcome Messages.
Simply paste (1px solid #00a0d2;) down the Message Field Border field.
Note: You can increase the border thickness by increasing the px number in the code, i.e., 4px.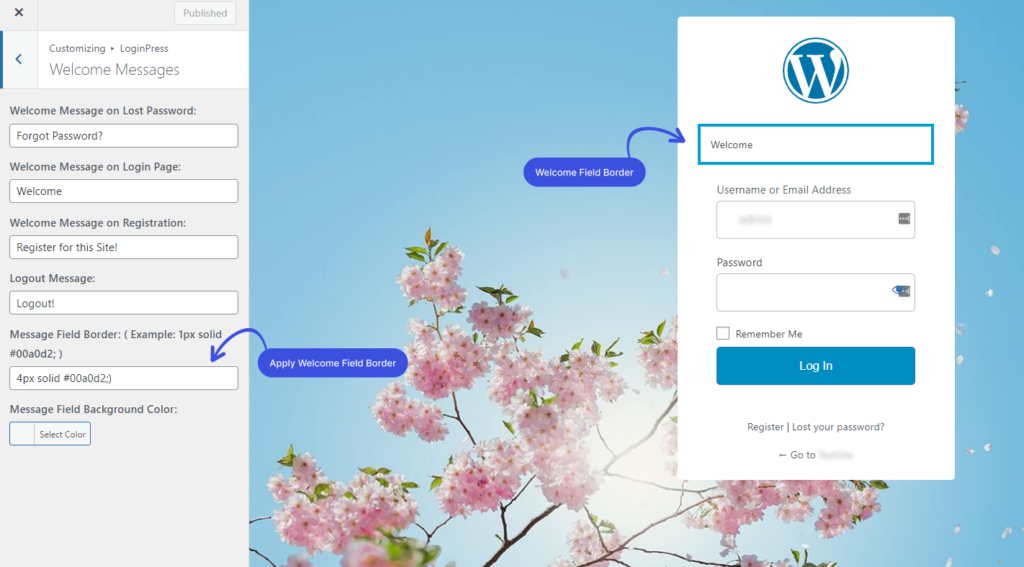 2.6. Message Field Background Color
You can further enhance Welcome Messages in terms of Message Field Background Color.
Once you've added a border, you can customize the Welcome Message background color with the color picker's help.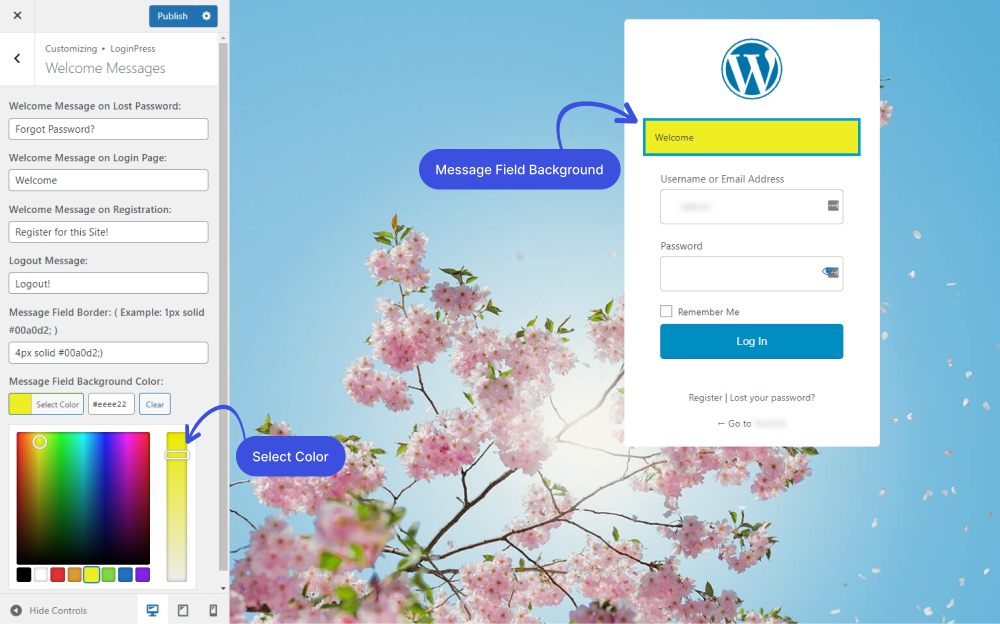 Once you are done, click on the Publish button to make all the changes LIVE.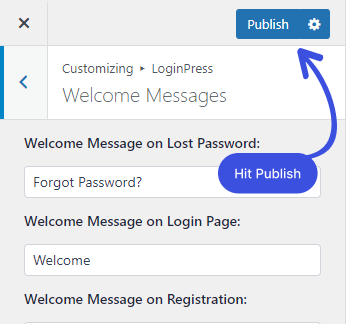 All done! Now you can quickly get started with LoginPress Welcome Messages.
Now it's your turn! Try out the LoginPress custom Welcome Messages, and let us know how much it helped you!
If you have any doubts or questions related to this matter, please don't hesitate to contact our support team.
Documentation
Frequently Asked Questions (FAQs)
These FAQs answer the most common questions about our WordPress custom login page plugin.
Where can I get support for LoginPress?
If you need help with LoginPress, you can contact us here. We'll be happy to answer any questions about the plugin.
Do you have an affiliate program?
Yes, we have an affiliate program that you can sign up for here. As an affiliate, you'll earn a commission on every sale you refer to us.
Do you offer refunds?
Yes, we offer a 14-day money-back guarantee on all of our plans. If you're unsatisfied with LoginPress, simply contact us within 14 days of your purchase, and we'll process a refund.
Can I upgrade my license after my initial purchase?
Yes, you can upgrade your LoginPress license at any time. Simply log into your account and go to the My Downloads page. From here, you can upgrade your license and download the latest version of the plugin.
Will LoginPress slow down my website?
No, LoginPress will not slow down your website. The plugin is lightweight and only loads the necessary files when someone tries to access your login page.