Documentation
To make the plugin extra easy and functional as per the requirements, here comes the detailed documentation regarding the plugin. All about educating the things related to the plugin.
Welcome Messages
The welcome Message feature of the LoginPress plugin helps to set a customized welcome message on your login screen for your website users. To set a customized welcome on your login screen with the LoginPress plugin you need to follow the given steps below.
1. Log in to your WordPress dashboard
2. Navigate to LoginPress > Customizer > Welcome Messages
3. After clicking on the Welcome Messages option, a new window will open where you can set different login screen messages according to your requirements.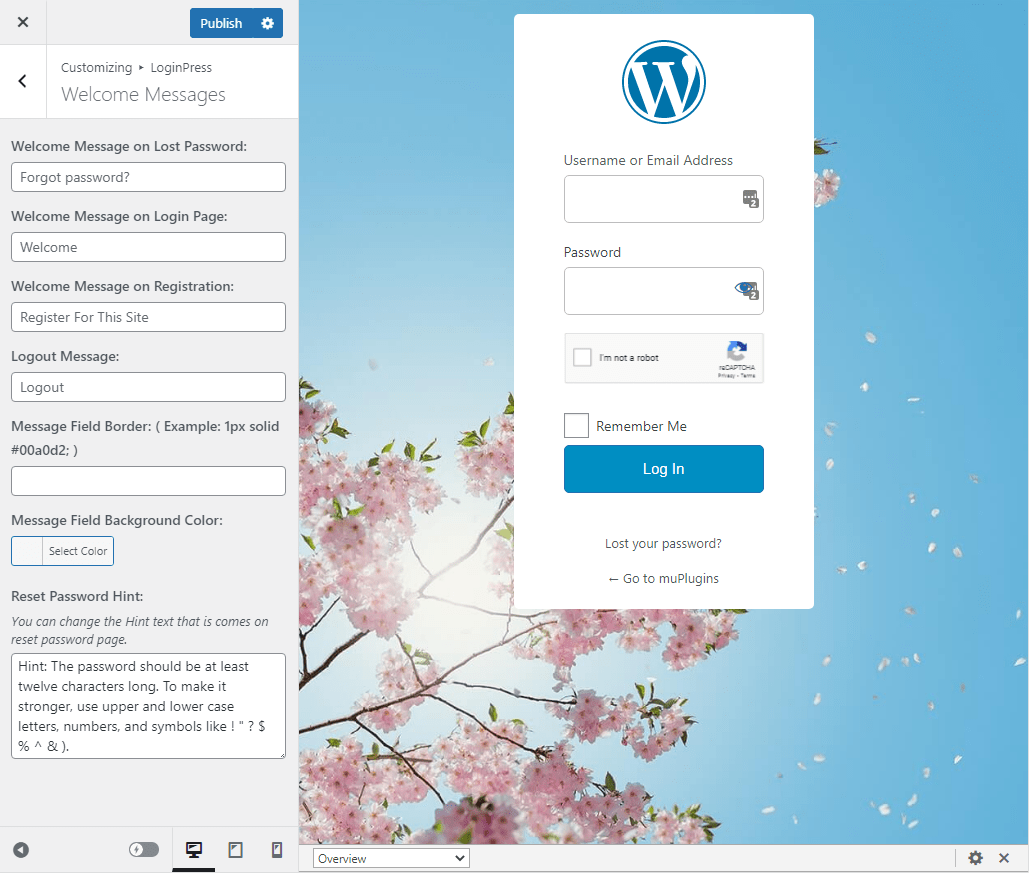 Note: Changings will appear on your login page after publishing the page.
Following messages, you can set on your login screen with the LoginPress plugin.
Welcome Message on Lost Password: Customize the Welcome Message on Lost Password Form.
Welcome Message on Login Page: Customize the Welcome Message on Login Form.
Welcome Message on Registration: Customize the Welcome Message on Registration Form.
Logout Message: Customize the Logout Message.
Message Field Border: Customize the border of the Welcome Message like. (1px solid #00a0d2;)
Message Field Background Color: Customize the background color of Welcome Message Color by color picker control.
Reset Password Hint: Customize the Hint text that comes with reset password page. (Premium)
Check our complete video about how to customize your login screen messages with the LoginPress plugin.
Documentation
Frequently Asked Questions (FAQs)
These FAQs answer the most common questions about our WordPress custom login page plugin.
Is LoginPress WPML Compatible?
LoginPress is fully supported with multilingual. LoginPress is also compatible with WPML Plugin, which means you can easily translate your login page with WPML plugin according to the given translation options in the WPML plugin.
Is LoginPress translation ready?
Yes, LoginPress has full translation and localization support via the LoginPress textdomain. All .mo and .po translation files should go into the languages folder in the base of the plugin.
Is coding skills needed to use LoginPress?
No, It is very easy to setup. Just plug and play. Have fun!
How to Install or Use LoginPress Pro?
Step-by-step instructions on How to Upgrade from existing Free version to Pro
1. You have installed and set up the Free version already.
2. Upload the Pro version.
3. Pro features will be enabled automatically.
4. You don't need to set up Free version options again.
5. Setup Pro features like Google fonts, Google reCaptcha, Choose themes, etc.
Where is my license key?
License key is the Order ID which looks like in this format.
WHI150807-1234-12345
You can find it in the email Sales Receipt.