Documentation
To make the plugin extra easy and functional as per the requirements, here comes the detailed documentation regarding the plugin. All about educating the things related to the plugin.
Do I need to have coding skills to use LoginPress?
Are you wondering if you need any coding skills to use LoginPress? If the answer is yes, you'll get your answer here!
LoginPress is a WordPress login page customizer plugin. It enables you to customize each element on the login page, where you don't need to touch complex coding to make it look exactly how you want.
Note: LoginPress has a Custom CSS/JS option that lets you add any desired functionality to the login page without hurting your WordPress site. You can use this feature to elevate your login page if you have some coding knowledge. 
Here we'll show you how you don't need coding skills to use LoginPress. We'll cover:
Let's get started!
No Coding Skills to Use LoginPress?
LoginPress lets you customize the login page straight from the WordPress admin dashboard.
Once you've installed and activated LoginPress, go to the left sidebar of the WordPress admin dashboard and navigate to LoginPress.
Here resides the main functionality of LoginPress, i.e., Settings, Customizer, and Add-Ons.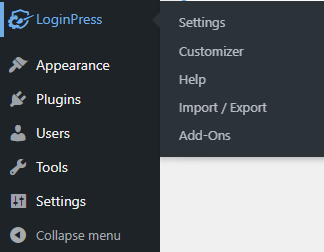 1. Settings Section
The Settings option helps you control the overall behavior of the login form. Like controlling the Session Expire time, auto-checkboxing the Remember Me on the login form, and adding the Custom Password Field on the Registration form.
Moreover, you can change the default login order, i.e., Username or Email Address, to Only Username, Only Email Address, or continue with the default WordPress login order.
Note: You can upgrade to the premium version anytime to enjoy unique features, including the Force Login and reCAPTCHA. Force Login helps you improve user engagement on your site, and reCAPTCHA enables you to secure your site against targeted hacks and automated brute-force attacks.
To use the following options, simply enable the desired option and hit the Save Changes button.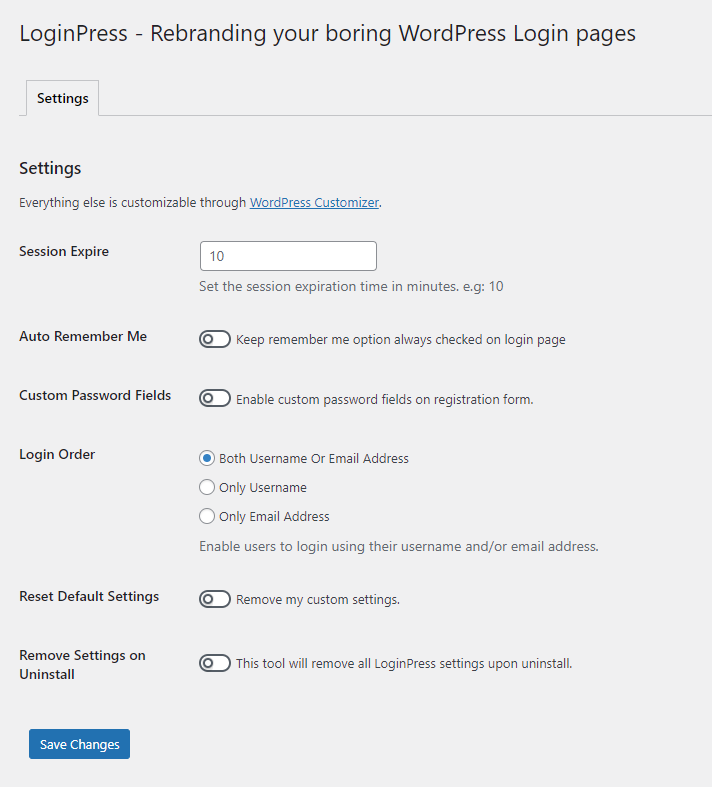 2. Customizer Section
LoginPress has high-quality features that give your login page advanced design and functionality and are easy to configure.
For example, you'd typically need to know some CSS to customize your login page. But with LoginPress, you can use the no-code options to create a flexible, custom login page using the built-in options, including Theme, Logo, Background, Customize Login Form, Customize Forget From, Error Messages, Welcome Messages, and more.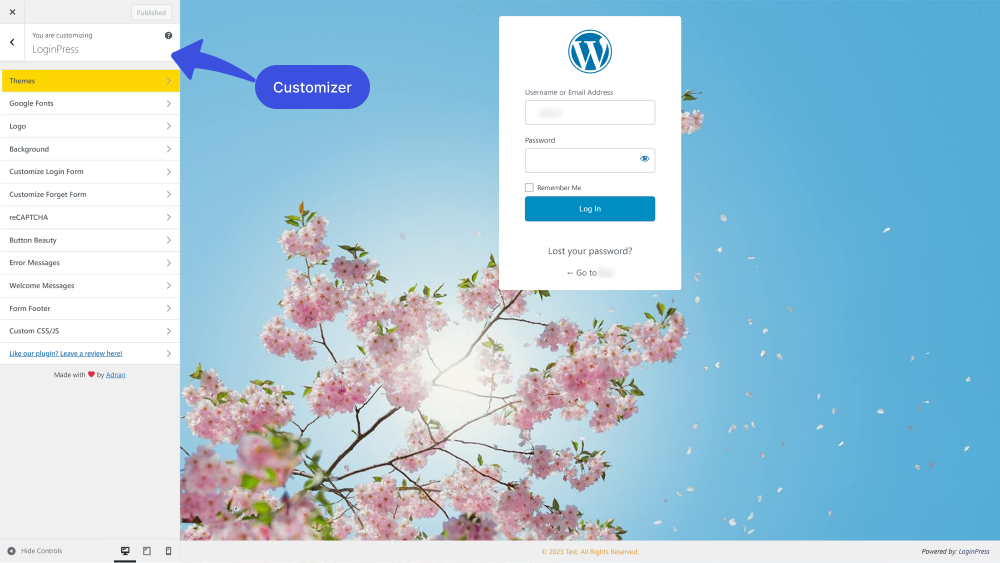 All you need to do is select an option, make changes, and click the Update button to make the changes live. 
Suppose you want to customize the Log In button. All you need to do is to go to the left sidebar of the WordPress admin dashboard. Navigate to LoginPress and click on the Customizer option.
Note: You can learn more about the LoginPress Customizer option. See our complete guide on the topic.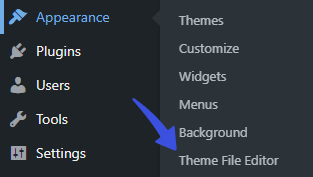 A new screen with all of the Customization Options will open up. Click the Button Beauty option.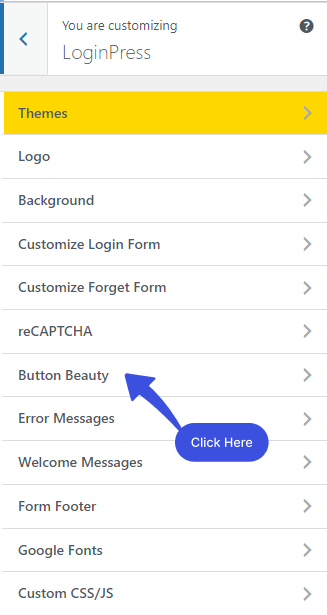 After clicking on the Button Beauty option, a new window will open, where you'll have several options to customize the Button Beauty precisely the way you want.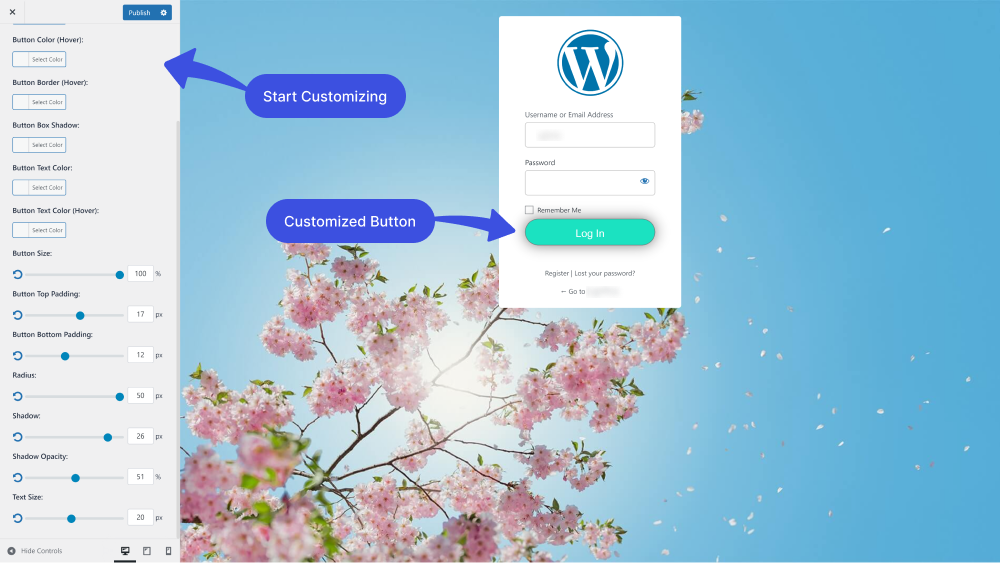 3. Add-Ons Section
LoginPress has powerful Add-Ons. All you need to do is to upgrade to LoginPress Pro.
Note: If you are using LoginPress free and want to upgrade to the premium version but don't know how to do that, you can see our guide on the topic.
If you want to use any of the following Add-Ons, enable them. The desired Add-on will be added to the Settings section. 
Open the Add-on and start using them.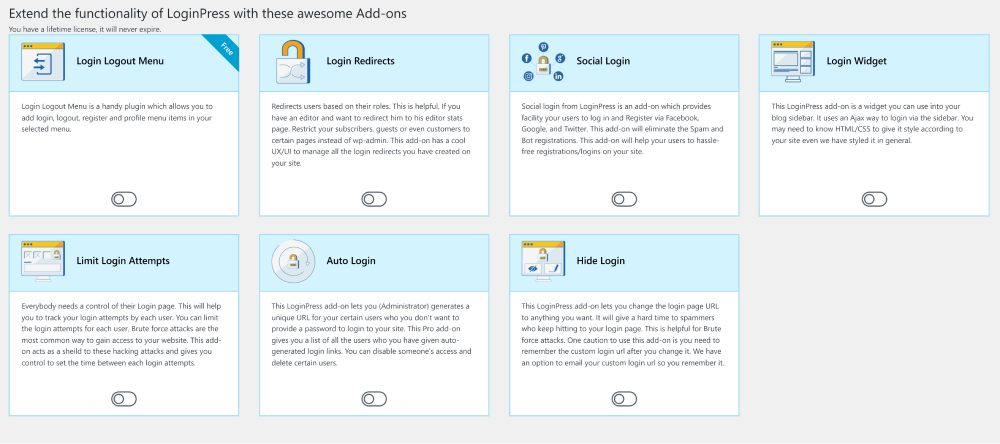 That's it! We hope you now understand that no coding skills are needed to use LoginPress. So, your custom WordPress login page is just a click away from you with LoginPress. 
If you have any doubts or questions related to this matter, please don't hesitate to contact our support team.
Documentation
Frequently Asked Questions (FAQs)
These FAQs answer the most common questions about our WordPress custom login page plugin.
Where can I get support for LoginPress?
If you need help with LoginPress, you can contact us here. We'll be happy to answer any questions about the plugin.
Do you have an affiliate program?
Yes, we have an affiliate program that you can sign up for here. As an affiliate, you'll earn a commission on every sale you refer to us.
Do you offer refunds?
Yes, we offer a 14-day money-back guarantee on all of our plans. If you're unsatisfied with LoginPress, simply contact us within 14 days of your purchase, and we'll process a refund.
Can I upgrade my license after my initial purchase?
Yes, you can upgrade your LoginPress license at any time. Simply log into your account and go to the My Downloads page. From here, you can upgrade your license and download the latest version of the plugin.
Will LoginPress slow down my website?
No, LoginPress will not slow down your website. The plugin is lightweight and only loads the necessary files when someone tries to access your login page.