15 Must-Have WordPress Plugins for Bloggers in 2023
Are you looking for the must-have WordPress plugins for your site?
WordPress is a user-friendly site builder that has a super-easy installation. Suppose you have chosen WordPress for building your site and are serious about blogging.
In that case, you might be thinking of where to start or what you should have to run a successful blog, as there are over 59,000 free and premium plugins available in the WordPress directory. You might need clarification to find the best plugins among all of those choices.
In this article, we'll show you the list of must-have WordPress plugins for bloggers. So, without much ado, let's get started!
Table of Content
15 Must-Have WordPress Plugins for Bloggers:
15 Must-Have WordPress Plugins for Bloggers: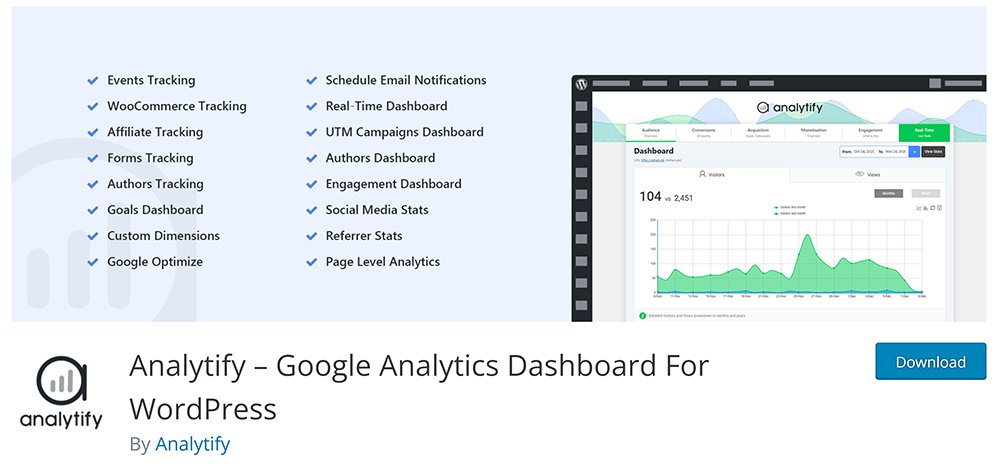 Once your blog takes off, it's wise to monitor where your audience comes from and their activity on your site. A plugin like Analytify is the best option, as it lets you integrate your website with Google Analytics without touching a single line of code.
Analytify shows the traffic coming in from blog posts. It has a dedicated Events Tracking dashboard where you can see each blog post's clicks. This gives you an accurate idea of the performance of your blog posts.
Analytify makes Google Analytics very easy. This plugin has over 2,00,000+ downloads. Analytify is the best for bloggers, shop owners, writers, and many others.
Features:
Analytify has page-level analytics that helps you understand and organize every post and page's metrics.
This plugin lets you nicely track portfolio, gallery, testimonials, and other custom post types and provides detailed stats about Sessions, Visitors, Page Views, Average Time on Page, and Bounce Rate.
Analytify helps you get the number of visits from each social media brand.
This plugin sends you automated email reports every month for free. You can upgrade it to the premium version to get a weekly report on Sessions, Visitors, Page Views, Average Time on Page, and Bounce Rate.
Pricing:
Freemium. The premium version starts at $59 per year.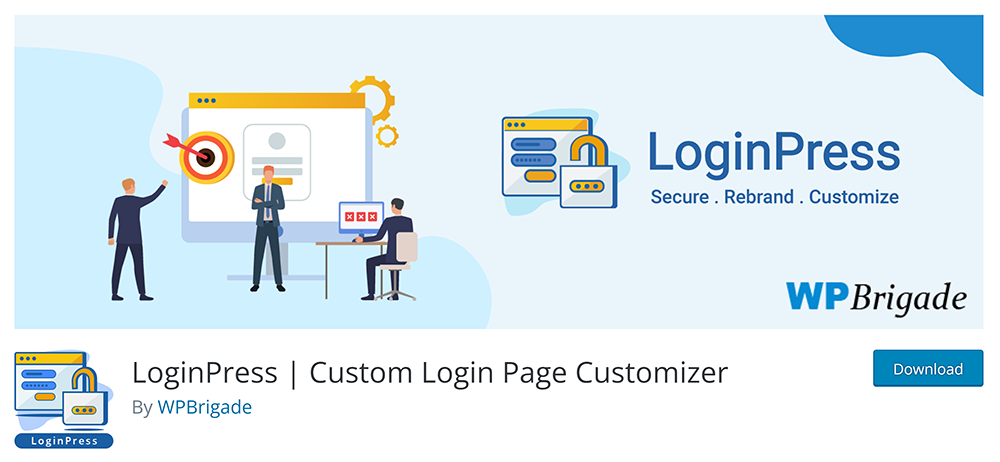 The default WordPress login page is a dull interface that fails to give the visitor an insight into who you are, what you provide, and more. LoginPress plugin allows you to customize your login page straight from your WordPress admin dashboard! You can preview your custom login changes before you save them.
LoginPress also brings several Add-Ons that help you soup up your site's functionality, i.e., improving security, including:
Login Logout Menu (FREE): This is a free add-on that lets you easily add Login, Log Out, Register, Profile, and User menu items to the selected menu of your WordPress website.
Social Login is designed to increase user sign-ups by allowing them to easily register and log in to your website using their social media accounts, including Facebook, Twitter, or LinkedIn.
Login Widget helps to add a login widget to your WordPress sidebar to encourage visitors to log in while reading your content.
Login Redirects Restrict your users to specific pages. They can be limited to only those pages you wish to allow them. This fantastic add-on has a UX/UI that manages all the login redirects you have created on your website.
Limit Login Attempts make it easy and automated to limit login attempts to assist you in securing your website against brute force attacks.
Hide Login enhances the security level and gives a hard time to spammers who keep hitting your login page.
Auto Login generates a unique URL for users who don't want to provide a password to log in to your site.
Features:
You can customize each element on the login page, including the logo, log in order, login button, footer, and more.
You can checkbox the Auto Remember Me.
You can extend the Session Expire duration.
This plugin allows you to customize each login and forget form element.
It lets you add custom CSS/JS if you know how to code to customize your login.
Pricing:
Freemium. The premium version starts at $49 per year.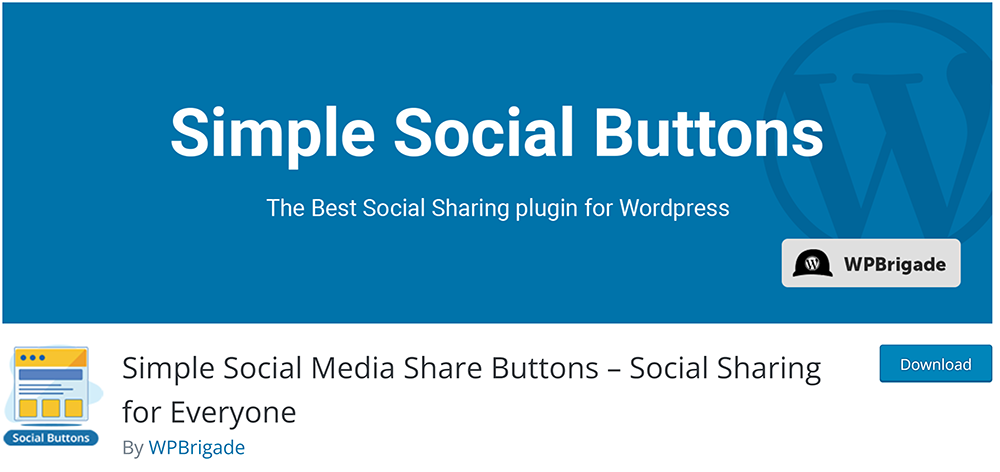 Next, you must want something that lets you promote your blogs. Plugins like social sharing buttons are designed to help you in this regard. They let you go for increasing cross-channel promotion to create a positive impact. Simple Social Media Share Buttons are among such plugins.
Simple Social Media Share Buttons is a WordPress plugin that helps you take your blog to the next level by allowing your readers to share what they read on any social media platform.
This plugin has both Free and Paid versions. However, the free version has so many features the Pro version skyrockets the plugin's functionality. Simple Social Media Share Buttons premium lets you create social media PopUps that appear on the page right away before visitors leave the site or scroll down the page.
Features:
Simple Social Media Share Buttons come with beautiful button designs, including small Round, Simple Round Buttons, Flat Button Borders, and much more.
It lets your visitors see the total count of how many people shared your content.
It has social media tags feature that lets you know your website's SEO.
It lets you show social buttons at different positions to increase shares, including the Sidebar, On Media, PopUps, and much more.
Pricing:
Freemium. The premium version starts at $27 per year.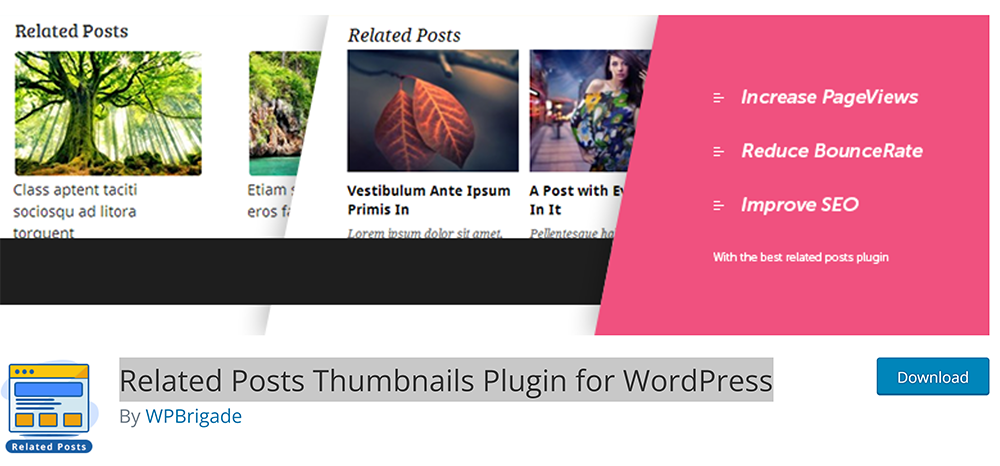 As a blogger, you would like to display related posts to your visitors to improve the traffic to other posts. Related Posts Thumbnails is a highly-rated related posts plugin in the WordPress directory.
This plugin helps you display a list of related posts at the end of your regular posts. It is active on more than 40,000 websites.
Related Posts Thumbnails plugin lets you display related posts in your site's sidebar. You can even display posts or pages using a custom Gutenberg block, shortcode, or widget.
Features:
It automatically adds related posts thumbnails after the post.
This plugin customizes thumbnail sizes, display settings, and type of relation.
It specifies a custom thumbnail size.
It lets you arrange the thumbnails in columns under the post with related posts' titles/excerpts.
Pricing:
Free.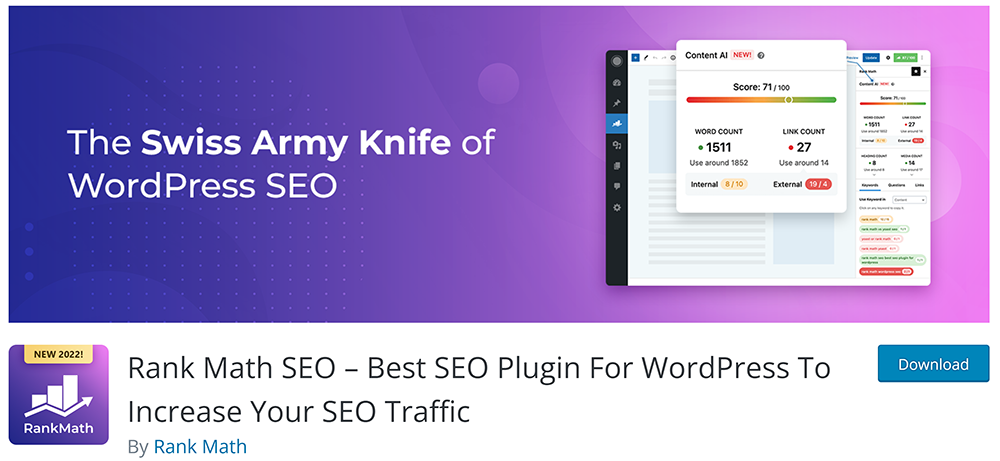 SEO is your top priority if you want to grow your WordPress site's audience. SEO Yoast was once the most popular SEO plugin, but a great competitor, rank math has taken its place.
Rank Math is the best and most powerful WordPress SEO plugin for your WordPress site. This plugin offers so many amazing features in the free version. It lets you optimize your content using built-in suggestions to make it stand out.
AI is one of the attractive features of Rank Math that is still missing in SEO Yoast. Furthermore, Rank Math costs you $59 per year for unlimited websites, but SEO Yoast costs you $99 for just a single site.
Features:
This plugin has a content AI feature.
It has a built-in advanced SEO analytics module.
It lets you build custom schemas and add multiple Schemas to a single post within a few clicks. You can have an article, product, recipe, events, and many other schemas.
This plugin can automatically generate search engine-compatible XML Sitemaps for your website.
Pricing:
Freemium. The premium version starts at $59.00 per year.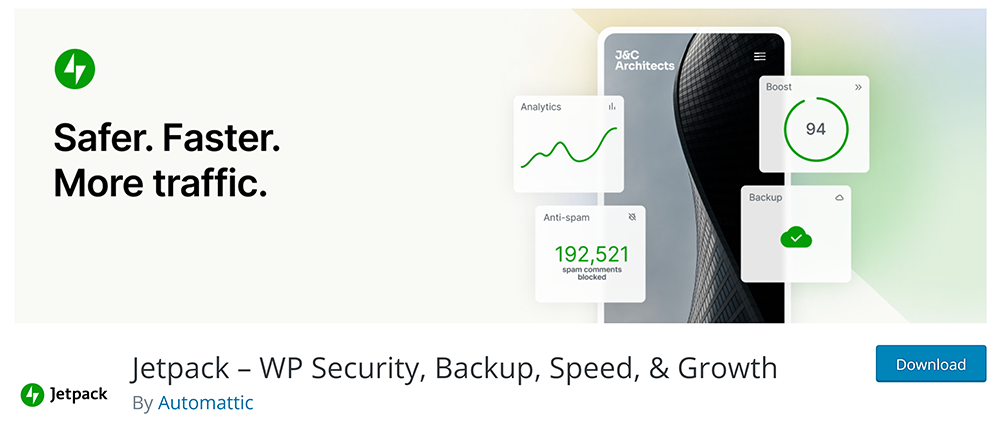 As a blogger, you will surely seek ways to secure your website. Jetpack is one of the best security plugins and its a must-have WordPress plugins for any website owner. It offers multiple features, such as spam and malware protection, backups, and activity logs.
This plugin offers SEO and social media integration. Moreover, you can add multiple customization tools that provide more flexibility in your blog design.
Jetpack is an affordable, reliable, and easy-to-manage WordPress plugin. This plugin assures you that all of your hard work is completely protected.
Feature:
This plugin protects your website against spam and brute-force attacks.
It offers downtime monitoring.
Using two-factor authentication, you can take your site's security to the next level.
It furthers malware scanning.
Pricing:
Freemium. The premium version starts at $19.95 per month.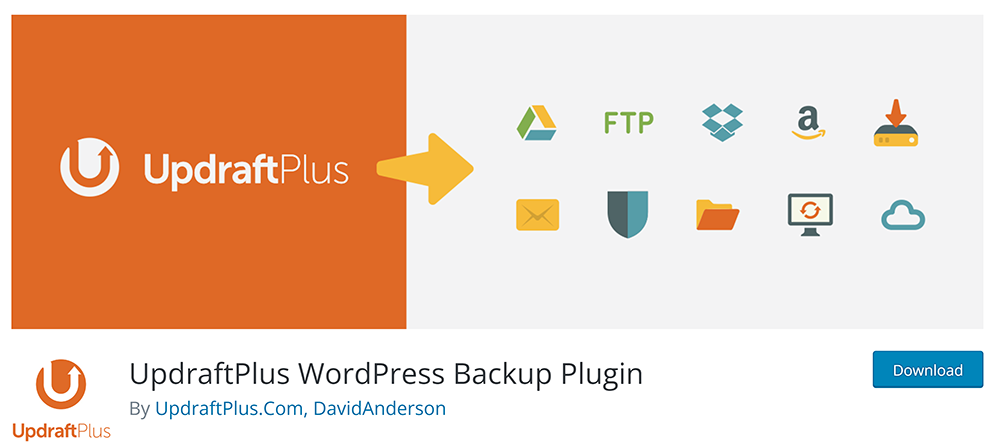 Since you're a human being, there is always a chance of making a mistake accidentally. Suppose you've written above 10 blog posts, and your single minor mistake causes your site to crash. A backup plugin will help you restore your site.
The UpDraft Plus is a very popular WordPress backup plugin because of its huge fan base. It creates a customizable backup archive of your WordPress website that can include everything or the latest updates. In addition, you can set up a backup schedule where the plugin takes full or incremental website backups at the selected intervals. Finally, if you wish, UpdraftPlus can notify you about various events on Slack.
When it comes to storing website backups, the plugin offers several options, including on-site, cloud, and private storage platforms. Restoring your websites takes a couple of clicks, and you can choose the restore point. You can also decide whether you want a full or partial restoration of all website content.
Features:
UpdraftPlus can back up everything on the website in a single archive.
Compatible with multi-site installations. You can restore individual websites in the network without affecting the other nodes.
Optionally, the plugin encrypts database backups for increased security.
You can import backup archives stores at external locations
All events are logged in, and you get detailed reports in the WordPress Dashboard
Pricing:
Freemium. The whole package (all add-ons, updates, and support) starts at $70.00 per year.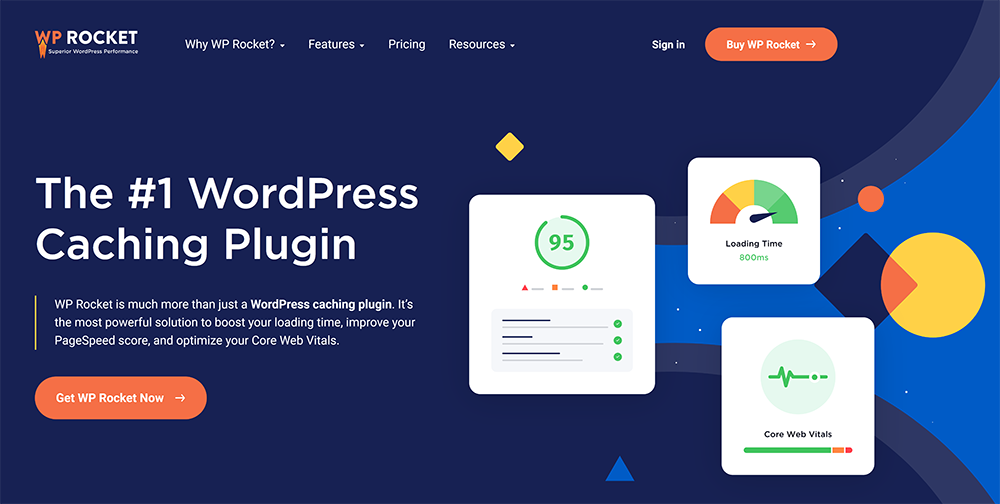 Your site speed matters. You'll need something to improve it. So site speed plugin can help you with this one. WP Rocket is the best option for improving your site speed. 
WP Rocket is a cache plugin that helps you speed up the loading of your WordPress pages. But this plugin has only a paid version and is the best option for those having a large traffic volume.
Note: W3 Total Cache offers the same functionality for free. It improves your site's SEO, Core Web Vitals, and overall user experience. It lets you increase website performance and reduces load times.
Features:
It has a file optimization feature that properly manages files on your website. So they can be loaded more quickly.
This plugin has page caching, browser caching, and Gzip compression.
WP Rocket has complete integration with Cloudflare.
WP Rocket includes some features for code optimization, like minifying and combining CSS and JavaScript files, loading JavaScript deferred, and much more.
Pricing:
It's a premium plugin that offers product updates and support for one site at $49.00 per year.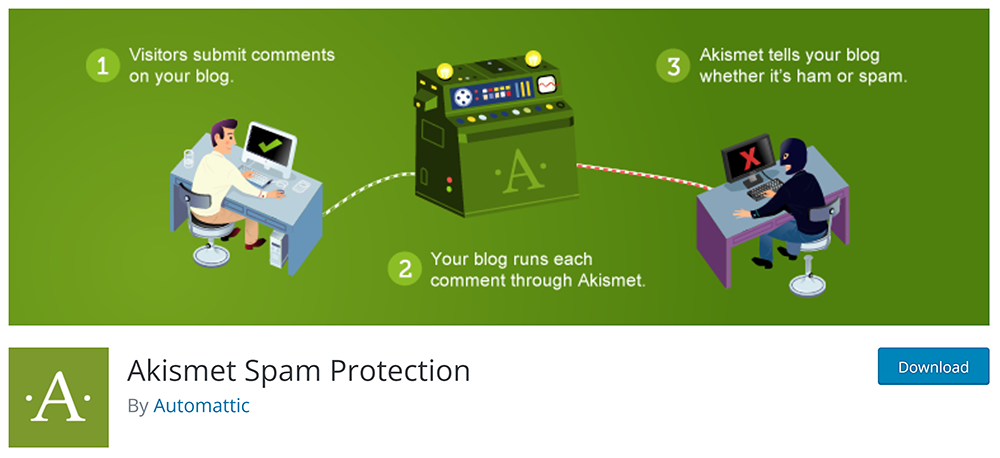 Your blogs can become an easy target for spammers. You need to protect your website with a plugin that helps you protect your site against such attacks.
Numerous WordPress plugins are available to handle spam comments, but Akismet is exactly what you need. It automatically scans your comments and filters out the ones that resemble spam.
This plugin examines all contact form submissions and prevents your website from publishing malicious content. You can even use this plugin to block recurring spam messages, which helps you save a lot of disk space.
Feature:
This plugin automatically filters spam comments.
It lets you track the deleted comments.
It also has a discard feature that blocks the worst spam.
Pricing:
Freemium. The premium version starts at $10.00 per month.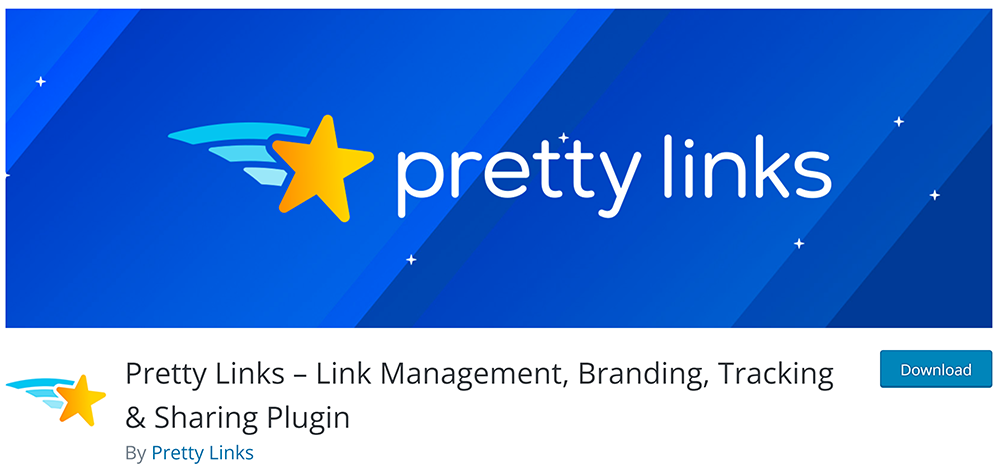 If you want to monetize your blog, Pretty Links can help you with this. This is a popular WordPress affiliate marketing plugin with a large user base. It replaces long and unattractive affiliate links with short, easy-to-remember versions that you can use virtually anywhere to promote products.
Pretty Links will help you identify and place affiliate links. It reduces the time and effort to go through every page and post to find the best place for these links.
The most popular feature of Pretty Links is the automatic link placement at your choice of keywords. You add the list of keywords, and the plugin will make them clickable links.
Features:
See all the data about the affiliate links in a dedicated dashboard.
You get detailed reports that show the clicks each link got and the performance of every affiliate link on your website.
Create link groups for similar products and an affiliate partner to simplify link management.
Pretty Links create shareable links that your users can share on their social media networks and website without requiring changes.
Pricing:
Freemium. The Beginner plan starts at $79 per year for the Beginner plan.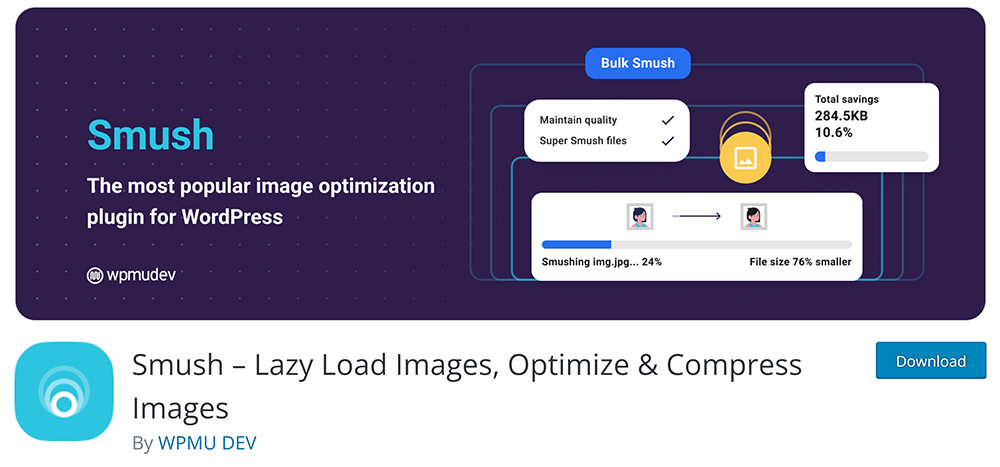 High-resolution images are too large, which is the biggest contributor to slowing your site down. A slow site is less likely to rank well in the search results. You should have a plugin to optimize your images to the max in an automated way.
WP Smush helps you to optimize images without losing quality. It allows lossless compression, faster website speed, improved SEO rankings, and more.
It has less storage and bandwidth, which helps reduce hosting and CDN costs. You must give try the free Smush version. WP Smush offers all the features in a user-friendly interface. It guarantees maximum reduction without degrading the quality.
Feature:
This plugin can optimize and compress approximately 50 images simultaneously with just a single click.
Optimize the images that are 5Mb in size at no cost and without any limit.
It allows you to compress images even if they are not in your media library with the Smush directory.
It automatically detects images that are slowing down your website.
Pricing:
This plugin offers a free version for 7 days only. After that, you can buy the premium version for just $7.5 per month.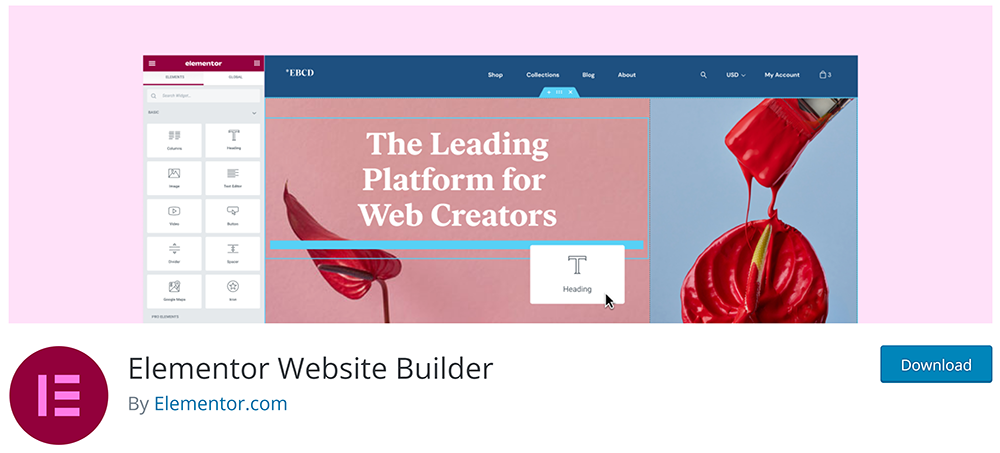 Most of the time, WordPress themes come up with their page builders. But if you don't find any built-in page or post builder in your theme, you'll need to download a plugin. Elementor is the best option out there.
Elementor is one of the best blog plugins for WordPress. This plugin has a drag-and-drop feature that lets you create unlimited web page designs with a few clicks. You can choose designs from built-in fonts and animate and edit photos.
The good thing about Elementor is that you don't need to find the right match for it, as it lets you work with any theme or plugin.
Note: Gutenberg block editor for WordPress is another good option for blogs.
Feature:
This plugin has a simple drag-and-drop feature that lets you customize your page without touching a single line of code.
It has multiple template designs that are fully customizable.
This plugin lets you adjust your WordPress site to look perfect on every screen and design for up to 7 devices.
It covers your bases with a widget for every need and endless customization options.
Pricing:
Freemium. The premium version starts at $99.00 per month.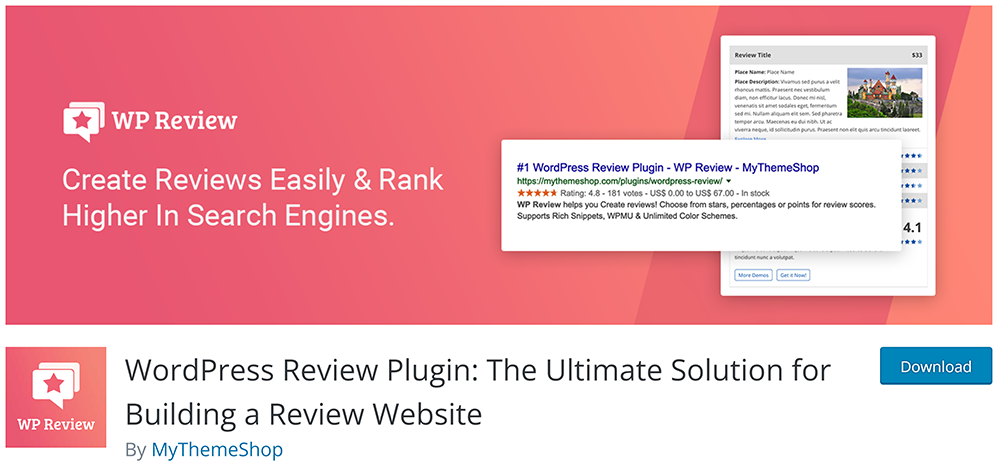 If you want to write professional reviews for blogs, then you must try the WP Review WordPress plugin a. This plugin lets you showcase your readers' opinions about the products you review. It enables users to rate features, comment on reviews, and much more.
You can write reviews for products, books, movies, games, or anything else. It supports almost 19 types of snippets. You just need to select your preferred snippet with a few clicks.
WP Review is compatible with every WordPress theme. You just need to install this plugin with any theme and start reviewing any product.
Feature:
It has a review snippet.
It has an advanced options panel that automatically lists all the settings.
This plugin offers a mobile-friendly display.
It runs fast and smoothly on any website.
Pricing:
Freemium. You can go for membership for only $19.00 per month.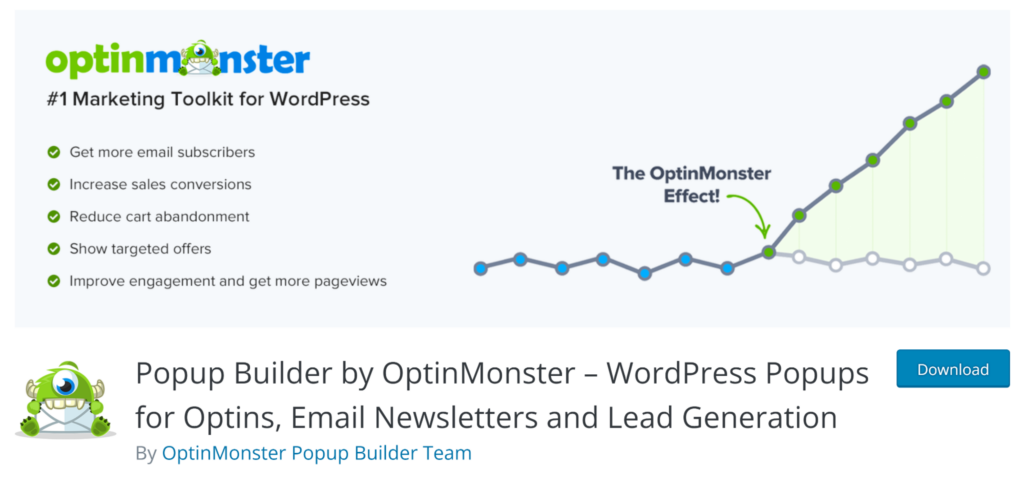 (that is best for mailing)
If you want to maximize your lead, you must want a WordPress plugin like Optin Monster. OptinMonster is the best lead generation and powerful conversion optimization plugin that helps you stop losing visitors.
You can create beautiful opt-in forms that are customizable with a drag-and-drop builder. Furthermore, it lets you personalize each message, access tools to grow your subscriber list, and much more.
OptinMonster lets visitors subscribe to your email list with the help of popups, floating bars, and other campaigns.
Feature:
Exit-Intent® technology helps you convert visitors into subscribers and customers.
It helps you to have page-level targeting.
It lets you track clicks, views, and overall conversion rates.
You can run campaigns that can work on mobile and desktop equally.
Pricing:
Freemium. You can purchase the basic premium version for only $9.00 per year.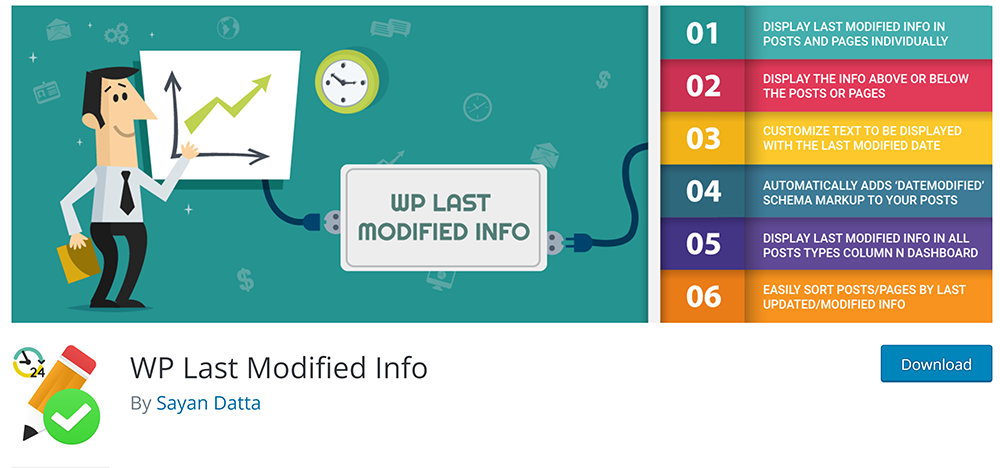 Do you want to display your visitors' last updated or modified posts and pages? The WP Last Modified Info plugin is there to help you out.
WP Last Modified Info lets the visitor know the last updated date and time information for your publications. It improves the readers' engagement with your posts and pages. According to the most recent update
Many popular blogs and websites remove dates from their blog posts to show their content is evergreen. This is a very bad practice as the information about something keeps changing. You should let your readers know when you updated or modified your information.
Feature:
This plugin individually displays the last modified date and information above or below your posts and pages.
It lets you set date or time formats in WordPress posts and pages.
It allows customizing the text alongside the last modified date.
WP Last Modified Info allows sorting posts and pages in the last modified date-time order.
Pricing:
Free.
Final Thoughts
Blogging is the most rewarding experience when you're passionate about your subject matter. You can make it your full-time business. You'll need a few plugins to help you make the most of your site.
We hope you know the best WordPress plugins to start your blogging career. You can make use of the plugins mentioned above to skyrocket your blogs.
We've added a list of many free plugins. So, if you're a WordPress user on a budget, you can still use the free WordPress plugins to improve your blog.
That's all! We hope you will now get the list of 15 must-have WordPress plugins. You may also want to check out How to Change Domain Name in WordPress and How To Customize WordPress Login Page.
Frequently Asked Questions
Is WordPress popular in 2022?
According to the W3Techs survey report, WordPress is used by 43.2% of all websites, which means every two out of five websites use WordPress.
How to choose WordPress Plugins?
Don't forget to look at the last update and whether the plugins have been tested in the last few months. Never choose a plugin based on a high number of installations. You should read the user reviews and have a look at customer support.