10 Best WordPress Backup Plugins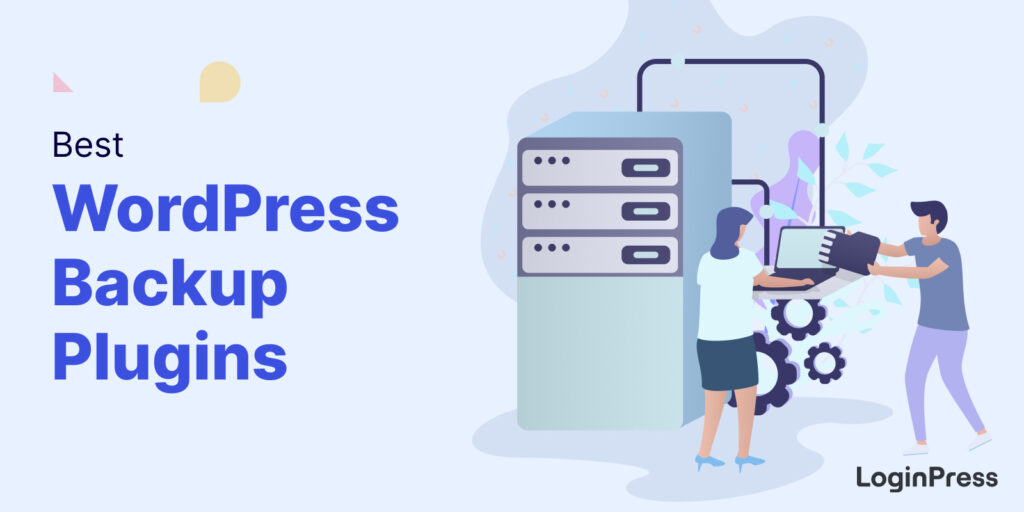 Are you looking for the best WordPress backup plugins for your website?
These plugins help bring your website back online if it goes down for any reason. In addition, you'll find additional features that allow you to plan website backups and restore points.
In this article, we'll cover the 10 WordPress backup plugins you should try to find a good fit for your requirements. 
Why Should You Use WordPress Backup Plugins?
Websites can go down for any number of reasons. However, when this happens, your website is unavailable to visitors. You can imagine the impact of the situation in the case of an eCommerce store.
You're losing revenue and brand reputation every minute your website is down.
Here are three common scenarios where you'll find the best WordPress backup plugins that add massive value to your business.
Security Incidents
WordPress websites are popular targets of cyber attacks, including brute force attacks and DDoS attacks. These attacks aim to take down the website and deny access to it.
If you have backed up your website through a backup plugin, you can quickly restore it and ensure your visitors can access it.
Human Errors
While it's difficult to do, you can accidentally crash your website when you play around with core WordPress files or activate a compromised plugin.
That's why you find most WordPress tutorials starting with the line" Before doing anything, backup your website." You can simply restore your website with these WordPress backup plugins if this happens to your website.
Move Your Website to a New Server
When migrating your website to a new server, it is always best to back it up first. Now, if things go south during the migration process, you can use the backup archive to restore your website to the new server.
10 Best WordPress Backup Plugins
It is easy to understand why you find such a long list of WordPress backup plugins. Almost every popular development agency has a backup plugin that you can find listed in several listicles.
We'll now list ten plugins that we think should help you narrow down the search.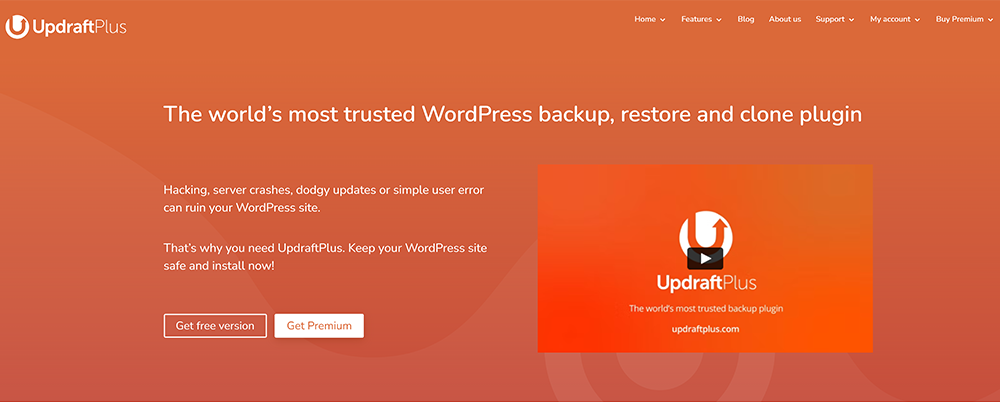 UpdraftPlus is a very popular WordPress backup plugin because of its huge fan base. It creates a customizable backup archive of your WordPress website that can include everything or the latest updates.
In addition, you can set up a backup schedule where the plugin takes full or incremental website backup at the selected intervals. Finally, if you wish, UpdraftPlus can notify you about various events on Slack.
When it comes to storing website backups, the plugin offers several options, including on-site, cloud, and private storage platforms.
Restoring your websites takes a couple of clicks, and you can choose the restore point. You can also decide whether you want a full restore of all website content or a partial restore.
Features
UpdraftPlus can back up everything on the website in a single archive.
Compatible with multi-site installations. You can restore individual websites in the network without affecting the other nodes.
Optionally, the plugin encrypts database backups for increased security.
You can import backup archives stores at external locations
All events are logged in, and you get detailed reports in the WordPress Dashboard
Pricing
The basic version of UpdraftPlus is free. The premium plans start at $70 per year.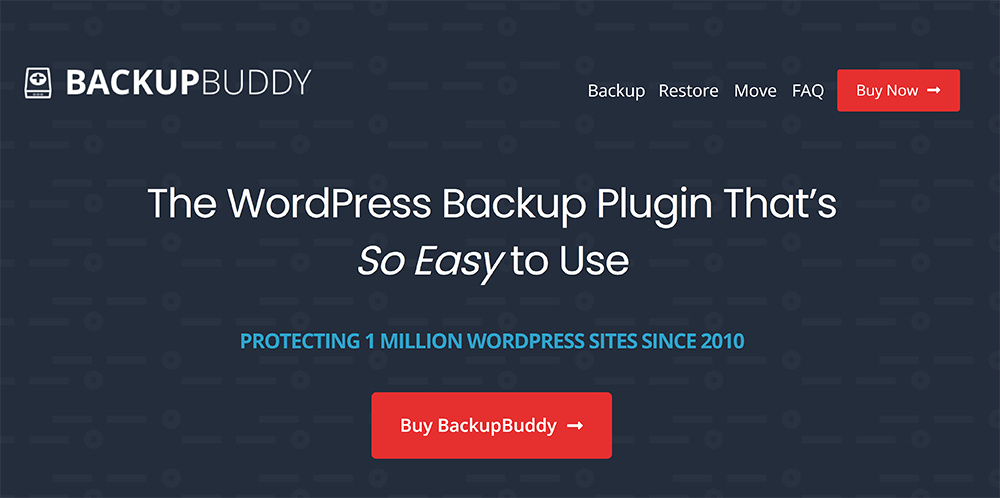 BackupBuddy is another popular WordPress backup plugin with a reputation for being beginner-friendly.
In addition to on-demand website backups, you can choose when the plugin could automatically back up your website. Additionally, you can select the location where the backups would be stored.
BackupBuddy works with popular backup storage platforms such as Amazon S3, Dropbox, and Google Drive. You can even download everything on your website as a single archive.
BackupBuddy offers several exciting features, such as database rollback. This feature helps you recover posts, pages, and comments that are removed permanently from the website.
The restore process is straightforward. You can opt for the most recent backup point or import a backup archive. Either way, your website is restored in minutes.
Features
BackupBuddy can send out email notifications for all critical backup and restore events.
The plugin can backup settings, categories, tags, and custom post types for a comprehensive restoration.
You can choose to back up and restore individual WordPress core files to get your website back online in minutes.
The restore and backup processes can be initiated from the WordPress Dashboard.
You can import backup archives from external sources to restore the website contents.
Pricing
The BackupBuddy backup plugin starts at $80 per year for a single site license.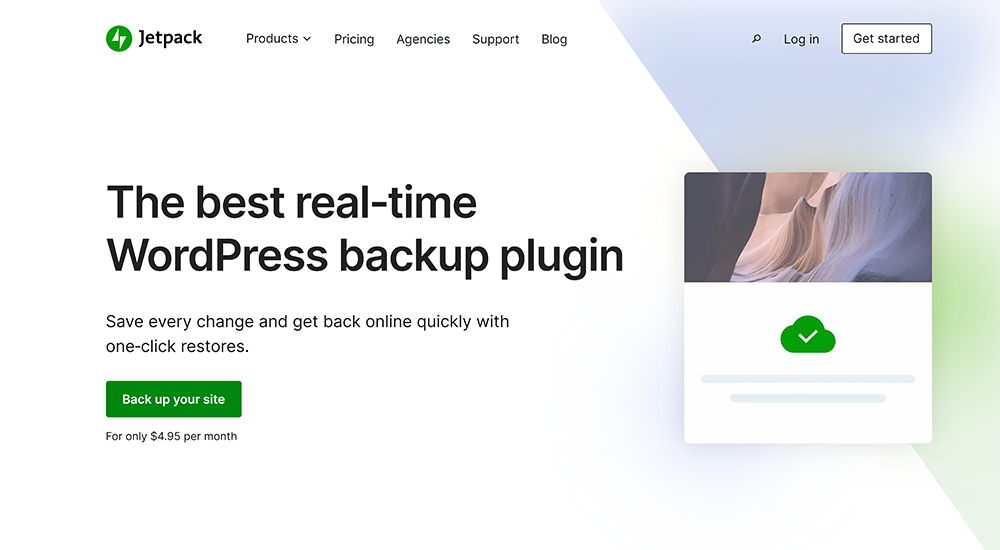 Jetpack Backups is one of the services offered by Jetpack, a popular plugin by Automattic. While the backup services are great for all WordPress websites, they are built with WooCommerce stores in mind.
Redundancy is an important consideration, and the plugin can save the website backup at several locations, including offsite platforms and the website's hosting server.
Like all best WordPress backup plugins, you can choose to back up the website entirely or partially. This is a great option for WooCommerce stores that want to protect important database tables.
Website restoration is a breeze, and you get complete control over the process. In addition to a full restore to the most recent backup, you can also select previous backup points.
Features
You can take on-demand or scheduled incremental website backups.
The Jetpack mobile app allows you to restore your websites on the go.
The plugin backs up all WooCommerce store data, including customer and order information.
Jetpack is fully GDPR compliant and observes the legal requirements for the backup and restore processes.
Jetpack also offers backup storage space for additional payment.
Pricing
Backups start at $9.95 per month, billed annually.
WP Time Capsule is an exciting solution that eliminates most of the hassles you might encounter during website backup.
Instead of full website backups, WP Time Capsule takes incremental backups that save only the updates and changes. As a result, the backup process is fast.
In addition, since the size of each backup is small, you don't have to worry about running out of space. Similarly, the restore process is simple, where you can restore to the last backup or a previous backup point.
WP Time Capsule simplifies backup and restores processes for agencies that maintain websites for their clients. They can view everything from a central dashboard without going to individual sites. For eCommerce stores, important tables such as orders are frequently backed up.
You can choose to store the backup files on your own server, Google Drive, or Amazon S3 servers. This gives you huge flexibility in planning your website backup processes.
Features
All website backups can be encrypted for increased security.
The plugin backs up website changes as you edit and change website content.
The Staging feature lets you preview the changes before you take them live.
Agencies can opt for a white-label experience to include website backup in their services.
You can verify a restore point by checking it in the staging environment.
Pricing
The premium plans start from $49 per year.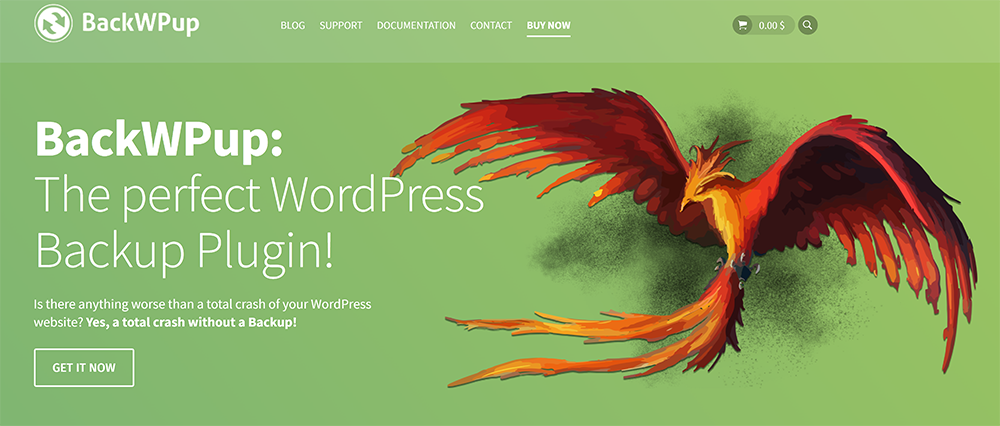 The plugin creates a single zip archive that you can use to restore your website to the backup date. This archive also contains plugins, themes, and website settings.
If you need to restore your website, simply select the backup archive, and the plugin stores the website files. BackWPup also offers an incremental backup option where it saves only the changes it detects from the previous backup point.
You can choose to save the website archive files at several locations, including Microsoft Azure, Amazon S3, and Google Drive.
Features
BackWPup also optimizes the website database for backup purposes.
The backup archive can be generated in either zip or tar formats.
Website backups can be encrypted for maximum security.
BackWPup also works with external encrypted website archive files
Use the included wizards to schedule website backups.
Pricing
The Pro version starts at $69 per year for one WordPress installation.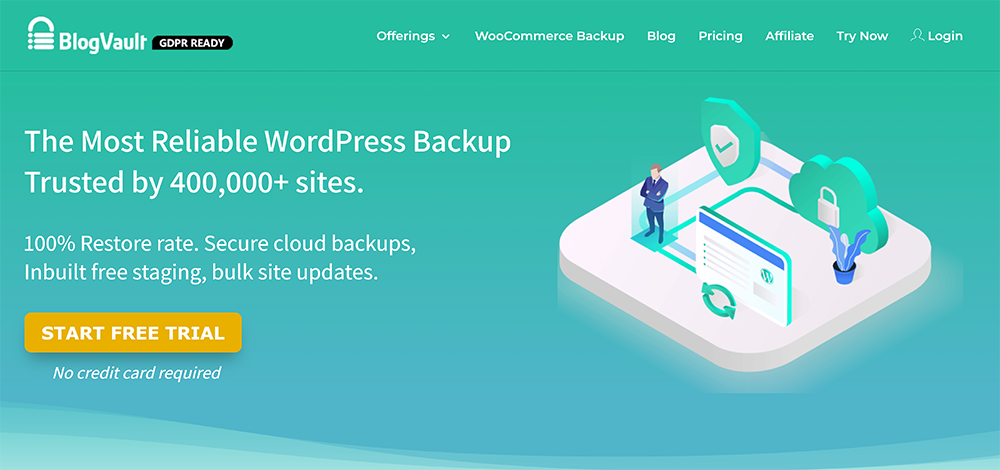 BlogVault has a reputation for reliability and performance.
You can choose both full and incremental website backups, with full control over the frequency of the backups. This allows you to finetune the backup process.
In addition, the incremental backup ensures that all important data is saved without slowing down the website or consuming too many website resources.
BlogVault comes with a comprehensive dashboard where you can see backup and restore history and options for backing up and restoring website content.
Features
BlogVault is GDPR-ready and is a great website option for websites that require GDPR compliance.
You get both incremental backups and differential restores for smooth and quick recovery.
Support for multi-site networks.
You can execute full site recovery for offline websites.
BlogVault also helps you in website migration.
Pricing
The plans start from $89 per year.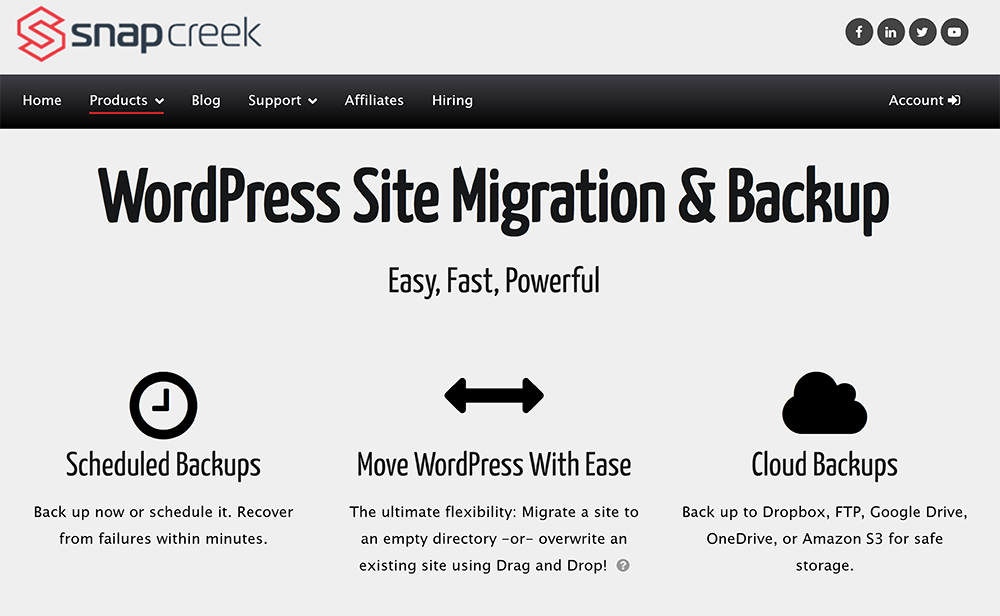 Duplicator is a simple WordPress backup plugin that emphasizes beginner-friendly website backup and restores.
You can do a complete website backup that includes everything in a single zip file. Alternatively, you can back up specific sections of your website to conserve disk space. As with other plugins, you can take on-demand and schedule website backups.
During the process, Duplicator generates a single "package" that you can use to move the website to another host or restore it on the current server. Like other best WordPress backup plugins, you can send the zip archive to Amazon S3, Google Drive, and Dropbox.
Features
Create a single zip file that contains all WordPress core files, settings, plugins, and themes.
You can use Duplicator for backing up and restoring individual sites of a multi-site network.
You can also access cPanel from the plugin settings.
Use custom hooks to customize the plugin to your needs.
Receive email notifications about backup and restore events.
Pricing
The Pro plan starts at $69 per year.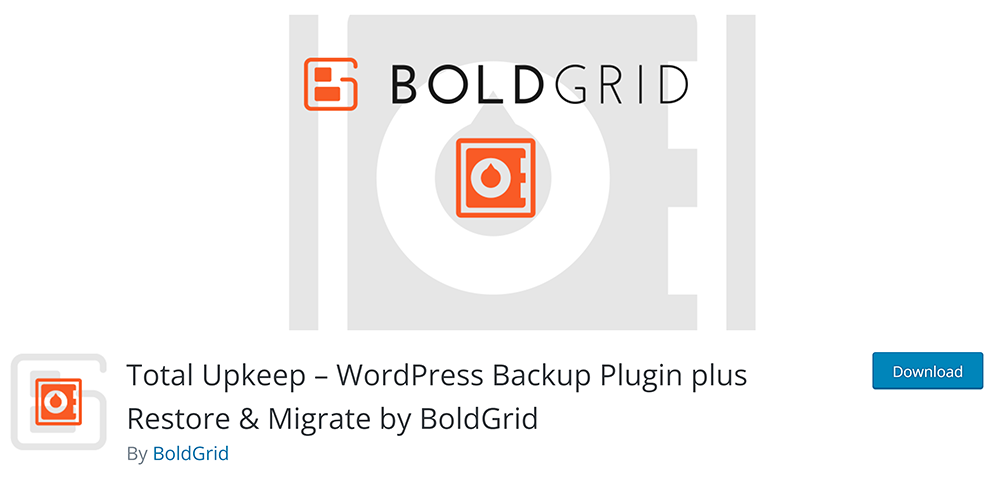 If you're looking for a cost-effective website backup solution, you should explore Total Upkeep.
The plugin simplifies the backup process by offering both on-demand and scheduled backups. Once it takes the backup, it can send it for safe storage at the platform of your choice.
This feature works with Amazon S3, Google Drive, and your local server. The plugin can encrypt the archive to ensure security and data protection.
Similarly, restoring the website from the backup archive is simple. You choose the backup point from the available options, and the plugin restores your website in minutes.
Features
You can use the plugin on as many websites as you wish.
The plugin automatically updates your website before plugin and theme installation.
Total Upkeep can restore the website to a previous backup point in case of an issue.
Database backups are encrypted to ensure security and data privacy.
You can also restore individual files to save time.
Pricing
The annual subscription starts at $30.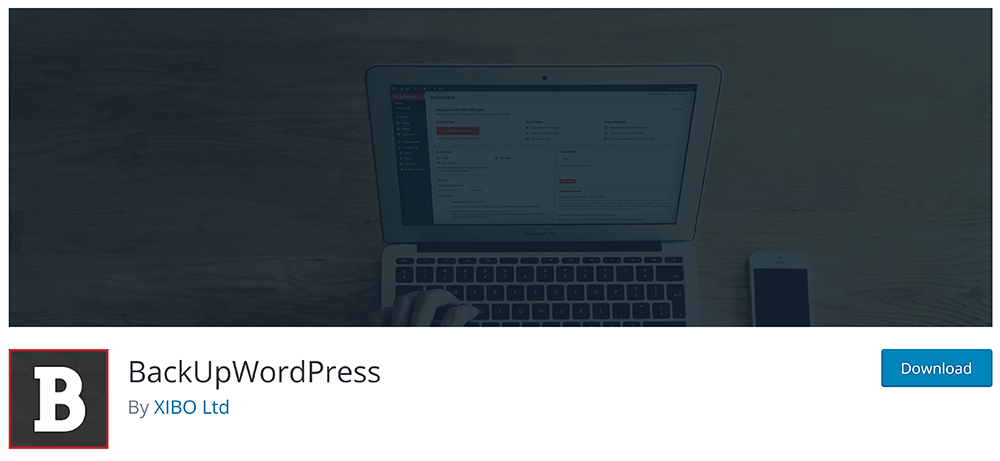 BackUpWordPress is a simple WordPress backup plugin that is easy for all users. It provides a simple website backup process where you can take automated and on-demand backups. These backups can be downloaded or stored on the local server.
Features
No setup is required.
This plugin is ideal for low-memory shared host environments where you need a lightweight backup plugin.
You can exclude files and folders from the backup archive to reduce the zip file size.
The plugin can send the backup archive to your inbox.
The plugin is translation-ready and already available in all popular languages.
Pricing
BackUpWordPress is a free WordPress backup plugin.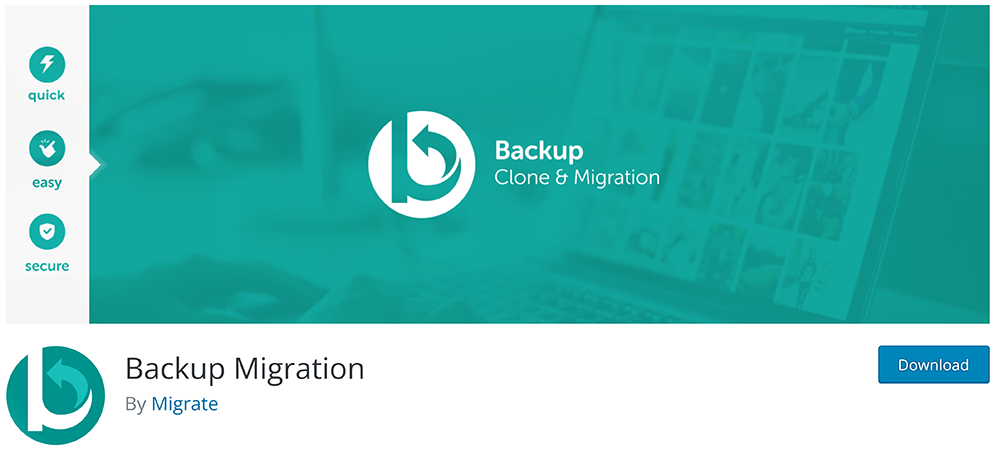 Backup Migration allows you to easily migrate your site to another host or restore the local backup. You can either schedule your backups on a daily or monthly basis.
You can choose which files or databases are to be included in the backup, backup location, name of your backup file, and so on.
Features
This plugin backup schedule is based on every day, week, or month.
It controls whatever is added and excluded in the backup.
It provides a local storage option. It has an easy backup and restores process.
It enables you to switch your site to another host.
Pricing
Backup Migration offers a free version with a limited backup of 2GB in size.
Final Thoughts
We're sure you'd have spent a lot of time on your WordPress site to make it exactly how you wanted. Since any bad thing can happen to your site at any time, It's best to keep backups of your WordPress site.
Although WordPress doesn't offer backup functionality as a part of the core features, the backup plugins fill the gap nicely.
We hope this article provided insight into the best WordPress backup plugin. Then, you sift through numerous options and decide which backup you want for your WordPress site.
Frequently Asked Questions
Is it necessary to back up a website?
Yes! It's necessary to have a backup of your website. You might face a website crash at any time accidentally. A backup of your website can save all the important content and files.
Where are WordPress backups stored?
The WordPress backups are stored in the File Manager section of the web hosting.
Why should you take a regular backup of the WordPress website?
It's better to have a regular backup of your WordPress website as it helps you store all the important contents and files. You can troubleshoot the problem quickly and easily with a few clicks.
That's all! You can also check out How To Change The Theme for Your WordPress Website and How To Add Google Fonts With LoginPress.
Not using LoginPress yet? What are you waiting for?