13 Best WordPress AI Plugins [2023]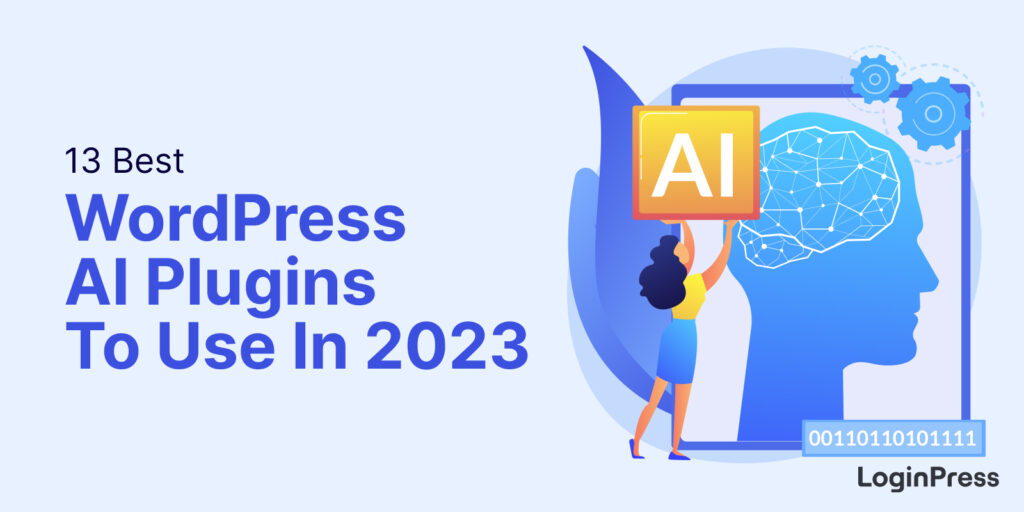 Are you looking for the best WordPress AI plugins you can use in 2023?
We can see that Artificial Intelligence (AI) is taking control of the digital world. WordPress plugins know what wonders can be unlocked if AI is integrated within their main functionality. These plugins are developing day by day to beat the competition.
With this in mind, we've curated a list of 13 best WordPress AI plugins to help you uplift your WordPress site's performance, user engagement, and overall success.

Table of Contents
Comparison of Best WordPress AI Plugins
WordPress AI plugins are available for free in the WordPress plugins repository. However, you can get the premium version for more advanced features.
Let's look at the best WordPress AI plugins pricing comparison:
What is a WordPress AI Plugin?
Let's be honest: AI is the topic of the moment, and it's everywhere.
As the dire need of the hour, WordPress plugins are integrating AI capabilities within their core functionalities. These plugins significantly maximize various aspects of a site and change how businesses engage with their customers online.
Here are a few examples of what an AI plugin can do for you:
Generating better content
Better user experience
Generate recommendations
Optimize images
Help improve SEO efforts
.. and a lot more that we'll cover in the next section.
WordPress AI plugins can be the best investment today if you want to be part of the growing competition and take your site to the next height.
Why use AI in WordPress?
You must be wondering what's the connection between AI and WordPress? Let's find out by looking into some examples of functionalities that AI plugins for WordPress might offer:
Content Generation: An AI-powered plugin might assist in generating written content. You can quickly create well-structured blog posts, product descriptions, or social media updates.
Chatbots: You can integrate AI chatbots into your site to engage with visitors, i.e., answer questions and assist.
Personalization: AI can analyze user behavior and preferences, allowing for more personalized content recommendations or product suggestions.
Image Recognition: Plugins might use AI to automatically tag or categorize images, making it easier to organize a media library.
SEO Optimization: AI can help analyze and optimize content for search engines, suggesting improvements to improve rankings.
Analytics and Insights: AI-powered plugins might provide advanced analytics and insights, helping you understand user behavior and trends on your website.
Spam Detection: AI can identify and filter out spam comments or form submissions.
Language Translation: AI-powered translation plugins can automatically translate content into different languages.
Best WordPress AI Plugins
WordPress AI plugins are set to redefine the boundaries of what's possible in web development, i.e., from automating content creation to enhancing user experience.
Let's dive into the best 13 WordPress AI plugins that can greatly help you.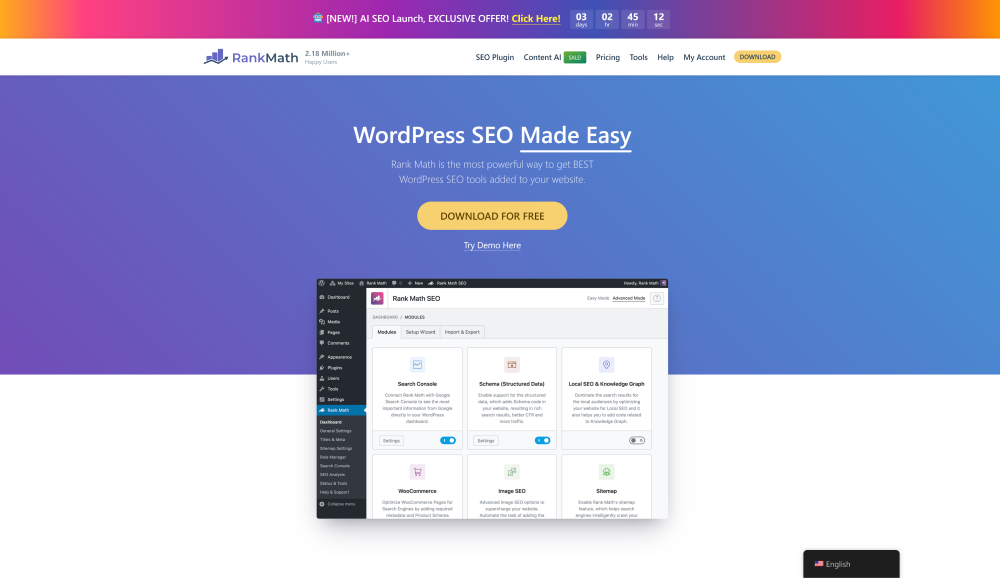 Rating: 4.9/5- Stars
Best For: SEO-optimized Content
Price: $5.75/month (Billed annually)
Gone are the days when writing well-structured and SEO-optimized content was tough. With Rank Math SEO Content AI, SEO-optimized articles are just a click away from you.
It has all the essentials that supercharge your content in less than a minute, such as:
Improved content
Increasing the length of the paragraph.
Is the content too long? Shorten it.
Improve the readability.
Fix grammatical issues.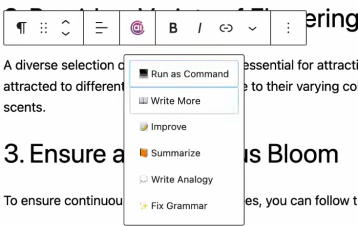 The plugin offers smart scores for your content. You can get insight into Word Count, Link Count, Heading Count, and Media Count.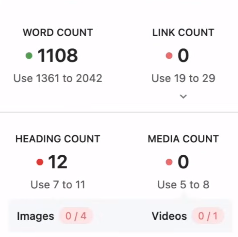 Features:
Default Country: The plugin lets you choose the default target country for your keyword.
Default Tone: You can select the default tone in which Content AI generates content for you, including formal, informal, casual, descriptive, and more.
Default Audience: You can classify your default audience, i.e., Gaming Enthusiasts, Health Enthusiasts, Gardners, and General Audience, to name a few examples.
Default Language: The plugin enables you to set the default language for your content, including US English, UK English, Spanish, French, and +25.
Enable Grammarly: The plugin offers Grammarly integration for you by default. It helps you fix grammatical issues in no time.
Select Post Type: You can select the post type where you want to use Content AI, i.e., Post or Pages.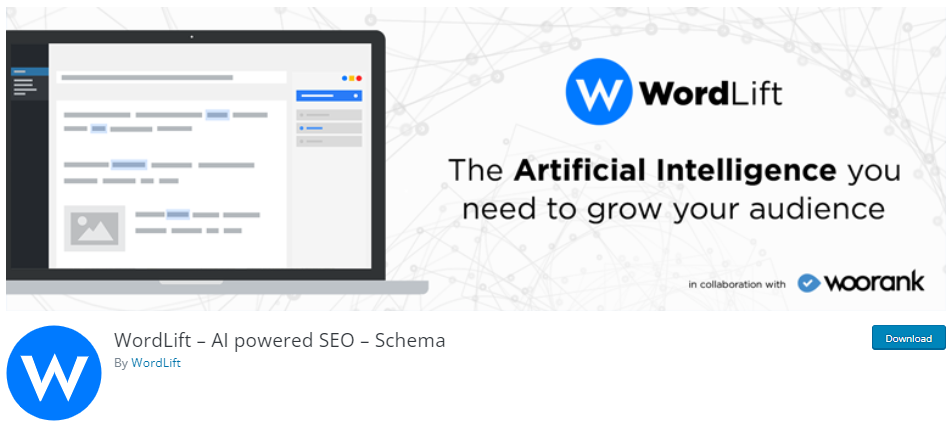 Rating: 4.5/5- Stars
Best For: Content Creation
Price: Free
Wordlift is another smart WordPress AI plugin that integrates within your site in seconds. It automatically reads your content and builds content to match the audience best.
You are no more in need of extensive SEO knowledge to supercharge your content. See how the plugin shares a user-friendly interface that helps users understand everything easily: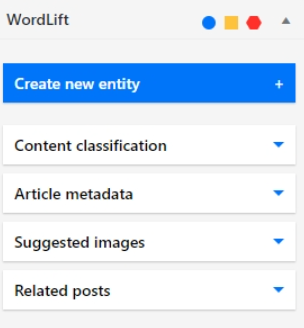 See what options exist for creating a WordPress blog:
An example sentence anyone could write in their blog.
The target keywords (that are not already registered).
You can add media.
Add an entry description that distinguishes it from other blogs on your site.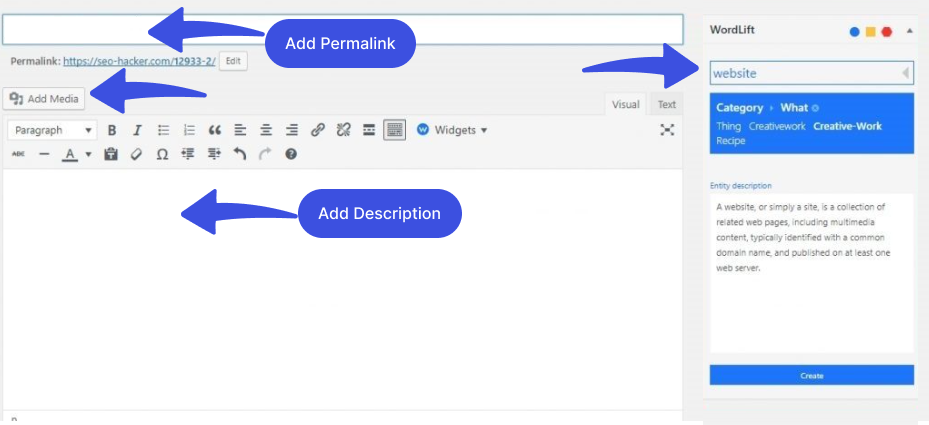 All the above things help Google know what your content is referring to.

You can further pick the "Content Classification" option to elaborate to make WordLift recognize keywords you've associated with entities you have created, including what, where, when, who, and all.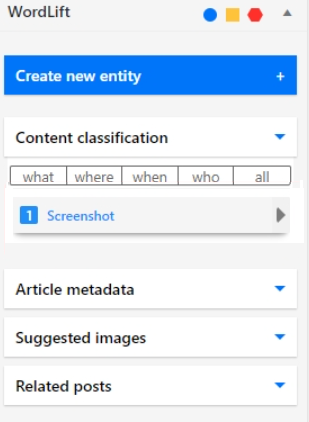 The plugin allows you to add a perfect image for your blog. Simply click the Suggested images option, and you'll get ready to use "screenshots" for your blog.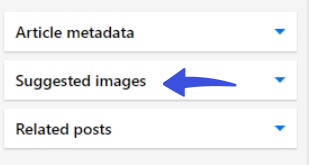 Features:
Enrich Content: The plugin lets you add images, links, and more to your site's content. Plus, it tries to engage readers with relevant content recommendations.
Schema.org Markup: You can create a fully compatible schema.org markup that allows the search engines to index and display your website.
Metadata: The plugin makes publishing metadata easy to share, sell, and distribute content.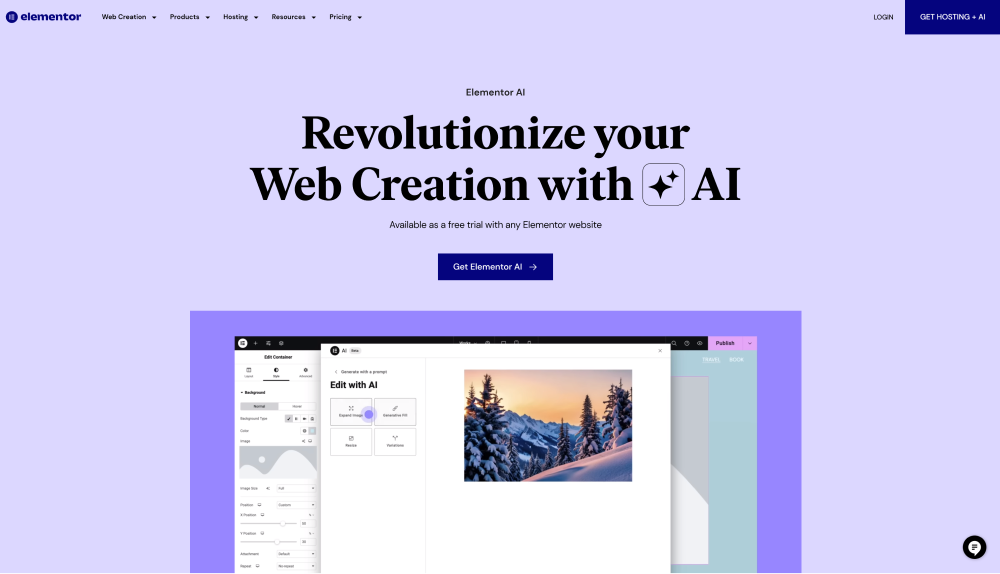 Rating: 4.5/5-Star
Best For: Page Building
Price: $59/Year
With Elementor AI, it's time to say goodbye seamlessly integrates with Elementor editor. The plugin makes creating or editing a web page easy in a few clicks.
The plugin offers a built-in Generate Code feature that lets you code to create cool effects without writing any code yourself.

Gone are the days when you were required to create visuals for your site. Do it with Elementor AI Beta. All you need to do is write in the description for the image you are looking for and set an image type, style, and ratio. When done, click the Generate button.
Want to do something other than what is shown in the result? No problem, click the Generate again button. It will generate some more designs for you.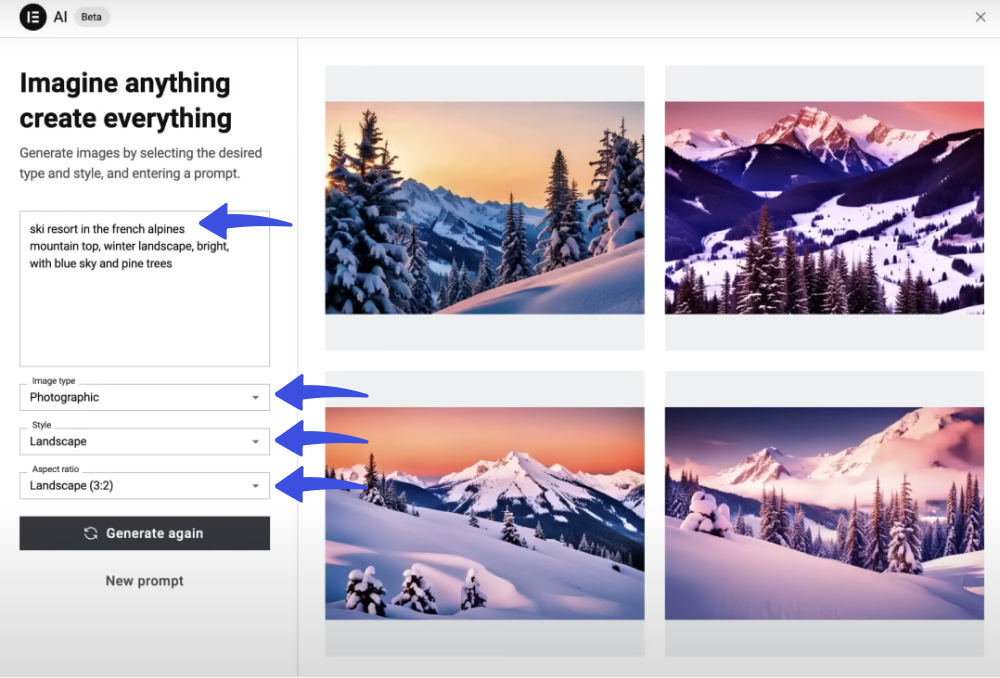 Edit with AIi brings the solution to have complete control over your images. You can:
Expand Image
Generative Fill
Resize
Variations (for your image)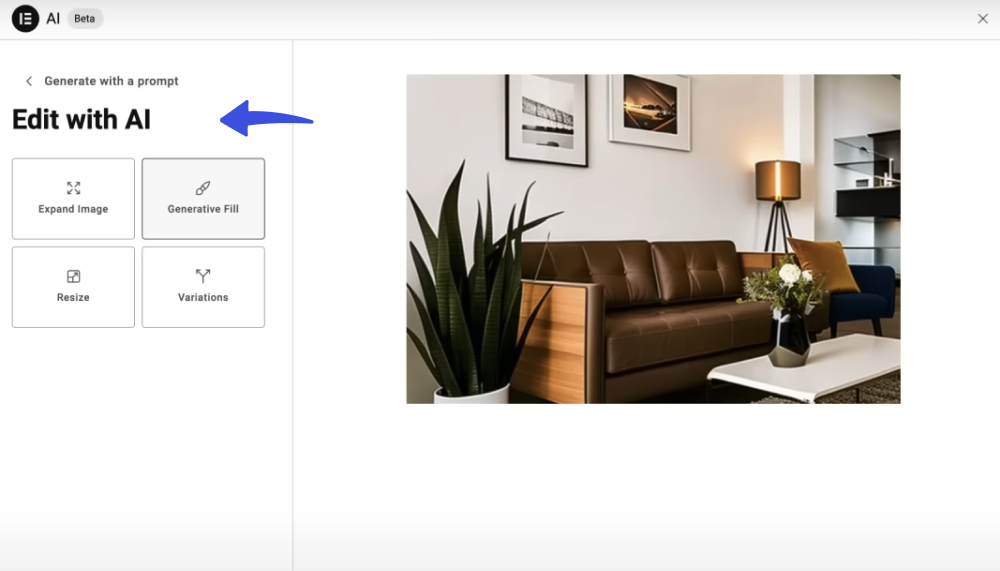 Features:
Drag-and-Drop Editor: The plugin provides you with a simple drag-and-drop page builder.
Remove Background: The AI feature lets you remove the background of your images.
Variations: You can delete some parts of your changes and replace them with desired variations.
Transparent Background: You can make a transparent background for your image with just a single click.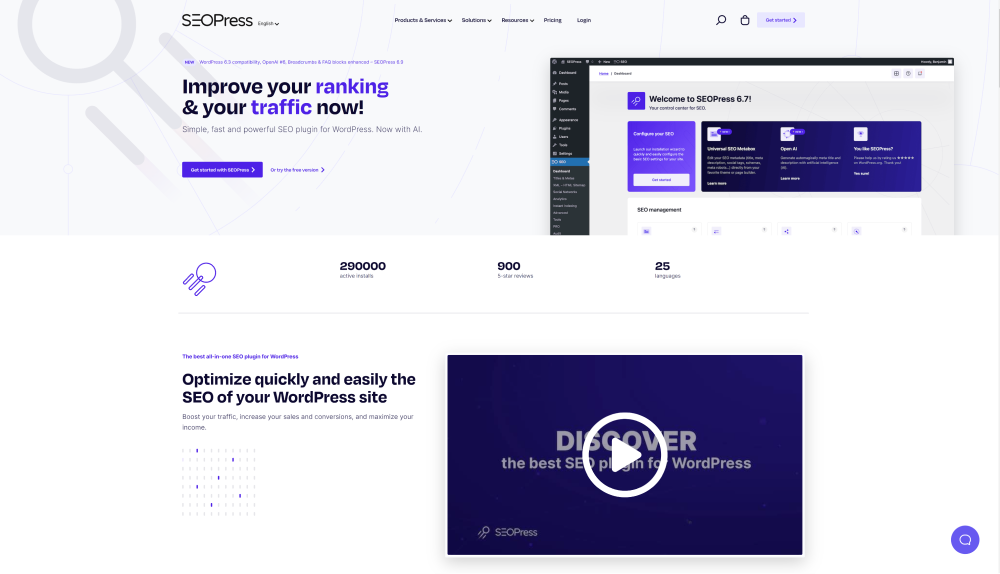 Rating: 5/5- Stars
Best For: SEO Metadata and Descriptions
Price: $49/year
SEOPress shares seamless integration with OpenAI. This distinctive feature leverages the power of artificial intelligence to autonomously craft SEO metadata, including meta titles and descriptions, grounded within the content of each post.
See the image below: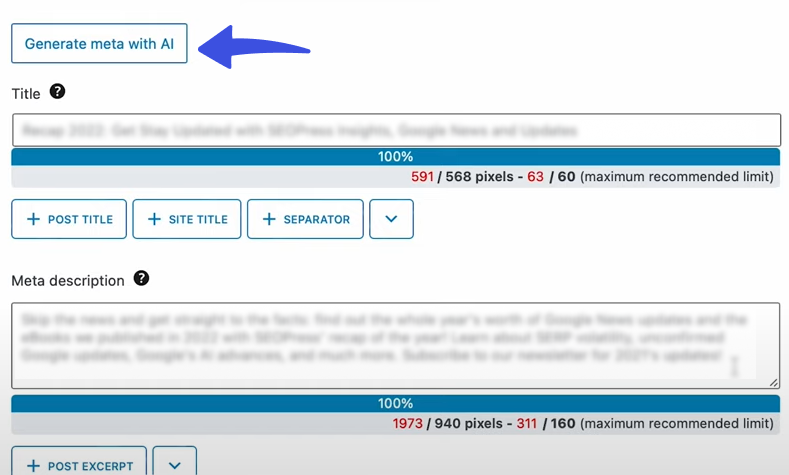 When done, you can see Google Snippet Preview and mobile preview for the post.

Are you tired of creating meta titles individually for each post? Here's a good news! SEOPress brings a Bulk actions option that lets you create titles for more than one post in a single go. Pretty convenient, right?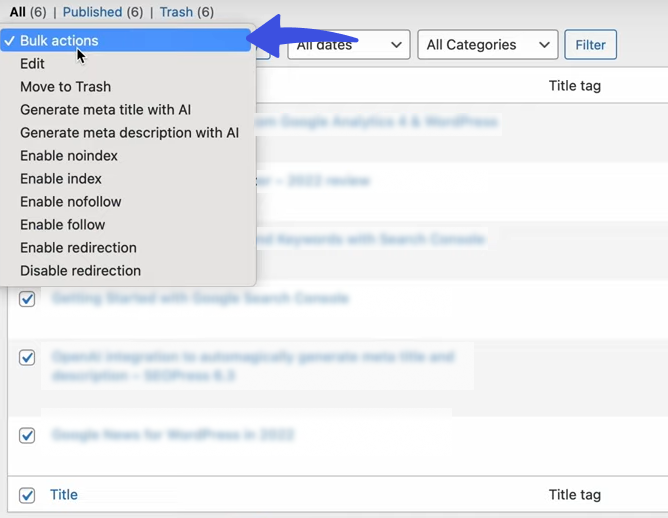 Features:
Meta Title: The plugin helps you create SEO-optimized meta titles for your blog posts with just a single click.
Meta Description: This plugin can create meta descriptions to help you rank higher in the search results.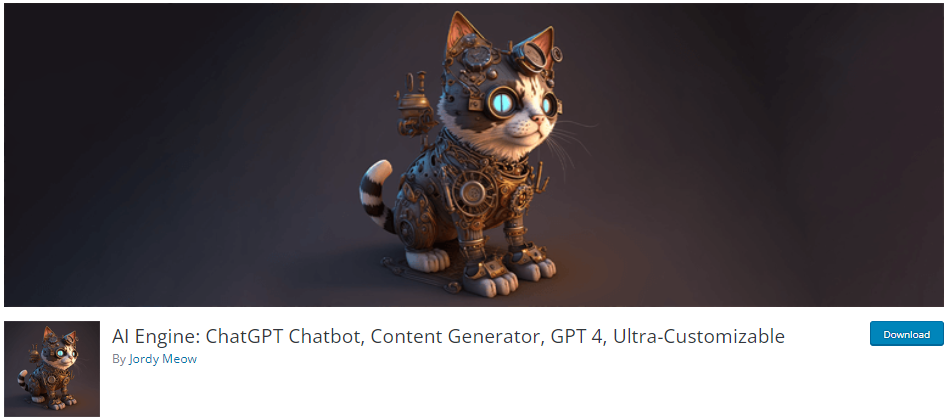 Rating: 5/5- Stars
Best For: Content Creation and Chatbots
Price: Free
Don't miss the chance to integrate multiple AI models, including ChatGPT, GPT-3, GPT-3 16k, GPT-4, GPT-4 32k, DaVinci, Babbage, and more, your WordPress site with AI Engine.
You must have an OpenAI account and an API Key to integrate the above-mentioned AI tools with the plugin.
The plugin enables you to add:
Chatbot
Generators (Content and Image)
AI Playground
Assistant (AI Copilot, AI Suggestions, Magic Wands).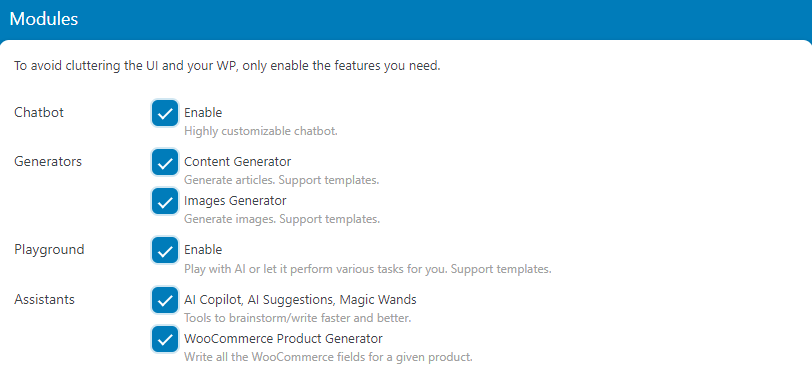 The plugin has a user-friendly interface lets you take full advantage of the AI's behavior according to your WordPress site's requirements.
Meow Apps designs AI Engine and provides a suite of plugins for photography, imaging, optimization, and SEO.
Have a look at what other plugins are offered by Meow Apps that have AI functionality:
Features:
Content Generator: With this plugin, you can easily create an outstanding for your site.
AI Copilot: The plugin offers an AI Copilot that helps you generate ideas and write faster.
AI Playground: You can use AI Playground to unlock many useful AI features for your site, such as translation, correction, and SEO.
Chatbots: This plugin enables you to add chatbots to your site.
AI Training: You can fully train your AI for a more specific task.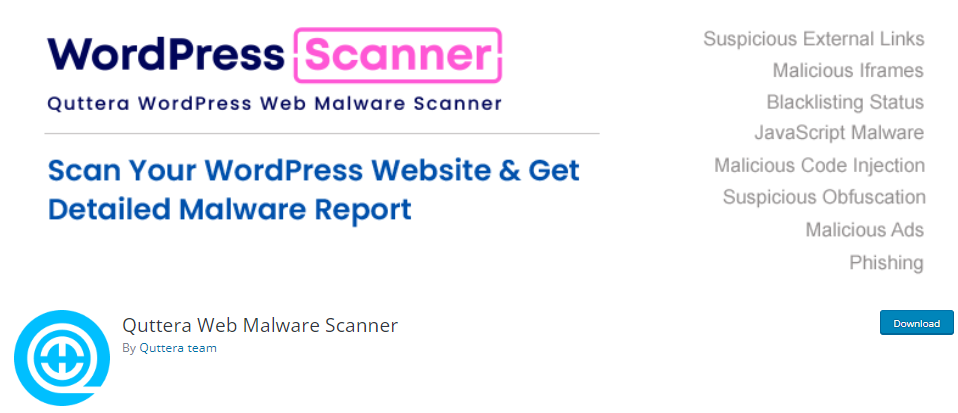 Rating: 5/5- Stars
Best For: Web Malware Scanning
Price: Free
Quttera Web Malware Scanner is one of the best WordPress plugins that help you automatically scan malware, backdoors, viruses, trojans, worms, spyware, and other potential threats.
In addition, the plugin offers JavaScript code obfuscation, malicious code injection and code obfuscation, redirects, and a lot more.
The plugin keeps you up to date about detected threats. Plus, you can see a quick look at the execution summary: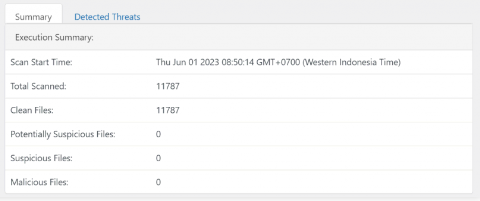 The best part is that it checks if Google or any other notable authorities blacklist your WordPress site.
The free Quttera Web Malware Scanner, no doubt, is the best choice to help yourself protect your website.
Features:
Scanning: The plugin is smart enough to scan your WordPress site within seconds.
Malware Detection: The plugin automatically detects unknown malware.
External Links Detection: You can use this plugin if you are looking for external link detection.
Blacklist Status: The plugin has a useful blacklist status feature that keeps you updated on if Google or any other blacklisting authorities blacklist your website.
Artificial Intelligence Scan Engine: The plugin provides an artificial intelligence scan that creates a detailed investigation report.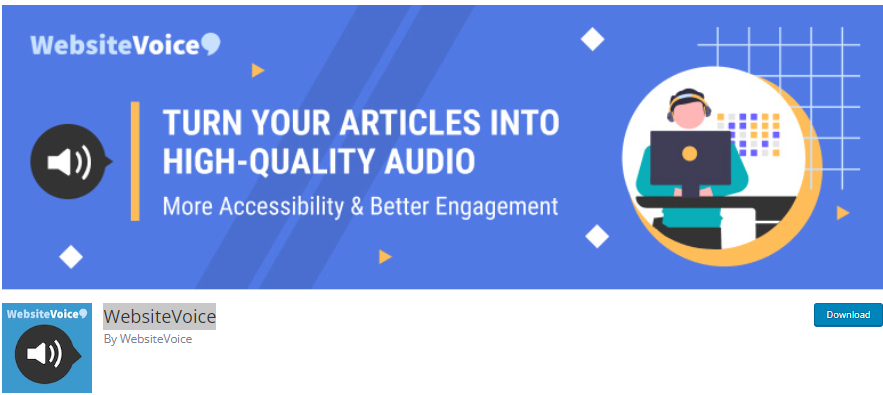 Rating: 5/5- Stars
Best For: Voice Over
Price: Free
Next, we've WebsiteVoice WordPress plugin. It is there to help you convert your text content into high-quality audio.
The plugin allows the Artificial Intelligence (AI) voices of WebsiteVoice to read your site's articles. This best helps you make your content more engaging.
Note: You're required to create an account with WebsiteVoice to get started with its valuable features.
You can use this plugin to use an AI-powered voice assistant speech recognition and natural language understanding to allow users to interact with a website using voice commands.
Features:
AI Voice: The plugin integrates with AI to help you add voice AI voice to your blogs.
Supported Host: The plugin supports popular hosting providers, including Shopify, Wix, and Joomla.
No Code: The plugin allows you to add voice to your content without writing a single line of code.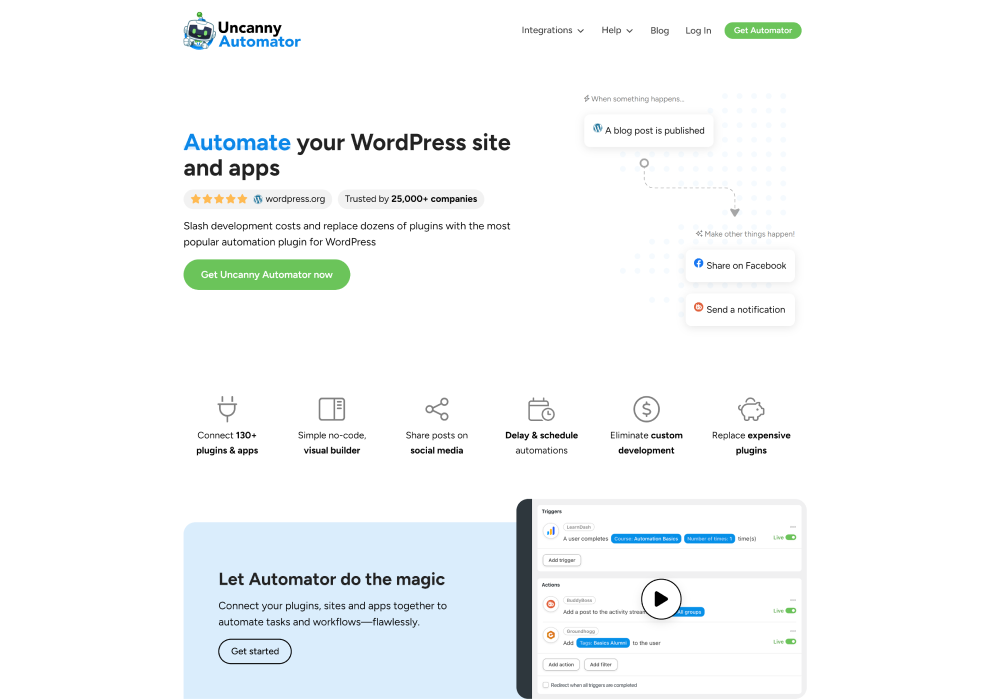 Rating: 5/5- Stars
Best For: Automated Codes
Price: $199/year
Uncanny Automator is another useful WordPress plugin that enables you to connect plugins and apps to automate tasks. It makes it pretty easy to manage a WordPress site.
It also comes with OpenAI integration that supports ChatGPT, Ada, Babbage, Curie, and Davinci models.
Looking for better content workflows? The plugin is there to help you integrate AI-generated content that allows you to get more creative writing.
For example, you can:
AI content generator allows you to create a new blog post
You can set automatic replies
Generate WordPress images
.. and much more.
Features:
Visual Builder: You can use this plugin to create whatever you want without writing a single line of code on your own.
Social Share: Create wonders and share with the world through social platforms.
Integrations: The plugin offers 100+ integrations with popular plugins and apps, including AffiiateWP, Amelia, bbPress, BuddyBoss, and BuddyPress.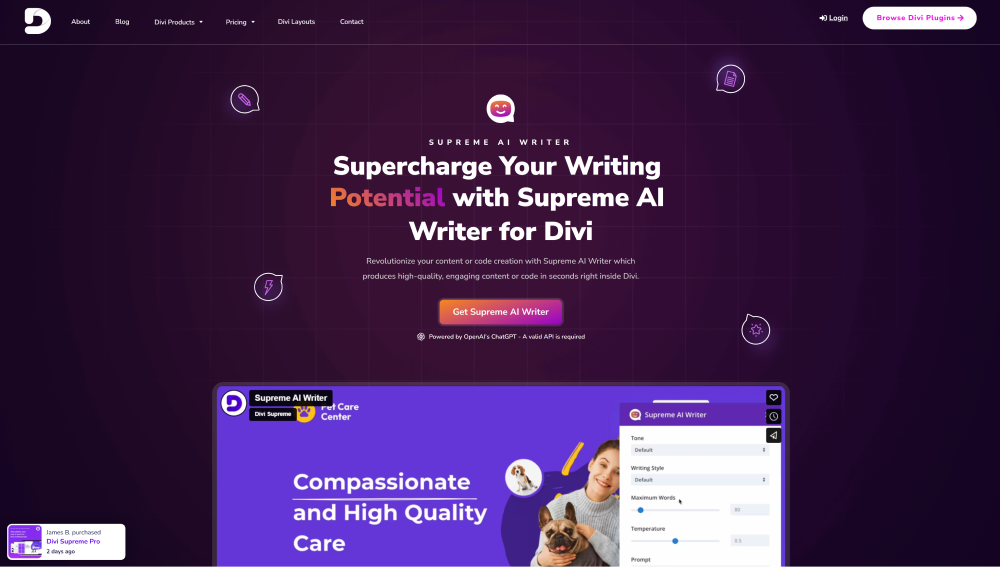 Rating: 5/5- Star
Best For: Image Generating
Price: $79/ Year
The plugin knows the importance of AI. Therefore, it offers OpenAI integration that supports ChatGPT, Babbage, Curie, Ada, and Davinci models.
The plugin has a Supreme AI Writer that lets you create content with minimal effort. Like, setting:
Tone
Writing Style
Words Length
Temperature
And Prompt
Learns about your site and automatically generates best matching content, i.e., hospital, academic, etc.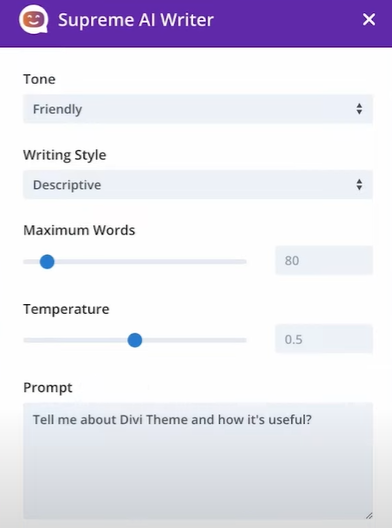 You can bring further changes to your content, such as simplifying language, making it longer or shorter, and fixing grammatical errors.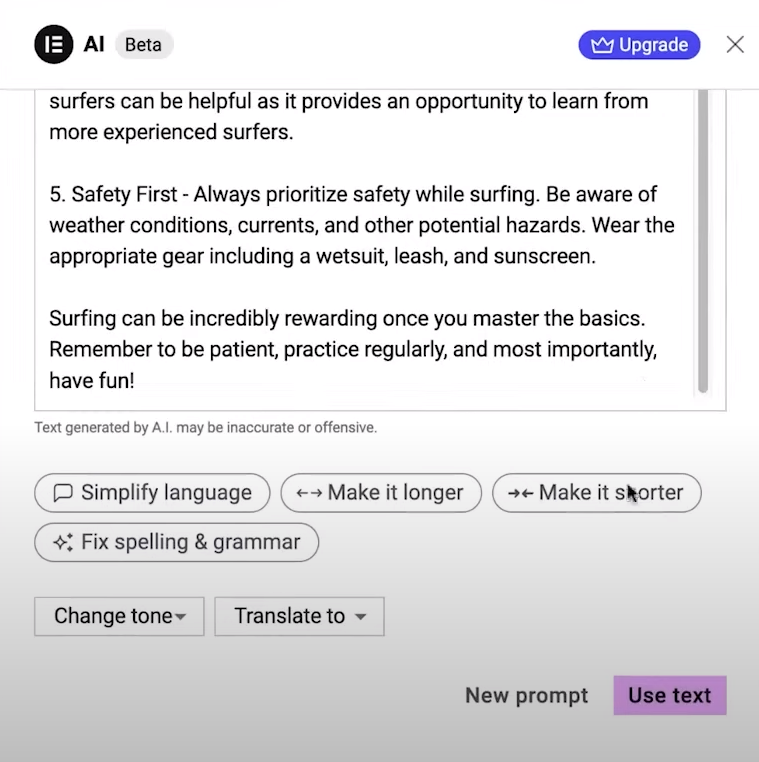 Features:
Image Creator: The plugin lets you create an image.
Content Creation: You can create content for your blogs in less than a minute.
Resolve Grammatical Issues: The plugin lets you have grammatical error-free content.
Editor: You can use the plugin's editor to modify your content.
Variation Generator for an Image: The plugin offers a built-in variation generator for an image. You can use it to bring changes to your images.
Actions: The plugin lets you analyze sentiment with GPT-4, i.e., Action fields and Sentiment analysis.
Link Generator: You can easily generate a list of links that might help resolve a customer request with GPT-4.
SEO Title: You can easily create SEO titles for your blogs with a click.
Translation: You can use GPT-4 to translate text on your site.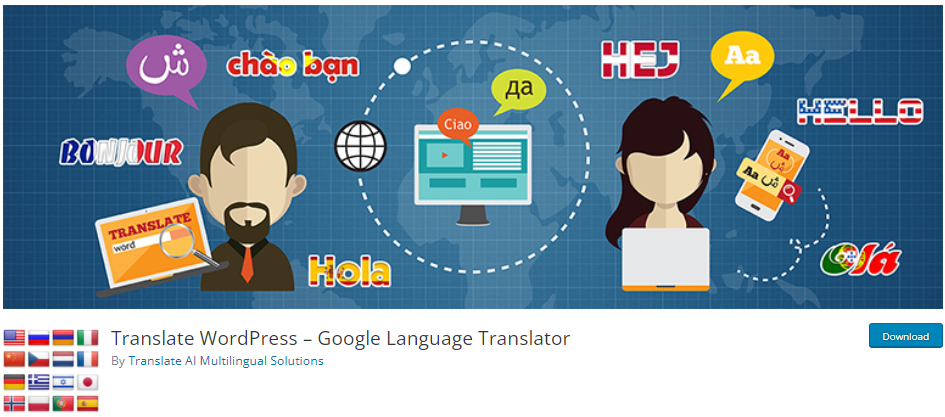 Rating: 4.5/5- Stars
Best For: Multilingual Sites
Price: Free
Translate WordPress is there to seamlessly integrate Google's AI to your WordPress site to help you translate your site in minutes.
Translate WordPress Pro lets you translate your site's URL. It might help you boost your SEO.
Here is an example for you:
http://example.com/about-us → http://example.com/sobre-nosotros
Features:
Translation: The plugin offers free translation for posts and pages, categories and tags, menus and widgets, and themes and plugins.
Google Analytics: The plugin offers Google Analytics integration.
RTL Support: You can translate RTL (Right to left) languages, i.e., Urdu, Arabic, etc.
Language Selector: The plugin lets you create a floating language selector.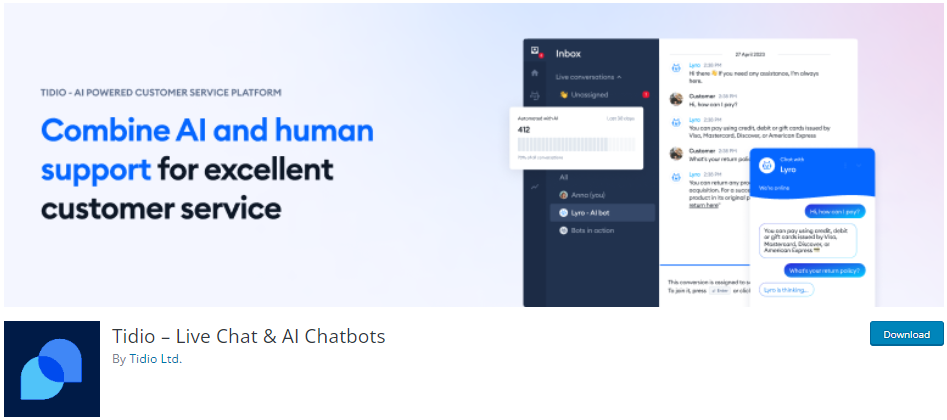 Rating: 5/5- Stars
Best For: Customer Support
Price: Free
Tidio - Live Chat uses a conversational AI for personalized assistance to your site's visitors. It is trusted by 300,000+ companies, including Capterra, Getapp, and Shopify.
It has the ability to learn from your FAQs and automatically generates answers that help resolve your customers' problems. The plugin is a smart choice for those looking forward to instantly catering to their customer's queries.
Features:
Chatbots: The plugin has chatbots that are efficient enough to engage your audience.
Support: This plugin can automatically respond to customer queries from your browser, desktop, or mobile.
Customize: This plugin can customize the look and feel of your live chat widgets.
Management: The plugin enables you to manage your live chat, e-mail, and Messenger.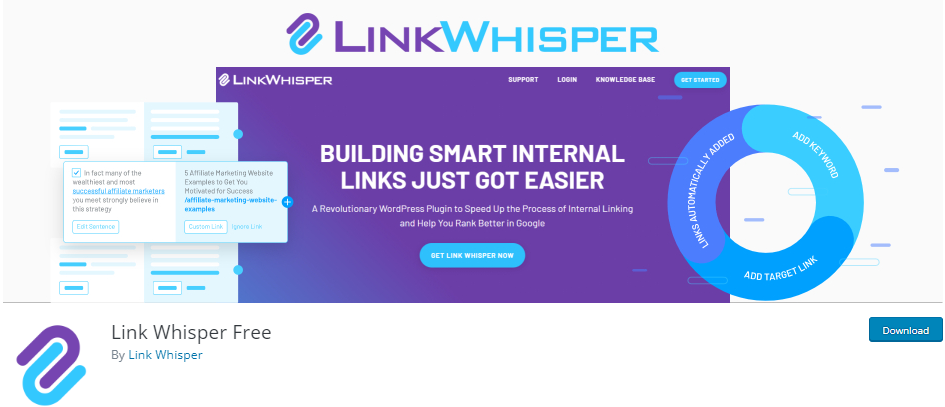 Rating: 4.5/5- Stars
Best For: Creating Internal Links
Price: Free
Link Whisper is a popular WordPress plugin designed to help users with internal linking and eliminates the need to search for relevant links within your content manually.
As you know, internal linking is essential to SEO (Search Engine Optimization). It involves linking from one page on a domain to another page on the same domain. It helps search engines understand the content structure and context of a website.
Tired of searching for relevant internal links for your blogs? The plugin brings the solution for you. It has a link analyzer that automatically analyzes your content and suggests relevant internal links.
This plugin helps you build a more unified site structure, making it easier for search engines to navigate and index your content.
Features:
Link Suggestions: The plugin automatically generates link suggestions for you.
Internal Links Reporting: You can easily get insight into your site's internal links. You can see what links are orphans on your site.
Customize Internal Links: You can fully control your internal links. You have full control over customizing your internal links.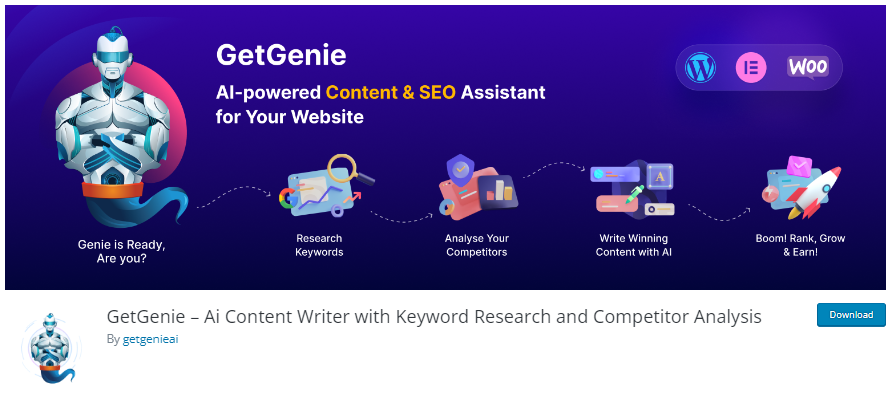 Rating: 5/5- Stars
Best For: Creating content and Keyword Research
Price: Free
GetGenie is a WordPress plugin designed to enhance the functionality and features of your website. It assists you in managing and organizing your website's content.
Look no further for SEO Optimization since the plugin focuses on improving your site's meta tags, sitemaps, schema markup, and more. Plus, it automatically optimizes your website for speed and performance.
Features:
Chatbots: The plugin has an AI chatbot with 22+ AI personalities. It automatically answers your queries.
AI Content: The plugin allows you to generate AI content that is finely optimized for SEO.
Product Description: You can use this plugin to generate an automatic description for your products.
AI Web Editor Playground: The plugin lets you connect with the web editor.

Which WordPress AI Plugin is Best For You?
The best WordPress AI plugin depends on your specific needs, goals, and the type of functionality you want to integrate into your website:
WordLift - if you are looking to create the best content for your site.
Elementor AI - if you want to want to create AI images.
SEOPress - for creating metadata and meta descriptions for your site.
WebsiteVoice - for adding voice to your written content.
Link Whisper - for creating internal links for your blog posts.
WordPress AI FAQs
Do I need technical expertise to use AI plugins?
Of course not! WordPress AI plugins are user-friendly and often come with step-by-step guides. So, you're not required to an advanced technical expertise to use AI plugins. 
How can AI plugins benefit my WordPress site?
AI plugins can benefit your WordPress site in several ways. They can automate tasks, improve user engagement, enhance content quality, provide personalized experiences, and optimize various aspects of your website for better performance and SEO.
Can I simultaneously use multiple AI plugins on my site?
Yes, you can use multiple AI plugins on your WordPress site at the same time. But make sure that all the plugins are compatible with each other to prevent conflicts, i.e., performance issues.
Is AI good for SEO?
Yes, a WordPress AI plugin is the best way to analyze your site's data in no time. It can help you design an effective SEO strategy. Using AI and SEO together allows you to rank higher than you ever thought in a short time.
Conclusion
We hope you now understand the importance of WordPress AI plugins. The 13 plugins discussed in this guide represent innovation in a new age of artificial intelligence.
Go ahead and explore the plugins mentioned above if you missed anything. Look into what they offer and find the perfect combination that suits your unique needs for your site.
Here is a quick recap:
That's all for the best WordPress AI Plugins. You may also like to read our articles about other useful WordPress plugins, including:
Which WordPress AI plugin helped boost your site?
Is there any other useful WordPress AI plugin that you are using?
Let us know by leaving a comment below!