17 Best WordPress SEO Plugins – Expert Pick (2023)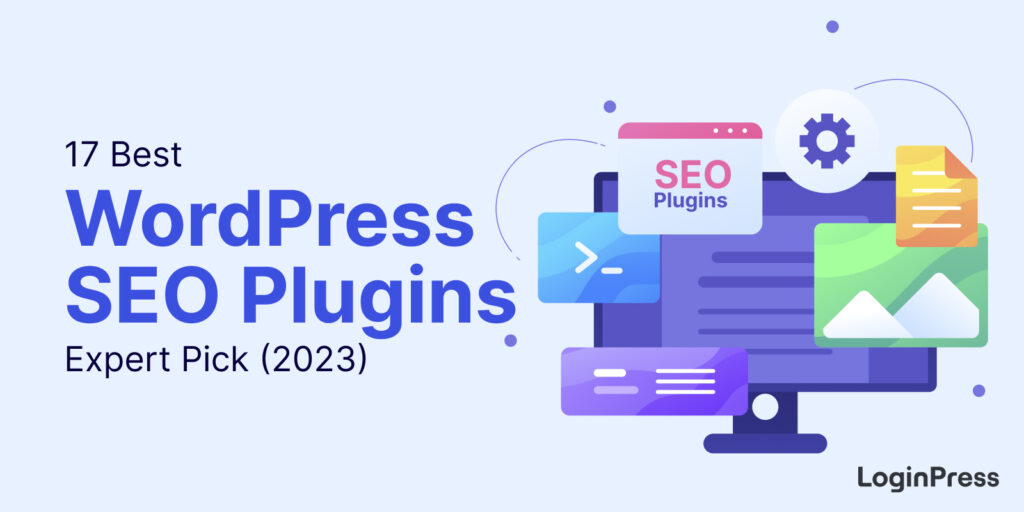 Are you looking for the best WordPress SEO plugin for your site that helps you rank quickly? You are exactly where you need to be!
Staying ahead of the competition is paramount in digital marketing's fast-evolving landscape. Optimizing for search engines is a necessary step toward achieving online visibility and success.
SEO plugins are the best way to help you propel your website to the top of search engine rankings.
In this article, we'll explore the 17 best WordPress SEO plugins that will help you improve your site's SEO performance.
Table of Contents
WordPress SEO (5 Things You Must Know)
WordPress SEO plugins help you optimize your web pages. These plugins have built-in features required to help you rank higher in search engine results.
Almost all SEO plugins target audience and traffic stats to improve your site's content and boost user engagement. So, we're here with 5 must-know things for an SEO plugin that will help you decide on the right choice, including:
Keyword Research: Keywords are the key to ranking higher in the search results. So, ensure that the SEO plugin has built-in keyword strategies.
Optimize Your On-Page Elements: See if the SEO plugin offers fine-tuned meta tags, headings, and other elements for better search visibility.
Sitemap Generator: See if the plugin enables you to create a sitemap to assist search engines in indexing your content efficiently.
Schema Markup: Schema markups help search engines better understand your site's content. So, look for an SEO plugin that allows you to create structured data, i.e., FAQs, Table of Contents, and more.
One SEO Plugin at a Time: Remember to use only one SEO plugin at a time for optimal performance and effectiveness. Using more than one SEO plugin at a time may result in plugin conflict.
Best WordPress SEO Plugins
We've curated a list of 17 best WordPress SEP plugins. Each plugin on this list has been handpicked for its unique strengths and proven track record of delivering the best results.
Let's get started!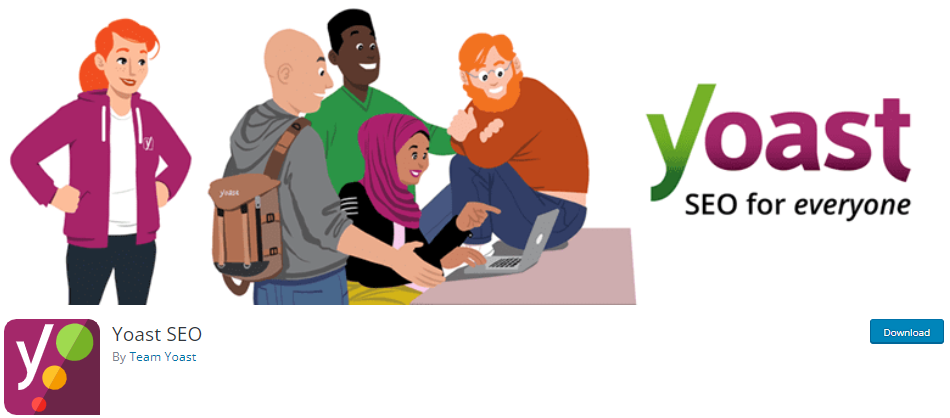 Yoast SEO is among the top-notch WordPress SEO plugins, trusted by over 5 million people around the globe. It's all about improving your online WordPress site's SEO.
The plugin has all the essentials to help your site rank higher in the search results. No technical SEO skills are needed to run it! Install it for free and get the confidence you need to optimize like a pro!
Yoast SEO understands the importance of a perfect site structure of a site. Therefore, it comes with an automatic XML sitemap for your site content. It makes search engines,i.e., Google, easily crawl your website and understand it as something worth adding to the search results.
When you are done, the plugin lets you see how your content will appear in the search results. See the image below to understand how it works: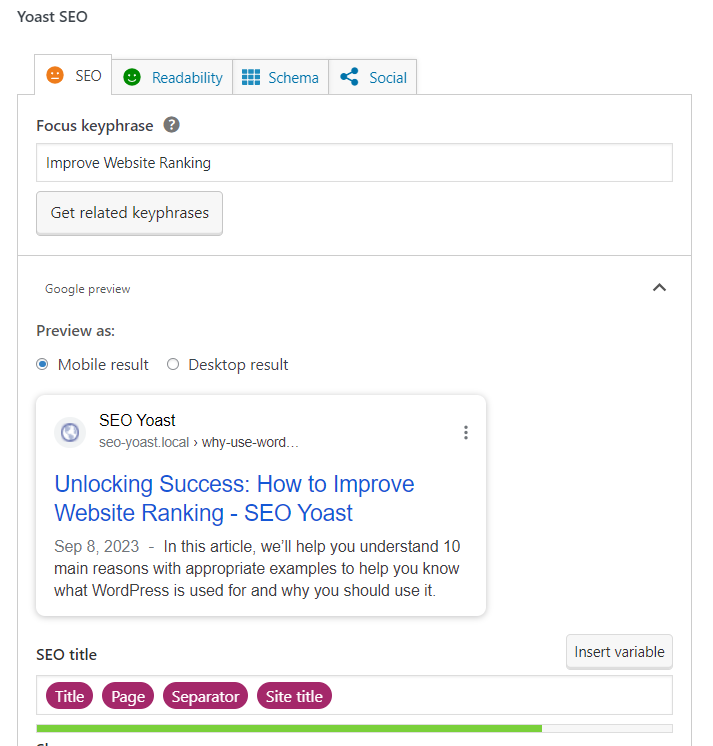 Features:
Readability: The plugin increases the readability of your content, i.e., vocabulary choice, transition words, use of active voice, consecutive sentences, and subheadings.
Paragraph and Sentence Length: The plugin auto-detects if your paragraphs and sentences are short enough to be easily understood by the reader.
Redirect Manager: It has a redirect manager that helps you avoid dead links on your site by providing internal linking suggestions.
Social media preview: You can see how your content will be viewed when shared on social media platforms, i.e., Facebook and Twitter.
Keywords: It helps you adjust your keywords in the content.
Pricing:
You can get started with Yoast SEO for Free. More powerful features are offered in premium version starting at $99 per year.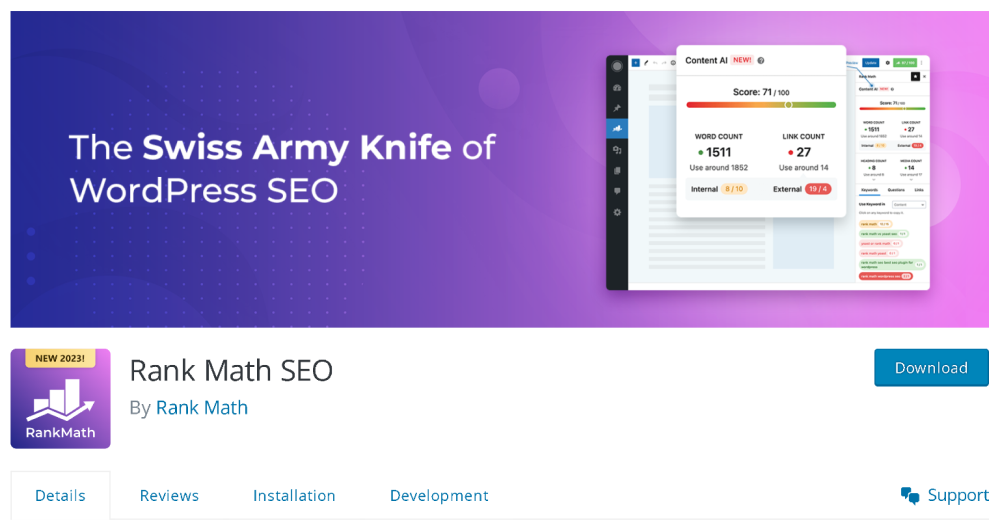 Rank Math SEO is among the best WordPress SEO plugins for many reasons. It has a user-friendly interface that helps with great SEO analytics that you can use to improve the content on your site.
The plugin helps you get better SEO insights into your site's content. You can see if the added keywords are working as planned. In case not, you can adjust them on the spot.
Rank Math has all the strategies for you that can help you make more informed decisions and strategies that can be more fruitful for you.
Features:
Basic SEO: Rank Math helps you with all the basics required for SEO, including using focus keywords in your content. For example, adding a focus keyword to the SEO title, adding a focus keyword to your SEO meta description, using a focus keyword in the URL, using a focus Keyword at the beginning of your content, and overall usage of the focus keyword in the content.
Use of Keywords: It checks whether the focus keyword appears in the subheading(s), image, and keyword density.
Links: It auto-checks the use of outbound links in your content.
Focus Keywords: The plugin lets you add 5 keywords to your content.
Title Readability: You can get the SEO result. It looks for if your title has a positive or negative sentimental word and if it contains a power word and a number.
Content Readability: Rank Math gives you a better insight into your content readability. It checks the usage of short sentences, short paragraphs, table of contents, and images and videos.
Analyze Competitor: The pro version analyzes competitor websites to gain an edge.
Pricing:
The basic version of Rank Math is available for free while the premium plan is starting at $5.75 per month.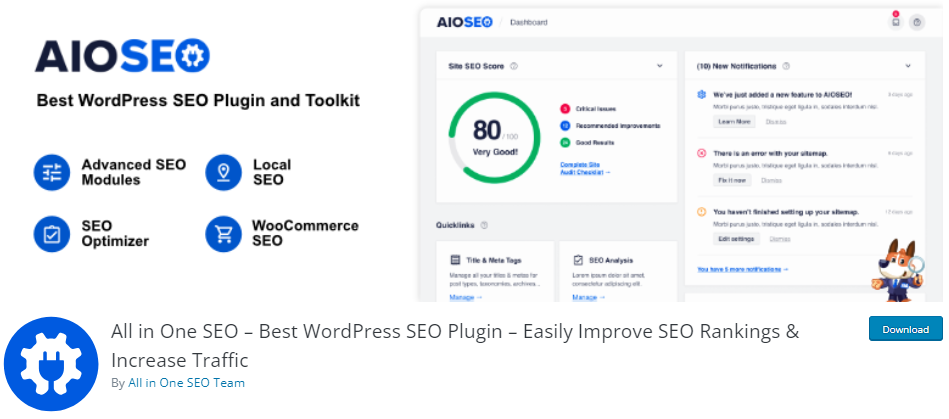 AIOSEO is another frontline WordPress SEO plugin trusted by over 3 million users around the globe. You can easily configure the plugin and get SEO settings for making your website search engine-friendly.
Besides this, the plugin opens opportunities for more advanced features that will help you increase your rankings and traffic.
AIOSEO is the best choice for you if you want to fix the SEO of your content on your own. That's why we built AIOSEO as the most comprehensive WordPress SEO plugin and marketing toolkit, so you can improve your website's SEO rankings and uncover new SEO growth opportunities in less than 10 minutes.

Features:
Headline analyzer: It automatically scores your headline.
Word Balance: It checks whether you've used Common Words, Uncommon Words, Emotional Words, and power words in your headline.
General: You can add everything to make your snippet work. You can adjust keywords, keyphrases, and internal and external links.
Readability: It has all the essentials that help you improve the readability of your content, like insights into paragraph length, sentence length, use of passive voice, and more.
Social: You can preview how your content will look when shared on social platforms, i.e., Facebook.
Schema: It lets you configure schema markup for your content.
Pricing:
You can get AIOSEO for Free. However, the premium version is available for $49.60 per year.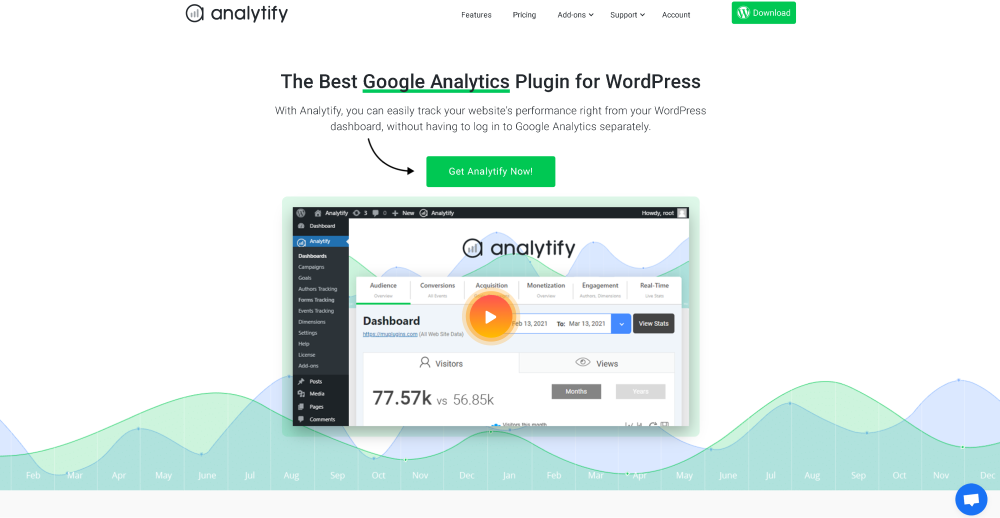 SEO thrives on data-driven strategies. It's better to keep track of your audience to measure the results of your SEO efforts, such as which posts or pages are getting the most clicks.
This is where Analytify jumps in to help you better know your WordPress audience. The plugin integrates Google Analytics easily. This way, you can get details about your site's tracking straight from your WordPress admin dashboard.
See the image below: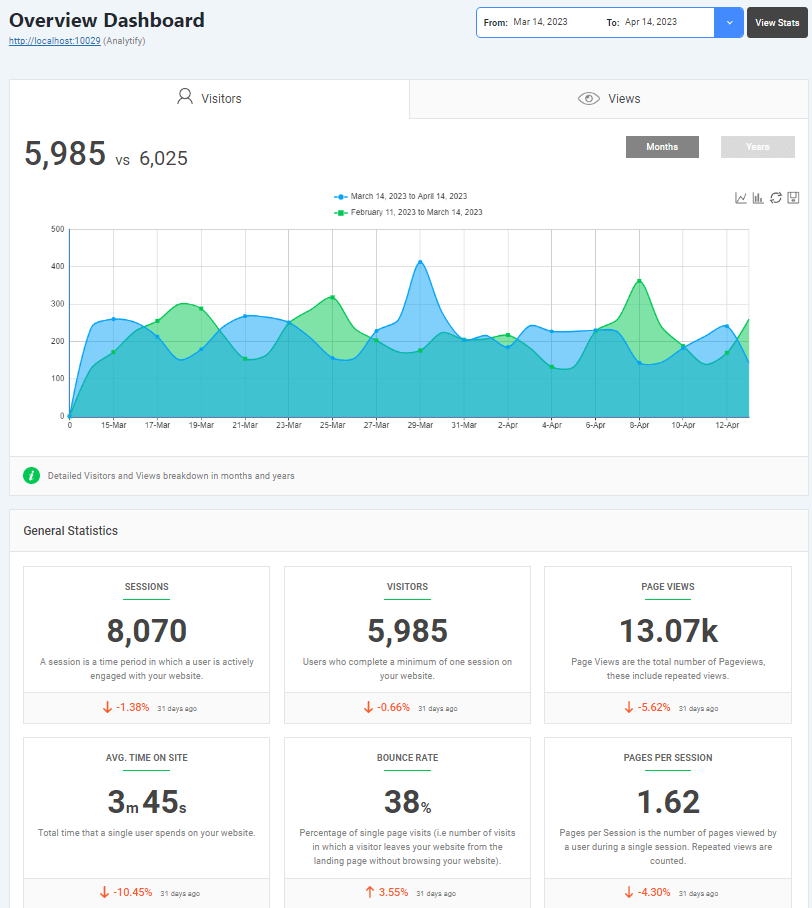 Once the plugin is installed and activated on your WordPress, you can access key Analytics reports in the admin area. This includes metrics like bounce rate, average visitor session duration, and more.
Use Analytify to track the effectiveness of your SEO efforts to their fullest potential.
Features:
Real-Time Tracking: Analytify provides a detailed insight into the real-time tracking of your site's visitors.
User behavior analysis: The plugin helps you understand your user's behavior, i.e., how much time they spend on a post.
Traffic Sources: You can quickly get insights into your web traffic sources. Find out how much of your traffic is organic, referral and direct.
Site Metrics: The plugin enables you to have a look at your site's metrics, i.e., top keywords, popular content of your site, top links, and more.
Enhanced Ecommerce Reports: The plugin lets you get specific information about how customers use your online store.
Forms Tracking: The plugin enables you to track form submissions on your website using Google Analytics
Events Tracking: You can use this plugin for better insight on popular events, i.e., clicks on links and file downloads.
Social Media Stats: You can easily see the number of visits your site is getting from social media platforms.
Pricing:
You can get the basic version for free. The premium version has more advanced features at $59 per year.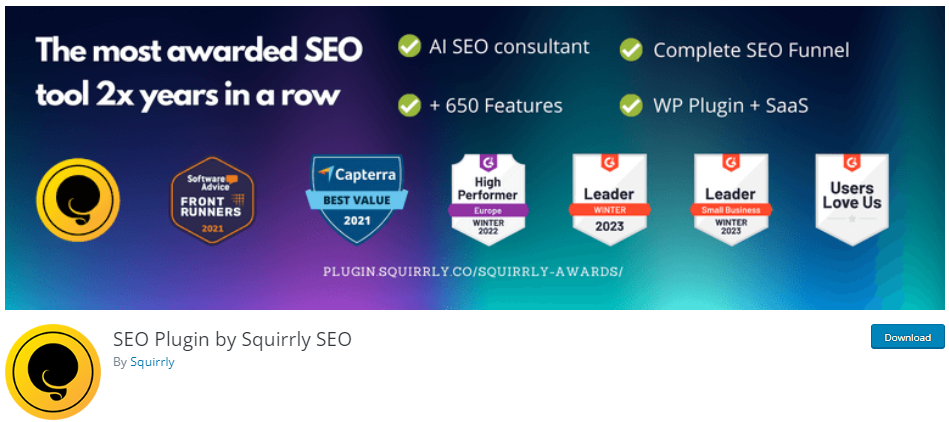 SEO Plugin by Squirrly SEO enables you to improve your WordPress site's SEO and rank higher on Google. You can easily monitor your progress.
You can easily optimize your WordPress pages with just a few clicks. Besides this, you can enjoy SEO Live Assistant, and blogging assistant brings real-time feedback for your content. It helps you determine how you can generate high-quality content for your site.
The plugin brings ease for you with keyword research. See what you get with Squirrly: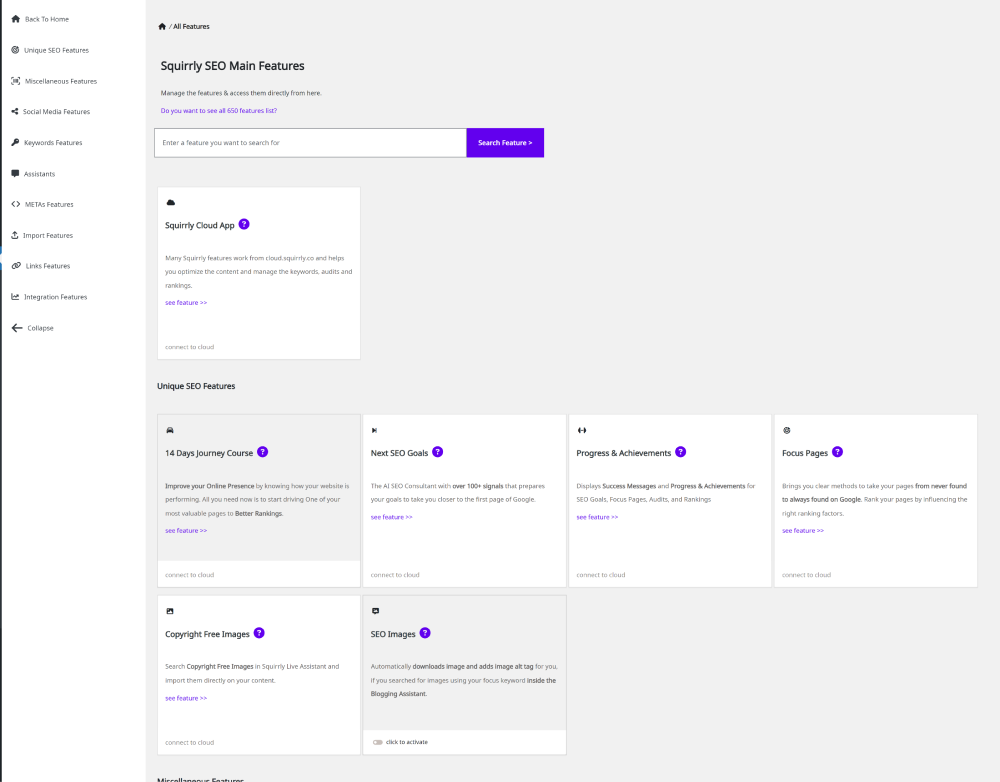 Features:
SEO Automation: The plugin optimizes every single URL on your WordPress site.
Master Control Board: It provides a Master Control Board where you can quickly work on your site globally and set up SEO.
Keyword Research Tool: You can get keywords based on demographics with the plugin's keyword research tool.
Focus Pages: The plugin is smart enough to analyze all pages of your WordPress site and tell you about high-priority tasks you should work on.
SEO Health: The plugin auto-checks your site's SEO health
Google SERP Checker: Squirrly offers a Google SERP checker that updates you on the SEO performance metric.
XML Sitemap Generator: The plugin offers a sitemap generator tool that ensures your site is well structured. It increases the chances that your site gets crawled and indexed by Google.
Pricing:
You can get the basic version of Squirrly for free. However, the premium version is available for you at $20.99 per month.
SEOPress is another top-ranked WordPress SEO plugin. It is built to help website owners and SEO professionals to optimize websites for search engines. It best helps you increase your online visibility online.
The plugin enables you to get all the essentials to help you optimize on-page. You can also easily optimize meta tags, titles, and descriptions. Plus, it lets you manage header tags and easily control indexation. All these things work together to help search engines understand your content better.
Features:
Titles and Metas: The plugin lets you easily manage all your titles and meta for post types, archives, and more.
XML & HTML Sitemaps: The plugin makes it easy to manage your XML, image, video, and HTML Sitemap.
Social Networks: You can add your social platform, i.e., Facebook, to the Google knowledge panel.
Tools: Import and export your plugin settings from one site to another.
Integration: It is fully integrated with popular WordPress plugins, including Weglot, WPML, WPRrocket, and more.
Pricing:
You can install the basic version for Free. To upgrade to the premium version, the option starts at $49.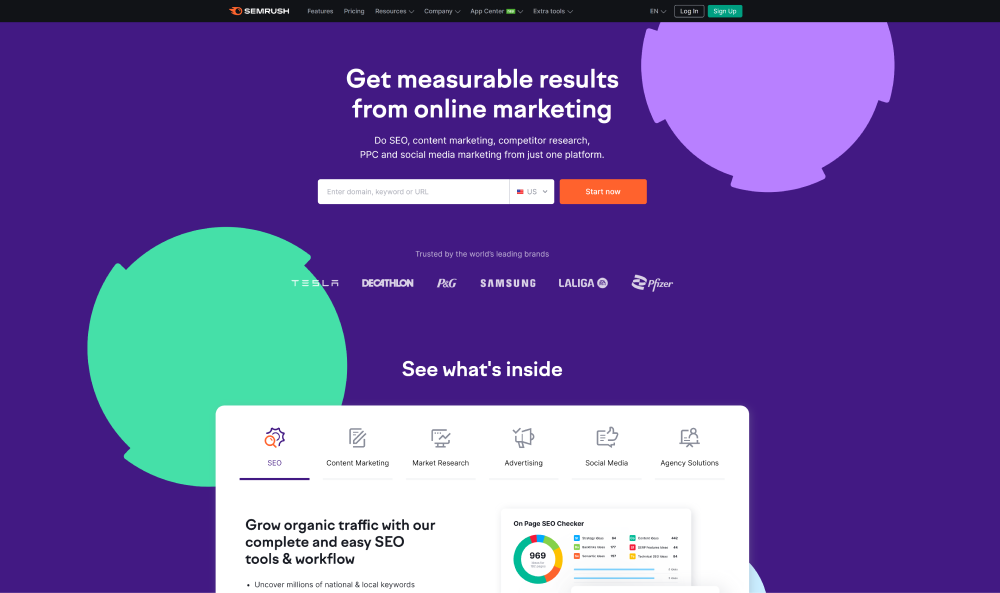 Semrush is a powerful SEO (Search Engine Optimization) tool that offers various features to help you improve your online visibility and performance.
The tool gives you full control over keyword research tool that helps identify relevant keywords for your website, i.e., you can get data on keyword volume, competition, and related keywords. Plus, you can track the ranking of specific keywords over time.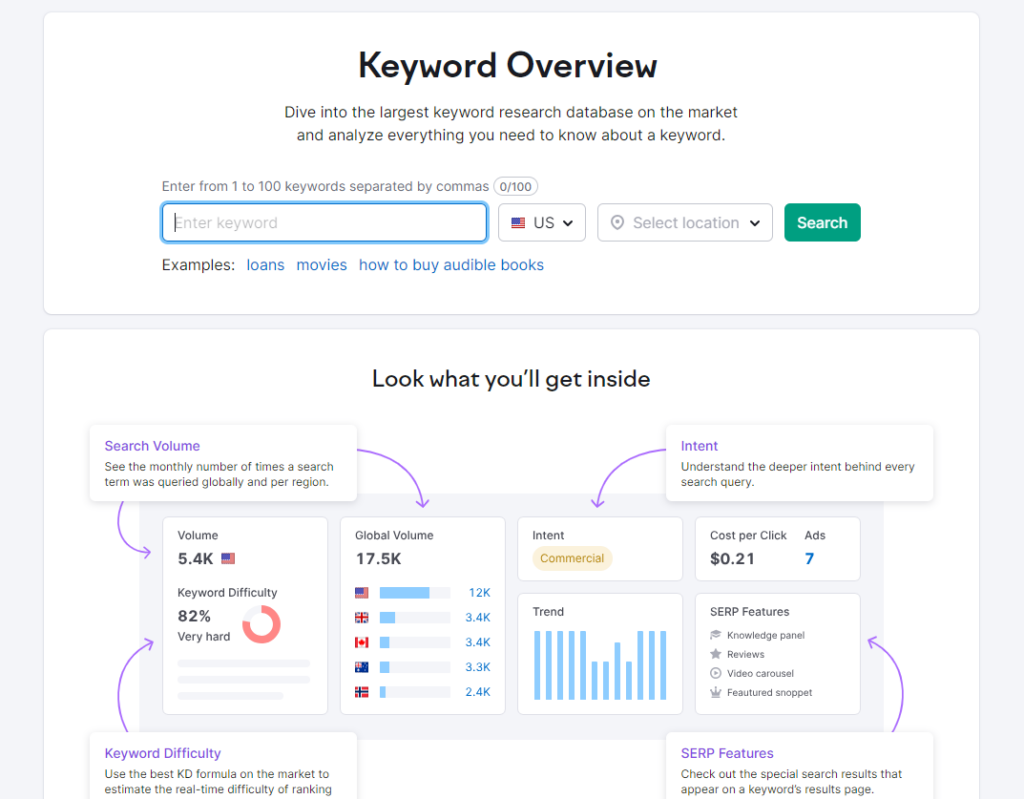 You can easily conduct a better site audit to check your site's technical issues, on-page SEO problems, and potential improvements. In addition, it provides recommendations for fixing issues that might be affecting your site's performance in search results. Cool right?
The plugin is smart enough to analyze specific pages on your WordPress site and suggest improvements based on best practices for on-page optimization.
Features:
SEO Dashboard: Semrush has an SEO Dashboard that provides a quick insight into what's currently going on on your and your competitor's site.
Domain Overview: The plugin provides an overview of a domain's online visibility. It best helps you get an exact picture of a WordPress site's online presence.
Keyword Magic Tool: Semrush provides a keyword magic tool that gives you a detailed analysis of any keyword you're looking to work on. It gives you keyword difficulty, search volume, related keyword variations, and much more.
Position Tracking: The plugin provides a position tracking feature that lets you track a WordPress site's daily rankings for a custom set of target keywords.
Organic Research Tool: You can use this plugin to learn about your site's top organic search competitors.
Keyword Gap Tool: The plugin has a keyword gap tool that conducts a side-by-side comparison between keyword profiles of up to five competitors.
Site Audit: It lets you know your site's health, analyze its crawlability and issues, and much more.
Competitor Analysis: The plugin helps you get competitor analysis to understand better
where your site stands. Plus, you can see what keywords they're ranking for and how much traffic they're getting.
Other Features: You can use it for on-page SEO checks, backlink analysis, advertising tools, and more.
Pricing:
You can get started with SEMRush at $129.95 per year.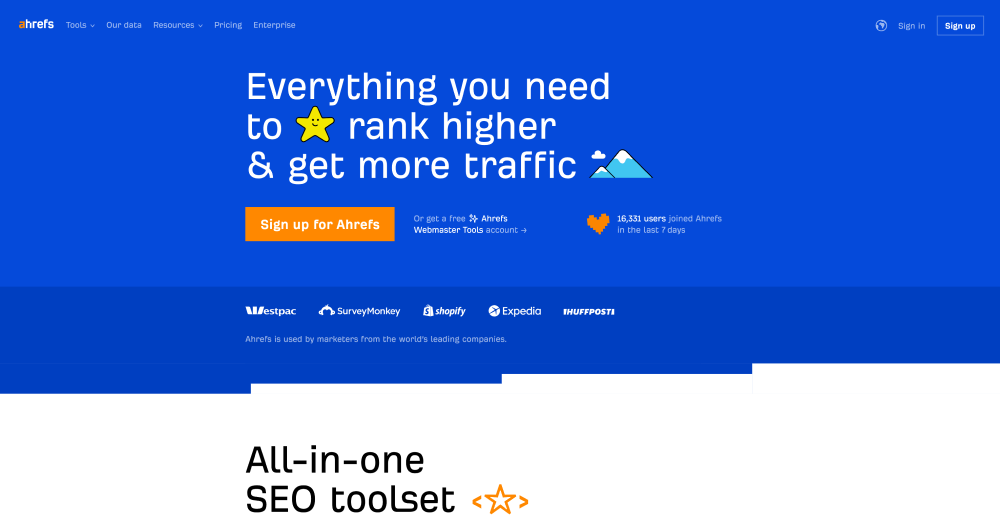 Ahref is another useful WordPress SEO tool that elevates your online presence. This tool can uplift your site's performance and outrank your competition.
Ahref is the best tool to help you go for comprehensive site audits, keyword research, backlink analysis, and more. Ahrefs empowers marketers, SEOs, and content creators to dominate search rankings from beginner to pro. Unleash the potential of your website today.
Features:
SEO Dashboard: Ahrefs has an SEO dashboard to see the details, including health score, domain rating, referring domains and backlinks, organic traffic, and keywords.
Organic traffic performance: This tool helps you know what keywords your competitors are ranking for.
Website structure: The tool helps you to understand the overall site structure, i.e., the total number of pages, the way they are organized, and more.
Alerts for New and Lost Backlinks: The tool helps you receive notifications for new backlinks gained or lost. It helps you stay aware of your link-building efforts.
Custom Reports: You can use Ahref to generate and customize reports for deep insights into your site.
Multi-Language Support: Ahrefs supports multiple languages, allowing you to conduct SEO research for different demographics.
Pricing:
You can get the Ahrefs at $99/month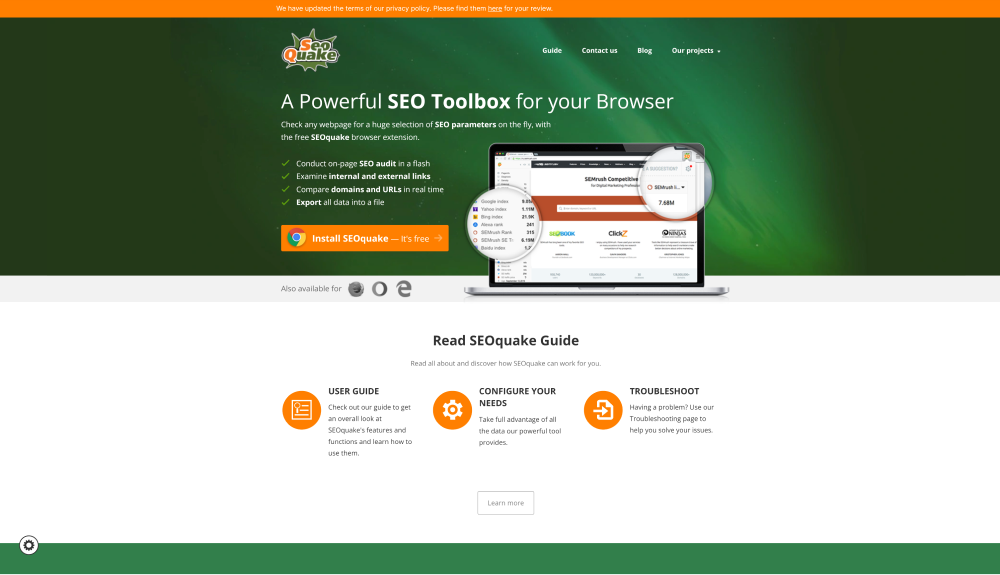 SEOQuake is a useful SEO tool with 3,000,000 downloads. You can get it as a browser add-on for Google Chrome, Mozilla Firefox, Opera, and Safari.
This SEO tool provides SEO-related information for a website, including page health, age, last update, Alexa rank, and more. It is quite popular among SEO professionals.
Features:
SEO Audit: The tool helps you with having an on-page SEO audit in a flash.
Links Examiner: You can use this SEO tool to examine the internal and external links of your site easily.
SEO Showdown: The tool helps you compare multiple domains and URLs for various SEO parameters.
Pricing:
Free.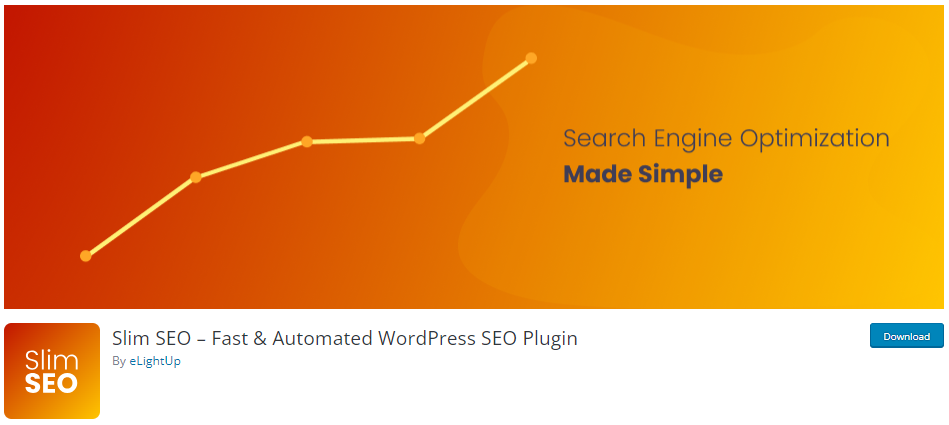 Slim SEO is a powerful WordPress SEO plugin. This plugin streamlines the process of optimizing your website for search engines. It ensures that your content gets the visibility it deserves.
Slim SEO automatically handles this critical aspect of SEO for you. Whether you're a seasoned SEO expert or just starting, Slim SEO provides the tools to boost your site's rankings and attract organic traffic.
Features:
Canonical URL Management: The plugin enables you to set canonical URLs.
Compatible with Popular Page Builders: It is compatible with popular page builders,i.e., Elementor, Beaver Builder, and more.
Slim SEO Schema: The plugin offers a visual schema builder.
Link Manager: The plugin helps you to create and monitor internal links in your WordPress site.
Regular Updates: The plugin maintains updates to align with the latest SEO best practices.
Pricing:
Free.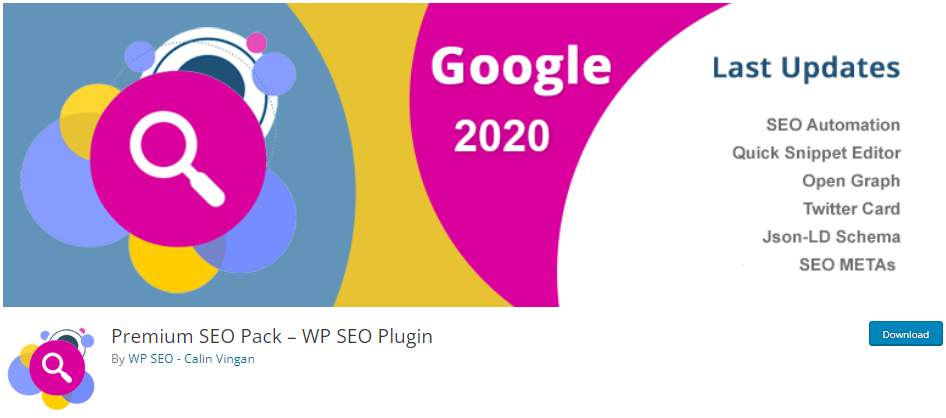 WP SEO Plugin boosts your WordPress website's search engine presence. The plugin empowers you to take full control over your site's visibility and rankings, ensuring it stands out in today's competitive online landscape.
You can use this plugin for improving on-page optimizations to social media integration.
Features:
SEO Patterns: The plugin brings SEO Patterns for each post type and custom post types.
Features: You can use it for titles, descriptions, keywords, and canonical meta.
Noindex Option: The plugin offers you Noindex and Nofollow options for each post type.
Post Preview: You can use this plugin to customize each page directly from the post preview top bar or the admin top bar.
Compatibility: The plugin works fine with all e-commerce plugins, i.e., WooCommerce.
Multisite Support: Premium SEO Pack works with WordPress multisite.
Pricing:
Free.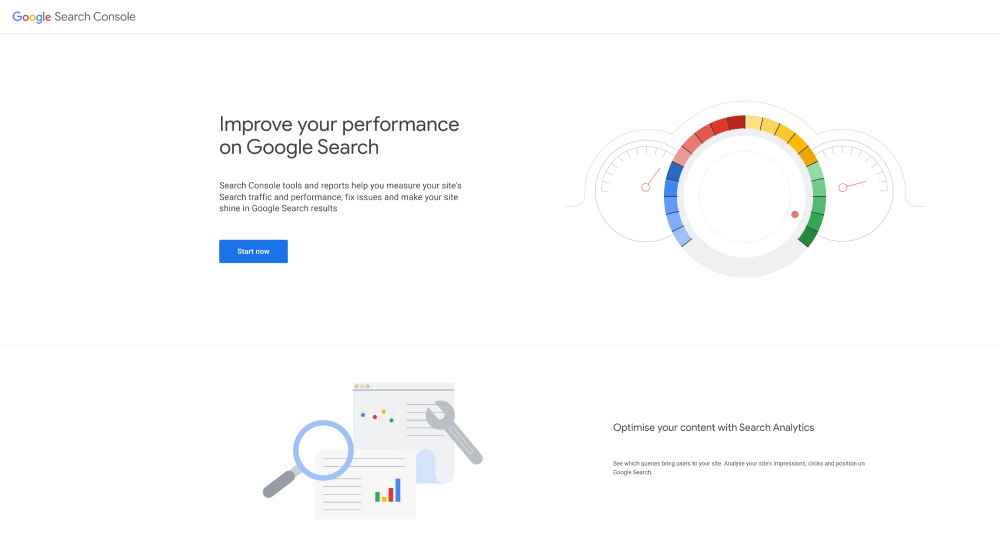 Google Search Console is another useful tool that can help you get detailed SEO performance data for your WordPress site. For example, you can see what keywords are getting more clicks on your site.
This tool is a perfect choice for you as it gives a complete insight into your site's performance. i.e., total clicks, impressions, clickthrough rate, and average position.
Features:
Sitemaps and Individual URLs: You can use them for submitting sitemaps and individual URLs.
Error Notifications: The tool sends you an email notification in case it finds any issue taking place on your site.
URL Inspection: You can use this tool to get detailed information from the Google index on crawl, index, and serving.
Mobile Usability Report: The tool provides a mobile usability report feature to help you determine why pages may fail on usability.
Index and Crawl Monitor: You can use this tool to monitor the indexing and crawling of your site.
Keywords: This tool helps you get keywords based on user's queries.
Metrics: The tool helps you get metrics of your site in terms of total clicks, total impressions, average CTR (click-through rate), and average position.
Track Search Performance: You can easily get an insight into the search performance of your WordPress site, i.e., how it appears in the search snippet.
Links: The tool helps you quickly review internal and external links used on your site.
Pricing:
Free.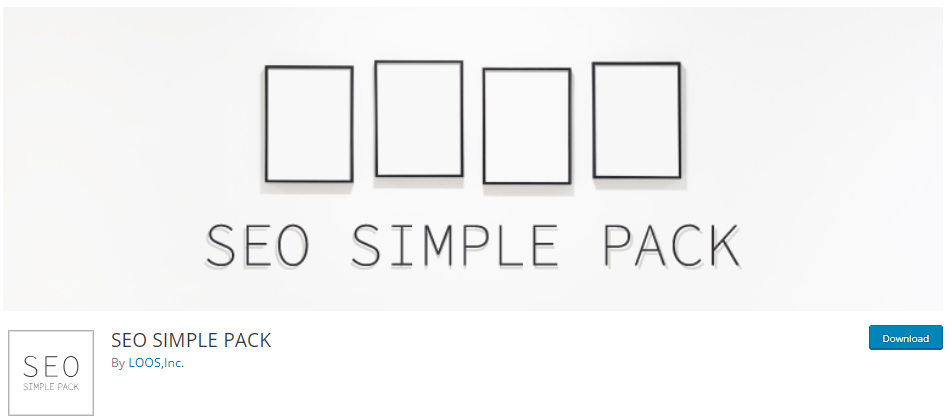 SEO Simple Pack is another useful WordPress SEO plugin that increases your site's visibility. It helps boost your site's owners and content creators to optimize their content effortlessly.
In today's competitive digital landscape, achieving a prominent online presence is crucial. SEO Simple Pack provides comprehensive features that streamline optimization, ensuring your website stands out in search engine results.
The plugin makes keyword optimization, meta tag management, and XML sitemap creation easier. It equips you with the tools to drive organic traffic and reach a wider audience.
Features:
Keyword Optimization: This plugin can optimize targeted keywords to improve search engine rankings.
Meta Tag Management: Optimize meta titles and descriptions to enhance click-through rates.
XML Sitemap Generation: Ensure search engines effectively crawl and index your website.
SEO Analytics: Monitor your website's performance with insightful analytics and reporting.
Pricing:
Free.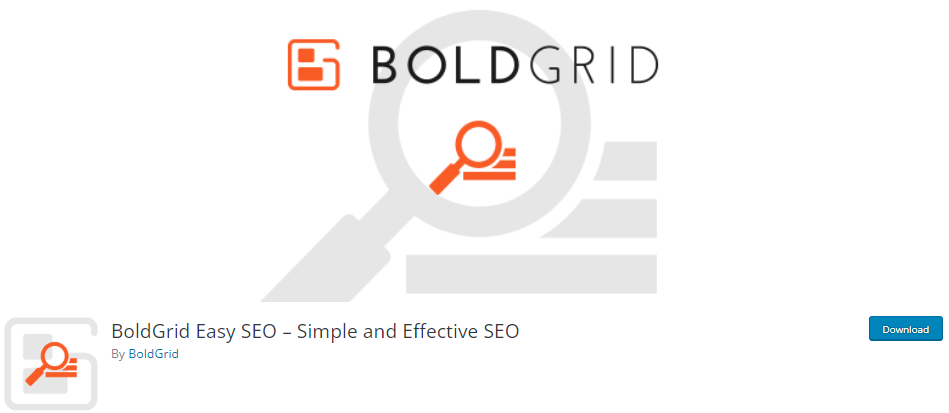 Next, we have BoldGrid Easy SEO in our best WordPress SEO plugins list. Just like other WordPress SEO plugins, it helps your content with more chances to rank higher in the search engines.
Based on the result, the plugin analyzes your page content in real-time and suggests how to maintain SEO for your site.
BoldGrid Easy SEO has its own dashboard within the WordPress admin dashboard, where you can take care of your on-page SEO.
Features:
XML Sitemap Generation: Automatically create and update XML sitemaps, allowing search engines to crawl and index your content effectively.
301 Redirects: Seamlessly manage redirects for pages, ensuring a smooth user experience and preserving SEO equity.
Image Alt Text Optimization: Enhance accessibility and improve SEO by easily adding descriptive alt text to your images.
Social Media Integration: Optimize your content for social platforms, ensuring it looks its best when shared across various networks.
Breadcrumb Navigation: Improve user experience and site navigation with easy-to-implement breadcrumb trails.
Google Analytics Integration: Effortlessly connect your website to Google Analytics for in-depth insights into your site's performance.
Bulk Editing Tools: Save time by editing meta information in bulk for multiple posts and pages.
Pricing:
Free.

According to the HTTP Archive, WordPress images get an average of 21% of a total webpage's weight. So, it's better to compress your images before uploading them to your WordPress site.
This is where TinyPNG helps you! Over 200,000 people around the globe use this tool. It compresses your WordPress images 4 or 5 times smaller than the original image without hurting its quality.
Features:
Types of Images: It supports optimizing PEG, PNG, WebP, or any other type of image.
Standard RGB Color: It automatically translates color profiles to standard RGB color.
Image Optimization: The tool automatically optimizes new images when you upload them.
Advanced Background Optimization: The tool offers advanced background optimization to speed up your workflow.
Support: it supports multi-stores.
Pricing:
Free.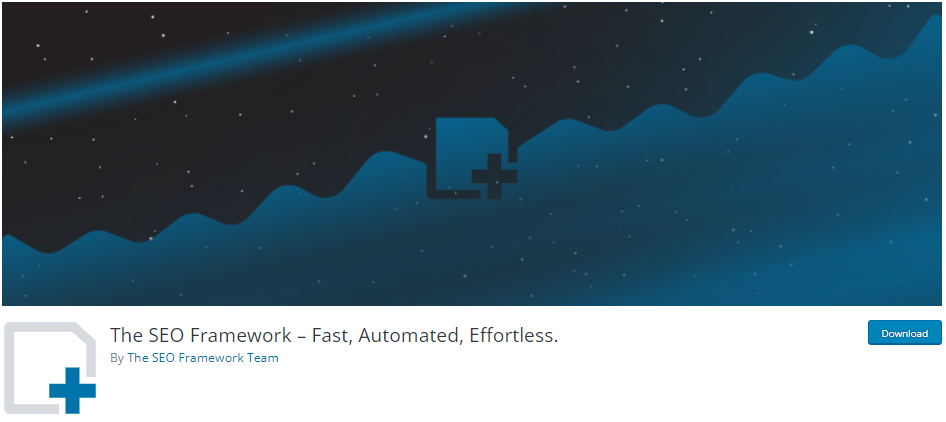 The SEO Framework is another useful WordPress SEO plugin. Regardless of your SEO skill level/knowledge, the plugin provides simple yet powerful website search engine optimization tools.
The plugin has a user-friendly interface. It has an easy configuration; activate the plugin, and it'll start taking care of your site.
Features:
Meta Tags: The plugin is smart enough to generate SEO meta tags.
Page Optimization: The plugin automatically optimizes your pages.
Color-coded Guidelines: The plugin has color-coded guidelines that help you improve your site's SEO.
Pricing:
The SEO Framework offers the basic version for Free. The premium version starts at $7 per month (paid yearly).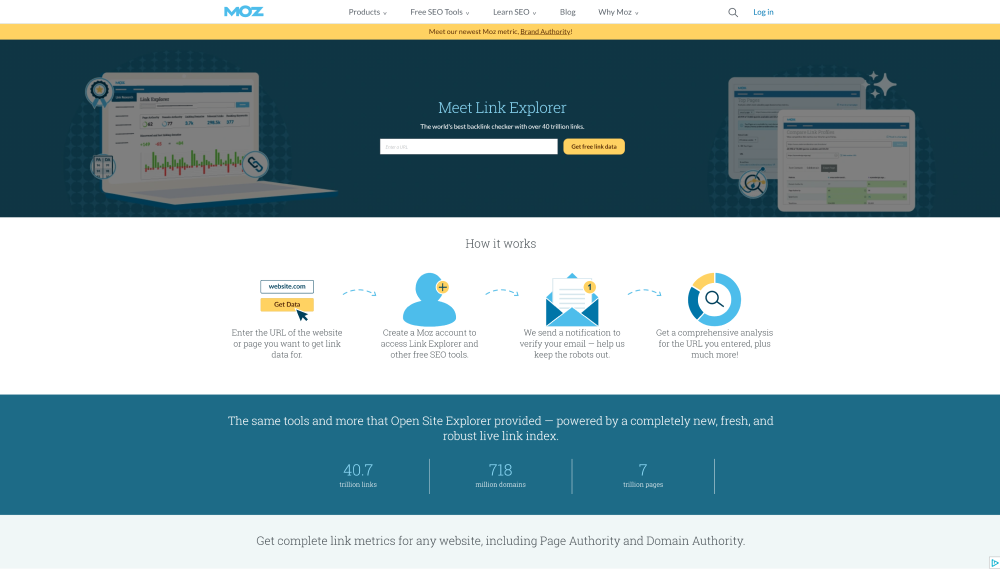 Moz Link Explorer is the best SEO solution for small businesses. It helps you get valuable clients with unparalleled data and insights.
The best part about this tool is that it identifies backlinks from over 40 trillion links for a domain. Plus, you can get a spam score rating for domains. This way, you can be confident in targeting a healthy domain with a low spam score. It results in the best SEO value for your backlinks.
Features:
Link Builder: The tool helps you in building links.
Analysis: You can easily go for SEO research and link analysis.
Lost Link Finder: You can easily track a lost link(s).
Domain Analysis: You can easily get competitive SEO metrics.
Keyword Explorer: It makes it easy to find the best keywords for your site that will help you drive more traffic.
Link Explorer: You can easily search for backlink data.
Pricing:
Free.
Which Is the Best WordPress SEO Plugin For You?
Each WordPress SEO plugin and tool mentioned above has specific features so you can choose which best suits your website.
Remember, you don't have to install every plugin mentioned above. Pick the one that matches your needs and business goals.
Different plugins have their own plus points like:
AIOSEO – Adds meta descriptions, meta titles, and on-page analysis directly on WordPress.
Analytify– Adds Google Analytics data to your WordPress dashboard.
Rank Math – A wide range of free SEO features.
SEOPress – Optimizes your site's technical aspects.
WP Rocket – Boosts your site's speed and performance
SEMrush – Best overall SEO analysis tool.
The effectiveness of any SEO plugin or tool depends on how well it's used in with a proper SEO strategy.
So, tell us about the best factors to consider when selecting an SEO plugin that meets your current needs.
WordPress SEO FAQs
Why is SEO important?
Search Engine Optimization (SEO) is important for your site as it helps you increase your site's visibility in the digital landscape. Plus, it drives more traffic to your site, resulting in the overall success of your business.
Can you do SEO on WordPress?
WordPress, the top-notch content management system, brings flexibility to install SEO plugins to your site. It brings ease to structure, manage, and publish your content in an SEO-friendly way. 
Is there a free SEO Plugin for WordPress?
Numerous free SEO WordPress plugins, i.e., Yoast SEO, are available. It's a popular plugin with over 5 million active installations, good reviews, and more. Use the plugin for potential improvements to your WordPress pages.
What is a WordPress SEO tool?
WordPress SEO tools are designed to cater to your SEO needs, i.e., help find the best keyword, keyphrase, traffic check, analytics of your site's pages, keep track of competitors, and more.
Can I have 2 SEO plugins in WordPress?
There are hundreds of SEO plugins available. It is recommended to use only one SEO plugin at a time for optimal performance and effectiveness. Using more than one SEO plugin at a time may result in plugin conflict.
Conclusion
We hope now you understand the importance of SEO plugins for your site. When it comes to selecting the optimal WordPress SEO plugin for your site, there are a variety of free and premium options available.
To help you make an informed decision, we've shared the list of the best WordPress SEO plugins that can help you optimize your WordPress site and get organic traffic.
By incorporating the right SEO plugins into your WordPress site, you're setting yourself up for success in the competitive world digital landscape. Continue to refine your skills and watch your rankings soar.
Now that you've identified your site's ideal WordPress SEO plugin, it's time to explore other impactful plugins to elevate your site's performance. Check out our guides on:
Well, that concludes this article!
What's your preferred WordPress SEO plugin? Share your thoughts in the comments below.