Why Use WordPress in 2023? [10 Amazing Reasons]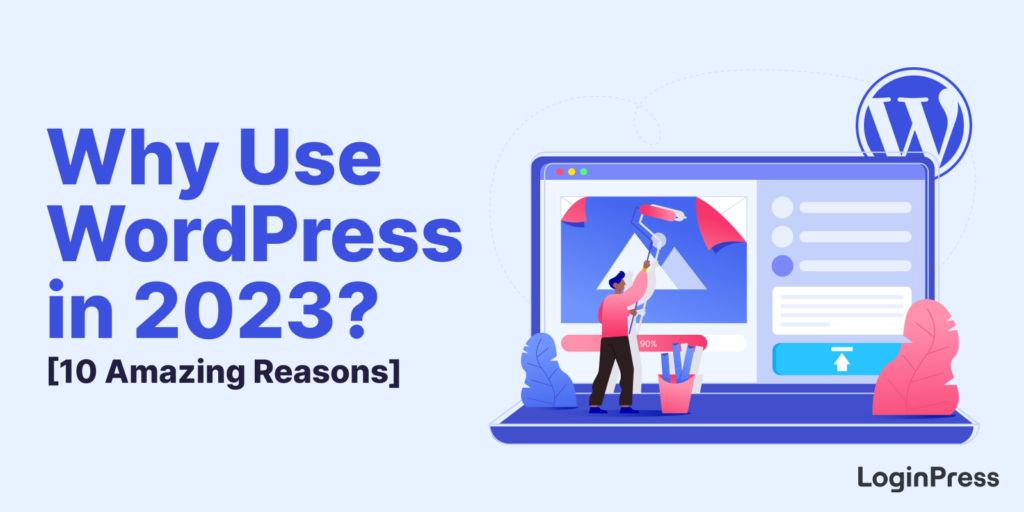 If these doubts are lurking at the back of your mind, 'Why use WordPress in 2023?' and 'What prompts the need to migrate from an existing platform to WordPress?'
You've landed on the right article!
In this article, we'll help you understand 10 main reasons with appropriate examples to help you know what WordPress is used for and why you should use it.
Let's unveil the most important reasons to use WordPress in 2023.
Table of Contents
What is WordPress Used For?
WordPress is the most popular open-source content management system (CMS). It lets you create any website, like blogs, online stores, and more, without writing a single line of code.
WordPress offers a user-friendly dashboard that helps you to manage your website easily. In addition, it has thousands of themes and plugins that help you build the website you imagined.
Now that you know what WordPress is, let's dive right in to unveil the reasons that will prompt you to build your site using WordPress!
Why Use WordPress? (Top 10 Reasons)
1. WordPress is a Free CMS
WordPress is a free, open-source content management system (CMS). You can download, install, and use it without any initial cost.
Billions of users prefer WordPress for their websites.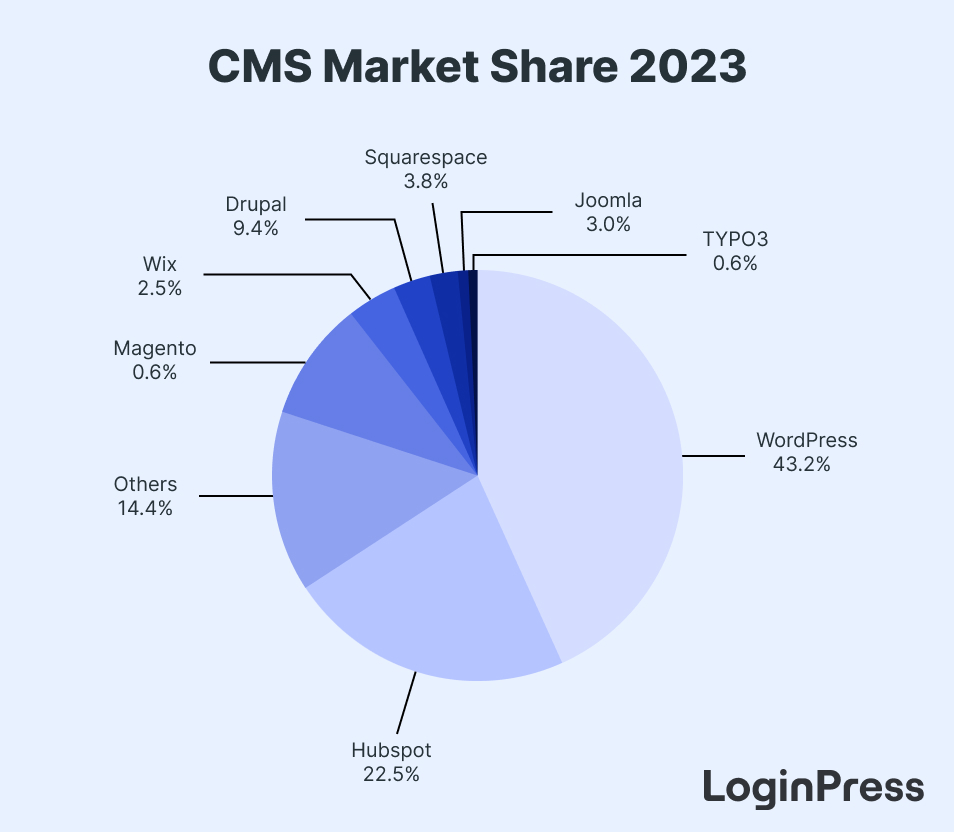 Although WordPress doesn't cost you a dime, you must shell out some cash for web hosting.
1.1. WordPress.com VS. WordPress.org
WordPress has two main versions, including WordPress.org and WordPress.com. It's important to understand the differences between the two platforms. It will help you determine which one best suits your needs.
Look at the comparison table for a better understanding:
| WordPress.com | WordPress.org |
| --- | --- |
| WordPress.com is a hosted platform that offers an all-in-one solution for creating and managing websites. | WordPress.org requires you to purchase a domain and web hosting to set up and run a WordPress site. |
| WordPress.com offers a free version but with limited functionality. | WordPress.org is fully free. |
| You cannot install themes and plugins, or create custom code without purchasing the premium version. | You can install themes and plugins, create custom code, and build any website you envision for free. |
| It offers limited options to help you make money. | WordPress.org lets you sell advertising. |
| WordPress.com handles all maintenance on its own. | WordPress.org requires you to maintain your site on your own. |
In a nutshell, both platforms have their strengths and cater to different user preferences. So, the choice depends on your goals and level of expertise.
2. WordPress Requires No Coding Skills
One of the most important aspects of WordPress is that you don't necessarily need coding skills to create a website.
It's not wrong to say that WordPress is the perfect choice for those who are not tech-savvy. Its user-friendly interface simplifies the process of designing your site.
A standard WordPress dashboard view: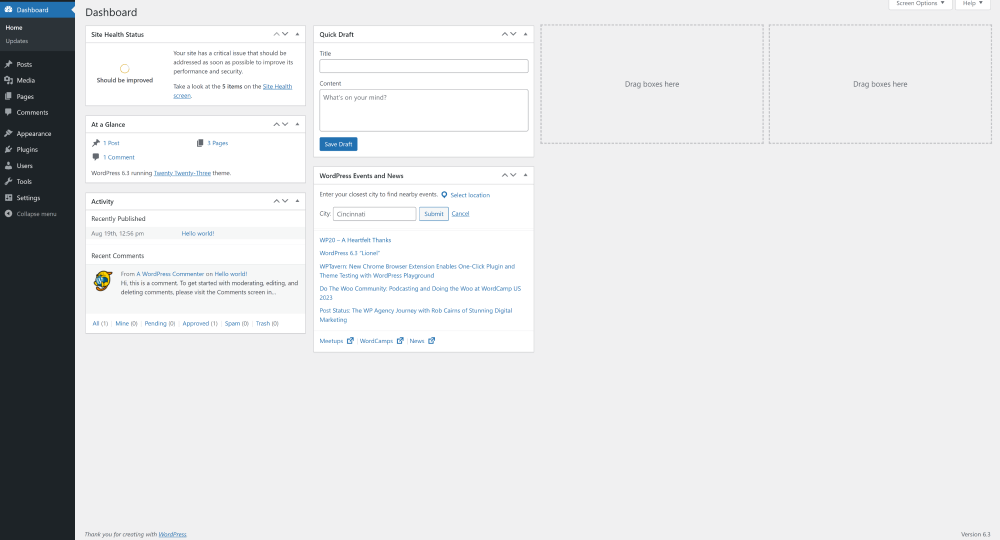 You can see that the WordPress Dashboard has menu options, including Posts, Media, Pages, Comments, Appearance, Plugins, Users, Tools, and Settings on the left side.
You can navigate to any menu from the WordPress dashboard menu and start working with that option.
Let us describe a scenario: You want to create a page.
All you need to do is hover over the Pages option in the WordPress menus and click the Add New option.

You'll get all the options to create a desired page on the next screen.
See the image below: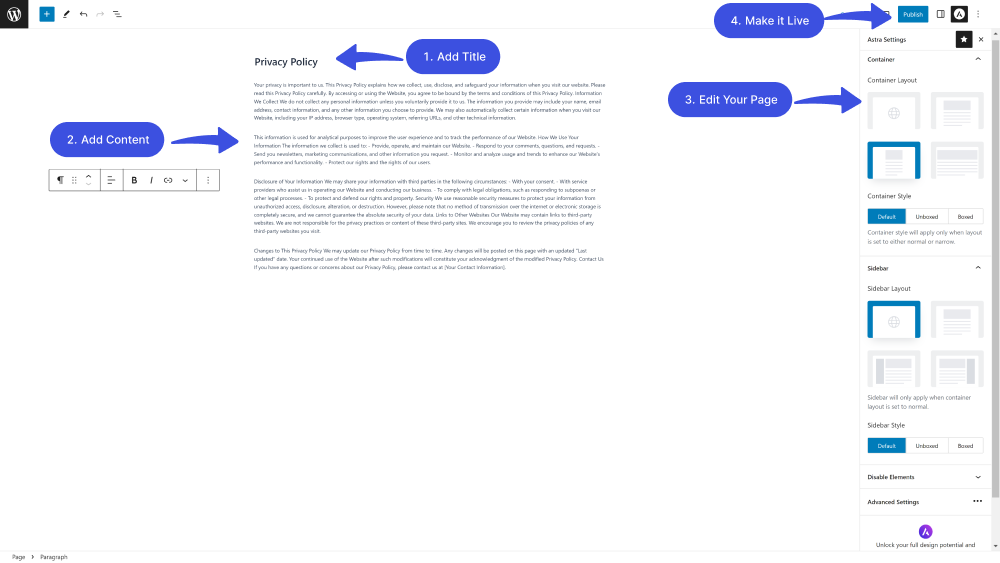 Want to know a fun fact? The same goes for the rest of the WordPress dashboard menu items.
3. WordPress Offers Endless Design Customization
Why use WordPress? WordPress offers a variety of pre-designed themes available for free. You can modify colors, fonts, and layouts without touching a single line of code.
WordPress themes allow you to easily choose a look that matches your business straight from your WordPress admin dashboard.
For example, if you are a photographer, you can select a WordPress pre-designed photography theme for displaying your photographs.
To choose a theme, go to the left sidebar of the WordPress admin dashboard, navigate to Appearance, and click the Add New option.
On the next screen, you can search for the desired theme in the search box. When you find the result, click the Install and then Activate button.
See the image below: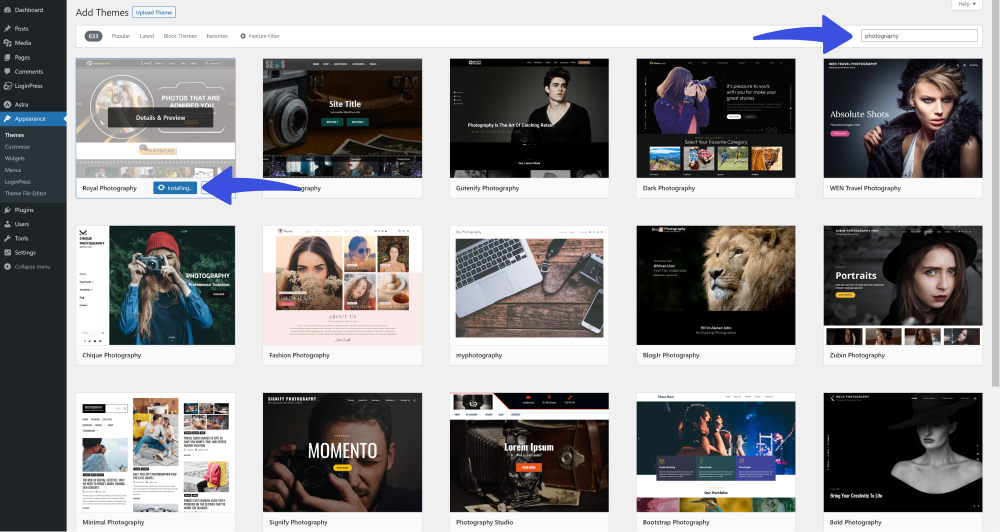 3.1. Customize the WordPress Theme
Go to Appearance > Themes > navigate to the Active theme > and click the Customize button to customize the theme.
On the next screen, you'll find all the options inside WordPress Customizer in the left menu sidebar. Make all the changes and keep track in real-time on the right-hand side before making the changes live.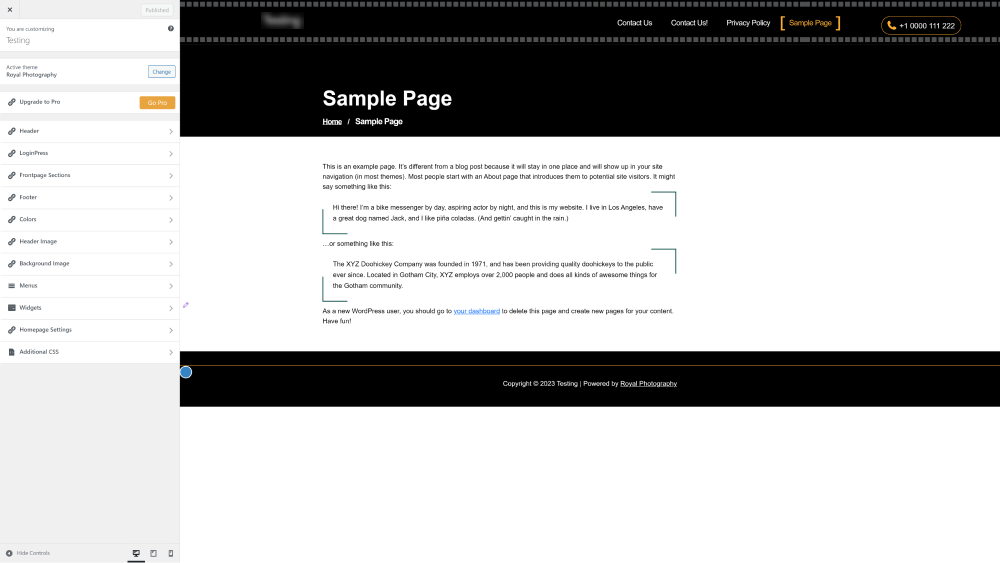 3.2. Customize your Login Page
The default WordPress login page lacks branding for your website. It is a good idea to add a touch of your brand's identity using a WordPress login page customizer.
You can use LoginPress, a WordPress login page customizer plugin, to add a touch of personal identity to your login page.
It offers everything that helps you make your login page exactly match your brand.
See the image below: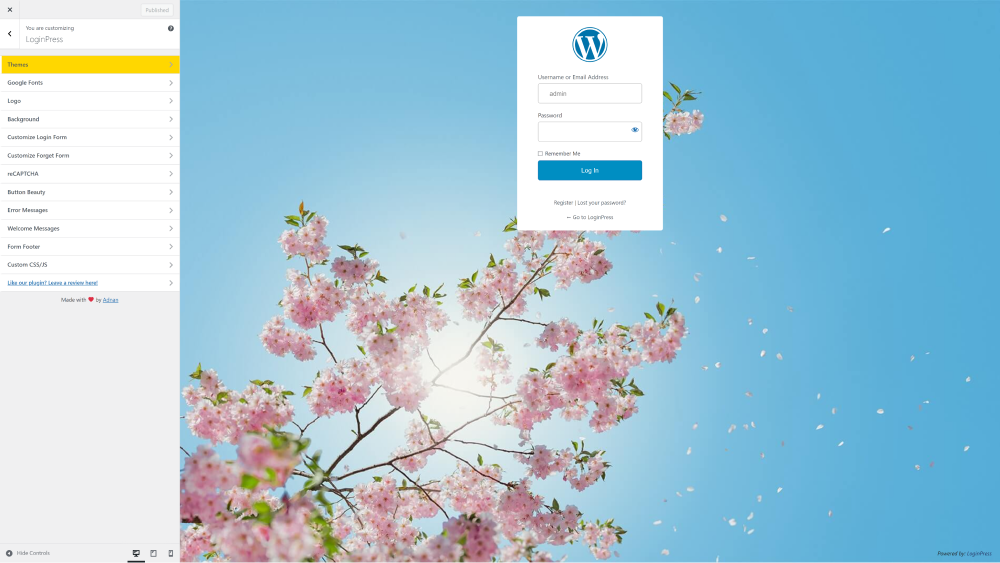 4. WordPress Is SEO-Friendly
Whether you're a seasoned developer or a small business owner, you must consider creating an SEO-friendly site. Because SEO mainly focuses on improving your site's ranking. In addition, an SEO-friendly website:
Brings in more organic traffic.
Provides more chances for content promotion.
Generates quality leads.
Improves conversion rates.
This is where WordPress again jumps in to make your online presence shine. It has all the essentials that help you create an SEO-friendly site, like:
Custom Domain
SEO friendly URLs
Manual override for URLs
Canonical links
Breadcrumbs
H1 headers
Subheader control (H2, H3)
Focused keyword assignment
On-page optimization scoring
Image alt text
Link anchor text
Featured image for social
Social sharing buttons
WordPress is fully compatible with SEO plugins that help you rank higher in the search results, including:
4.1. How WordPress is SEO-Friendly:
WordPress lets you create an SEO-friendly website. Here are some key factors to consider when choosing a theme that's best for SEO:
User Experience: WordPress helps you create a well-defined website. Users will prefer spending more time on a well-structured site. It may result in a reduced bounce rate and better SEO ranking.
Optimizing Images: WordPress has themes with built-in image optimization features. You can use these themes to reduce image file sizes without compromising quality.
Better Load Time: WordPress is optimized for speed. It is important in enhancing user experience and positively impacting your SEO.
Mobile Responsiveness: WordPress enables you to create a mobile responsive website. Ensure your chosen theme is optimized for various screen sizes, i.e., desktops, smartphones, and more.
5. WordPress Is Secure
WordPress security is a topic many website owners take seriously. Like with any other platform, WordPress's security can vary based on how it's set up and maintained.
It's a widely used content management system, which means it's a common target for hackers.
However, the WordPress team consistently works to address vulnerabilities and keep release updates to keep the platform secure.
To ensure the security of a WordPress website, there are several steps you can take:
Keep Everything Updated: Regularly update your WordPress core, plugins, and themes. Outdated software can have vulnerabilities that hackers can exploit.
Choose Reliable Themes and Plugins: Stick to themes and plugins from reputable sources. Poorly-coded or outdated ones can open up security holes.
Use Strong Login Credentials: Set strong passwords for all user accounts, including the admin account. Using a combination of letters, numbers, and symbols is recommended.
Limit Login Attempts: Install a plugin that limits the number of login attempts. This helps prevent brute-force attacks.
Install Security Plugins: Various security plugins are available for WordPress that can add an extra layer of protection to your website.
Regular Backups: Regularly back up your website. In case of a security breach, you can quickly restore your site to a previous state.
Secure Hosting: Choose a reputable hosting provider with suitable security measures and support.
Change Default Settings: Change the default settings for your database table prefix and your login URL to make it harder for attackers to guess.
Implement SSL: Enable SSL (Secure Sockets Layer) to ensure data encryption between your website and visitors.
Monitor and Audit: Monitor your website for any suspicious activities. Regularly audit user accounts and remove any unnecessary ones.
Note: Remember, while these steps can significantly improve the security of your WordPress website. Almost every platform is vulnerable. It's important to stay vigilant and take essential security measures against such attacks to protect your online presence.
You can install security plugins for this purpose. We'll recommend using LoginPress Pro, as it has all the essentials that help you tighten your site's security, including:
6. Flexible Functionality
The flexibility of WordPress lies in its open-ended nature. It doesn't confine you to a rigid set of features or templates. Instead, it provides a canvas you can paint with your ideas, allowing your website to grow and evolve just as you do.
For instance, you can add plugins to your WordPress to add a desired functionality to your WordPress site.
Let's suppose you want to customize the default WordPress login page; all you need to do is to install a WordPress login page customizer plugin, i.e., LoginPress.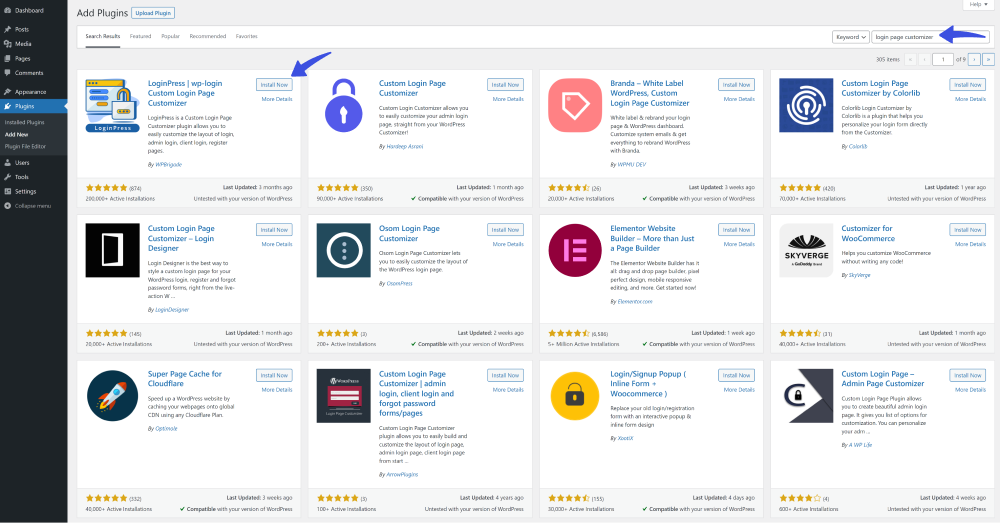 The plugin will give you full room to customize each element on the login page, including:
and more….
Other than this, you can choose from a wide range of themes to change the look and feel of your site.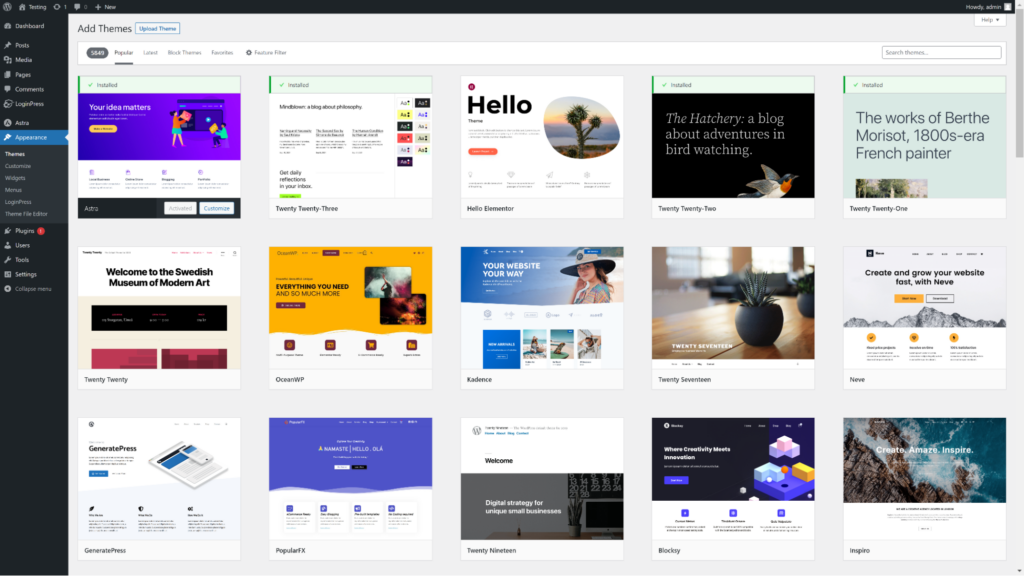 7. WooCommerce Integration
WordPress offers WooCommerce integration! It's like a perfect partnership. WordPress makes your site visually stunning, and WooCommerce adds store functionality.
It's like having a painter and a shopkeeper shake hands to create a beautiful store on your website.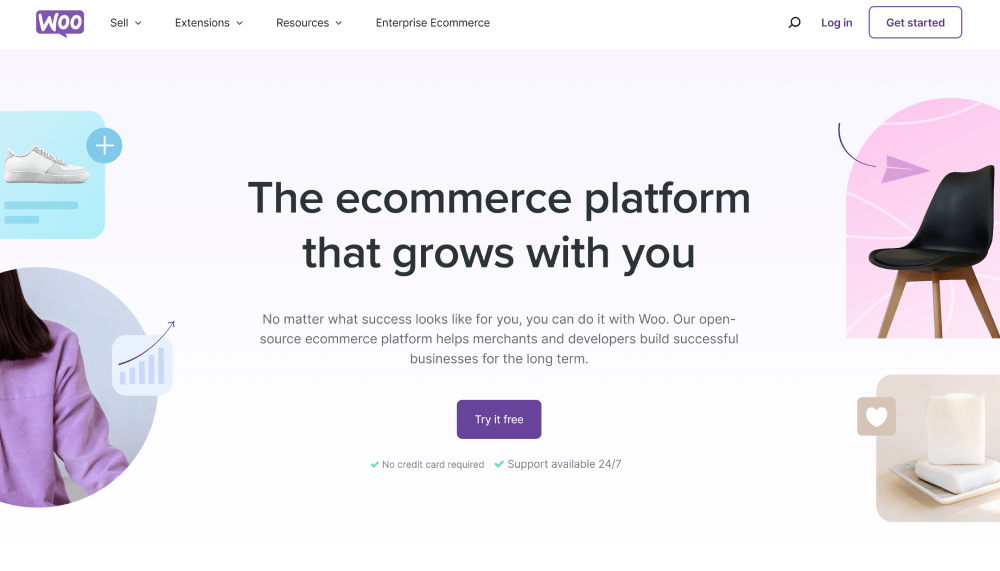 Combining them means you're not just making a store but crafting an entire shopping experience. It's as if your website becomes a lively marketplace where people can come, browse, and buy, all thanks to this awesome teamwork between WordPress and WooCommerce!
8. The WordPress Community
The WordPress Community is a group of individuals who share a passion for everything related to WordPress.
It's a global network that brings together developers, designers, content creators, bloggers, business owners, and others who use WordPress as a platform for their websites and online endeavors.
One of the most remarkable aspects of the WordPress Community is its open and inclusive nature. It leads to a vast repository of knowledge and resources freely shared among members.
With WordPress, you can quickly get online help. You can seek help from a forum or thread that shares the same experience.
9. WordPress Uses Google Analytics
Google Analytics is a powerful tool that allows website owners and businesses to gain valuable insights into their website's performance and user behavior.
By integrating Google Analytics into your website, you can track various metrics such as:
Website Traffic
User demographics
Popular pages
Referral sources
… and much more.
This information can help you make informed decisions to improve your website's user experience, content, and more.
This is where Analytify comes forth to help you understand your site in a better way. It is the best WordPress Google Analytics plugin with over 900,000+ active installations.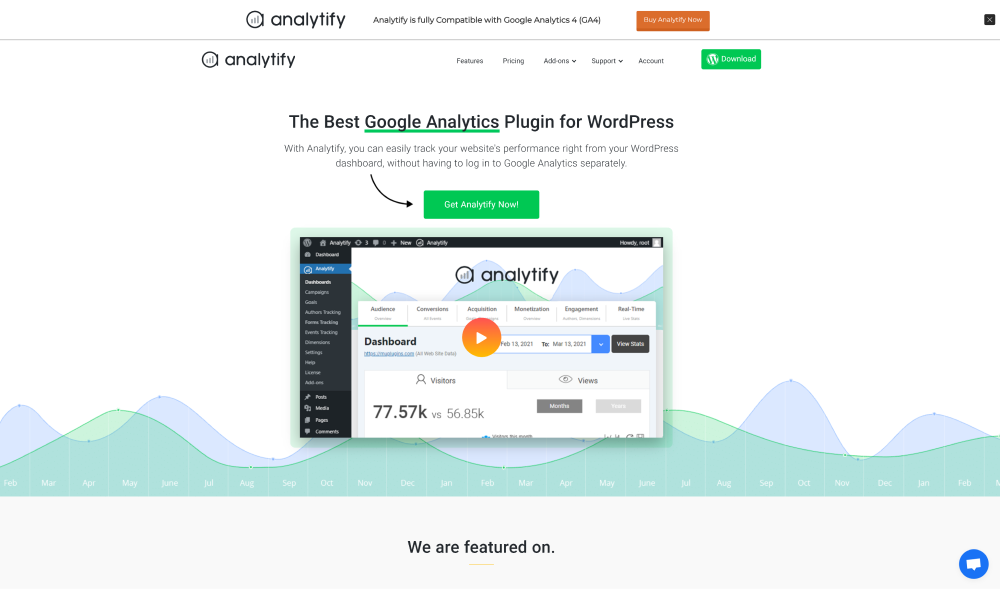 Analytify helps you get analytics straight from your WordPress admin dashboard. The plugin best fits you if you are non-technical and want to know everything about your site traffic, like:
General statistics, i.e., visitors, sessions, page views, average time on the post, and more.
It tracks custom posts, including portfolio, gallery, and testimonials for you.
It helps you learn where your visitors are and how they found your website.
In a nutshell, Analytify is there to help you understand your website's visitors better, just like you'd want to understand the people who walk into your physical store. It may seem technical initially, but with some exploration and practice, you'll start uncovering valuable insights to enhance your online presence and business success.
10. WordPress is Scalable
WordPress is scalable, meaning your website can grow and handle increased traffic, content, and functionality.
Scalability in WordPress is like having a flexible foundation. As your website's needs grow, you can adjust to ensure everything runs smoothly. It might involve upgrading your hosting plan to handle higher traffic, optimizing your website's code to make it more efficient, or using caching techniques to speed up page loading times.
WordPress scalability brings:
better user experience
reduced downtime
more opportunities for sales
Note: Sometimes WordPress is not scalable as it depends on a particular theme, plugins, web host, and many other factors. You should know that unoptimized versions of WordPress will need help to scale.
10.1. What is the Right Time to Scale WordPress?
WordPress scalability ensures that your website loads fast and delivers a great user experience (UX) even during peak traffic times.
Significant Events, i.e., Halloween, Black Friday, Christmas, and more.
Deadline-based events also bring the opportunity to scale your site.
Viral content is another source for making WordPress scalable.
Additional Benefits of WordPress
Here are some additional benefits of building your website with WordPress:
Mobile responsiveness: WordPress lets you create a mobile-responsive website. It adapts its layout and elements to fit various screen sizes, including smartphones, tablets, or other devices.
One-click website updates: One of the advantages of WordPress is the ability to update your website with just a single click. It saves time and minimizes the risk of website vulnerabilities.
Content Management: WordPress makes it easy to let you manage and publish content in no time.
Regular WordPress Updates: WordPress offers a convenient update system. It notifies the admin when new versions of themes, plugins, or the core software are available. '
WordPress Speed: WordPress offers optimization techniques to enhance the loading times of a website, like caching plugins, image compression, and more.
Make Your WordPress Website
Now that you know why you should use WordPress, let's take the next step and make your first WordPress site.
For building a WordPress site, you'll require:
A domain name and hosting, i.e., use hosting providers like Bluehost, GoDaddy, SiteGround, and WP Engine.
Next, install WordPress.
Now you can set up your WordPress website, like choosing the perfect WordPress Theme and creating Pages and Posts.
You can add the desired functionality to your WordPress using Plugins.
Note: Check our detailed guide on How to build your WordPress site.
Conclusion
We've dedicated much effort to informing you why you use WordPress in 2023 to build your online presence.
Here is a quick recap:
WordPress Is Free
No Coding Needed
Endless Design Options
WordPress Is SEO-Friendly
WordPress Is Secure
Flexible Functionality
WooCommerce Integration
The WordPress Community
WordPress Uses Google Analytics
WordPress is Scalable
Remember, these factors collectively contribute to a well-functioning and user-friendly website, enhancing user satisfaction and your ability to manage your online presence efficiently.
You may also like to read our articles on How To Build a WordPress Website [The 2023 Way] and How To Design WordPress Login Page Without Coding.
Now that you know what WordPress is used for and how it helps you build a website that speaks for your unique online presence:
Don't give it a second thought!
Try WordPress now and make your online presence shine!
That's all for this guide!
Leave a comment below to tell us how much it helped you understand the importance of a WordPress website.