How To Design WordPress Login Page Without Coding
When you are a brand or authority, everything is noticed by the audience, I bet you don't want to get embarrassed by showing your ugly Login Page to your customers. your login page and signup page default won't be a wise idea. So we are here to guide you on how to design a WordPress login page without coding
If you are selling the course or you have a membership website probably you need a login page or signup page for this. but leaving your login page and signup page default won't be a wise idea.
The Login page is considered as the main gate to your website, so you can't afford to keep the main gate undercoated while you have a nice and decorated house.
Customizing the WordPress Login and Signup pages is not difficult task, In this article you will be learning how to give your login page totally a new look even without touching a single line of code. This can help you to grow the authority of your brand and will make you more professional.
The Main Components Of WordPress Login Page
The login form of WordPress consists on different components. These components are Page background, Logo on Login Form, Customization of login form, Editing Back to Site button, Designing the Lost Password page, Designing the Register Page, and Customizing the Error Messages.
There are two ways to customize these components , the first method is manual that needs to do changes with code, the other method is by using plugin.
In this article we are going to use the plugin method to Customize the WordPress Login Page. We will use the LoginPress to WordPress custom login page.
How To Design Custom WordPress Login Page with LoginPress?
LoginPress is a WordPress plugin that is especially designed for Customizing the WordPress default login page. In other words you can call the LoginPress as login page builder, that allows to change the look of login page completely.
Once you install the LoginPress basic version it will change the default and ugly login page automatically, but you can design it further according to your requirements.
In order to design the WordPress Login Page without coding you need to go to LoginPress and click on the customizer. It will take you to customize where you will be able to design your Login Page components.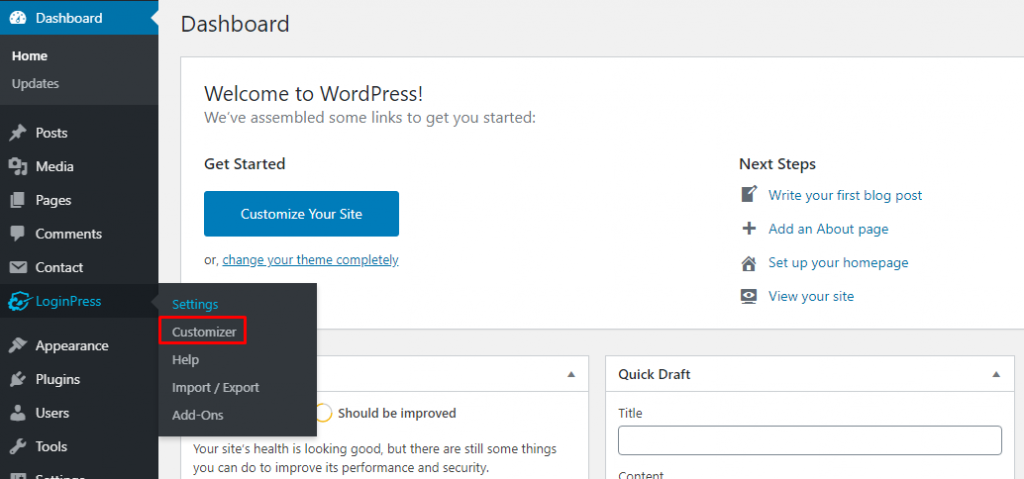 Inside the customizer there are different options to design the login page, If you are lazy enough and don't want to spend too much time in designing the Wordpress login page without coding, then you can use the pre-made template from the LoginPress template library. If you want to customize the page from scratch, you can design every single component one by one.
That's all! You can also check out How to Find the WordPress Login URL (Easy Guide) and How to Easily Change the Login Logo in WordPress.
Not using LoginPress yet? What are you waiting for?