How To Design WordPress Login Page Without Coding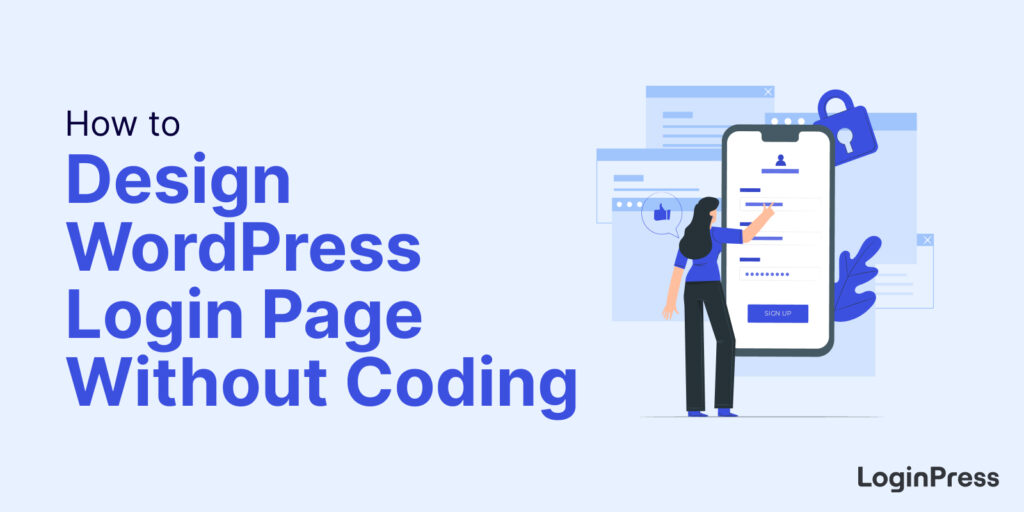 Are you looking to create a personalized WordPress login page for your site without any coding skills? We have just the solution for you!
It's effortless to transform the default login page into a visually appealing one with your brand identity. You can do this with the help of WordPress login page plugins. LoginPress is one of the best such plugins to help you out here. Get ready to define your unique login page design while keeping the login process secure for your visitors.
In this article, we'll show you how you can design WordPress login page without coding for your site.
So, without further ado, let's get started!
What Does the Default WordPress Login Page Look Like?
Upon successfully installing WordPress, you'll see the default login page has a gray background color, the WordPress logo, and input fields, including Username or Email Address and Password input fields.
Also, you can see the Remember Me checkbox, the Login button, and the Lost Your Password? Link, and Back to (site) link.
Here's what a default WordPress login page looks like: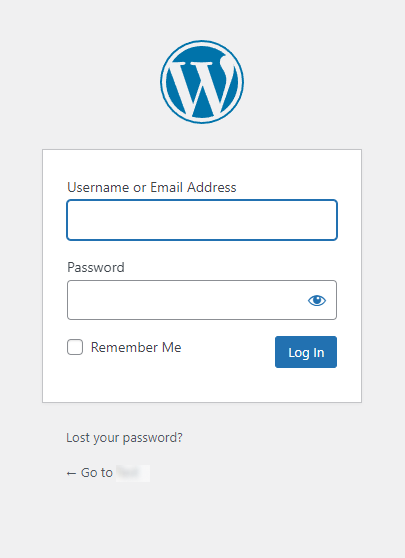 You'll want to change the default look of the login page to reflect the brand's identity.
Why Design a Custom WordPress Login Page?
A custom WordPress login page lets you enhance your WordPress site's branding, security, user experience, and marketing efforts. So, it becomes a worthwhile consideration for a site owner who values such aspects.
Designing a custom WordPress login page can offer several benefits, such as:
Branding: A custom WordPress login page lets you define your brand identity using a customized logo, background, and much more.
User Experience: A custom WordPress login page improves the user experience, making the login process visually appealing.
Professionalism: A well-designed WordPress login page adds a touch of professionalism to your site.
Security: You can add essential security measures, including reCAPTCHA, hide login, limit login attempts, and more, to add to the security of the login page.
Differentiation: WordPress websites often use the default login page, recognizable to anyone familiar with WordPress. Your WordPress login page can stand out from the competition with a custom login page.
Design WordPress Login Page Without Coding Using LoginPress
If you've decided to recreate the design for your default WordPress login page without coding, you can find lots of free plugins in the WordPress plugins repository that let you:
Swipe the default WordPress logo to a custom one.
Change the fonts of the login form.
Add a background image or color.
Fortunately, LoginPress is one of the best login page customizer plugins. It lets you customize every element on the login form. The best part about it? No coding skills or separate plugins are required, just pure customization at your fingertips!
Everything is done from the admin dashboard, where you also have the Live Preview option to track the changes to the login form.
Note: The point is that any changes you make on the login form will also apply to the native WordPress registration page.
Let's dive in and create a WordPress login page that reflects the essence of your website without any coding expertise.
Step 1: Install and Activate LoginPress
To customize your login page with LoginPress, you'll need to install and activate it in your WordPress.
For this purpose, go to the left sidebar of the admin dashboard, navigate to Plugins, and click the Add New option.

On the next screen, type LoginPress in the search field and look for LoginPress | wp-login in the search results.
Once you find it, click on the Install Now and then Activate button.
Note: LoginPress is added to your WordPress.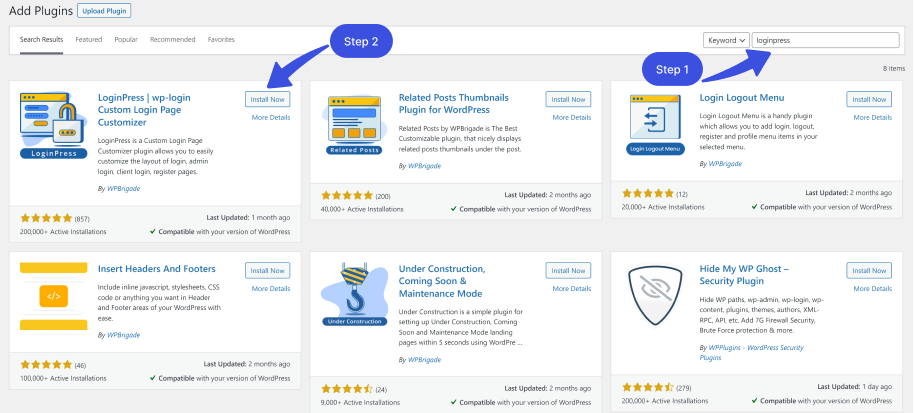 Step2: Start Customizing
Now you can select LoginPress in the WordPress menu sidebar.
To get started with customization, head to the LoginPress; here resides the plugin's main functionality, i.e., Settings, Customizer, and Add-Ons.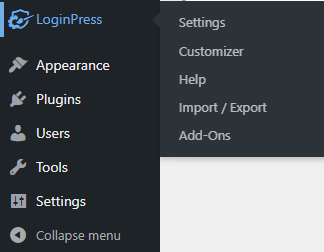 Let's explore the mentioned features:
Settings Section
The Settings option helps you control the overall behavior of the WordPress login form. For example, you can customize the Session Expire time, auto checkbox the Remember Me option on the login form, and add Custom Password Field on the Registration form.
Furthermore, you can change the default login order, i.e., Username or Email Address, to Only Username, Only Email Address, or continue with the default WordPress login order.
To use the following options, click the Save Changes button to enable the desired option.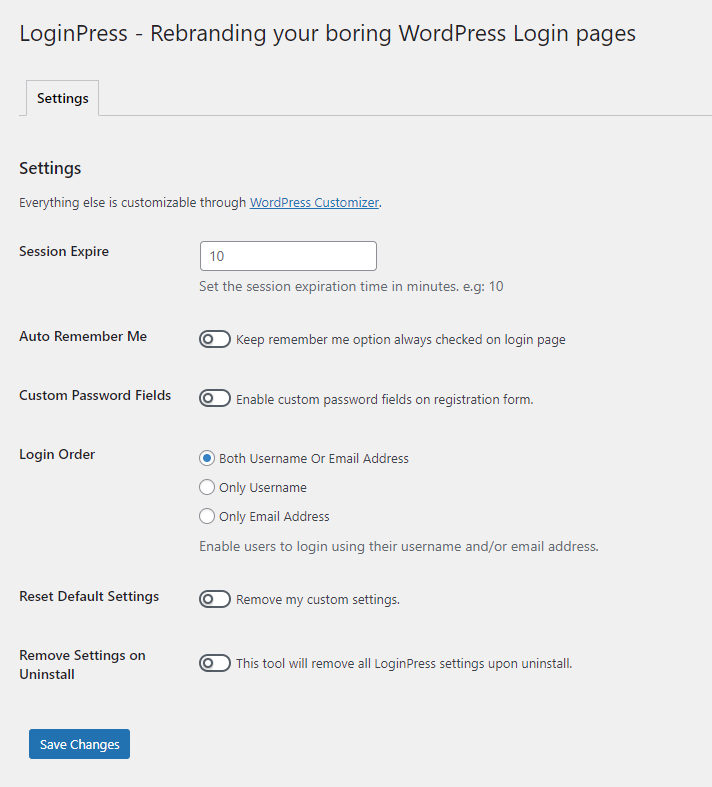 2. Customizer Section
Usually, you need some CSS know-how to customize your default WordPress login page but not with LoginPress.
All you need to do is to use any of the built-in options, including Theme, Logo, Background, and more.
You can also change the default Error Messages and Welcome Messages and turn the login page exactly what you want.
All you need to do is to select an option, make changes, and click the Update button to make the changes live.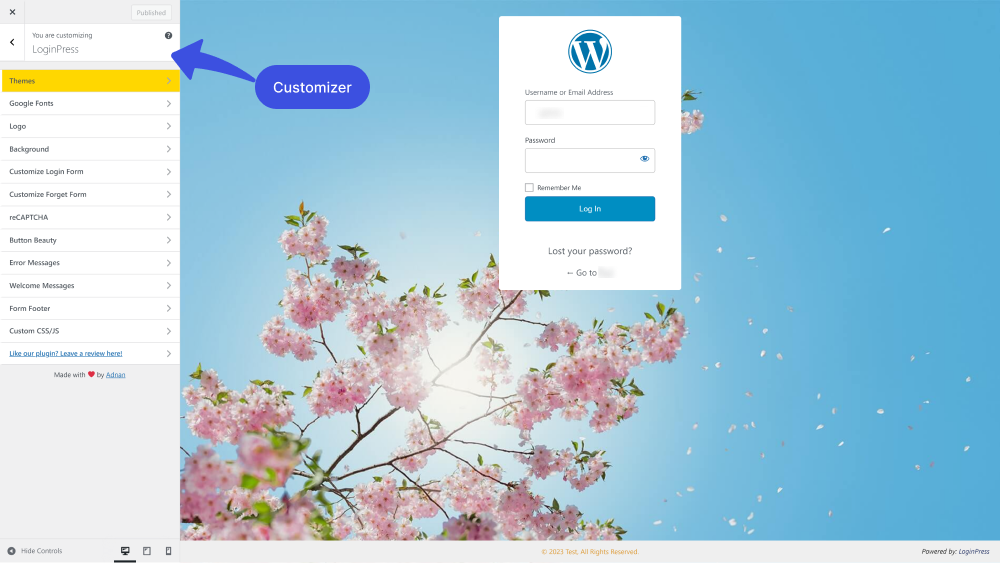 3. Add-Ons Section
LoginPress has powerful Add-Ons. All you need to do is to upgrade to LoginPress Pro.
Note: If you are using LoginPress free and want to upgrade to the premium version, see our guide on How To Install And Activate LoginPress PRO Version.
If you want to use any of the following Add-Ons, just enable them. The desired Add-on will be added to the Settings section.
Open the Add-on and start using them.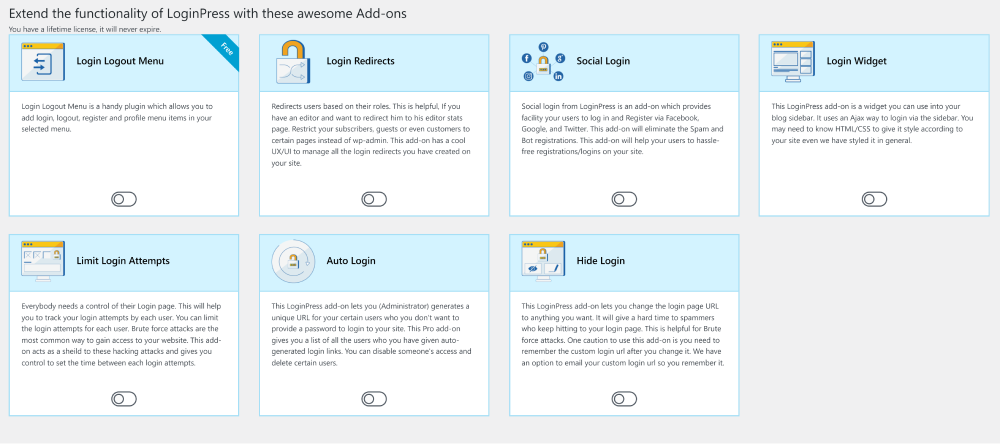 Explore Additional LoginPress Features and Consider Upgrading
Some features are only available with LoginPress premium plans, including:
Force Login: A useful feature that helps you force a user to log in to your site before starting their browsing sessions.
reCAPTCHA: reCAPTCHA-like helps you protect your website from spam or abuse.
Social Login: Social Login Add-on enables you to add social login buttons, including Facebook, Twitter, Google, or LinkedIn, to your login form.
Login Widget: The Add-on is there to help you create a login widget for your WordPress sidebar. It encourages visitors to log in while reading your content or viewing your products.
Login Redirects: This Add-on helps you create login redirects for your users.
Limit Login Attempts: This helps you control the number of attempts one makes to access your site. It's a good practice to help you secure your website against brute-force attacks.
Hide Login: This enables you to change the default login URL of your WordPress login page. It enhances the security level and gives spammers a hard time.
Auto Login: This lets you generate a unique URL for your users. It's the best practice when you don't want to provide login credentials to a user to log in to your site.
Final Thoughts
LoginPress is an excellent way of customizing the default WordPress login page. Our plugin gives you powerful options for changing the layout of the login page and enhancing individual elements. All of this without having to code a single line. Easy right?
You save time and significant effort while creating an engaging login page that fits the website design. In addition, you could extend the functionality of the login page by opting for free and paid Add-Ons.
We hope you learned how to customize the WordPress login page. If you have any questions feel free to ask us via the comments section below:
You can also check out How to Find the WordPress Login URL (Easy Guide) and How to Easily Change the Login Logo in WordPress.
Still not using LoginPress?? What are you waiting for?
Frequently Asked Questions
Can I design a WordPress login page without coding?
Yes, you can easily design a WordPress login page without coding. All you need is one of the WordPress login page plugins, such as LoginPress.
What are some popular plugins for designing a WordPress login page?
Some popular plugins for designing a WordPress login page include Custom Login Page Customizer, LoginPress, Theme My Login, and Login Designer.
Can I customize the WordPress login page's colors, logo, and background?
Yes, using plugins, you can typically customize the WordPress login page's colors, logo, and background. They usually offer options to change these elements according to your preferences.
How do I create a secure login page in WordPress?
Yes, you can easily add security measures to your WordPress login page. All you need to do is to have a relevant plugin, such as LoginPress Pro. The plugin helps you add security measures like reCAPTCHA, Hide Login, Limit Login Attempts, and more.