11 Best WordPress Affiliate Plugins to Try in 2023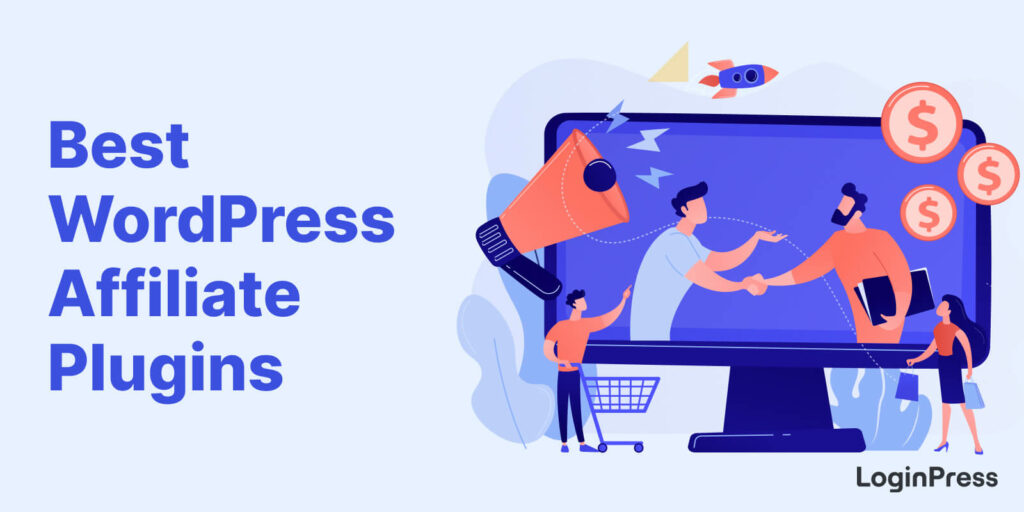 Are you looking for the best WordPress affiliate plugins?
Affiliate marketing is a great way of making online money. It helps you not only multiply your income but also lets you expose your brand and products to others.
In this article, we'll discuss how you can find the right WordPress plugins for affiliate marketing websites and present a list of ten plugins to shorten your research phase.
Table of Content
Why Use A WordPress Affiliate Plugin?
You might be wondering why you'd need the best WordPress affiliate plugin in the first place. Essentially, an affiliate plugin takes care of the monitoring and reporting of affiliate information so that you don't have to do everything yourself. This frees up time you can use to promote your business and add more affiliate marketers to your network.
In particular, WordPress affiliate plugins help you with:
Affiliate link management by adding links to specific keywords and anchor texts.
Creating sharable links that the affiliates can use to promote your products.
Tracking affiliate links to monitor the performance of your affiliate marketing partners.
Redirect affiliate links to ensure that all affiliate marketing efforts don't end up in 404 errors.
Monitoring the performance of affiliate links and presenting reports in the WordPress Dashboard and plugin dashboards.
What to Look For in the WordPress Affiliate Plugin
You might want to compare WordPress affiliate plugins to find the best fit for your requirements. Since a WordPress affiliate plugin is a crucial component of your business operations, the plugin you select directly impacts your business goals.
While price and the feature you need the most are important considerations, you should also consider the following points:
Easy to set up and use. You might not want to invest too much time learning the ins and outs of the affiliate plugin.
Monitor and report the progress of affiliate campaigns. The plugin should help you see how well the campaigns are going and what affiliate URLs perform best.
The plugin should offer several ways of adding and removing affiliate links to posts and pages. Ideally, the plugin should automate adding affiliate links to specific anchor texts.
The plugin should simplify the creation and tracking of shareable affiliate links. You share these links with your affiliate marketing partners and then track the incoming traffic from each link.
Finally, all great affiliate plugins for WordPress should help your affiliate partners set up their accounts, track their links, and get detailed commission reports.
Top 11 Best WordPress Plugins For Affiliate Marketing
We're sure now you must know what things to look in the best WordPress affiliate plugins. So, let's step ahead to learn about the best affiliate plugin for WordPress that will help you grow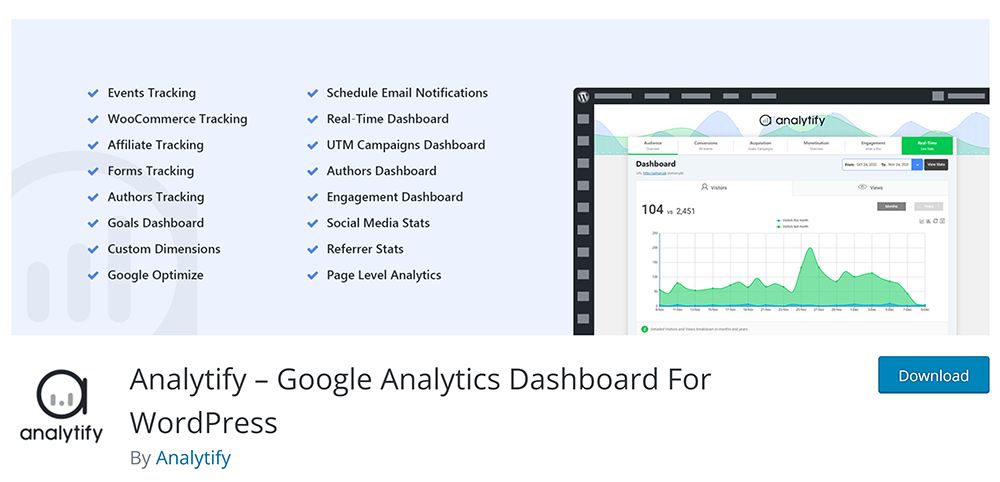 Analytify is a feature-packed Google Analytics dashboard plugin that gets the data from Google Analytics and displays it right into your WordPress dashboard.
In addition to other great features, Analytify shows the traffic coming in from the affiliate links. It is one of the best WordPress affiliate plugins for affiliate link tracking on our list. It has a dedicated Events Tracking dashboard where you can see each affiliate link's clicks. This gives you an accurate idea of the performance of your affiliates. You don't have to leave your website to get a quick overview of the affiliate partners' performance.
If you want to analyze the data further, you can export the affiliate link click data as a CSV file.
Features:
You get a dedicated link click information dashboard where you can see link-wise data.
Analytify brings in a huge volume of information from Google Analytics that you can use to analyze affiliate link click data.
The real-time reporting tab offers a quick glimpse into what's happening on your website.
Analytify supports all popular WordPress eCommerce platforms to enable in-depth eCommerce reporting.
Pricing:
The basic plan starts at $59 per year.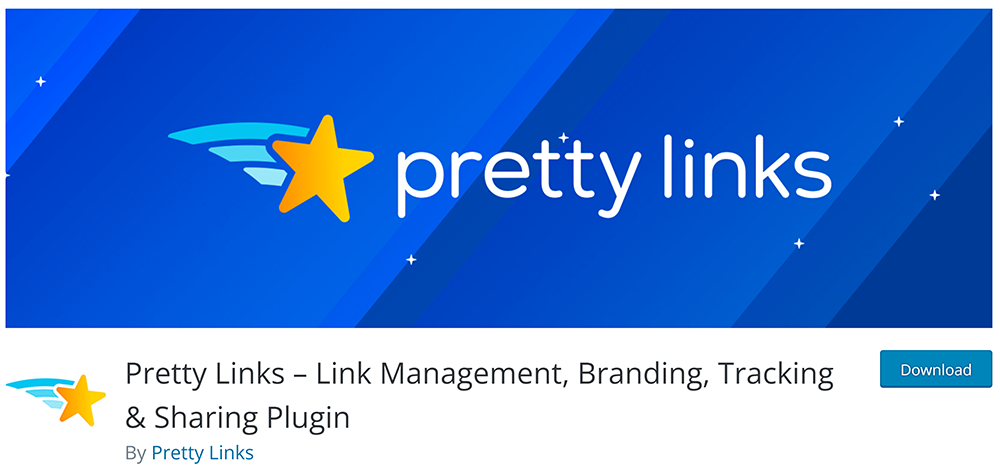 Pretty Links is the best WordPress affiliate marketing plugin with a large user base. It replaces long and unattractive affiliate links with short and easy-to-remember versions that you can use virtually anywhere to promote products.
If you have a large website with multiple pages and posts, Pretty Links will help you identify and place affiliate links. This greatly reduces the time and effort required to go through every page and post and find the best place for these links.
The most popular feature of Pretty Links is the automatic link placement at your choice of keywords. You add the list of keywords, and the plugin will make them clickable links.
Features:
Create and share user-friendly affiliate marketing links.
See all the data about the affiliate links in a dedicated dashboard.
You get detailed reports that show the clicks each link got and the performance of every affiliate link on your website.
Create link groups for similar products and an affiliate partner to simplify link management.
Pretty Links create shareable links that your users can share on their social media networks and website without requiring changes.
Pricing:
Starts at $79/year for the Beginner plan.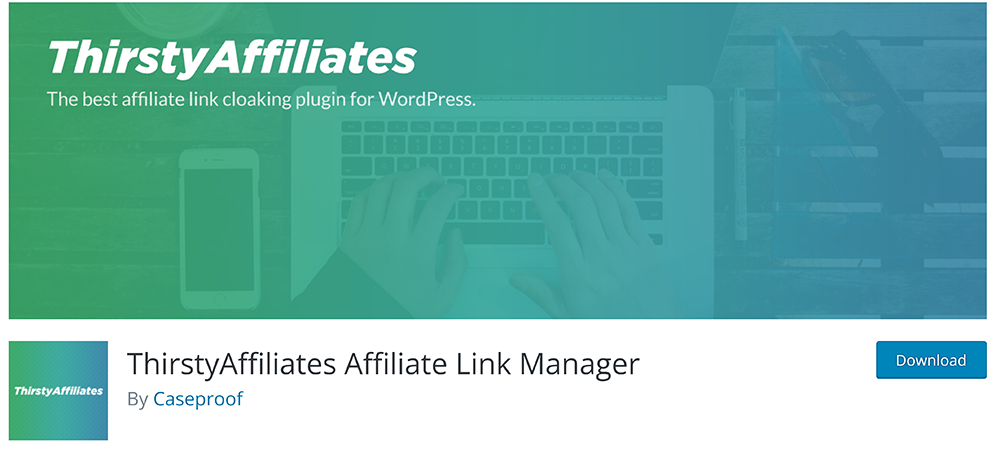 ThirstyAffiliates is a well-known plugin in the affiliate marketing industry because of the features suitable for both beginner and seasoned affiliate marketers.
The plugin generates simpler versions of the affiliate links on your website. These sharable links are easier to insert into your marketing content because of their simpler structure. Additionally, you can sort these links into categories to better organize your marketing efforts.
ThirstyAffiliates also checks affiliate links to avoid embarrassing 404 errors. Additionally, the plugin supports link uncloaking so that you can work with affiliate partners who demand better link transparency.
Features:
The auto-link feature adds affiliate links to keywords within your content. This saves you a lot of effort manually adding links throughout your website.
The plugin integrates with Google Analytics. You can set triggers that fire when a user clicks an affiliate link on your website.
You can import affiliate links as a CSV file, and they'd be updated across the website. Similarly, you can export the links in CSV format.
You can import affiliate links direct from APIs that support third-party link imports.
ThirstyAffiliates has great reporting options that present essential statistics in charts and reports.
Pricing:
The plans start from $49.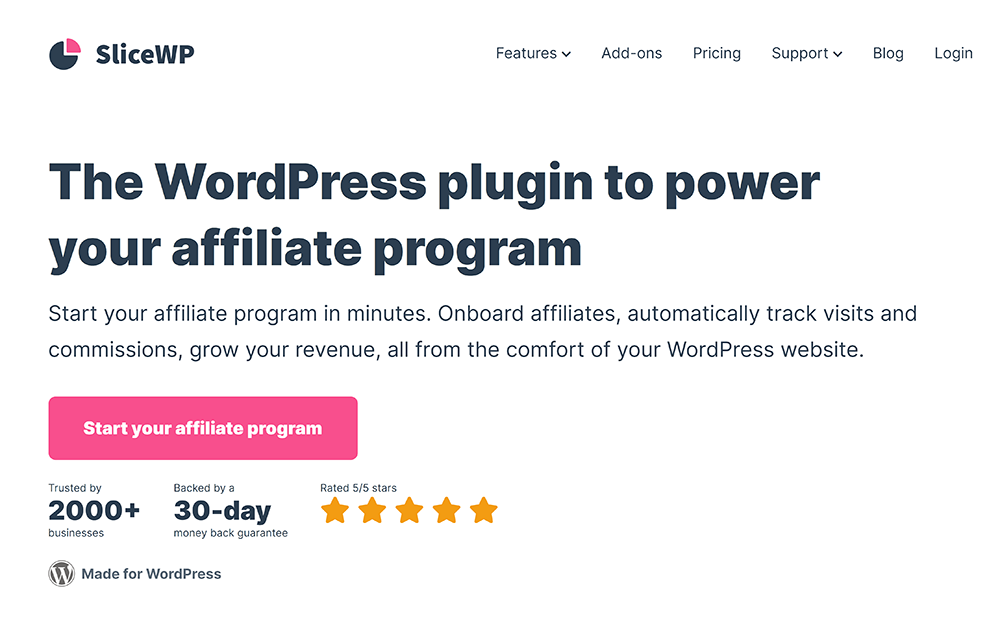 If you're planning to start your affiliate partner program, SliceWP is a great option. The plugin takes care of all the major hassles of starting and managing affiliate partner programs, including onboarding, affiliate link tracking, and commission management.
SliceWP has essential features such as a rich interface and robust reporting options that help you manage your affiliate marketing program better.
Your affiliate gets a dedicated area to see their reports about link performance and commission calculations.
Features:
SliceWP is built for both beginners and experts who need to launch affiliate partner programs quickly.
Thanks to great WooCommerce integration, SliceWP is often an excellent fit for online stores.
The Affiliate area offers everything your affiliates need to promote your products and services.
SliceWP comes with affiliate coupon tracking for proper commission attribution.
Real-time reporting allows you to see the progress of each affiliate partner for quick course-correcting advice.
Pricing:
It's a free plugin. The Premium version starts at $169 per year.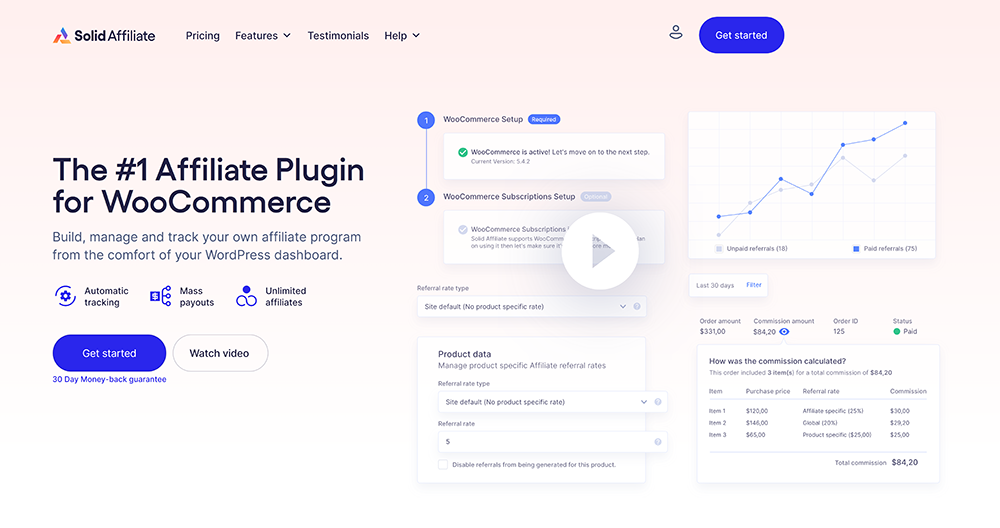 Solid Affiliate is a feature-rich plugin for launching your affiliate partner program. The plugin's focus is on WooCommerce affiliate management, and it comes with all the features you need for eCommerce affiliate partner management.
The Setup Wizard is a nifty feature that simplifies program kickoff and ensures that every essential affiliate management feature is in place. You also get the option to disburse commission in just a click.
The affiliate area comes with a dedicated dashboard where they can find their affiliate link(s), performance reports, and commission details.
Features:
Solid Affiliate is very beginner-friendly, with the Setup Wizard taking care of the initial configuration of the program.
Automatic affiliate coupon tracking ensures the sales credit goes to the right affiliate partner.
You can disburse commission in bulk to save time at every payout cycle.
All critical information is available in the WordPress dashboard.
Email notifications keep your team members and affiliates in the loop about affiliate onboarding and sales.
Pricing:
Plans start from $149 per year.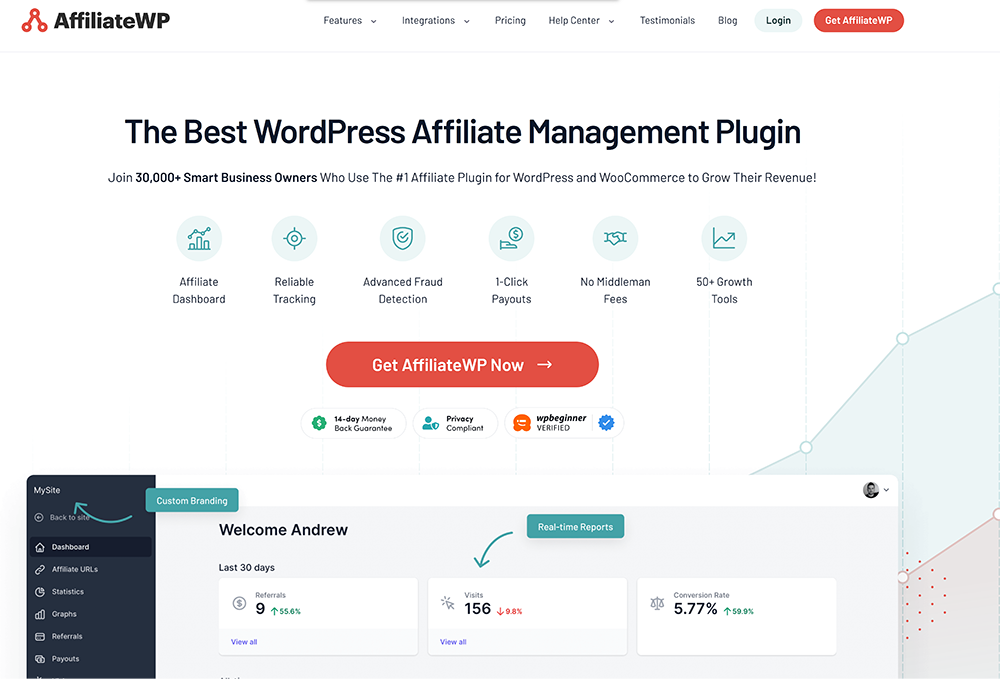 AffiliateWP has a solid reputation among WordPress plugins for affiliate marketing. Thanks to a long list of features, you can quickly set up and manage an affiliate program for your brand.
The idea behind this plugin is to provide a simple interface where users can dive in and use the required features. AffiliateWP integrates with 29 popular eCommerce and form plugins, including WooCommerce and WPForms.
Once everything is set up correctly, you get very reliable referral link tracking that works across domains. Coupon tracking is also included to ensure affiliate partners get the credit when a user adds a coupon at checkout.
Features:
AffiliateWP has a dedicated affiliate area where affiliates can see performance and commission payout reports.
The plugin is very customizable, and you can add further functionalities with hooks and APIs.
You can set up custom commission payout rules to accommodate your unique payout requirements.
Upload unlimited brand promotion creatives directly to individual affiliates' areas to help them promote your products and services.
AffiliateWP supports over 30 languages to facilitate your global affiliate partners.
Pricing:
Plans start from $149.50 per year.

Ultimate Affiliate Pro is a great plugin for launching your affiliate marketing program. It offers all the features you expect from a top-tier affiliate management plugin. For instance, you get a comprehensive reporting feature that presents all affiliate performance metrics in tables and charts.
Similarly, you get the option to set up a wallet for affiliates, where they can use the earned commission to purchase your products. You can also set custom commission rules, including flat rate or percentage-based commission payouts. In addition, you can optionally set Performance Bonuses as incentives for your affiliate partners.
As with other plugins, Ultimate Affiliate Pro comes with customizable Affiliate Account pages with interchangeable sections and page templates.
Features:
The plugin can be translated into any language you have in mind.
You can choose to send email notifications for admin and affiliate actions.
Add custom fields to the registration form to collect the information you need about the affiliate partners.
Affiliates can share their affiliate links on their social networks.
Ultimate Affiliate Pro generates user-friendly affiliate links that replace the traditional long and ugly links.
Pricing:
The license starts at $69 per year.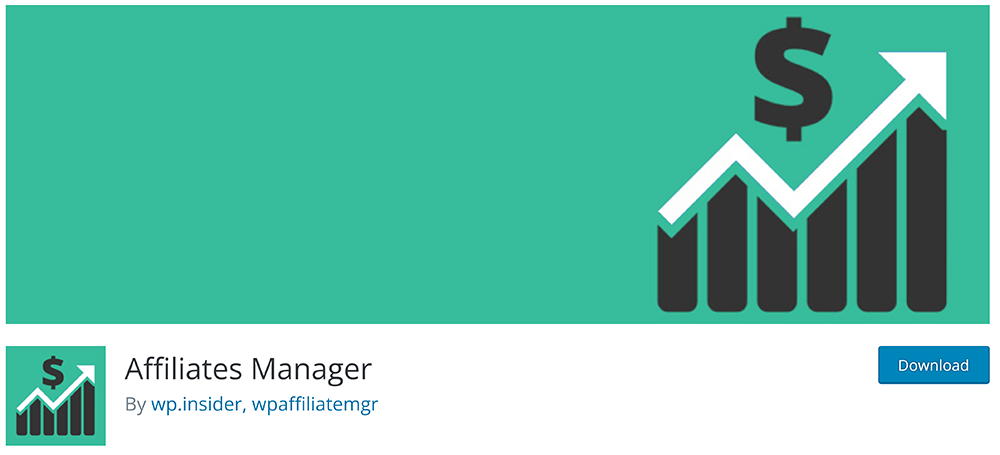 WP Affiliate Manager is a great option for experienced affiliate program managers who need a simple yet powerful plugin for managing their affiliate marketing activities.
The focus of the plugin is on the growth of affiliate programs. For this purpose, it offers features like real-time affiliate tracking and support for unlimited affiliate partners. In addition, it has a robust reporting feature that allows you to extract the right information for further analysis easily.
Features:
WP Affiliate Manager comes with a simple affiliate area that presents all information upfront.
You can automate most of the processes to save time and enhance performance.
Set individual commission plans (flat rates or percentages) to accommodate partner requirements.
Shortcodes open up more customization options for affiliate areas and user-facing pages.
Customizable email templates allow you to bring brand voice and tone to all your affiliate emails.
Pricing:
It's freemium, with paid plans starting at $39/license.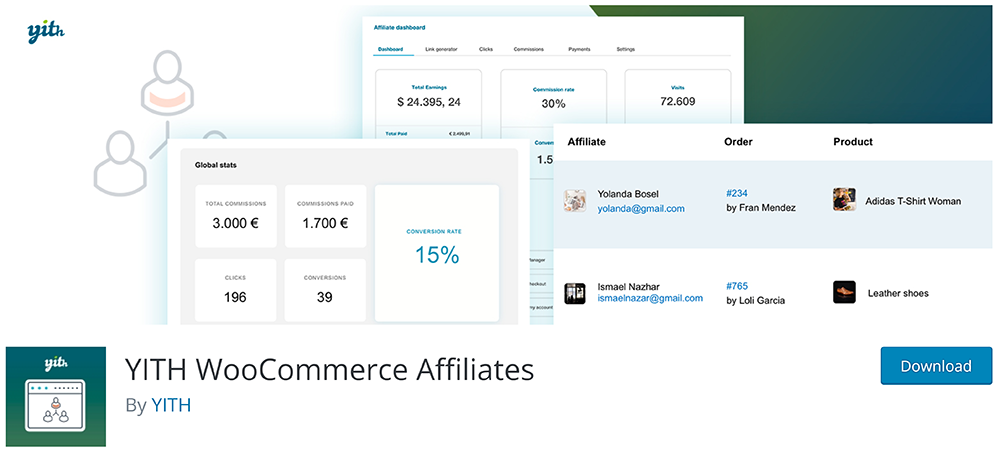 YITH WooCommerce Affiliates is a great plugin if you have an eCommerce store and want to launch an affiliate program quickly.
When you set up the plugin, you get a dashboard where you can see all related information about affiliates, conversions, and commission payouts.
Another great feature of the plugin is the customizable registration form that you can embed anywhere using the shortcode.
You also get a powerful affiliate reporting feature that gives you both an overview and detailed information you need for quick decision-making. In addition, you can override the default commission rules and set custom rules for commission payout for each affiliate partner.
Features:
Simple setup and integration with your eCommerce stores.
Affiliates get an individual area where they can see reports and promotional creatives.
The affiliate registration form and the login widget can be placed anywhere on the website.
You get complete control over commission payout. You can set the deadlines, threshold, and maximum payout limits.
The affiliate partners have the freedom to check their profiles, relevant reports, and referral links.
Pricing:
It's free, with a paid plan starting at $139.99/year.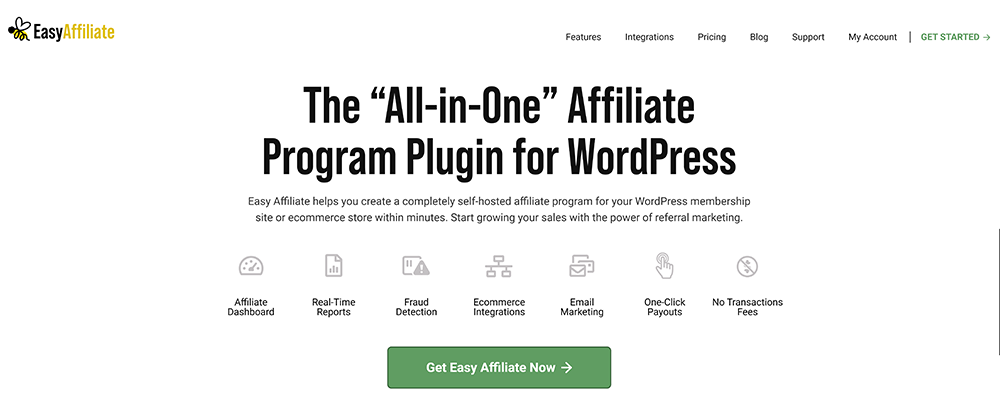 Easy Affiliate is a user-friendly WordPress affiliate management plugin. It's also a great option if you want to set up a membership website.
Easy Affiliate is a powerful affiliate program management plugin for an eCommerce store that integrates well with WooCommerce and Easy Digital Downloads.
Your affiliates get their own areas where they can see reports and download creatives for marketing campaigns. In addition, they can see their performance reports and commission payout.
Features:
Real-time reporting to help you make quick decisions.
Email notifications deliver essential information to your team members and affiliates.
The reporting feature offers customizable performance graphs.
Affiliate marketers get personalized dashboards that can be further customized to fit the requirements of individual marketers.
Security is built into the plugin at all levels.
Pricing:
Starts at $99.50 per year.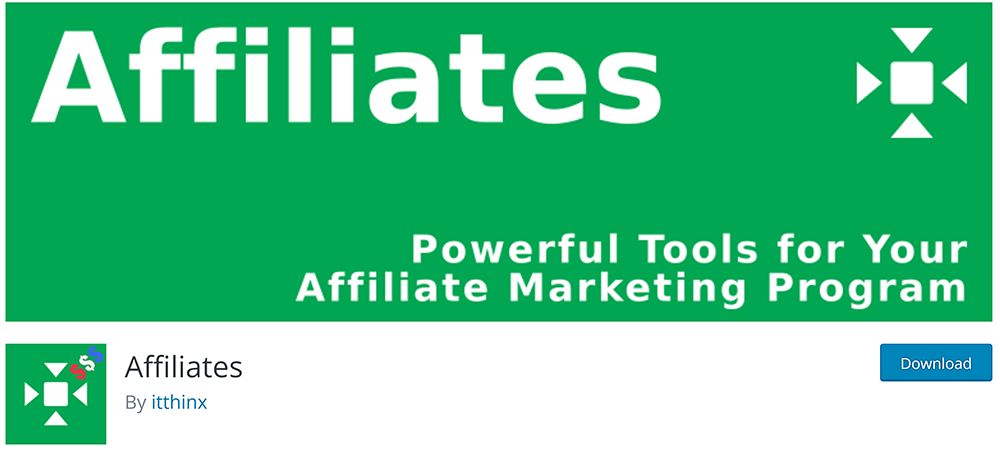 The basic idea behind this plugin is to present a core affiliate management platform that you can further extend by integrating free and paid extensions and integration options. For instance, you get the option to integrate popular forms plugins (Contact Form 7, Ninja Forms, Formidable Forms) to replace the default affiliate registration forms.
The Affiliate Dashboard is the central location where your affiliate partners get detailed performance reports, commission payout information, and promotional content.
You get the freedom to set custom commission payout rules and thresholds. This way, you can offer incentivized deals to your affiliates to reward performance.
The premium version offers more integration options and add-ons to enhance your experience.
Features:
The interface can be customized to fit your design and functionality requirements.
Generate and assign coupons to affiliate partners as an alternative to affiliate links.
You can integrate a free extension to add reCAPTCHA to the affiliate registration form.
If you already have affiliate partner data, you can easily import it via a text file.
The reporting component features a real-time report that presents the latest statistics for the affiliate program.
Pricing:
The plans start from $39 per year.
Conclusion: Best WordPress Affiliate Plugins
WordPress affiliate marketing plugins simplify the process if you want to set up your affiliate marketing program or earn from affiliate marketing.
We cover the ten great WordPress affiliate marketing plugins that we hope will give you a head start in a very competitive industry.
Let us know which plugins you tried for your affiliate marketing program.
Meanwhile, you can also check out the Best WordPress Survey plugins.
Frequently Asked Questions
Can WordPress be used for Affiliate Marketing?
WordPress is an excellent platform for affiliate marketing because affiliate plugins automate many tedious tasks. 
How do WordPress affiliate marketing plugins help in affiliate marketing?
WordPress affiliate marketing plugins help you conform to the best affiliate marketing practices, such as proper link tracking, fraud prevention, and custom commission plans.
How do I add an affiliate plugin to WordPress?
Start by installing and activating the plugin. Next, go to the plugin settings and start configuring the options. 
That's all for the best WordPress affiliate plugins. You can also check out How to Add Social Login Plugin to WordPress Website (Easy Guide) and How to Customize the WordPress Login Page (Easy Guide)
Not using LoginPress yet? What are you waiting for?