How to Embed a Video on WordPress (3 Easy Ways)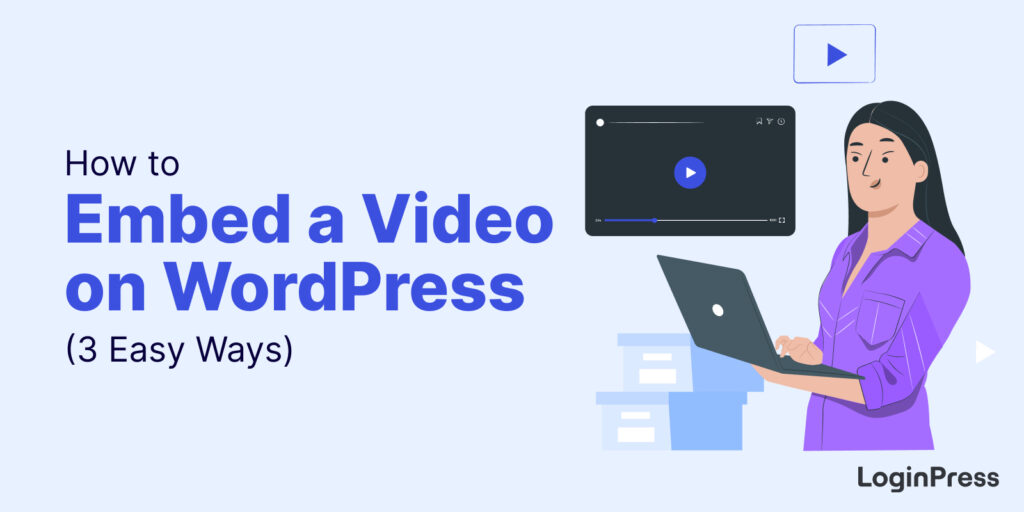 Do you want to embed a video on a WordPress website?
Videos are a great way of attracting and engaging visitors to your website. In recent years, video has become the dominant format for sharing information and convincing visitors to become customers.
This article will show you how to embed a video on WordPress blog posts, pages, and sidebar widgets. Let's get started!
Table of Content
The Benefits of Adding Videos to Your WordPress Website
Brands use videos to engage, educate, and convert users into customers. Instead of writing long web pages describing your product, you can create a small video and be sure that you get more engagement and user attention.
Here are four reasons to start using videos for your digital marketing campaigns.
Videos are Great for Storytelling
Storytelling lies at the heart of the success of digital marketing campaigns. If you can tell a great story, you can land sales. Out of all content formats, videos are the best medium for telling your story.
Videos Increase Audience Attention
We are visual creatures, and videos perfectly capture our attention. a short video describing the benefits of your services is more captivating than a web page with similar content because of the visuals in the video.
Videos Have More Reach Than Other Formats
In this age of social media platforms, video is the perfect format to reach more users. In addition, social media platforms are the perfect medium for distributing your videos because the users do most of the work of sharing the video.
Google Loves Videos
Adding a video on your website and distributing them as part of your marketing campaigns gives you additional SEO points. As a result, you'll see an increase in the SERP positions for your brand.
Now that you know the benefits of using videos on your website, let's tackle the next important question.
Upload vs. Embed (There is a Difference)
When you think about embedding a video on a WordPress website, the first question is whether you should upload or embed the video.
Uploading a video refers to uploading the video to the WordPress Media Library. This video is stored on the server hosting the website and takes up disk space.
On the other hand, embedding a video is a two-step process. In the first step, you upload the video to a video hosting platform such as YouTube. Next, you embed the video on your WordPress website by adding the embed URL provided by the video hosting platform.
Should You Upload or Embed a Video on WordPress Websites?
The two approaches, uploading and embedding videos, have their benefits and shortcomings.
In the upload scenario, the videos are uploaded to the hosting server. This eliminates any lag in the playback and ensures a smooth user experience.
If you embed a video on the website, you don't put any strain on the server resources, and thus you can add as many videos as you wish on the website.
As noted earlier, both methods have their downsides, such as slow website performance and higher chances of the unavailability of videos hosted on third-party sites.
When you compare these pros and cons, you'll realize that embedding a video on your WordPress website offers more advantages, such as website speed and streamlined user experience.
How to Embed Video in WordPress
WordPress offers several ways of embedding videos in your websites. We'll cover three options that both novices and experts can easily use.
Note that the following methods assume you have uploaded the video you wish to embed to a third-party video hosting website. The most popular of these platforms is YouTube because it's free and open to all. However, you can also explore premium options that offer better storage management and upload options.
When you upload a video to a hosting platform, you get an Embed URL that you can use to share and embed that video.
1. Paste the URL in the Page or Post
The easiest way of embedding a video is to paste the Embed URL right where you want the video to appear on the page or post.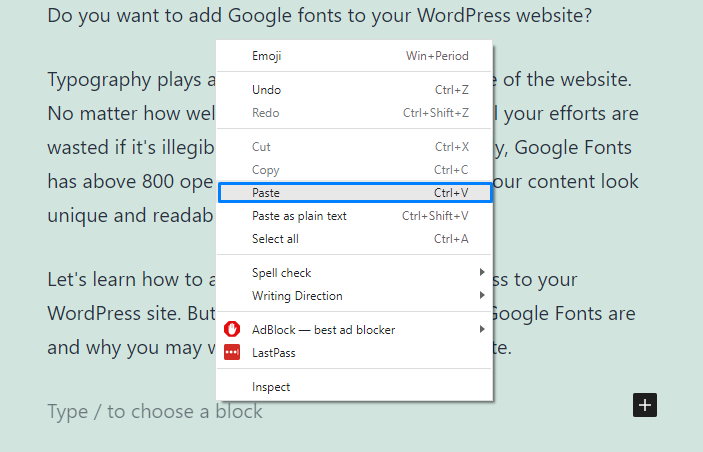 WordPress recognizes the URL and replaces it with a video player at the frontend. The visitors can view the view in this player.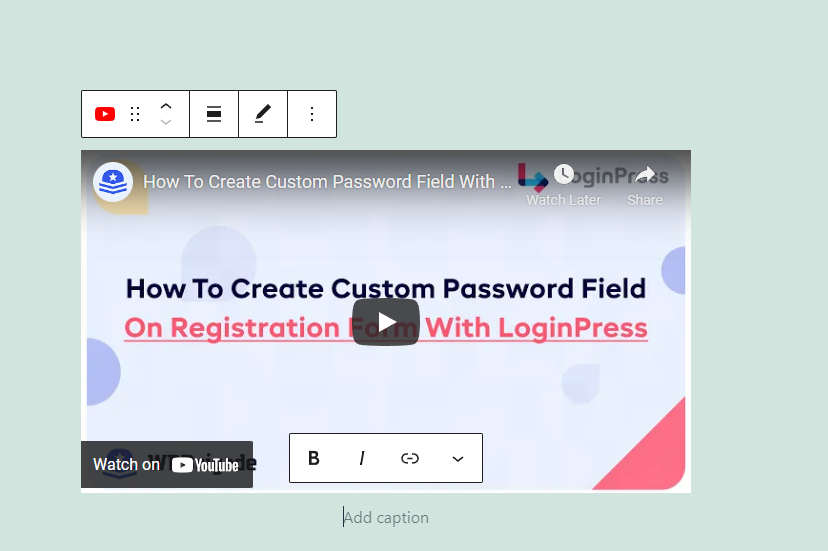 2. Gutenberg Video Blocks
Given the importance of video, the Gutenberg editor offers several blocks that embed videos in the content. In addition to a simple video block, Gutenberg offers dedicated blocks for popular video hosting platforms such as YouTube and Vimeo.
These video blocks offer customization options, such as video resizing for smaller screens.
To embed a video block, search for a video and select a block.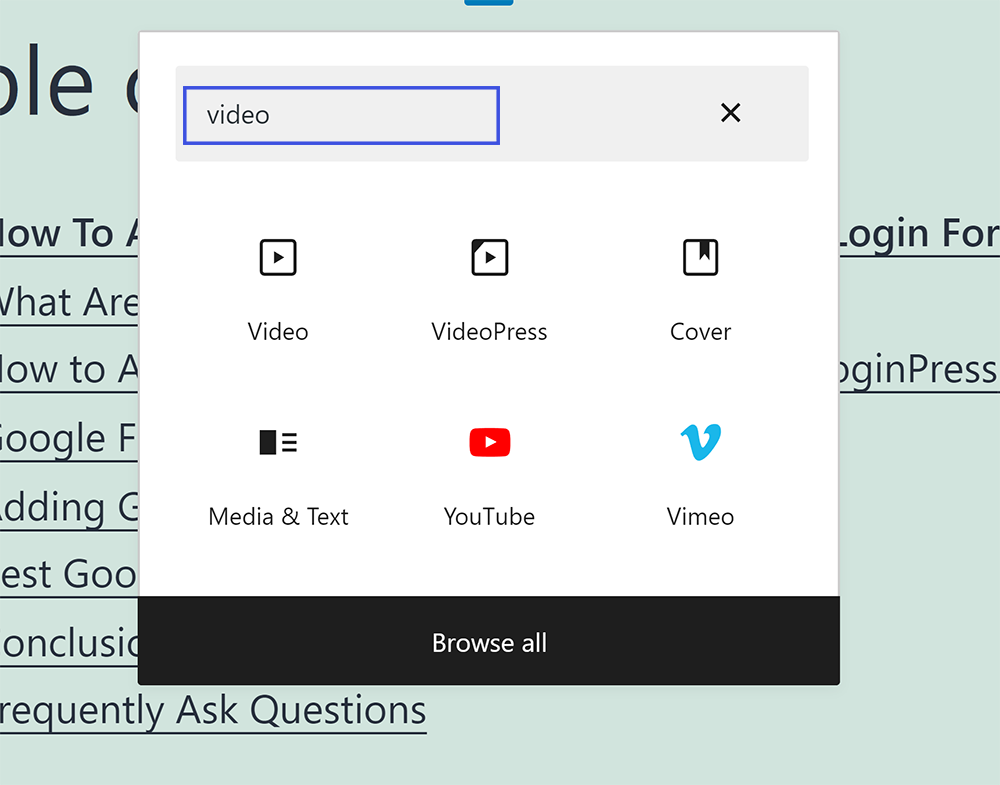 Once the block is in place, you can see three options, Upload, Media Library, and Insert from URL. Use the third option to add the embed URL and click Apply to embed the video.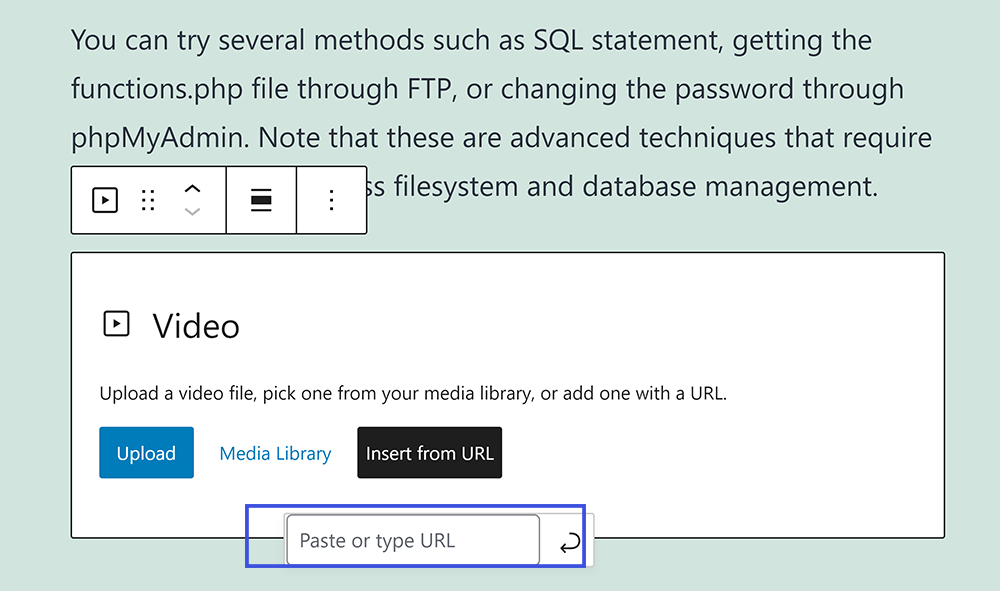 3. Use Plugins to Embed and Display Videos
Plugins simplify embedding videos and offer additional functionality that streamlines the process and the user experience.
Note that adding a plugin could slow down your website, and you should use this option if you think the default WordPress video player is not a good fit for your requirements.
Here're five plugins that help you embed video on WordPress websites.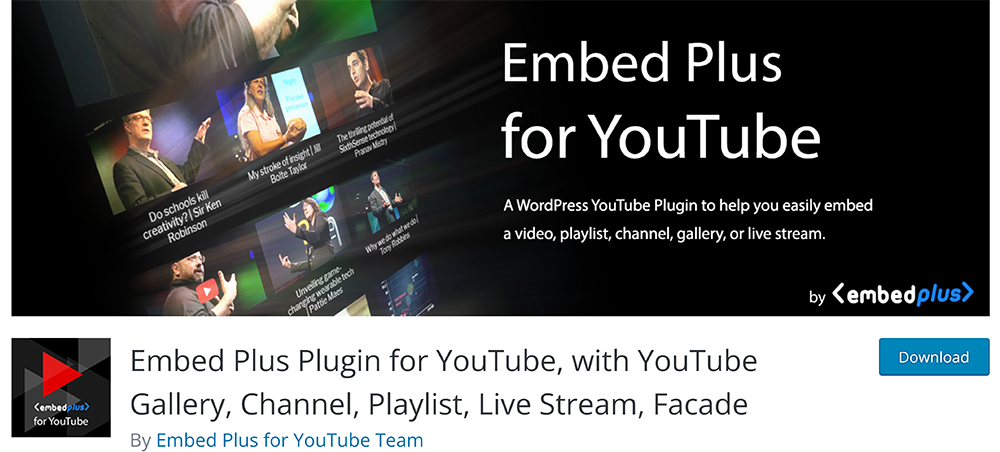 Thanks to its strict compliance with GDPR, you can safely use it on websites that get European visitors. The plugin doesn't slow down your website because of the ability to lazy load the player and uses minified JS and CSS. While the core features are available in the free version, you might want to check out the premium version for more options.
WP YouTube Lyte is a YouTube video embed plugin that simplifies video embeds without slowing down the website. Instead of auto-playing the videos, users must click the player to start the video playback. You can use it to embed a single video or a playlist anywhere on your website. In addition, it comes with several shortcodes that you can customize to embed videos on your website.
The plugin is available in several popular languages and can be translated into your target language.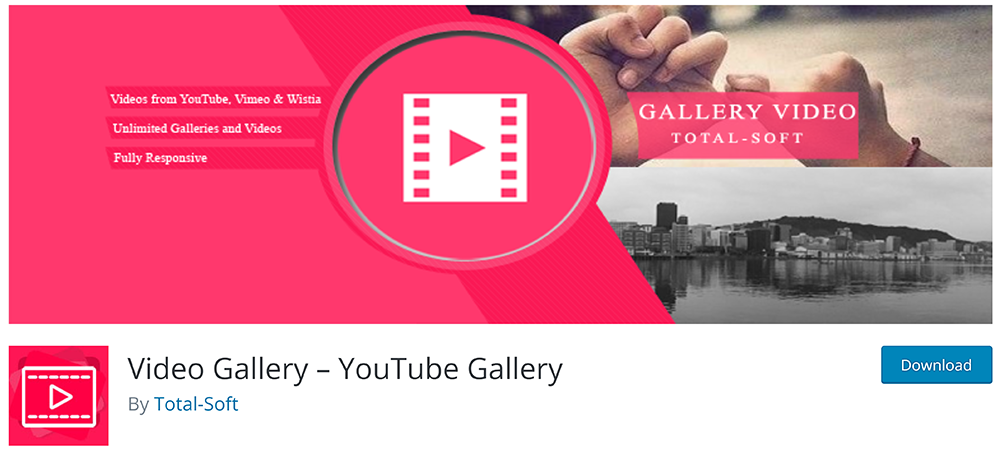 The Video Gallery supports several video hosting platforms such as YouTube, Vimeo, and Wistia. The main emphasis of the plugin is on creating video galleries that you can embed in posts and pages. In fact, you get 10+ themes for video galleries to better fit the galleries in the website design.
Other features include lightbox effects for videos, hover effects, and gallery pagination.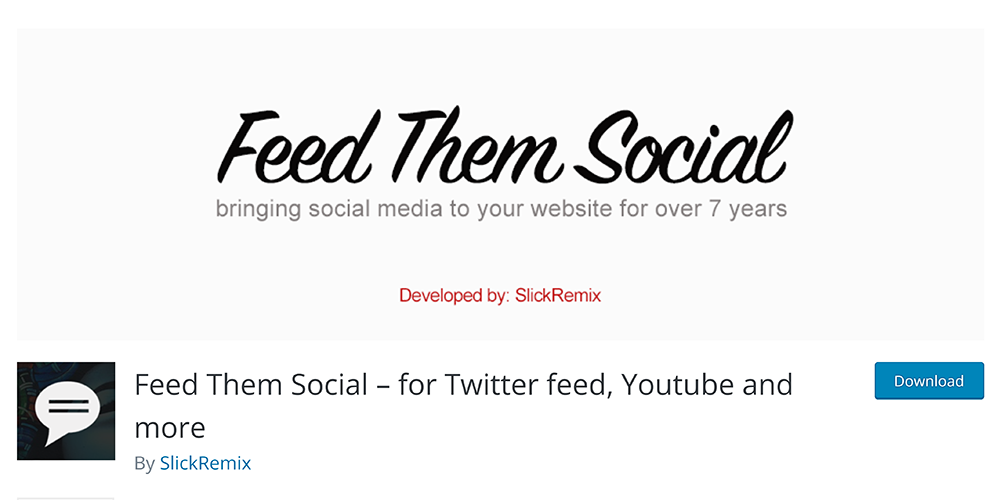 Feed Them Social is a great choice if you wish to display video and social media feeds on your website. The plugin pulls content from popular sources, including Twitter and YouTube, and embeds them anywhere on your website. You can use the plugin's widget to set up the feed in a sidebar. The visitors can enjoy these feeds on all devices because the plugin resizes the feeds to fit the screen. The premium version offers more features, such as a browser extension and a carousel display.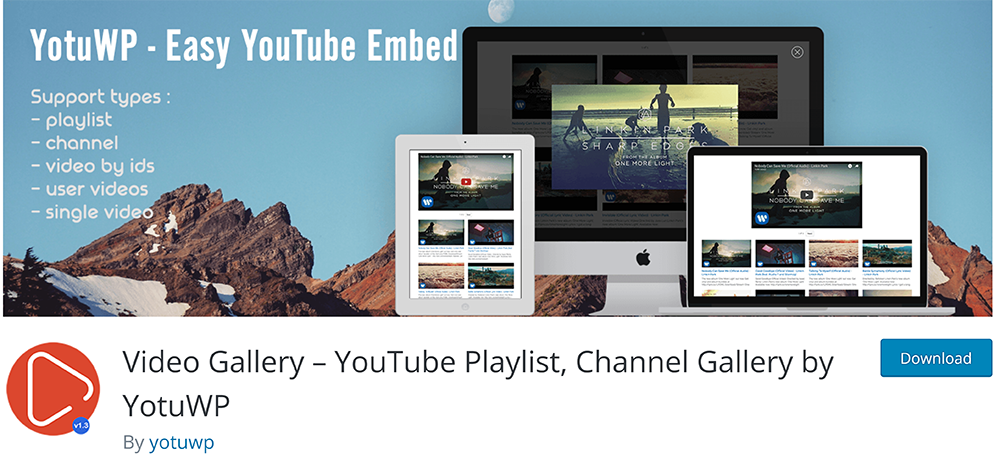 The YotuWP plugin is a simple way to get your YouTube videos on a WordPress site. This plugin is easy-to-use and helps you get playlists and videos to embed on your website.
Final Thoughts
We hope this article helped you understand how to embed a video on your WordPress site. First, we discussed the question of uploading or embedding and then described the easy ways of embedding videos on your website.
Now it's your turn!
Let us know how you embed videos on your WordPress websites.
Frequently Asked Questions
Can you upload videos to WordPress?
Yes, you can upload videos to your WordPress websites. However, remember uploading videos consumes disk space and can slow down the website. 
We suggest you try embedding videos through a plugin or Gutenberg blocks.
What is the maximum upload size for WordPress?
The default WordPress upload size ranges from 4 MB to 128 MB.
That's all we helped you with how to embed a video on WordPress, You may also want to check out How To Change Domain Name in WordPress and How To Customize WordPress Login Page.