9+ Creative Social Login Examples to Inspire Your Next Design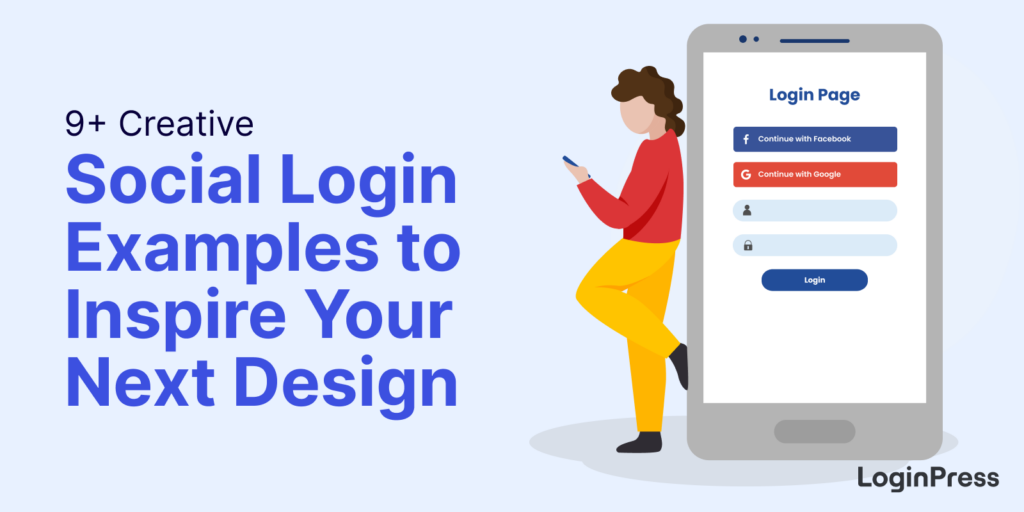 Are you looking for some engaging social login examples for your website's login page design? If yes, you have landed on the right article.
WordPress Social Login streamlines the registration and login process for your visitors. Undoubtedly, a visually engaging social login can instantly captivate the attention of your visitors.
In this article, we'll explore some creative social login tips and examples that can inspire your next design.
Social Login (TOC):
What is Social Login?
Social login is a feature that allows users to log in and register to a site using their existing social media credentials, like Facebook, Google, Twitter, or LinkedIn.
This is how it looks on the WordPress login form: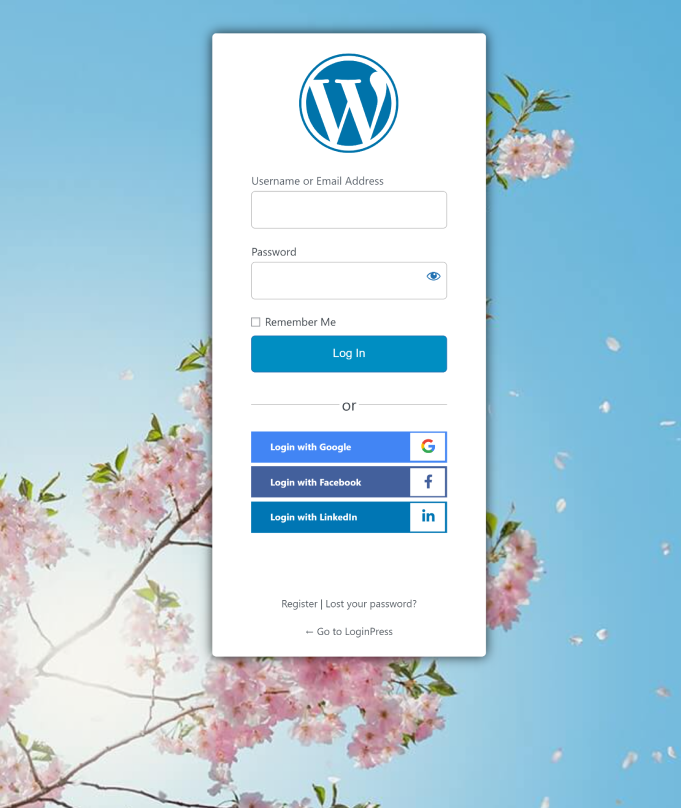 It is the best way to add up to the default WordPress login, where the user is required to provide basic information, including:
Username or Email Address
Password
This is what the default WordPress login form looks like: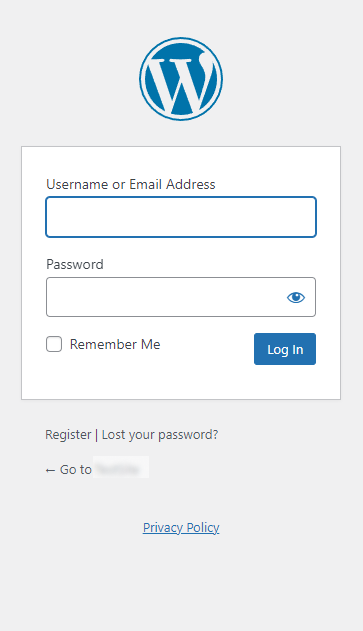 Why is Social Login Worth Implementing?
The convenience of social login can lead to higher conversion rates. Users are more likely to sign up or log in when they can do so with their existing platform.
No doubt, it's worth implementing to your WordPress website. Let's look at some of the ease brought about by social logins.
Reduced Password Fatigue: It minimizes the need to remember multiple usernames and passwords for owning accounts on different platforms.
Real Users: Since the users are required to authenticate through their social media accounts, it decreases the risk of fake registrations.
Successful Logins: It reduces the risk of failed login attempts because users don't have to remember a new password, username, or Email Address.
Saves Time: It saves users time to avoid creating a new account on a new website. Registration is just a few clicks away from the users. It is significant for users who need quick one-time access.
In a nutshell, social login can significantly enhance the user experience, increase conversions, and more. However, it's important to implement it in a way that respects user privacy and complies with relevant data protection regulations, i.e., GDPR compliance.
What Are Some Valuable Tips for Social Login?
Now that you know how social platforms is worth implementing on your site. You must remember a few things before selecting social media platforms on the login form, including:
Multiple Logins: It is better to add more than one social platform on the login form, giving more opportunities for the users to select any of their preferred social media accounts.
Popular Platforms: Use social platforms that are more popular among the common people, including Facebook, Twitter, Google, and LinkedIn.
Clear UI/UX Design: Ensure the social login buttons are easily visible to the users.
GDPR Compliant: It's better to ensure you have the necessary consent mechanisms for the social logins, i.e., GDPR and CCPA.
Monitor Login: You should keep an eye out for any suspicious activity related to social logins.
No doubt, the social login is convenient; it's essential to respect user privacy and ensure that their data is handled securely on your site.
Creative Social Login Examples
If you are considering adding a social platforms to your WordPress, look at these real-world examples used across the internet.
LoginPress is a feature-packed WordPress login page customizer plugin that helps you create an excellent login page. You can easily integrate Google, Twitter, Facebook, and LinkedIn on the login page with the help of LoginPress Social Login Add-on.
LoginPress lets you customize each element on the login form straight from your WordPress admin dashboard without writing a single line of code. The good thing about LoginPress is that it has a live preview option that lets you track all the customizations before making them live.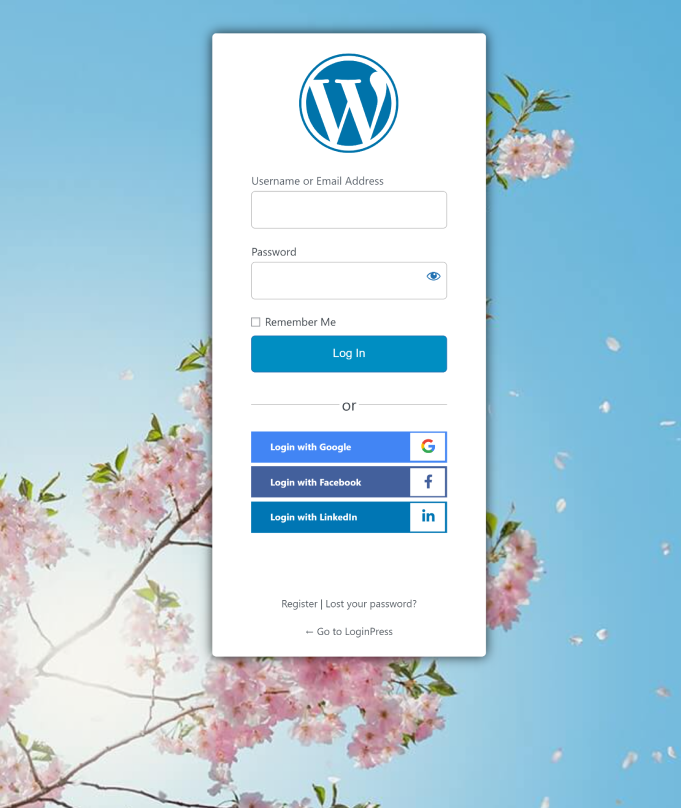 RunKeeper is a popular fitness website designed to help members stay motivated on their fitness journey. It provides the tools to become a stronger runner, including insights, workouts, trainer guidance, and more.
With Runkeeper, users can track various activities, including running, walking, cycling, and swimming, using GPS tracking.
It has enabled Apple, Facebook, and Google on the login form, including.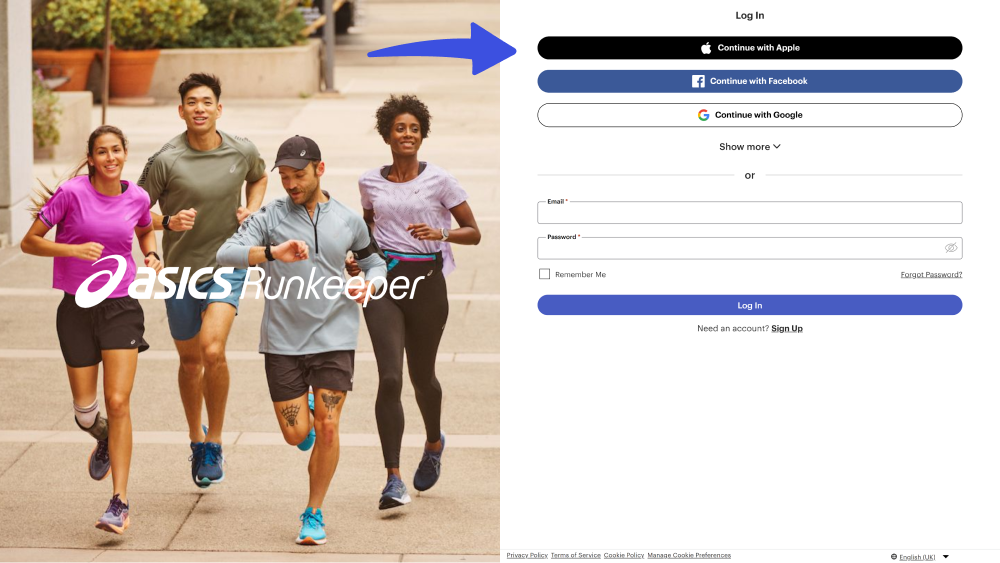 Quora is a website where users find information, i.e., a question and answer. What you'll find here will be wholly generated by users who tend to use this website, whether it is something related to creating, editing, or organizing.
Pinterest offers a vast collection of content across various categories, such as fashion, food, travel, and home decor. Users can search for specific topics or keywords and save content to their personalized boards to revisit later.
Quora has used Google and Facebook on the login form.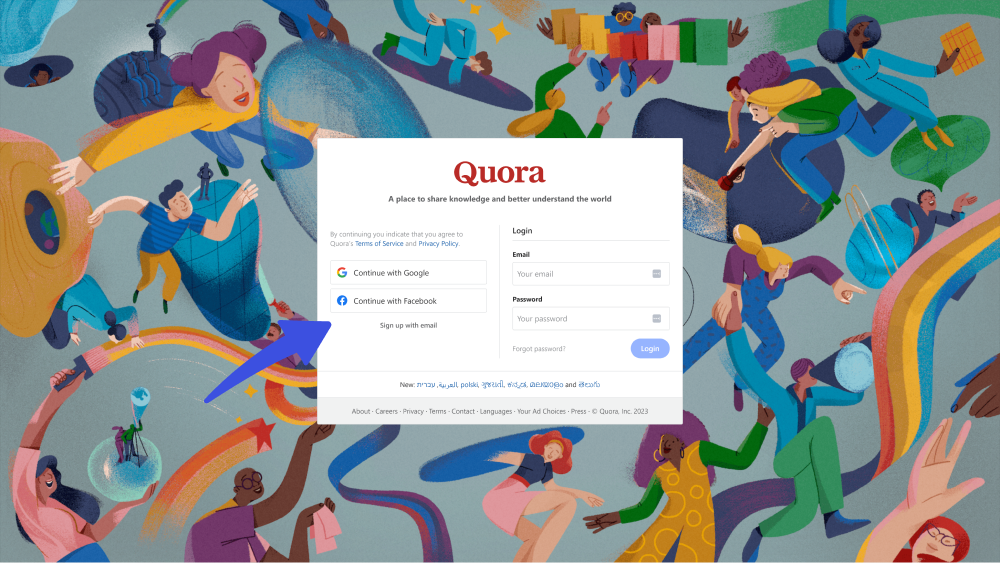 Next, we've Pinterest on our list. It's a social network that allows users to visually share or find new interests via posting images, videos, and anything of their interest on their own or someone else's boards.
As far as Pinterest's login form is concerned, you'll find login via Facebook and Google.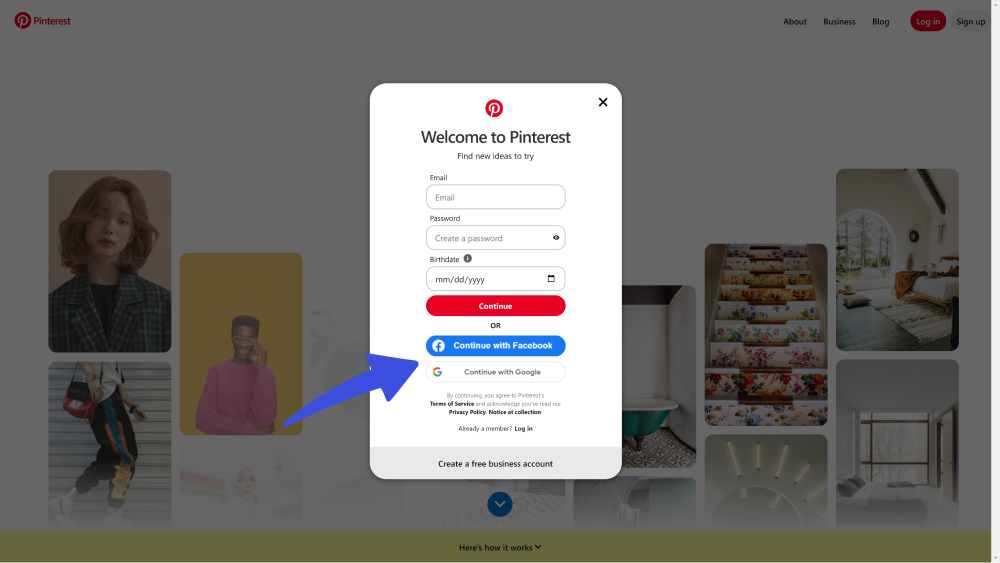 Canva is an online design tool that helps you create outstanding projects, including creating logos, flyers, banners, posters, and more.
With Canva, you can access a vast library of templates, images, and graphics to customize your designs, even without design experience. The platform offers an intuitive drag-and-drop interface, making creating professional-looking designs in minutes easy.
Canva used, earlier, only Facebook with their username/password credentials. Recently, they have added a Google as well.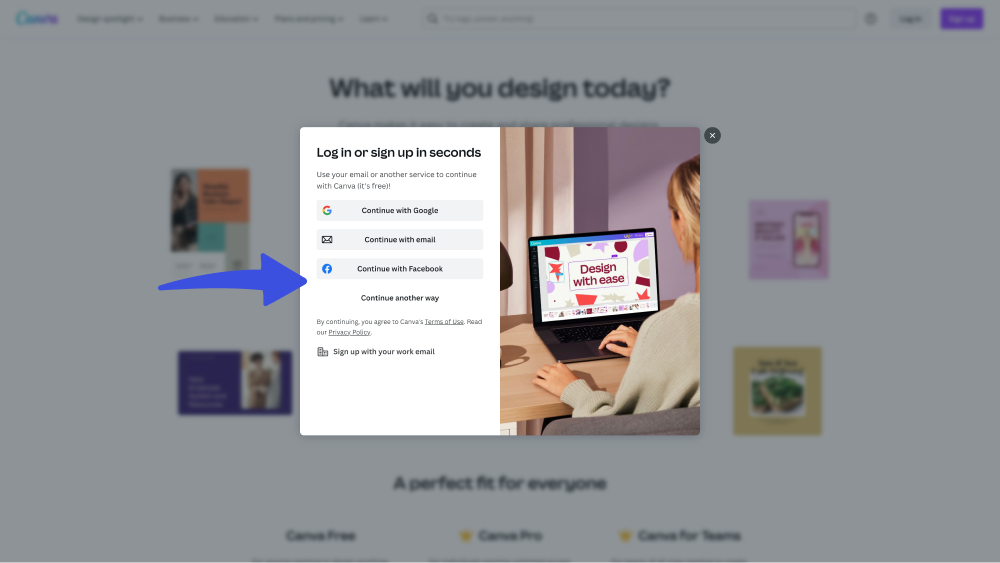 TED is a nonprofit organization that hosts conferences, events, and online videos focused on spreading innovative ideas and inspiring talks on various topics.
Their mission is to create a global platform for leading thinkers and doers to share their ideas and insights on technology, entertainment, design, science, business, and global issues, with a vast collection of thought-provoking talks available online.
You can see how Ted provided Apple, Google, and Facebook on their login form.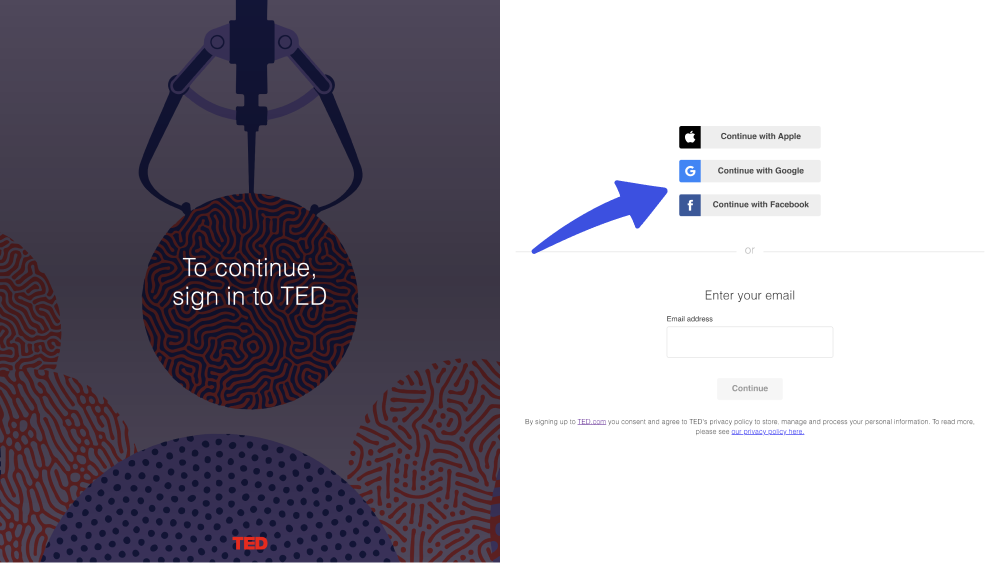 Headspace has become an app that provides guided meditations and other resources to help users reduce stress, improve focus, and live a happier, healthier life.
Other than this, headspace offers online courses, guided meditation videos, and mindfulness and mental health articles.
Headspace used Apple, Facebook, Spotify, and Google on the login form.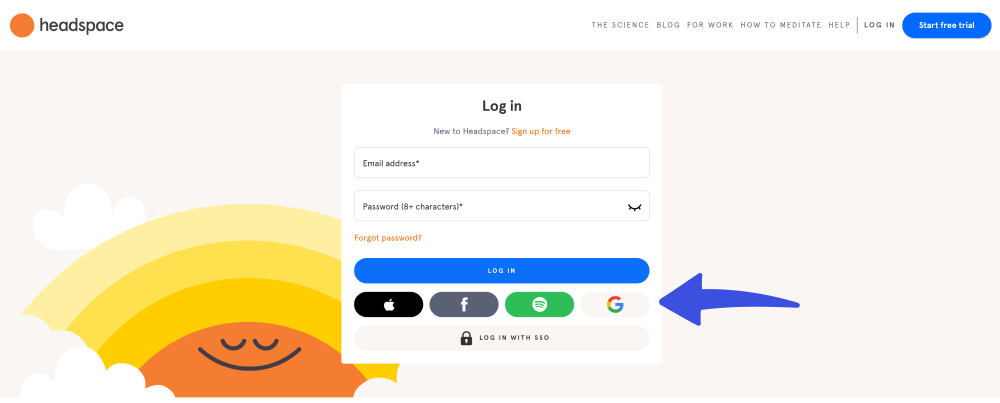 Dribble is an online community for designers, artists, and creatives to showcase their work, connect with other professionals, and find inspiration. It has become a popular destination for designers looking to share their portfolios, collaborate on projects, and network with other professionals in their field.
With a focus on visual design, Dribbble allows users to upload their work and receive feedback from a community of peers and potential clients.
See Dribble's design for providing Google and Twitter on the login form.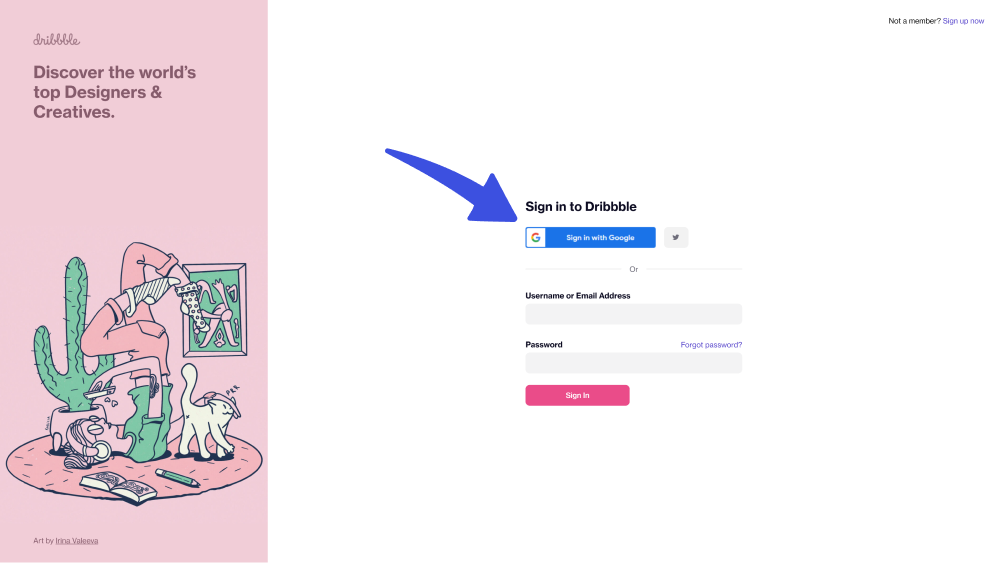 Pocket is a powerful tool that helps you save articles, videos, and other web content to read or watch later. With Pocket, you can easily organize and access all your protected content from any device, whether your desktop, laptop, tablet, or smartphone.
The app provides a clean and distraction-free reading experience, allowing you to focus on the content you're interested in. You can also get on your reading history, helping you discover new and exciting content that matches your interests.
Pocket uses Firefox, Apple, and Google on the login form.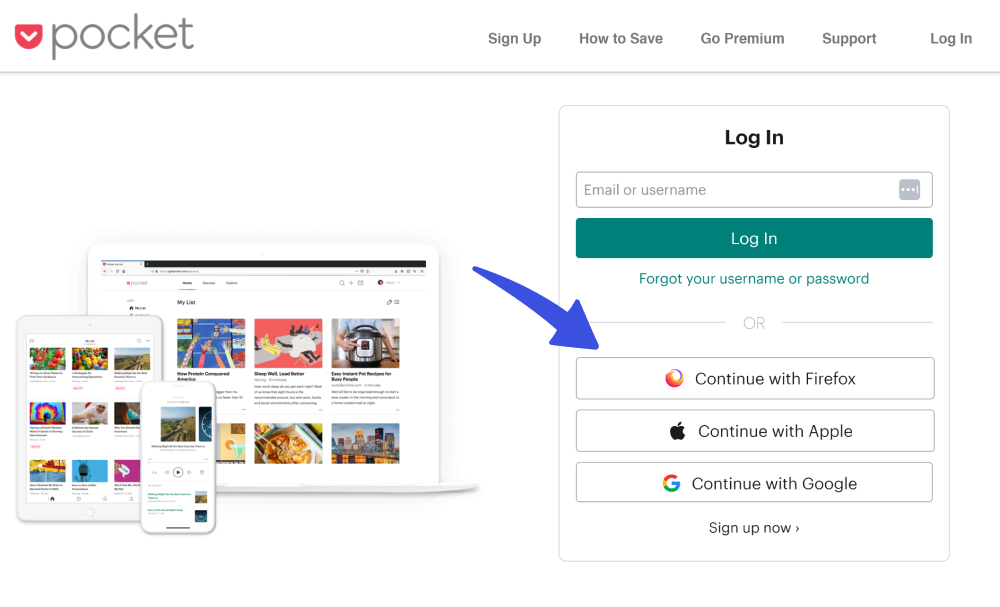 Asana is an app that is there to help you with your task management. It offers several valuable features, including projects, workspaces, tasks, and more.
Asana uses Google on the Signup/Login form.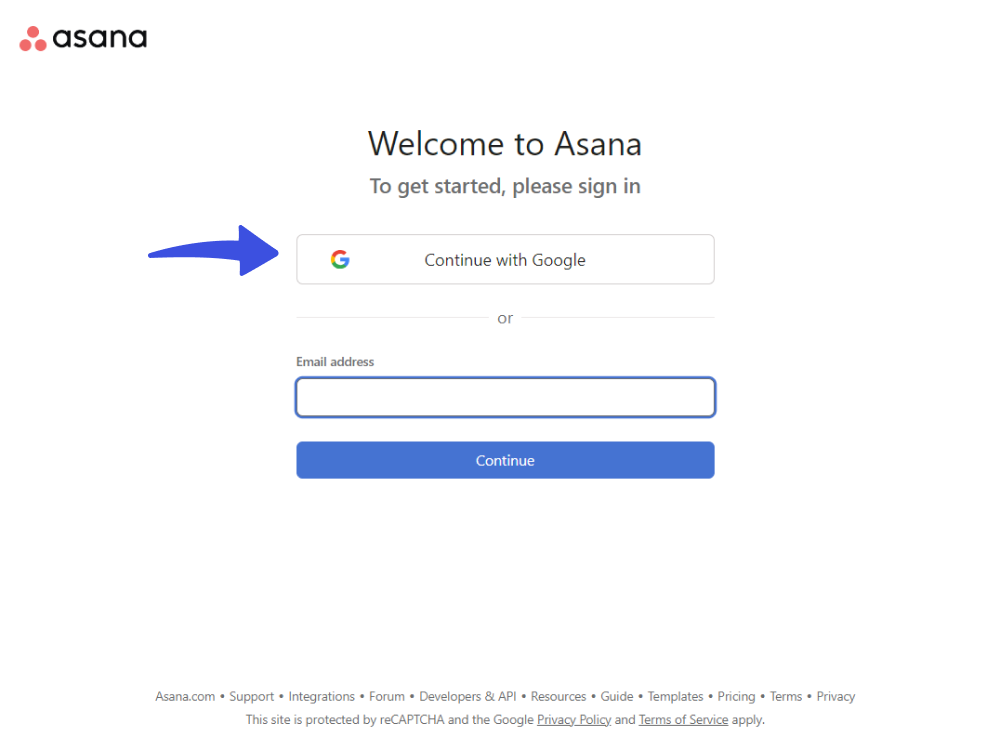 Foursquare is one of the best cloud-based location technology platforms.
You can use this platform to enlist your business on Foursquare CityGuide. It will give your business more chances to be discovered by what you are offering.
See, Foursquare has selected Facebook on their Login form.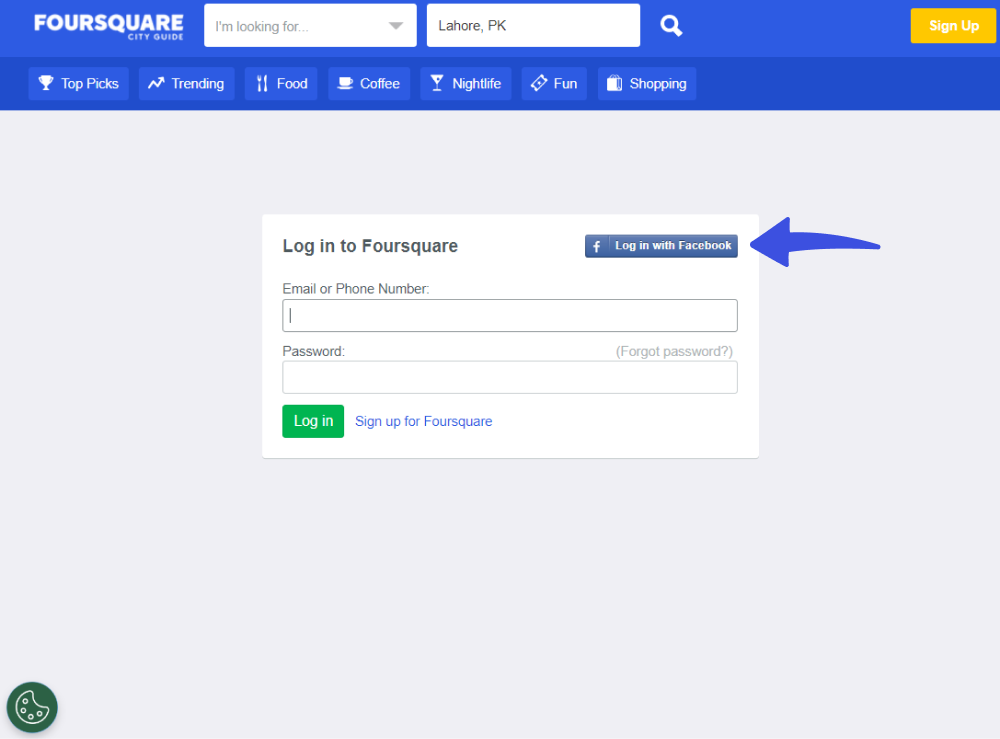 Fictocracy is a fitness site. It is one of the best places to get a personal trainer to help you get the best body fitness.
If you look at their login options, they've used Facebook on their Login form.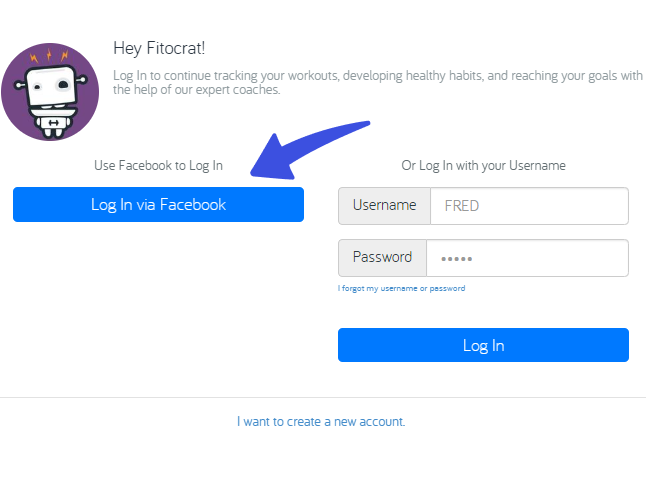 How to Add Social Login to WordPress
There are hundreds of plugins available for free in the WordPress plugin repository to help you add Facebook, Twitterm Google, and LinkedIn to your site.
Note: If you need to look into such options, see our detailed list of the 5 Best Social Login Plugins for WordPress in 2023.
Social platforms collects personal information from the user's social account, like username, profile, etc. So, it's better to remember you have to go for a plugin that is fully GDPR (General Data Protection Regulation) compliant.
Add Social Login to WordPress Using LoginPress
Considering the importance of GDPR compliance for social login, LoginPress Pro Social Login will help you.
Note: To learn more about LoginPress Pro Social Login, read our article about WordPress GDPR Compliance with LoginPress.
Simply purchase LoginPress Pro.
Note: If you need help installing and activating LoginPress Pro to your site, see our detailed guide on How To Install And Activate LoginPress PRO Version?
Now, log in to your WPBrigade account and navigate to the Downloads tab > download the Social Login Add-on.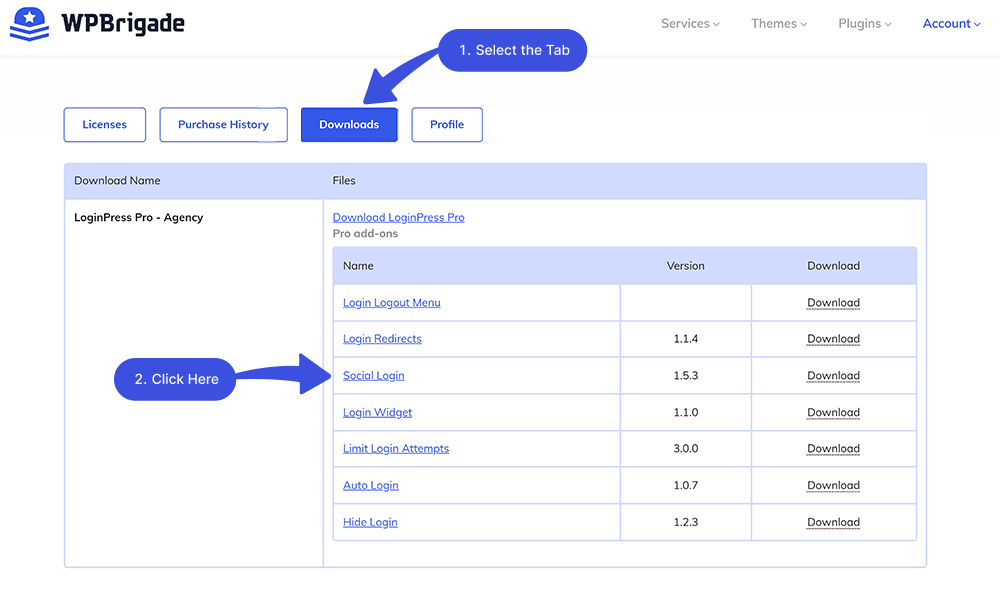 Next, go to the left sidebar of the WordPress admin dashboard > Plugins > Add New option.

On the next screen, click the Upload Plugins button > Choose File button > A popup will appear where you need to add the Social Login downloaded zip file.
When done, click the Install Now button.

LoginPress Pro is added to your WordPress site.
Now, you're required to activate the Add-on.
For this purpose, go to the left sidebar of the WordPress admin dashboard > LoginPress > Add-Ons option.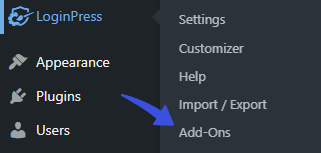 Next, Toggle On the Social Login button to enable it.
Now you're ready to Add a Social Login to your site.
Go to the WordPress admin Dashboard > LoginPress > Settings > Social Login tab.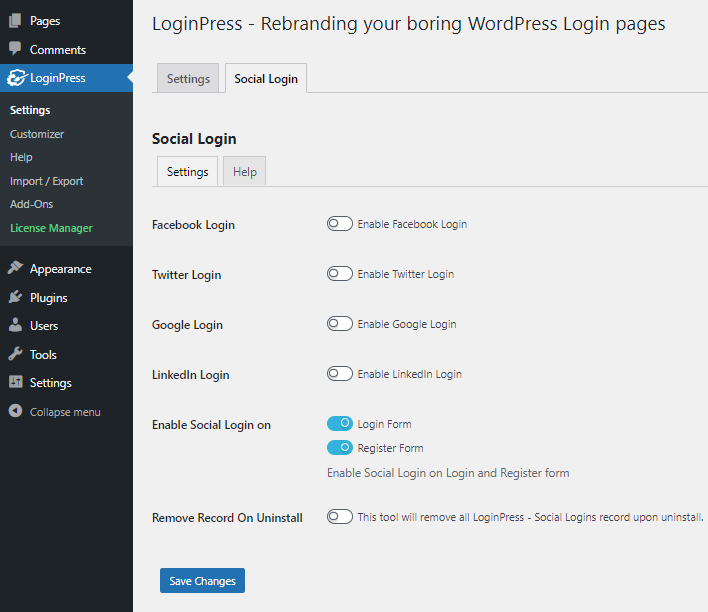 Simply toggle on the button against the social login, i.e., Facebook, Twitter, Google, or LinkedIn, fill in the required fields, and click the Save Changes button.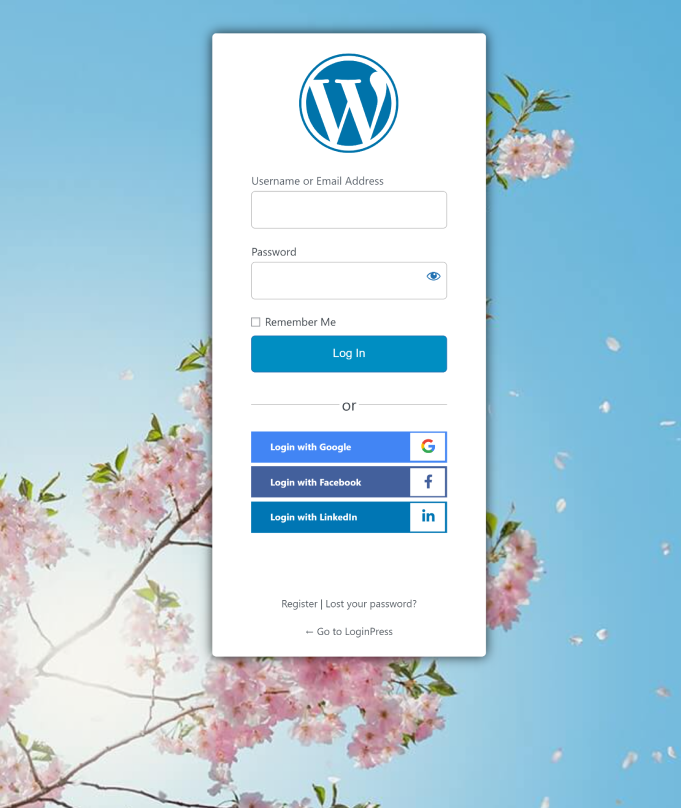 Note: If you need help with integration, see our detailed guide on How to Add Social Login Plugin to WordPress Website (Easy Guide).
FAQs about Social Login
How can I add Social Platforms to WordPress login?
Numerous WordPress plugins can help add a social platform to your site login. LoginPress' Social Login Add-on is the best option. It lets you integrate Facebook, Twitter, Google, and LinkedIn into your WordPress site.
Can I implement multiple Social options on my site?
Yes, you can offer various social options to give users flexibility. For example, you can allow users to log in using Google, Facebook, or Twitter accounts.
What if a user wants to disconnect their social account from my platform?
Provide an option for users to disconnect their social accounts from your platform. It can typically be done in the account settings section, allowing users to revoke permissions.
Conclusion
We've shared several valuable tips and eye-catching examples of social login and how to emulate it on your WordPress website. We hope you now understand what things you should observe while adding a social login to your WordPress site.
So, let these examples inspire your next social login design!
Thank you for reading this article. You may also want to check out our guides on:
That's all!
How far have we helped you choose the social login design that best suits your purpose?